There's never a dull moment when it comes to food in London. This week, we're loving a soft serve ice cream and cookies pop-up and the capital's first Peruvian bakery. In celebration of all things new, here's 10 things you need to eat in the capital this week. Have a good'un:
1. For a New Bakery: Andina Panaderia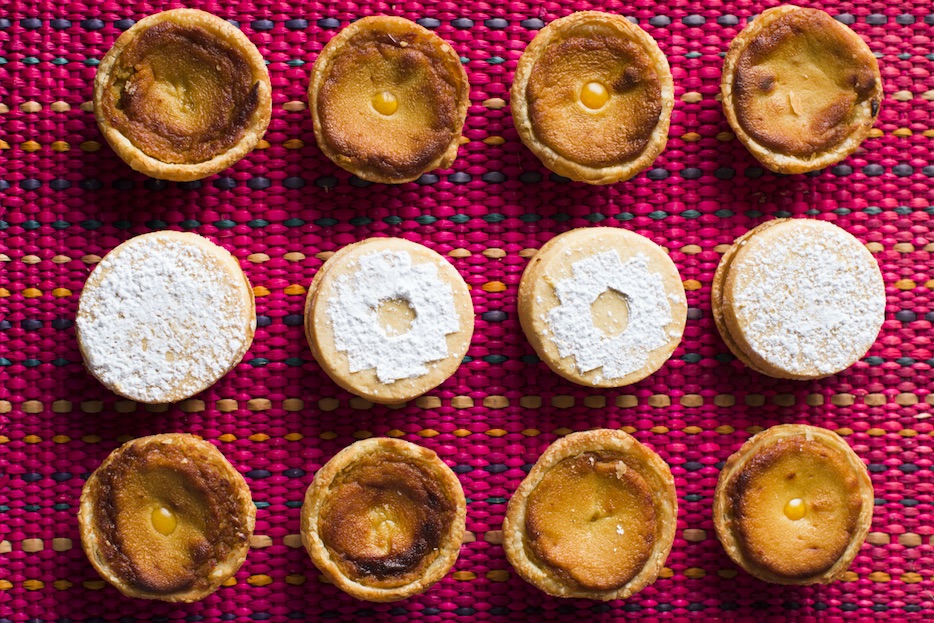 What: Pioneer of Peruvian cooking Martin Morales has opened London's first Peruvian bakery, Andina Panaderia on Westbourne Grove alongside a brand new restaurant, Andina Picanteria. Located side by side, Andina Panaderia and Andina Picanteria pays homage to the female Andean chefs who have inspired Martin and his team since opening Ceviche.
Why: Led by Head Pastry Chef Ana Velasquez, Andina Panaderia specialises in slow-ferment baking with traditional sweet and savoury pastries and breads alongside hot dishes, lunchtime salads and all-day brunch-style dishes to eat in or take away. And in the morning, there's Peruvian breads such as Andean black mint and sweet potato sourdough; the delicately crusted traditional pan frances roll; and the challah-like chancay bread, a cinnamon-scented take on brioche. Sweeter treats include the Pastel de Lúcuma, an Andean spin on the famed Portuguese custard tart and the chicha morada muffin, a purple corn muffin with a corn and almond centre.
Where: Andina Panaderia, 155 Westbourne Grove, London W11 2RS
What: Oslo have launched a new food menu which celebrates the very best of regional British ingredients with a contemporary Nordic twist. From light starters and mains to feature dishes, the new menu embraces the simple joys of wholesome cooking through Nordic-inspired poke bowls, and vegetable-laden salads.
Why: Highlights from the menu include: Cod Bolinhos – cod croquettes with a twist, served with seaweed tempura and lime mayo; avocado tempura served with sweet chilli sauce; Nordic Poke – smoked salmon with spinach, barley, brown rice, peppers, pineapple, pickled cabbage, edamame beans and mango mayo; and Grønn Salad – broccoli tempura with edamame beans, baby gem lettuce, avocado, cucumber, candied ginger and coconut vinaigrette.
Where: 1A Amhurst Rd, London E8 1LL
3. For a New Lunch Menu: Oblix West
What: Oblix West has launched the Elevator Lunch Menu, a new dining concept that allows busy Londoners to travel up, dine and head down within the hour. Responding to the fast-pace of the city below, the Oblix West team sought to create a more succinct lunchtime dining experience that still delivers on taste and flavour.
Why: The Elevator Lunch Menu comprises of some of Oblix West's signature dishes with starters including steak tartare; beetroot, goat's curd and rye crumble; and the truffle flatbread with pancetta and ricotta. For mains, the Oblix West chef team cook dishes across the josper oven, charcoal grill and rotisserie. An array of dishes celebrate these techniques, such as grilled stone bass; fennel and brown shrimps; and sides such as creamed sweetcorn with white onion and Périgord truffle.
Where: The Shard, 31 St. Thomas Street, London SE1 9RY
4. For a New Collaboration: Max's Sandwich Shop x PILAU
What: Indian street food wizards PILAU, have partnered with Max's Sandwich Shop to create a special Bombay Bad Boy Special, available during British Sandwich Week (20th-26th May). You can pick up this special for two weeks starting 20th May from noon every day at either PILAU in Soho or Fitzrovia, and via Deliveroo or UberEATS.
Why: PILAU's Bombay Bad Boy is a play on Max's much-lauded Bhaji Smuggler Sandwich. The menu special includes all the elements that make up Max's sandwich philosophy combining hot, cold, sweet, sour, crunchy and soft ingredients. The colourful creation contains a mix of zesty lemon marinated chicken, sour lime-pickled onions, crispy PILAU slaw, coriander ketchup, fresh cut herbs and PILAU's signature crunchy Sev.
Where: 34 Goodge Street, Fitzrovia, London, W1T 2QL
5. For a New Pop-Up: Spritz & Giggles
What: Spritz & Giggles, a bar dedicated to London's favourite apéritif, the Aperol Spritz, has opened in Broadgate. Think fun and colourful décor combining lush foliage and greenery with quirky touches, table tennis and foosball tables.
Why: Soak up the sun and sip an eclectic array of cocktails including the iconic Aperol Spritz, The Ambra Spritz, a heady blend of Peroni Ambra, Aperol, Peach Syrup and Cinzano Prosecco as well as the perfect Negroni. Feeling the heat? Cool down with frozen cocktails like the talented bar team's take on a Pina Colada, a thirst-quenching blend of Appleton Estate Signature Blend Rum, Koko Kanu Rum, pineapple juice and coconut cream.
Where: 37 Broadgate Circle, London EC2M 2QS
6. For Rooftop Terraces: Street Feast
What: Street Feast have revamped their dining destinations for the warmer climes, and that only means one thing: summer is here. From Canada Water to Shoreditch – enjoy a bev in the sunshine alongside some of the best street food in our fair city.
Why: Dinerama has whipped the roof off and transformed into Shoreditch's ultimate sunshine watering hole; drink Pineapple Daiquiris and Mai Tai's with blue sky views and the sun on your back. Model Market's Lewisham Highline is back in business for summer – feel the grass between your toes as you sip on a Tequila Slushy and soak up the sunshine. And don't forget the huge, wrap-around terrace at Giant Robot – grab a signature Street Feast cocktail from the Island Bar then head outside for panoramic views and sunset sipping on their E14 rooftopia.
Where: Locations here
7. For a New Opening: The Office
What: Situated on Kingsland Road, newly opened The Office boasts a separate coffee shop that transforms into a cocktail bar at night and serves up a specially curated menu that perfectly showcases their selection of premium house spirits. And food comes from the acclaimed Disco Picnic Collective who bring their exciting Disco Kitchen concept to the bar.
Why: From kaffir lime and lemongrass buttermilk fried chicken buns to wild mushroom patties via dry aged beef and black pudding patties with wild mushroom, gruyère, fried egg and smoked sea salt, Disco Kitchen have created a menu showcasing drinking food with playful twists. On top of those staples, bombay hash, braised mexican short rib, Greek-spiced mushrooms and more are all part of the Disco Picnic remit — with veggie and vegan options also available.
Where: 12-14 Kingsland Road, Shoreditch, London E2 8DA
Photo Credit: Justin De Souza
8. For a New Partnership: Tuk Shop
What: The team at LEON have partnered with Bangkok-based food group Aylmer Aahar to open Tuk Shop, a Thai fast food pop-up in Soho. Tuk Shop marries LEON's mission to make it easier for everyone to eat well, and Aylmer Aaharn's commitment to share true Thai cuisine and culture.
Why: Working with a team of chefs from Bangkok, LEON has developed every dish on the Tuk Shop menu to combine a love of Thai food with their love of fast food. True to Thai cuisine, Tuk Shop delivers a host of classics including Thai green curry, papaya salad, pad Thai, as well as noodles, snacks, plus some dishes that are newer to UK guests.
Where: 62 Shaftesbury Avenue, London W1D 6LT
9. For a New Pop-Up: Blondies Kitchen
What: Blondies Kitchen have opened another taste-tastic first: a milk and cookie soft serve bar. The baking duo are now serving perfect silky-soft ice cream made with Jersey milk and Guernsey cream, served in a tub and topped with cookie crunch, as well as their cult-like cookies from a snug kiosk on Kingly Street, Soho.
Why: There are seven flavours of cookie on the menu like the coconut and raspberry jam, vanilla cookie and Kinder bar, Oreo stuffed Nutella and the vegan friendly dark chocolate and bar cookie. Thirsty? try the all new cereal milk latte or cappuccino, both in Frosties and Coco Pops flavours.
Where: 1 Kingly St, Soho, London W1B 5PA
10. For a New Breakfast Burger: Roast
What: Roast Restaurant have created something brand new – the Ultimate Breakfast Burger. Last year's much talked about Ultimate Roast Burger, which featured elements of a traditional roast dinner sandwiched between a chunky potato and focaccia bun, is now available in breakfast form for those wanting to make their morning that bit more indulgent.
Why: Sitting upon a toasted cinnamon and raisin bagel is a Bavarian smoked pork patty, topped with a towering combination of crispy maple bacon, Portobello mushroom, tomato and pepper relish, and kale, all garnished with a perfectly runny fried hens egg. Pair with one of Roast's unique Bloody Mary twists for a breakfast bound to beat anything you've had before.
Where: The Floral Hall, Stoney Street, London SE1 1TL