Autumn in London means one thing: new menus. And boy, does this feature contain heaps of menus, openings and foodie deals. It's time for comforting food and bobble hats. Let's feast:
1. For a New Opening: The Watch House 
What: The Watch House have been dishing up their coffee creations on Bermondsey Street and Tower Bridge, and now you'll find the gang at their latest outpost on Fetter Lane. The new site offers an all-day eatery and after-work cocktail bar, serving a concise menu of daily bakes and modern European tapas-style dishes.
Why: Similar to the other two sites, coffee is served from 7am each day at Fetter Lane, roasted exclusively in Shoreditch for The Watch House by Ozone, alongside a hot and cold option breakfast menu, including the signature Watch House eggs Benedict (made using orange marmalade marinade)  For hungry City lunch types, The Watch House Fetter Lane also features a grab-and-go menu of handmade sandwiches, baguettes, and salads, as well as a selection of hot options and brunch board specials. From 5pm each evening, The Watch House Fetter Lane transforms into a cosy wine and cocktail bar, offering a selection of red, white, and rosé wines by the glass or bottle. 
Where: 92 Fetter Lane, London EC4A 1EP
What: City hotspot Darbaar has launched a new tasting menu to celebrate game season, inspired by the hunting traditions of Rajasthani royalty. Created by Executive Chef Abdul Yaseen, the menu marries the rich and diverse tastes of British game with the flavours and traditions of the Royal Courts of India.
Why: Dishes on the menu include masala minced game chops with beetroot chutney – a plate of fragrant patties made from a premium selection of game with traditional Indian spices. To follow, hunter-style partridge with glazed pear – a marinated breast of partridge with fresh green spices and grilled glazed pear, lends a touch of heat to the menu. Taking inspiration from the royal hunting lifestyle, the menu also includes Rajasthani-spiced venison, prepared with traditional Rajasthani Soola Spices, which are smoked whole then tempered and blended with fried onions.
Where: Darbaar, 1 Snowden Street, Broadgate Quarter, London EC2A 2DQ
What: For all the sushi nuts out there, TAKA has opened in Mayfair and it's an absolute haven of Japanese munch and Asian favourites. Centred on offering high-end Japanese food in a chic location, TAKA offers an ideal place for a working lunch or a social dinner.
Why: Ensure you order a shot of sake, served traditionally overflowing into the masu (square wooden box), which signals the generosity of the restaurant. Follow this with an extensive selection of Japanese signature dishes beautifully presented in a variety of wooden baskets and oversized leaves; from the tataki, tempura and sashimi platters to inside out rolls and Hamachi carpaccio. Don't miss the yakitori selection including the sake teriyaki grilled salmon and the tebasaki grilled chicken wings. The robata yaki offers a miso marinated black cod served in a houba leaf, alongside the beef rib-eye served with lotus root chips and yakiniku sauce.
Where: 18 Shepherd Market, London Mayfair W1J 7QH
4. For a New Autumn Menu: Pret 
What: Pret have gone all autumnal on us with their new lunchtime bites. Waving goodbye to summery salads, the new menu features warming toasties, spiced hot drinks, and new vegan options including three plant powered soups. It's time to wear your cable knit and stop by your local Pret.
Why: Pumpkin spiced latte? Get some. A favourite with Pret's US customers each year, this seasonally spiced special is available in UK store for the first time ever. The warming pumpkin, cinnamon and clove spiced coffee is topped with a dusting of cinnamon. New vegan soups include butternut squash dhansak soup, vegan chilli soup, and kale, lentil and roasted spice soup. In the hot department, try the chicken, basil and red pepper toastie, and the ham hock and sprout macaroni cheese topped with a dollop of mustard mayo. Nom.
Where: Locations here 
5. For a New Branch: Franco Manca 
What: Franco Manca have been quietly spawning across London like rabbits, and for good reason. Where else can you eat pizza for under a fiver and sip on glasses of vino for purse friendly prices? The team are now spreading the pizza love from their new gaff in King's Cross, and to celebrate they're giving away free pizza.
Why: On Thursday (October 5th), swing by the new branch to get your paws on a free pizza (100 available – on a first come first served basis). Enjoy classic Italian flavours including the pizza no. 7 with spicy lamb sausage, mozzarella, buffalo ricotta, yellow piennolo tomato and fresh basil, to the meat and veg specials selected by the Head Pizzaoli daily. But it ain't just pizza that the sell, try the burrata Pugliese –  a sharer platter with a selection of Langhirano's cured meat and wild pig fennel salami, plus a selection of desserts, including homemade tiramisù prepared by chefs on-site.
Where: 62-68 York Way, London, N1 9AG
6. For a Another New Opening: Villa Mama's 
What: Nothing excites us more than a new restaurant opening, and the opening of Villa Mama's in Chelsea has set our hearts racing. Bahraini chef and restaurateur Roaya Saleh is behind the new restaurant, and the menu features seasonal, home-style dishes combining flavours and culinary traditions from across the Khaleej, Persia and beyond.
Why: The menu focuses on sharing plates of traditional Bahraini dishes and those of the six countries of the GCC, alongside recipes influenced by her travels around the world; Roaya's second love, after food. Mezzeh offerings includes khubus, a tandoor-cooked flatbread, served with meyhawa, a Bahraini speciality of fermented sardine sauce (made especially for Villa Mama's by Roaya's aunt); mathrooba, slow-cooked chicken, rice and cracked wheat; and lamb and feta kofta finished with cherry molasses. Larger plates include sayadieh, turbot cooked in fragrant stock with pilaf and crisp onions; and tacheen for two, a saffron rice cake layered with spiced chicken and pine nuts.
Where: 25-27 Elystan Street, Chelsea, London SW3 3NT
7. For a New Foodie Deal: Rail House Cafe 
What: With summer drawing to a close, Mondays have become that little bit more difficult to face – don't fret, Rail House Café has come to the rescue. The restaurant in Victoria has launched Monday Bunday, bringing their burgers into the spotlight for the first time.
Why: For a tenner, Monday Bunday includes Rail House Café's cheeseburger made with aged beef patty sourced from O'sheas butchers in Bermondsey, smoked cheddar, mayo, gherkin accompanied by the restaurant's own-brew Platform Pilsner. For those who enjoy a meat-free Monday, try Rail House Café's new quinoa burger with sundried tomatoes, mushrooms, feta, piquillo pepper sauce and tzatziki. Part of a family of modern all-day cafés, Monday Bunday is also available at Rail House Café's sister sites, Riding House Café in Fitzrovia and Village East (excluding quinoa burger) on Bermondsey Street.
Where: Rail House Café, 8 Sir Simon Milton Square, Westminster, London SW1E 5DJ
Photo Credit: Paul Winch-Furness 
8. For a New Dessert Menu: Yauatcha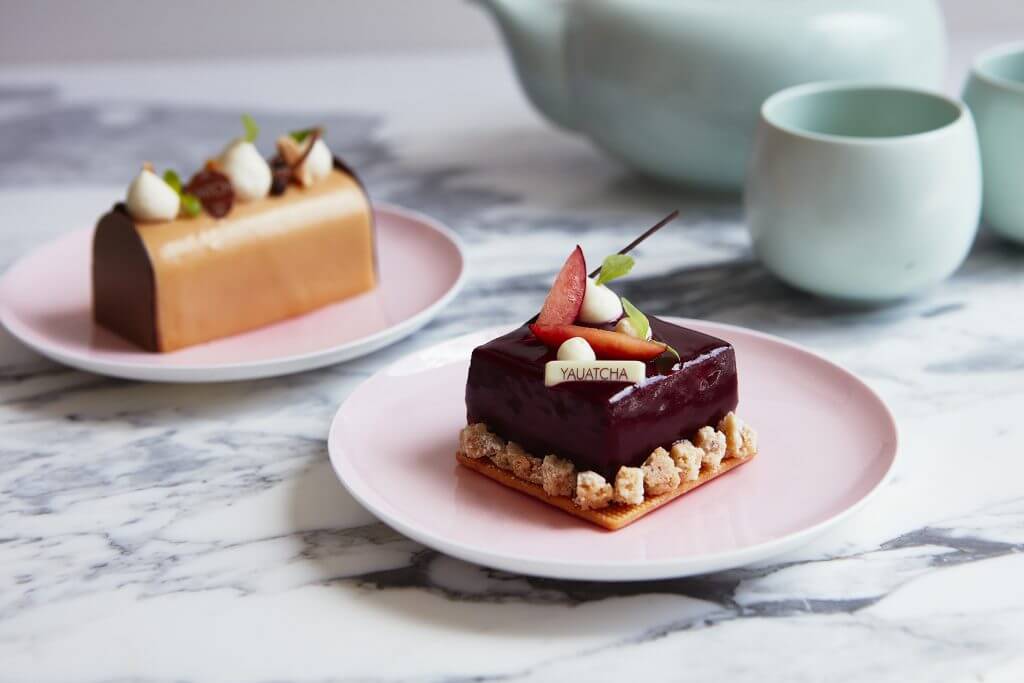 What: Best way to celebrate autumn? New macarons, obviously. If you need your sweet fix, pop into Yauatcha to tuck into their all new patisserie collection. The autumn menu features five new petit gateaux and macarons that showcase the rich, warm and comforting seasonal ingredients such as plums and blackberries, as well as flavours of chocolate, ginger and red wine.
Why: Highlights of the new autumn collection patisserie range include the pear bavaroise, with a light pear and bergamot mousse, gingerbread sponge and a roasted pear compote, finished with a pear glaze; and the autumn forest fruits, a plum and blackberry mousse layered elegantly on top of plum and red wine jelly finished with a red wine glaze and fresh autumn fruits. The season's trendiest ingredient spiced pumpkin, features in one of the five new macarons in the collection.
Where: Locations here 
9. For a New Pop-Up: Meraki x The Clumsies Bar 
What: On Tuesday 3rd and Wednesday 4th October, multi-award winning The Clumsies Bar from Athens will be in residence at the recently opened Greek restaurant, Meraki. Ranked 9th place in 'The World's 50 best bars in 2016', The Clumsies are the only Greek bar within the top ten list not located in London or New York.
Why: There will be eight cocktails available, split into four categories; Hydrogen, Synchrony, Zymosis and Harmony. Highlights include; Phantasmagoria made with Johnnie Walker Gold reserve whisky, mead, apple soda and salted caramel; Nostalgia, a fruity blend of pineapple Zacapa23 rum-infused, crafted biscuit rum, 'Nostalgia Elixir', Otto's Athens vermouth and childhood bitters; and Chaos, a muddle of crafted buckwheat Ketel One vodka, Samos Vin Doux Dessert wine, caper leaves, beeswax and hops olive oil.
Where: 80-82 Great Titchfield Street, W1W 7QT
10. For a New Bar Opening: Canova Hall 
What: From the team that brought you Martello Hall in east London, Canova Hall is a new day to night bar and restaurant in Brixton. For the freelancer crowd there's hot-desking with bottomless coffee, and for the late night revellers there's cocktails and plenty of banging beats.
Why: All-day grub is centred on natural fuel with an authentic wood oven imported from Modena, Italy, delivering quality, simple food. The menu boasts classic Italian dishes such as the house tagliatelle with stracciatella, pink peppercorns and gremolata, and the smokey rigatoni with smoked acrmoza, pistachio pesto and rosemary. Bringing an array of pizzas from their sister bar Martello Hall in Hackney, best sellers include rock star margherita and smokey bandit alongside some new pizzas like the hot don with 'nduja, finocchiona, pickled chillies, hot red pesto and oregano.
Where: 250 Ferndale Road, Brixton, London SW9 8BQ
One for luck… 
11. For a New Delivery Service: Selasi x Deliveroo 
What: British baking superstar Selasi Gbormittah has opened a Deliveroo exclusive pop-up, where everyone will be able to order his show-stopping bakes, featuring botanical themed cup-cakes, piped with Selasi's famous icing in four different flavours.
Why: Available from Tuesday (3rd October) until stocks last, the four creations include Chocolate Orange, Raspberry Vanilla, Strawberry Vanilla and Coconut, Passion Fruit and Mango. Each delicate handmade cupcake features different coloured rose-shaped icing, topped with a real edible flower.
Where: Locations here 
Photo Credit: CPG Photography Ltd