The leaves are turning brown, there's a chill in the air and our thoughts are naturally turning to custard and pie. So, when you're not stocking up on Pret a Manger's new butternut ricotta mac and cheese – here are ten autumn dishes from London's top restaurants you really need to try.

Autumn Dishes in London: For Game
1. For Game Pie: Jamies Fifteen
What: Guinea fowl pie with pickled walnuts, lovage and parsley salad at Jamie Oliver's Fifteen. The Jamie's team under Robbin Holmgren are going from strength to strength!
Where: 15 Westland Pl, London N1 7LP
Autumn Dishes in London: For Pasta
2. For a Veggie Main: Clipstone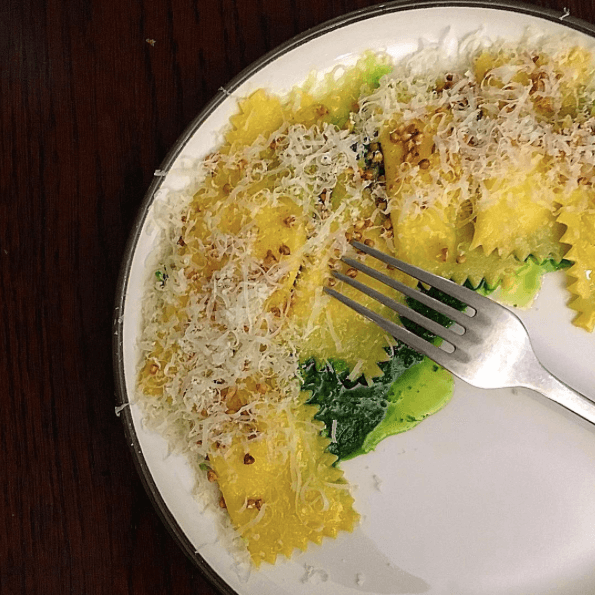 What: Celeriac ricotta ravioli with kale pistou and toasted buckwheat at Clipstone. Delicate, silky thin pasta, velvety, verdant – so much flavour, so much skill.
Where: 5 Clipstone St, London W1W 6BB
Autumn Dishes in London: For Chestnuts
What: Chestnut menu at Rivea. A celebration of all things chestnut including fabulous roasted scallops with chestnut and pumpkin. All the good things on one dish!
Where: Bvlgari Hotel London, Bulgari Hotel, 171 Knightsbridge, London SW7 1DW
Autumn Dishes in London: For a Dessert
4. For a Mousse: The Manor Restaurant 
What: Fig leaf soya mousse, melon parfait and garden herbs at The Manor in Clapham: their dessert game is one of the best in town and this is why.
Where: 148 Clapham Manor St, London SW4 6BX
Autumn Dishes in London: For Veggie
5. For a Cheesy Dish: The Good Egg
What: Braised fennel with baked ricotta, fried capers and honey at The Good Egg. Not just for brunch! Go for dinner and you can get dishes like this. And chocolate halva pie for dessert.
Where: 93 Stoke Newington Church St, London N16 0AS
Autumn Dishes in London: For a Salad
6. For Mushrooms and Truffle: Bel-Air
What: The Baller salad at Bel-Air: wild mushroom, orzo, and champagne vinaigrette salad with truffle. So decadent, yet still a salad. Winning.
Where: 54 Paul St, London, EC2A 4LN
Autumn Dishes in London: For Rabbit
7. For Middle-Eatern Eats: Honey and Co
What: Rabbit stifado braised in tomatoes, mountain herbs and red wine with garlic sourdough at Honey and Co. Warming, gently spiced, fragrant with herbs; this is everything that's good.
Where: 25 Warren St, London W1T 5LZ
Photo Credit: Honey & Co 
Autumn Dishes in London: For a Starter
What: Whipped squash with goats curd and grilled flatbread at Tramshed. Never mind the chicken and steak – we are all over this starter.
Where: 32 Rivington St, London EC2A 3LX
Autumn Dishes in London: For Root Vegetables
9. For Small Plates: Morito Hackney Road
What: Butternut fattee at Morito Hackney Road. No fattee jokes, please. This gorgeous layered dish of squash and rice and chick peas, and all sorts of other goodness is autumn on a plate.
Where: 195 Hackney Rd, London E2 8JL
Autumn Dishes in London: For a Crumble
10. For a Classic Pud: Quo Vadis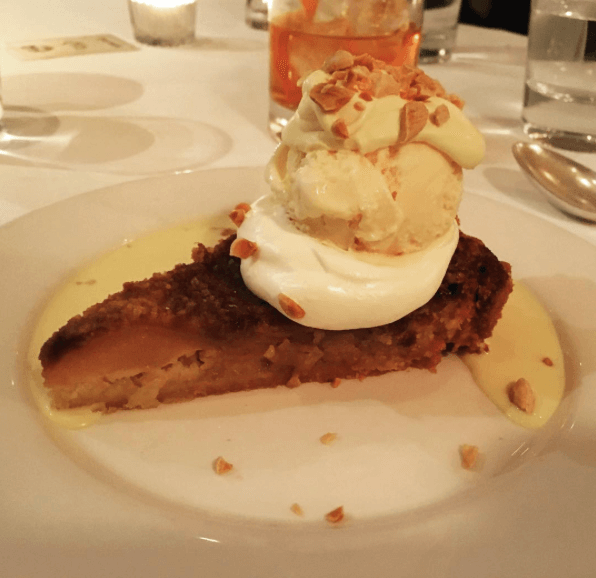 What: Caramelised pear and almond crumble tart served with custard, honey ice cream and cream at the newly re-opened Quo Vadis. ALL OF THE YES.
Where: 26-29 Dean St, London W1D 3LL
Photo Credit: mrbenmccormack