About Time You Tried: London's Heavenly New Dessert BarsBy Rosie Crossman
A long time has passed since Nestle banished the nasties from their Smarties. Gone are the days when Black Jacks were a penny a pop (don't worry M&Ms still provide fail-safe E-number fix). Missing the sugar coma of my childhood, I went in search of fairy lights and sticky gloop at the dessert-only Afters in Tooting.
Here many a sweet tooth can be satiated by sundaes as big as your head, served smothered in cream and drizzled with an array of luminous sauces. To be honest, any establishment serving 'Knickerbocker Glories', 'Cookie Monsters' and which set 'Great Balls of Fire' (alight with a sparkler) gets my vote!
Afters is not the type of place to take food snobs or sugar-free saints, and it will undoubtedly leave you craving the savoury solace of Hula Hoops. That said, it is a fantastic way of remembering how exciting a sugar-surge was to your eight year-old self.
Afters has one problem… there is not an option to sip something boozy. Let's be honest if you are going to smash your daily intake calories, you might as well do it properly. If a bit of late night sipping and scoffing is up your street you should check out our top 5 dessert bars in London. Happy sugar rush, kids:
#1 For Cocktails + Pudding: Basement Sate
On the 4th of September Cathleen McGarry opened her late night drinking and dessert destination in Soho. The Cocktail Bar serves the sticky creations of pastry chef Dorian Picard until midnight. Here, pudding is king and not a slap-dash afterthought in the gastronomic experience. The puds have been scrupulously constructed to complement the flavours of the 12 sophisticated, yet unfussy cocktails on the menu.
Perfect for: A post-theatre treat.
#2 For a Dessert Tasting Menu: Pollen Street Social
Chef and demi-god Jason Atherton is the pudding daddy of the moment. At his famously smashing establishment, Pollen Street Social, he invites you to take pudding at 'The Dessert Bar'. Here six lucky guests can supervise the chefs crafting pastry and paint the plates with lines of unctuous sauces. Scoff a chocolate marquise, praline, milk mousse and honey ice cream, washed down with a glass of unctuously fragrant Tokaji Aszu.
Perfect for: the ultimate dessert feast.
#3 For a Pudding Flight: The Pudding Bar
If you need the sanity of sweetness all day long, the Pudding Bar has it sewn up. Nip in for afternoon tea, or better take a Pudding Flight: a tasting menu offering little nuggets of joy, matched with excellent pudding wines. The bar is like Freddo Chocolate bars – the menu's little morsels of joy, just leave you wanting more (£32-£16 without the booze). If you like you puds sweet and your wines dry, they also have a good list of bubbles and vino.
26 Greek Street, Soho, W1D 5DE
#4 For Alcoholic Puddings: Ruby Violet
To add booze to the pudding mix itself, head to Ruby Violet on the Tufnell Park, Kentish Town fringe. This plumping parlour changes its menu daily; and icy treats are made in small batches, often using seasonal ingredients. Dairy-free daisies should try the Gin & Tonic Sorbet, hardened slurper-foodies, the Quince and Moscato D'Asti.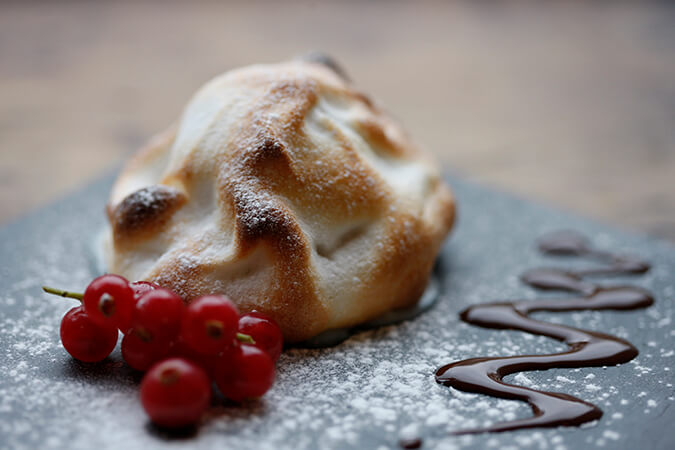 Ruby Violet's founder Julie Fisher is running Baked Alaska masterclasses (17th November, 1st December + 2nd February), for the capital's next intake of aspiring Great British Bakers – tickets available here. 
#5 For Patisserie + Cocktails: Yauatcha 
We are a little bit in awe of Yauatcha who seem to have nailed the patisserie-dim sum equilibrium. Head to their pudding bar and salivate. Yauatcha aim to create petit gateaux, to seamlessly follow the rich lingering spices of Chinese cuisine. In reality the puds are little marvels of joy, which stand tall in their own right. The macarons are fantastic and the Jasmine honey is an unmissable union of chocolate, jasmine and caramelised honey. Savour the desserts with the Cha la lai cocktail (Belvedere Vodka,  Black Grapes, Oolong Tea, Apple Juice and Champagne) and roll home grinning.
 15-17 Broadwick Street, W1F ODL
If you like to satiate your sugar cravings in the comfort of your own home, look no further.
Sloe Gin Jelly for 4: 
200g Raspberries
300ml Red Wine (any plonk will do)
3 tsp  Powedered Gelatin
Juice 1/2 a lemon
70g Caster Sugar
120ml Greenall's Sloe Gin
1. Soak the raspberries in the wine over night.
2. Pour the raspeberry and wine mix through a sieve, into a pan
3. Add the gelatin to the lemon juice in a bowl, and heat gently over a pan of simmering water
4. Heat the wine gently and add the sugar, stirred until it has dissolved
5. Stir  the sloe gin and the gelatin mixture into the wine
6. Add the raspberries to four glasses and pour over the jelly mixture, leave to cool in the fridge to set for 5 hours