We're big on the alternative Christmas feasts at About Time. Italian, Peruvian, Indian, you name it, we like it. Why? Well, for one, turkey's a bit overrated – and hey, London is wonderfully multi-cultural, and why not celebrate all the creeds and colour of this fair city in food.
One of our favourite Peruvian restaurants, Andina, by the mastermind that is Ceviche's Martin Morales, is offering a fantastic value South American-inspired Christmas lunch. If you're looking for something special to treat relatives, office workers or family, here's what you need to know:
Andina Christmas Menu: The Lowdown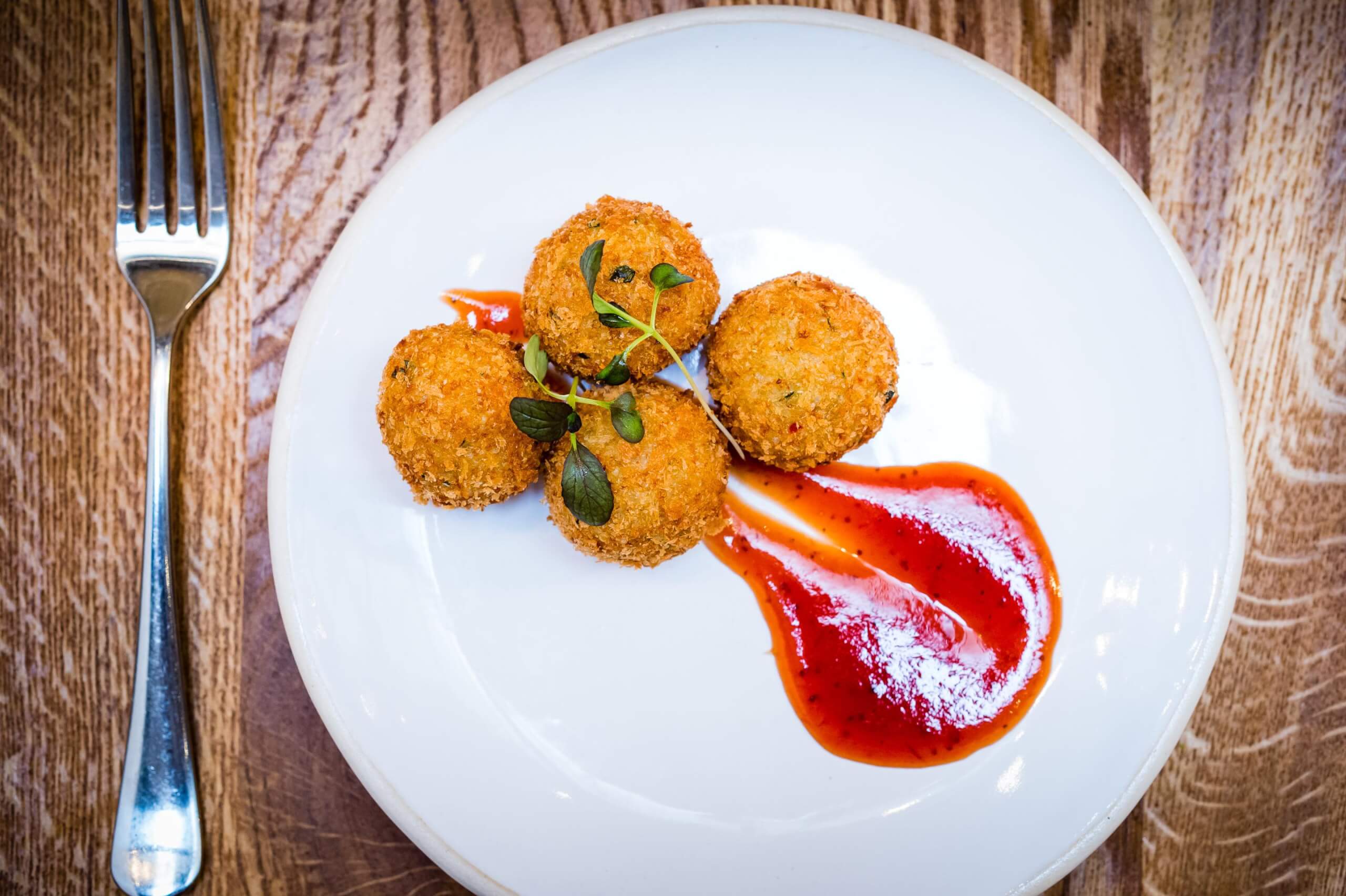 For £36 person, the menu is designed to share around the table – as is all Andina's food, which is a Peruvian 'tapas' style of traditional ceviche and grilled fish, meat dishes. The courses are normally £5-£7.50 per dish, so this is a fantastic way of sampling some of the best bits of their incredibly varied menu. Our favourite dishes feature on the Christmas menu, including their sensational and famous Ceviche Morado, which includes salmon, blueberries and avocado. Sounds strange, but it totally works.
Andina Christmas Menu: The Food
The menu allows you to try a range of the restaurant's classic dishes; the ones that put them on the map. Start with mini pork chicharrones with salsa and chilli sauce and vegetarian quinoa crosquetas (amazing), followed by some of the most amazing Peruvian ceviches you could imagine.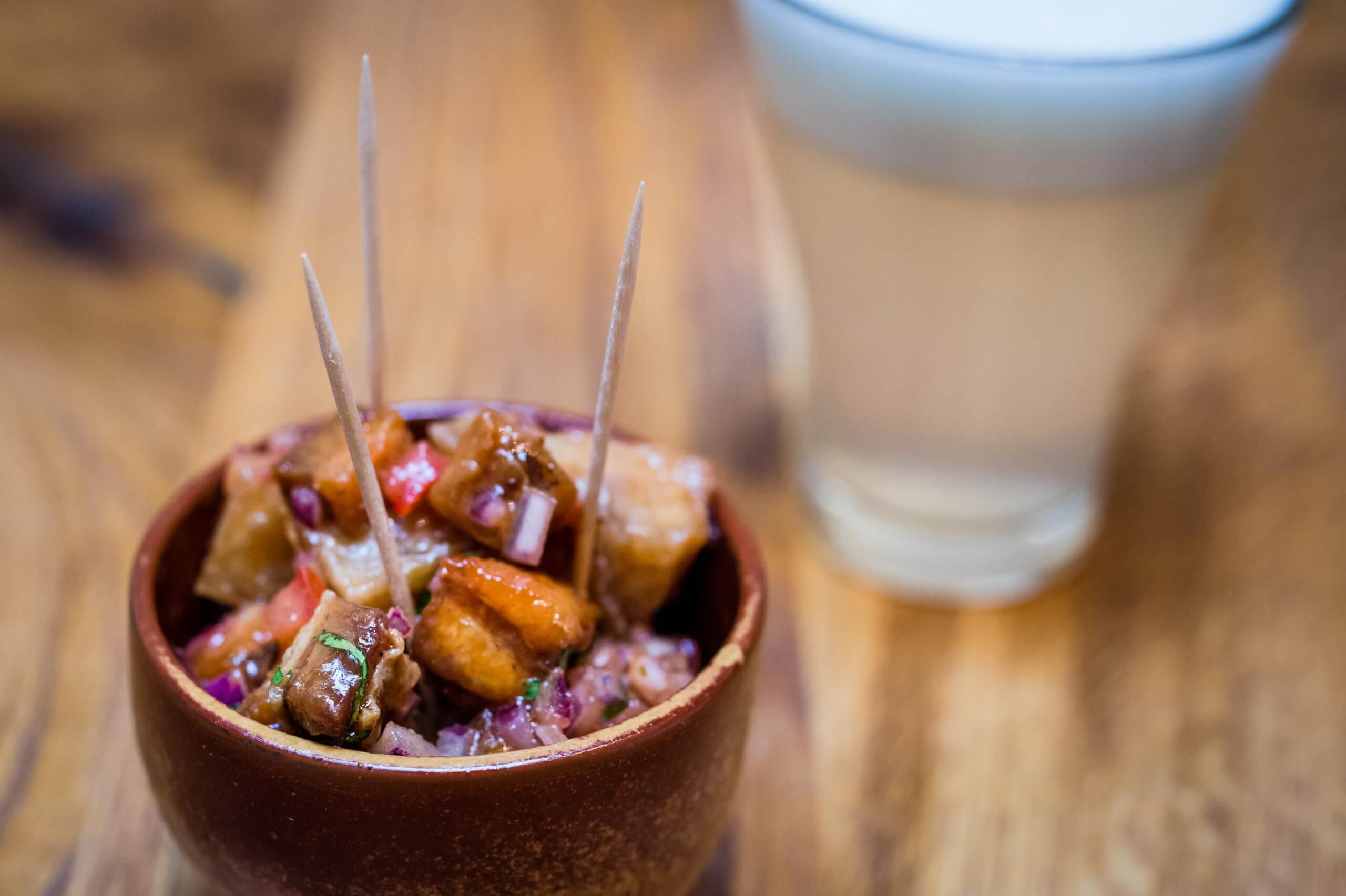 Highlights are the purple potatoes, which come with golden beetroot, and the stunning salmon ceviche with avocado, red pepper and blueberries. Sounds strange, but I would cross London for it. The other dishes are all sensational, too; their famous Ceviche Andina with seabass and sweet potato, lamb with dark beer and marinated white beans, monkfish with cumin, samphire and lime.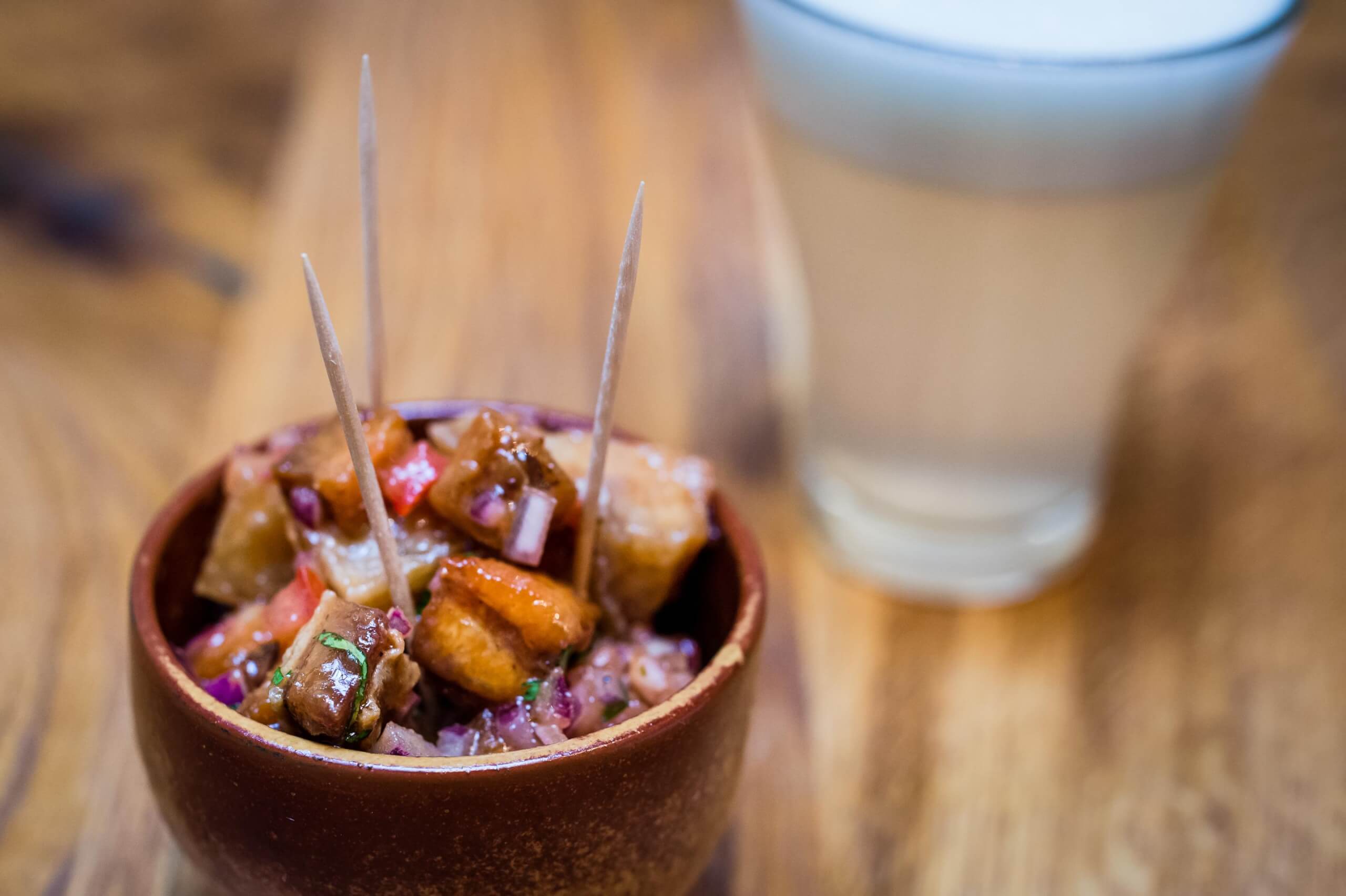 The list goes on, the dishes keep coming; it's the most fun, sociable way to spend your Christmas office lunch, we say. The beautiful meal ends, like all good things, with chocolate. In this case, a dark chocolate quinoa brownie (yes, really) and a superfruit lucuma puree. Heavenly.
Andina Christmas Menu: The Drinks
Andina is famous for its Pisco Sours – they even have a dedicated Pisco bar downstairs, which has a great vibey feel. They always have special Piscos on offer, so ask the bartender for the week's special mix. My personal favourite is the spicy Peru Bravo, which is made with pineapple and their own chilli-infused Pisco, topped with ginger ale. It's got a real kick to it, and compliments the flavoursome ceviches perfectly.
Andina Christmas Menu: The Verdict
If you're looking for somewhere extra special to take your family or loved ones for Christmas lunch, we cannot recommend it enough. Something about the place, maybe it's all the Pisco and the sharing plates; it's so warm and full of light, laughter and festive joy. Martin Morales, you devil, you.
To see more and to book, see here.