Whisky or whiskey as it's spelt in Ireland (it's all to do with the Irish Gaelic terminology) is what Ireland was built on. One of the first whiskey pioneers was John Jameson, who started distilling whiskey back in 1780 – fast forward to now and Jameson's is by far the best selling Irish whiskey in the world. We recently visited Dublin and drank our way around the city's finest watering holes to uncover the best whiskey bars you should be showing your face at. Pack a strong stomach and some Berocca:
The Cocktail: Unicorn Tears (Rocks Boulevardier) – Jameson BB, Cocchi Americano, Pedro Ximénez, P&P Grapefruit Infused Campari and Dead Rabbit Orinoco bitters.
The Lowdown: If you ever find yourself longing to be drinking a fine tipple, in what feels like your Grandma's house, hop foot it over to Peruke & Periwig on the lively Dawson Street. This bar is as vintage and as time warped as it gets – antique clocks, ornaments and large scale paintings litter the walls and plush red curtains drape the windows, while  wooden cladded walls helps makes the space feel intimate and sophisticated. This old-worldly bar bursts which character and boasts a wide and delicious array of cocktails. Their East meets West is a clever twist on the Martini, with the whizz kids at Peruke & Periwig using Oolong tea infused Jameson mixed with Dolin Sweet and Dry Vermouth, and aromatic bitters. It's the Unicorn Tears cocktails that makes us cry tears of boozy happiness. It's punchy, fruity and after a few, you'll probably forget your own name.
Location: 31 Dawson Street, Dublin 2
Cocktail: Bottom of the Barrel – Jameson Black Barrel,  Mace, TLR Orange Curacao, Pimento and Maraschino
The Lowdown: The Liquor Rooms is slap bang in the centre of Dublin and is the ideal midnight pit stop for a few killer cocktails. This quirky decorated, cosy basement bar is low lit, and oozes that hipster charm. The Liquor Rooms pushes the envelope when it comes to crafting the perfect drink – the cocktail wizards use house-made tinctures, the finest spirits and ingenious methods to create off the wall cocktails that puts Heston to shame. In daylight hours, the bar rolls out their light bites menu until late evening – swerve the risotto balls and order the Bottom of the Barrel cocktail. The cocktail feature Jameson Black Barrel which is a richer flavour than regular Jameson, with a strong sherried note. Thanks to the splash of Maraschino, this is one sweet drink. Be sure to take a selfie with the legendary Liquor Bear, he even has his own Instagram account and who knows, after a few shots – you may become best mates at the end of the night.
Location: 7 Wellington Quay, Wellington Quay
The Cocktail: Via Lactea – Jameson, Rose Water, Lavender syrup and KOH Coconut Milk
The Lowdown: If you really want to drink like a true Dubliner, The Bar With No Name is the place. This is a favourite amongst the locals, and is fast becoming a popular joint for the out of towners.  Nestled above Kellys Hotel, the bar has surprisingly, no signage outside – look out for the large wooden snail and take the staircase up one floor for a right rip roaring time.  This is not a place to whisper sweet nothings to each other over candlelight, this is a place to bust out your most prized dance moves to the filthy beats being played. Their cocktails are decently priced, but be prepared to wait at the bar – No Name fills up quickly at the weekend. The Via Lactea is a dessert come drink – rich, creamy with floral notes. No Name is a great, down-to-earth hangout, that exudes New York speakeasy vibes. The bar is also home to a surprisingly big outdoor seating area, and if you're a fan of hair of the dog, come back for their brunch. Best pancakes in town. No lie.
Location: 3 Fade Street, Dublin 2
The Cocktail: Bow Street Sour – Jameson Black Barrel, Lemon Juice, House Bitters
The Lowdown: If Berlin and New York were to make love and bring up a whiskey swigging infant, it would be Drury Buildings. The exterior is a mix between graffiti and industrial chic. It's so moody cool, it hurts. The cocktail bar is on the ground floor, but we also recommend a visit to the restaurant on the first floor. The steak and cheesecake are the standout dishes. Everything about this trendy cocktail bar is fantastic, from their amazing outdoor terrace to their impressive cocktail menu. All cocktails feature premium spirits, fresh juices and all of their syrups are made in house by their highly skilled cocktail buffs. It's fair to say their signature cocktail, Bow Street Sour is nothing short of a liquid miracle. Jameson Whiskey, a splash of lemon juice and a handful of house bitters. Job done. To see Drury Buildings at its peak be sure to pay a visit on a Friday or Saturday night.
Location: 55 Drury Street, Dublin 2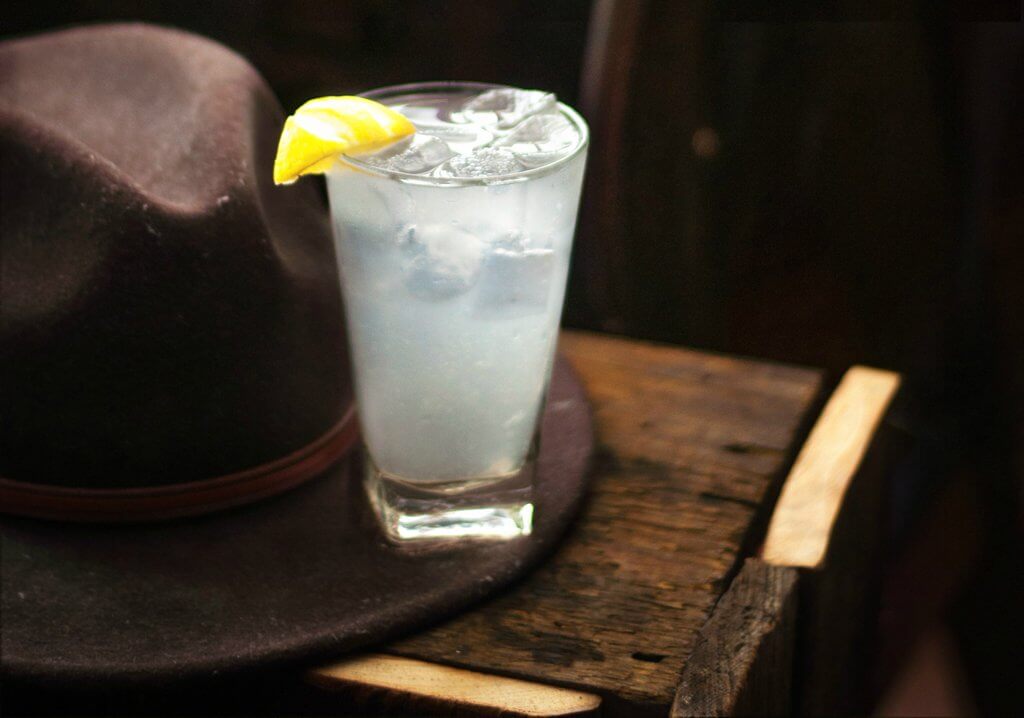 The Cocktail: Apricot Sour – Jameson Irish Whiskey, De Kuyper Apricot Brandy, apple juice, lemon juice and a spoon of apricot jam
The Lowdown: Bison bar seems better suited to a down and out wild west film than the on the busy streets of Dublin. Don't be fooled by the rather questionable frontage, inside is a mecca to one thing: whiskey. The bar stocks more than 140 whiskeys from around the world. Drink in some of the finest whiskey from America, Canada, Japan and not forgetting; Ireland. For a drink to make your cheeks rosy, try the Manhattan. A heady combination of Rye Whiskey and Sweet Vermouth served on the rocks. They weren't lying when they said it packs a punch. The Apricot Sour is a clever twist on the traditional Whiskey sour – apricot brandy plus a spoonful of apricot jam, all mixed with the famous Jameson Whiskey. Not only do they do the best ribs in town but they also have the most friendly and welcoming staff. It's both quirky and brilliant and an absolute must on the Dublin bar list.
Location: 11 Wellington Quay
The Cocktail: Rosy and Jim – Jameson Irish Whiskey, Rosemary-Infused Rhubarb Liqueur, Fresh Citrus, VCC 3 Sugar Syrup, egg whites, with a rosemary skewer
The Lowdown: Vintage Cocktail Club pays homage to the speakeasies, aviators and silent movie starlets of yesteryears. They've really gone the whole nine yards with the vintage theme – a sea of knick knacks, understated lighting, large arm chairs and art deco features. This refined, cocktail bar oozes with character and charisma and offers everyone the chance to sip on an award-winning cocktails while being transported back to the Prohibition era. The cocktail list features a handful of tongue in cheek titles, sip on Absinthe Minded, Bloody Italians or the Tequila Mocking Bird. Eating is not cheating at the Vintage Cocktail Club, they knock up a variety of bites from salads to sharing platters and roll out their brunch on the weekends. Rosy and Jim may be best known as the cult children's TV programme, but this cocktail is far superior to two puppets on a boat. Rosemary, rhubarb and whiskey are three ingredients that are a match made in cocktail heaven.
Location: 15 Crown Alley, Dublin 2
Whiskey Pairing: Jameson Caskmates and Galway Hooker Stout
The Lowdown: If you don't visit L.Mulligan Grocer while you're in Dublin, then quite frankly – you're doing it wrong.  This is as Irish as it gets, and we can't get enough of this old-worldly gaff. It's a celebration of Ireland – they source all of their produce from Irish farmers, bakers and candle stick makers and take great pride in stocking Irish whiskey and beers.Whiskey heaven itself, this traditional-style pub offers whiskey aficionados the chance to delve into the city's largest range of Irish and global whiskeys. They have a dedicated beer and whiskey pairing menu, after all both drinks contain the same DNA: malted grains, yeast and water. The two drinks are designed to be sipped side by side to get your palette moving. Next time you have a stonking hangover in Dublin, trade in your Bloody Mary for one of L.Mulligan Grocer's Irish coffee. They've resurrected this well-loved drink back to its former glory using organic cream and French Press Coffee. Sensational.
Location: 18 Stoneybatter, Dublin 7
One for luck.. 
The Cocktail: Jameson, Ginger and Lime
The Lowdown: The Bernard Shaw is a tardis. Behind the graffiti covered walls lies a magical wonderland featuring a double decker bus that serves food, a pool table, a projector screen for sporting events and a generously sized beer garden. Come and dance the summer nights away under the stars. One of the coolest spots in Dublin, The Bernard Shaw plays host to a wide variety of the trendiest events about town. From DJs and art exhibitions to gigs and live graffiti sessions, the Bernard Shaw has it all in abundance. Chow down your pizza on the bus in the patio area or venture inside to the cocktail lounge. There's a small smattering of tables inside – order a Jameson, Ginger and Lime, the simpler the better in this chilled-out hotspot. If this bar was in London, it would be overrun with unruly beards and double denim, thankfully this doesn't apply to The Bernard Shaw in Dublin. It's unpretentious as it gets. Don't take our word for it, go check out what all the fuss is about for yourself.
Location: 11-12 Richmond St S, Dublin 2