Just because you're dairy-free, doesn't mean you have to miss out on some delicious sweet drinks. We've sourced some of the finest nut milk-based drinks London has to offer – go forth and drink all the nuts:
1. For Hazelnut Milk: Tanya's Cafe 
What: My Sweet Surrender – cacao, hazelnut milk, medicine flower, dates, salt and vanilla
Milk Blend: Plant-based food, all organically grown and free from refined sugar and gluten is why Tanya's Cafe has become a popular haunt. Their cold pressed juices  are outrageously good, packed full of flavour and with all the fruity goodness you might expect. Their nut milk coffees for breakfast are a great change from your sugar loaded, whipped cream coffee monstrosity  you order on your breakfast run. Their milk options are our favourite, with the sweet surrender a well balanced drink of  hazelnut milk, dates and vanilla is fast becoming our favourite morning pick me up.
Where: 35 Ixworth Place, London, SW3 3QX
2. For Vanilla-Almond Milk: Roots and Bulbs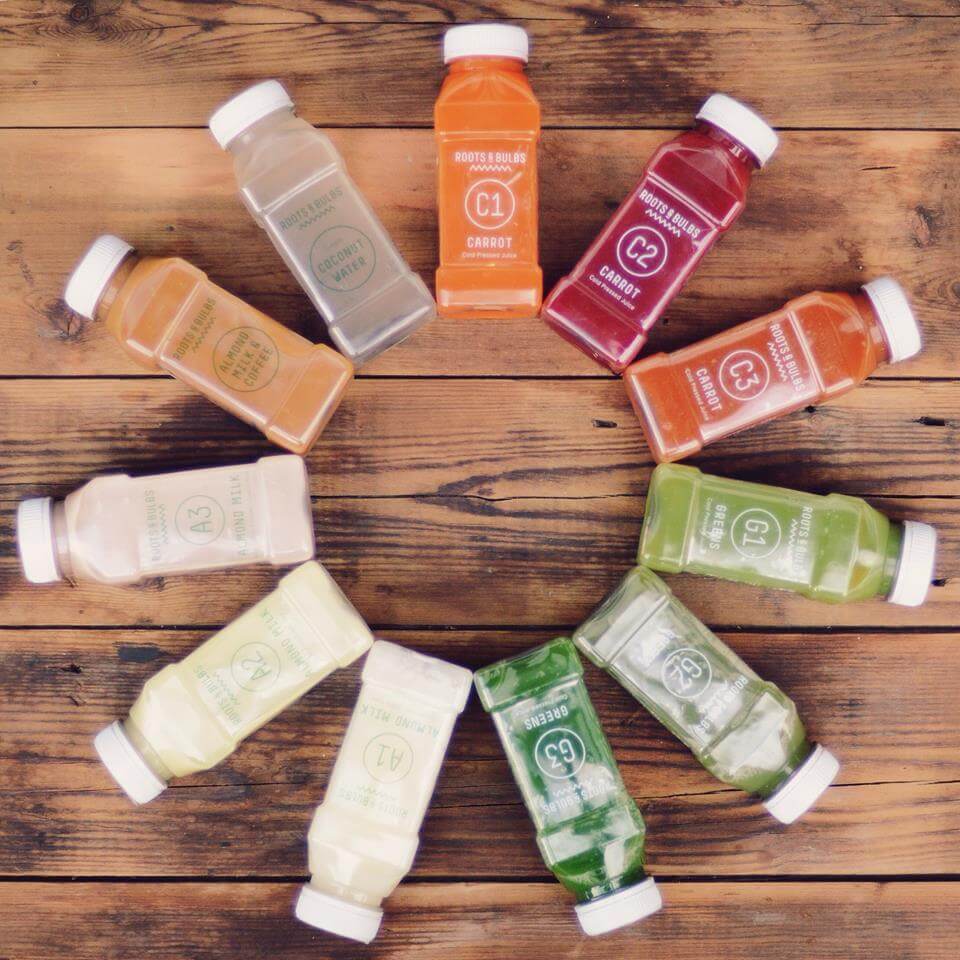 What: Bad Boy – homemade vanilla almond milk, homemade cashew butter, raw cacao powder, blueberries, banana, oats, flax seeds and pumpkin seeds
Milk Blend: Cold pressed organic juices, superfood smoothies and naturally sourced food is the order of the day at Roots and Bulbs. The menu is small and refined – what it lacks in size, it makes up for with their fresh tasting, healthy and just generally yummy products. The folk at Roots and Bulbs have got  'healthy drinks' down to a tee.  Whilst their cold pressed juices are killer (they're pressed twice and are utterly dreamy), their smoothies are worth a shout out. With choices from the smart smoothie with coconut water and banana to the show stopping bad boy, a combination of home-made vanilla almond milk with a ton of superfoods and home-made cashew butter, it's totally nutty tasting and that's why we like it.
Where: Locations in Marylebone and South Kensington. See here
3. For Coconut Milk: Supernatural 
What: Kale Smoothie – kale, banana, pineapple and coconut milk
Milk Blend: Supernatural have won, where many others have failed – creating green juices that don't taste like a liquidised salad, (we've all had a fair share of bad green juice experiences). If you're a green juice fiend order the detox cleanse, a mix of kale, spinach, cucumber, apple and a hint of lime for a citrus hit.  Their kale smoothie is a sweet treat too, with the coconut milk  a welcome addition to the drink, making a change from almond milk. The sweetness of the pineapple and banana is well matched with the bitterness of the kale, a perfect smoothie to combat the afternoon lull. Supernatural also deliver to offices and homes around Old Street, the City and Canary Wharf.
Where: Unit 4, Canary Wharf Underground Station, London E14 4HJ
4. For Hemp Milk: Healthful Method
What: Hemp Protein Buzz – hemp milk, vegan protein, blueberries, strawberries, banana and dates
Milk Blend: Healthful Method is a nutrition and fitness coaching program, centring on using real, good tasting, nutritious food – none of this fad food malarky. They've also created smoothies, juices and fitness food, all ideal to grab after a gym workout. Drop by their smoothie van at Canary Wharf for their hemp protein buzz smoothie, made using hemp milk which tastes a lot creamier and nuttier compared to other nut milks – you can keep your almond milk. Hemp milk is packed full of fibre, iron and potassium, throw in some berries, dates and bananas and you've got yourself one sweet tasting smoothie.
Where: Smoothie Van at West India Quay, Canary Wharf ,London
5. For Cashew Milk: Juice Baby
What: Latte – organic, dark-roast, fair-trade Colombian coffee. Served with fresh, raw home-made cashew milk.
Why: Using locally sourced ingredients, hand making all food and drink and staying away from dairy, eggs, gluten, chemical additives and preservatives – Juice Baby have nailed the art of healthy living. Trade in your classic hot latte, for their cold-brewed one, made using cholesterol free, unpasteurised raw home-made cashew milk – the dream. All of their coffee is fair trade and organic and tastes way better than your standard coffee shop version, we promise. Remember to pick up one of their caramel bars made from raw chocolate, cashews and macadamia nuts – simply delicious and guilt-free.
Where: 398 King's Road, London, SW10 0LJ