Festive cocktails. Who doesn't love them? We're getting in the Christmas spirit (literally) by drinking all the spiced, fruity and chocolatey cocktails. Here are ten festive tipples you need to try this weekend. Happy sipping, London:
1. For a Quirky Cocktail: OXO Tower
What: It's a Small World – chocolate and cherry flavours, Prosecco and flaked coconut
Why: Festive cocktails are best served in a snow globe, fact. OXO are celebrating the festive period by releasing a limited edition Christmas cocktail menu full of show stopping creations. Devised by OXO's top mixologist Sophie Bratt, the cocktails use an array of deliciously festive seasonal ingredients to deliver modern twists on Christmas classics, such as Egg Nog and hot toddies. It's a Small World takes inspiration from Sophie's childhood memories of snow globes which were always synonymous with Christmas in her family home. The cocktail is not served in a glass, but a miniature snow globe, naturally.
Price: £13.50
Where: Oxo Tower Wharf, Bargehouse Street, South Bank, London SE1 9PH
2. For a Berry Cocktail: Ask For Janice
What: Berry Christmas – Janice's own sloe gin, cranberry syrup and Prosecco. Garnished with cranberries and a sprig of rosemary.
Why: Ask for Janice is a cafe, bar and restaurant serving anything from porridge in the morning, to killer cocktails and alcoholic beverages in the evening. They've got a dedicated gin list, featuring a range of gins from around the world. Their Christmas cocktail list offers a range of different tipples including the Janice Eggnog made from a whole egg and dusted with nutmeg.
Price: £9
Where: 50-52 Long Lane, London EC1A 9EJ
[related_articles]
3. For a Sweet Cocktail: Forest Restaurant & Cabin Bar
What: Fancy Eggnogg – Courvoisier, Frangelico, cream and honey
Why: The Forest Cabin Bar is situated on the rooftop of Selfridges. Taking inspiration from the outdoors, the enchanted forest allows you to enjoy hearty comfort food and seasonal cocktails under the stars. Get cosy in blanket-filled wooden lodges, one of which boasts a photo booth. Don't leave without trying the Baileys Flat White Martini, it's an absolute game changer. Festive cocktails don't come much better than this.
Price: £12.50
Where: Forest on the Roof, Selfridges, 400 Oxford Street, London W1A 1AB, England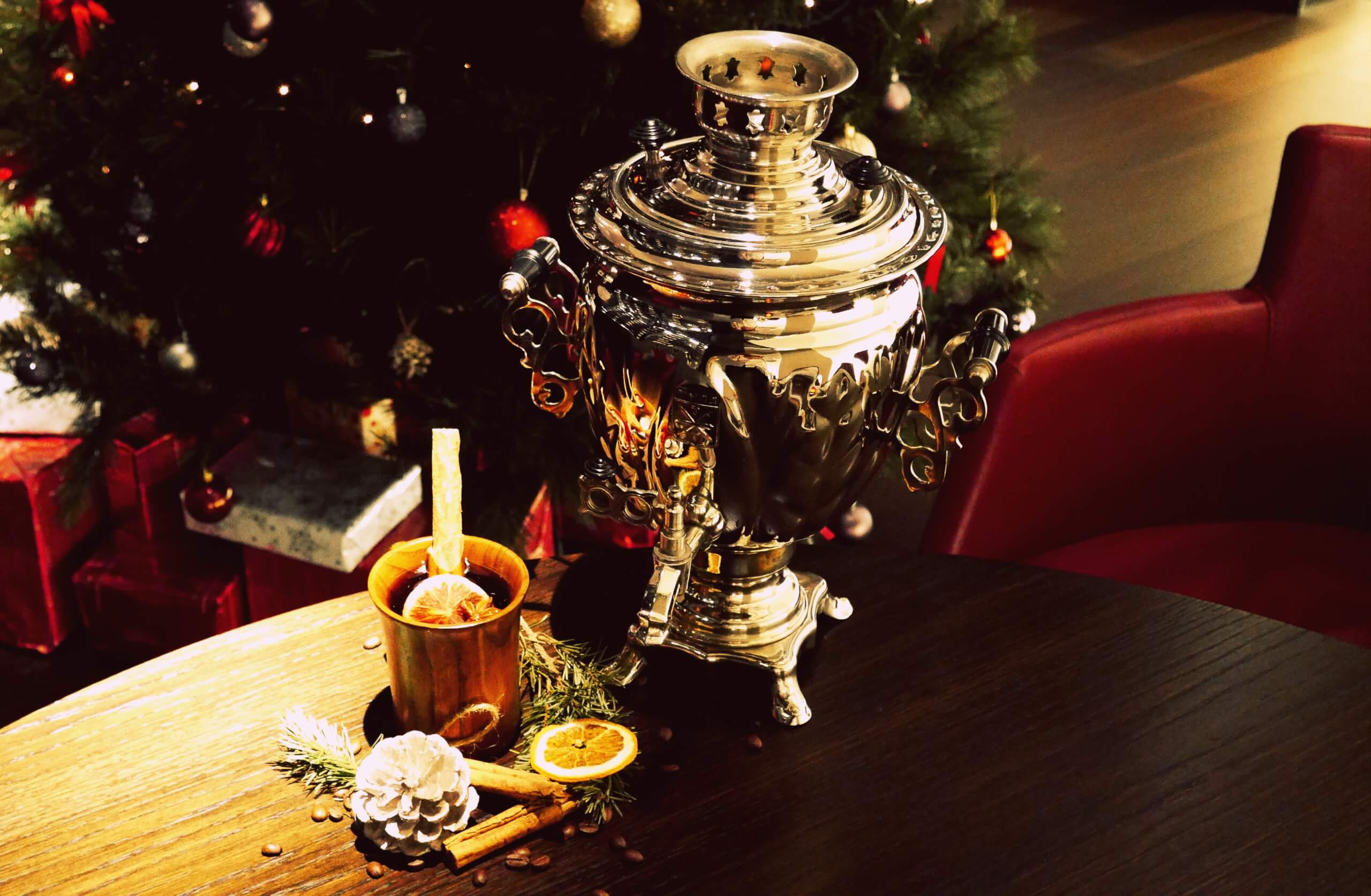 What: Mulled Wine
Why: MASH has given their mulled wine a grown up twist. The drink is built on a base of Grace Bridge Pinot Noir, along  with the usual mix of cloves, cinnamon, star anise, nutmeg and orange. Their resident creative genius, Robyn, came up with some a little different – so added honey, cassis, and Woodford Reserve bourbon. We can confirm that American Whiskey really does work with wine. We promise.
Price: £8
Where: 77 Brewer St, London W1F 9ZN
5. For a Coffee Cocktail: Murakami
What: Wake Me Up Before you Tok-y-o – Great King Street Scotch, Kalhua and espresso
Why: Wake Me Up Before you Tok-y-o is a twist on the classic Espresso Martini. This festive cocktail combines Great King Street Scotch, Kalhua, espresso and homemade winter spiced syrup – a combination of sugar syrup infused with star anise, vanilla pods, cinnamon and cloves. This modern restaurant located in the famous West-End aims to give customers a cutting-edge, good-value dining experience showcasing Izakaya cuisine at its best. Festive cocktails with a Japanese twist? Yes, please.
Price: £8
Where: 63-66 St Martin's Ln, London WC2N 4JS
[related_articles]
6. For a Fruity Cocktail: Salvatore's Bar 
What: Christmas with Sal –  Martell cognac, fresh pineapple juice and slices of orange
Why:  Searching for a fruity cocktail with a hint of spice? Look no further than 'Christmas with Sal', a cocktail curated by mixologist to the stars –  Salvatore "The Maestro" Calabrese. This cobbler style drink is made with Martell cognac, lashings of fresh pineapple juice, slices of oranges and lemons, finished off with a drizzle of Winter Spice Syrup, which boasts festive flavours of cinnamon, nutmeg and pumpkin.
Price: £13
Where: 14 Old Park Ln, London W1K 1ND
7. For a Dessert Cocktail: aqua nueva 
What: Christmas Cocktail – Rum, cacao, cherry liqueur, egg white, double cream and milk
Why: Nico Peratinos, Bar Manager at aqua London specially created the Christmas Cocktail in honour of people's love for rich foods over the festive season. Using Nico's favourite ingredients – chocolate and cheese, the cocktail blends together the richness of cacao with warming notes of cherry liqueur and rum. The cocktail is then finished with parmesan shavings, for that extra cheesy kick.
Price: £10.50
Where: 5th Floor, 240 Regent Street (Entrance 30 Argyll Street), London W1B 3BR
8. For a Bourbon Cocktail: Worship Street Whistling Shop
What: Milk & Silk –  Lemon juice, Oleo saccharum (Caster sugar and lemon peel mixed), roasted spelt, barley malt extract and Gosling 151
Why: The Worship Street Whistling Shop is a Victorian inspired cocktail bar on Worship Street. They take cocktails very seriously here, with a cocktail menu packed full of zany and unusual ingredients. The drinks are made using cutting-edge culinary techniques, with a nod to both traditional and inventive flavours. Roasted spelt shouldn't work in a drink, but it does – it really does.
Price: £10
Where: 63 Worship Street, London, EC2A 2DU
9. For a Hot Cocktail: Graphic Bar
What: Gin Blazer – Caramelised marmalade, G'vine Floraison Gin, Blackwoods 60% Gin and lemon juice
Why: Graphic Bar, off Soho Square, specialises in all things gin and boast a collection of over 300. The carefully crafted hotcocktail, full of winter spiced flavours burns with a blue flame reminiscent of a fiery Christmas pudding. The cocktail is finished off with a light dusting of cinnamon powder. It's like Christmas in a glass.
Price: £10.50
Where: 4 Golden Square, London W1F 9HT
[related_articles]
10. For a Nutty Cocktail: Voltaire 
What: Coming of Age
Why: Voltaire is a luxury Champagne bar and cigar terrace.  The coming of age cocktail uses 18 year old Glenfiddich whisky which has extraordinary character from an intense small batch marrying process. The tipple is  a clever twist on the Negroni for the drinker who is perhaps more used to stronger, straight up cocktails.
Price: £14.50
Where: 19 New Bridge St, London EC4V 6DB