Top 5: Cocktails You Need to Drink in London This WeekendBy Alicia Grimshaw
A well made cocktail takes some beating. It's time to don your highest heels and your sparkliest dress and hit the town. Let's get drinking:
1. For a Negroni Cocktail: Rotunda 
The Drink: Champagne Negroni – Champagne, Campari and Sweet Vermouth
The Story: Running until September, Rotunda has specially created an outdoor terrace like no other titled, The Waterside Garden. The seating area offers an oasis of calm in the centre of London, making it a go-to dining, drinking and entertaining destination this summer. Overlooking the Regent's Canal, the focal point of the garden is The Waterside Garden Bar adorned with floral motifs, hand painted by a Perrier-Jouët artist. The bar serves a wide range of drinks including Rotunda's star cocktail of the summer – the Perrier-Jouët Champagne Negroni, a twist on a traditional Italian Negroni which replaces the gin with Champagne, served in a champagne flute and garnished with a twist of orange peel created by Rotunda's mixologist Karl Cooney.
Price: £11.95
Where: Kings Place, 90 York Way, London N1 9AG
The Drink: Asian Sensation – Bombay Sapphire, Fever-Tree Indian Tonic Water and Green Tea Syrup
The Story: This week sees the launch of The Bombay Sapphire Rooftop Retreat at Harvey Nichols.  Exploring the classic gin & tonic serve in an unexpected way, The Bombay Sapphire Rooftop Retreat features an alternative selection of unusual ingredients for everyone to create their ideal combination. Including a range of tempting tonic waters such as elderflower, yuzu and lemongrass, and a number of different garnishes, you can create your own gin & tonic to suit your palate. For those looking to take their drink to the next level, artisanal tonic syrups from Jack Rudy can be fused with soda water to create the perfect accompaniment. Inspired by the artful creation of Bombay Sapphire and its vapour infused 10 exotic botanicals, the selection of avant-garde cocktails feature ingredients from around the world such as goji berry liqueur, cubeb berries and passion fruit.
Price: £13
Where: Fifth Floor, Harvey Nichols
3. For an Asian Cocktail: Bo Drake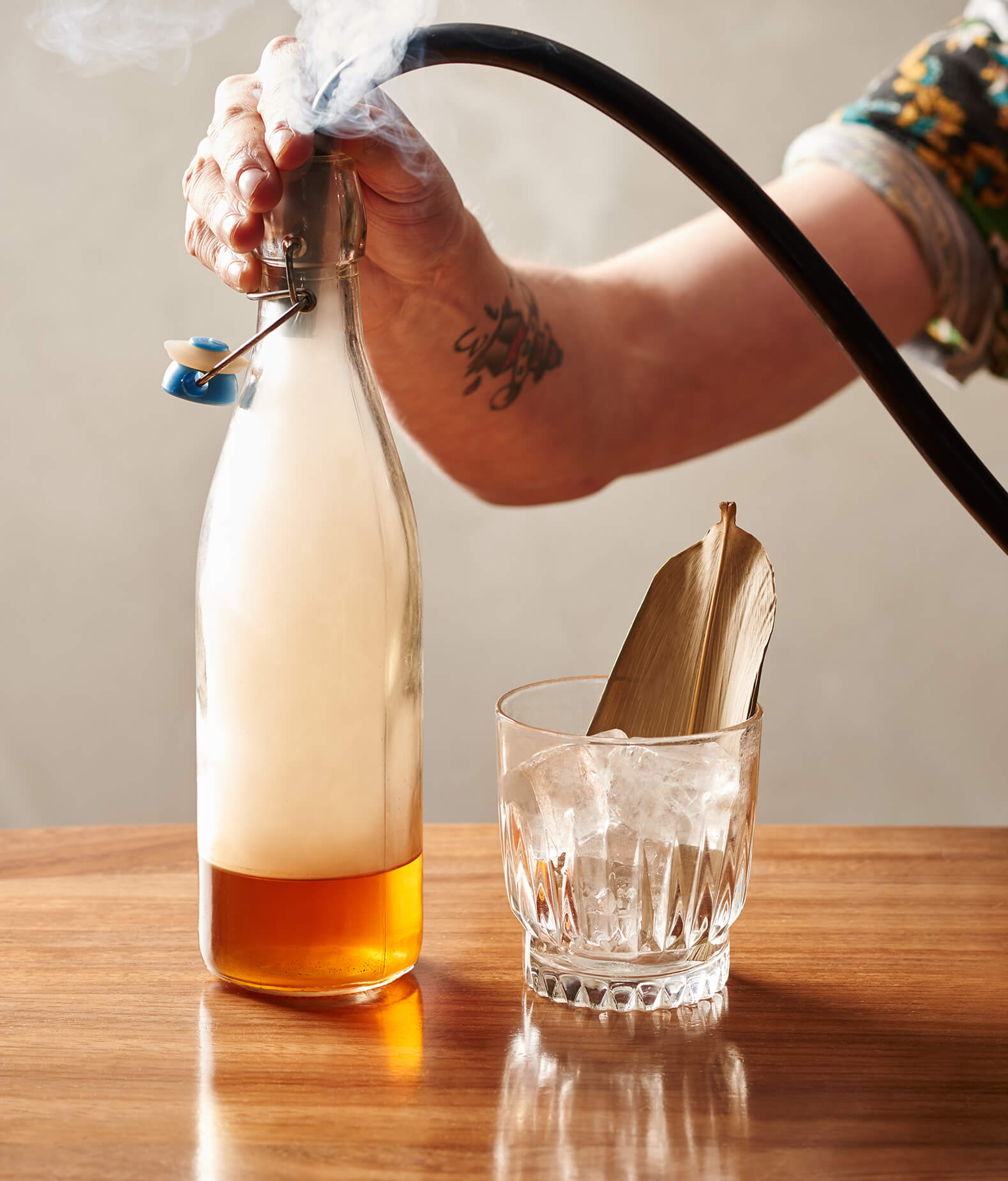 The Drink: Big Smoke – Sou Hakushu 12yr, Bamboo Syrup and Antica Formula
The Story: Bo Drake on Greek Street specilises in Asian cuisine with a European twist. The team have recently added to their food offering, with a range of new foodie delights on the menu. And, along with the new dishes, they've given their cocktail menu a revamped with brand spanking new tipples. Head Barman Darren has created the Big Smoke cocktail, a theatrical cocktail that can be tailored to your personal taste, adding as much or as little smoke as desire. All ingredients are mixed together in a glass bottle, filled with Hickory Smoke then sealed and left to infuse for 2-3 minutes before being poured over ice. Try the Peruvian Garden made with celery, basil, Pisco 1615 and Masthia – it's a liquid miracle.
Price: £12
Where: 6 Greek St, London W1 4DE
4. For a Quirky Cocktail: The Oriole
The Drink: The Duke of Savoy Cocktail – Courvoisier VSOP, Hazelnut Sugar, Quince Cordial and Calvados
The Story: The Oriole is a super swish subterranean bar located under Smithfields market. If you're after something a little out of the ordinary, you've come to the right place. Decked out in explorer paraphernalia, the bar is home to out of this world cocktails and a fine selection of nibbles. Be sure to sample as many as cocktail as you can – they're as off the wall as the decor. Inspired by the times of adventure and discovery in 1860, this cocktail takes its name from the Duke of Savoy, who refused to give up his French identity and instead wore it proudly. Here his essence is embodied in a heady cocktail for friends to share this patriotic drink, a regal mixture of Courvoisier VSOP, hazelnut sugar, quince cordial, calvados, apple and lemongrass.
Price: £20-40 dependent on the group size
Where: Smithfield Markets, E Poultry Ave, London EC1A 9LH
5. For a Floral Cocktail: Tredwell's 
The Drink: Rose and Almond Clover Club – Gin, Raspberries, Lemon, Rose and Almond
The Story: Tredwell's by Marcus Wareing  brings modern London cooking to the heart of the Seven Dials – this restaurant is in the beating heart of London, close to fantastic cocktail bars, theatre hotspots and amazing hotels. Come here on a weekend – every Friday and Saturday evening, Tredwell's hosts live Jazz performances, which are brilliant fun. It's the place to come if you like people watching – there's nothing nicer than peering down on the refined diners below, over your glass of bubbly. The drinks are great: think seasonal cocktails and all-time boozy favourites. Opt for a fruity, botanical cocktail – the Rose and Almond Clover Club – a heavenly combination of Gin, raspberries, lemon, rose and almond. There's also got an extensive wine menu, including great sparkling champagne and rosés.
Price: £9.50
Where: 4A Upper St Martin's Lane, London, WC2H 9NY