Top 5: Cocktails You Need to Drink in London This WeekendBy Alicia Grimshaw
If the rumours (or the weather reports) are true, this weekend is set to be a scorcher. Nothing quite beats sinking a few cocktails on a roof terrace whilst boiling in the London heat. Don't be parched this weekend, drink cocktails:
1. For a French Cocktail: St~Germain x South Place Hotel
The Drink: Parisien Daiquiri (£11)
The Blend: Light Rum, St Germain, Lime Juice and Sugar
The Story: St~Germain has partnered with South Place Hotel for a very special summer pop-up on the hotel's Angler Terrace. Running until September, enjoy a variety of  carefully crafted selection of St~Germain cocktails including the Parisian Daquiri, From Angler with Love and Sangria Flora as well as the elegant aperitif,  The St~Germain Cocktail. Made with St~Germain, sparkling wine, ice cold soda, and garnished with a lemon twist – this is the perfect Sunday afternoon cocktail. St~Germain is crafted using fresh, wild elderflowers hand-picked over a 2-3 week period per year at the peak of their flavour and aroma, St Germain is a marvel of French savoir faire.
Where: 3 South Pl, London EC2M 2AF
2. For a Fiery Cocktail: Myki Sand Bar at Archer Street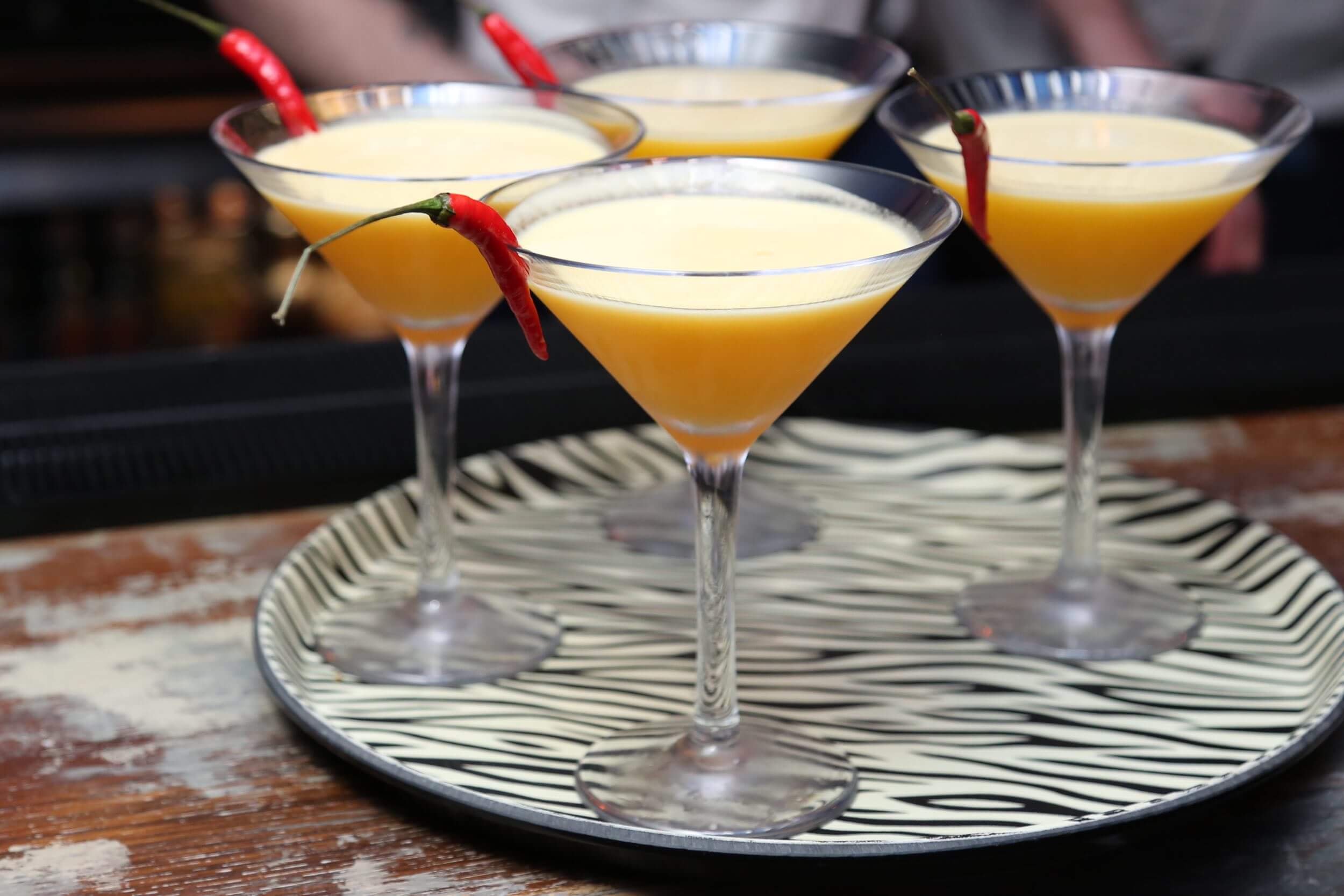 The Drink: Heatwave (£12.50)
The Blend: Cîroc Vodka, Peach Liqueur, Chilli Bitters and Orgeat
The Story: Expect to be taken on an epic journey of summer bliss, as Archer Street teams up with Cîroc vodka to launch London's first beach club bar, Myki Sand Bar in the heart of Soho. Swimming suits are not required. The bar  features an exclusive bespoke menu of cocktails curated by Cîroc, featuring a selection of its most popular vodkas including Cîroc Blue Stone, Cîroc Pineapple and the exclusive new Cîroc Pink Grapefruit to name a few.  The new cocktail serve inspired by world famous beach clubs, includes creations such as the signature Heatwave, a vibrant medley of Cîroc Blue Stone, peach liqueur, lime, chilli bitters and orgeat and Yes I Like Piña Coladas, a delectable twist on the tropical favourite, which sees Cîroc Coconut blended with cream, pineapple, Coco Lopez and a pinch of salt.
Where: 3-4 Archer St, London W1D 7AP
3. For a Gin Cocktail: Tanqueray 10 x Quaglino's
The Drink: Miss Von Teese (£12.75)
The Blend: Tanqueray 10, Galliano, Egg White, Lemon Juice, and Lavender and Raspberry Syrup
The Story: Quaglino's has just announced the launch of Giovanni's Gin Joint, a prohibition style gin bar that invites you back to a time of speakeasies, jazz, glitz and glamour. Open until August, the summer pop-up will feature Great Gatsby style parties, murder mystery evenings and incredible live 1920s music and performances. To toast the arrival of Giovanni's Gin Joint, Quaglino's have teamed up with Tanqueray to transform the hidden bar and restaurant into a prohibition style destination serving a bespoke cocktail menu. Sip on the Miss Von Teese, a heady combination of Tanqueray 10, egg white and lavender and raspberry syrup. There's also the Garter 75, Tough Lover and Moulin Rouge cocktails on the menu too.
Where: 16 Bury Street, London SW1Y 6AJ
4. For Foraged Cocktails: The Botanist x Selfridges 
The Drink: The Botanist Garden (£10)
The Blend: The Botanist Gin infused with Goji Berry, with Lime Juice, Lemon Juice, Cream, Egg White, Goji Syrup and Mezcal
The Story: The Botanist Gin and Selfridges have been busy in the cocktail lab creating four new cocktails, each one using ingredients foraged in London. The cocktails are available exclusively at Selfridges' restaurants: Harry Gordon's Bar, The Corner Restaurant and Champagne Bar, Aubaine and Selfridges' rooftop restaurant, Forest. This exciting collaboration began when The Botanist led Selfridges' bartenders on a foraging expedition through Hampstead Heath to harvest a selection of wild ingredients. And the results are epic – order the The Urban Botanist at Harry Gordon's Bar, where the Botanist Gin has been infused with bay leaf, star anise and thyme, topped with lemon juice and ginger ale. Try the Botanist Garden at Forest on the Roof, a refreshing blend of Botanist Gin infused with goji berry and lime juice. It's a boozed up smoothie, and we're totally ok with that. 
Where: 400 Oxford St, London W1A 1AB
5. For a Limited Edition Cocktail: Dandelyan Bar
The Drink: Jimson Blossom (£13.50)
The Blend: Porter's Gin, Yellow Chartreuse, Coconut Lime, Chamomile and Passiflora Tincture
The Story: Dandelyan Bar at the stylish Mondrian London on the South Bank is a pilgrimage for any avid cocktail drinker. They push the boundaries, whipping up cocktails that fuse together unusual ingredients with incredible results. Since launching in October 2014 Dandelyan at Mondrian London has been the subject of much critical acclaim; last year winning 'Best New International Cocktail Bar' at Tales of the Cocktail's Spirited Awards 2015. To coincide with the new Georgia O'Keeffe exhibition at Tate Modern, cocktail maestro Ryan Chetiyawardana has designed a cocktail inspired by O'Keeffe's work. The Jimson Blossom is based on flowers, and references O'Keeffe's use of the canvas and floral depictions.
Where: 20 Upper Ground, London SE1 9PD