Top 5: Cocktails You Need to Drink in London This WeekendBy Angelica Malin
If there's one thing we're excited for this weekend, it's suppin' on a few alcoholic numbers. From sustainable cocktails to new Pisco serves – here's 5 cocktails you need to drink in London this weekend. Bottoms up:
The Drink: Ancho Mezcal Margarita (£10)
The Blend: Nuestra Soledad,  Ancho infused Orange Liqueur and lime juice. Shaken and served on therocks with an Ancho salt rim.
The Story: Cartel is one of Battersea's latest dining additions. The restaurant is home to a late-night tequila bar boasting no less than 70 different tequilas, spearheaded by the likes of Aretta, the legendary premium brand made from agave exclusively cultivated in fields on the outskirts of the town of Tequila. Bar Manager Josh Rooms has designed a cocktail list that celebrates both tequila and mezcal, offering creative twists on old favourites together with new creations like the signature Cartel with Patrón Blanco, citric acid and crème de peche, presented in a Patrón bottle, and Orendain with Arette Blanco, crème de cacao, dry vermouth and Peychaud's Bitters served straight up with an absinthe mist. In our eyes, you can't go wrong with a decent Marg.
Where: Cartel Battersea, 517-519 Battersea Park Road, London, SW11 3BN
2. For a Sustainable Cocktail: Cinnamon Soho x Ryan Chetiyawardana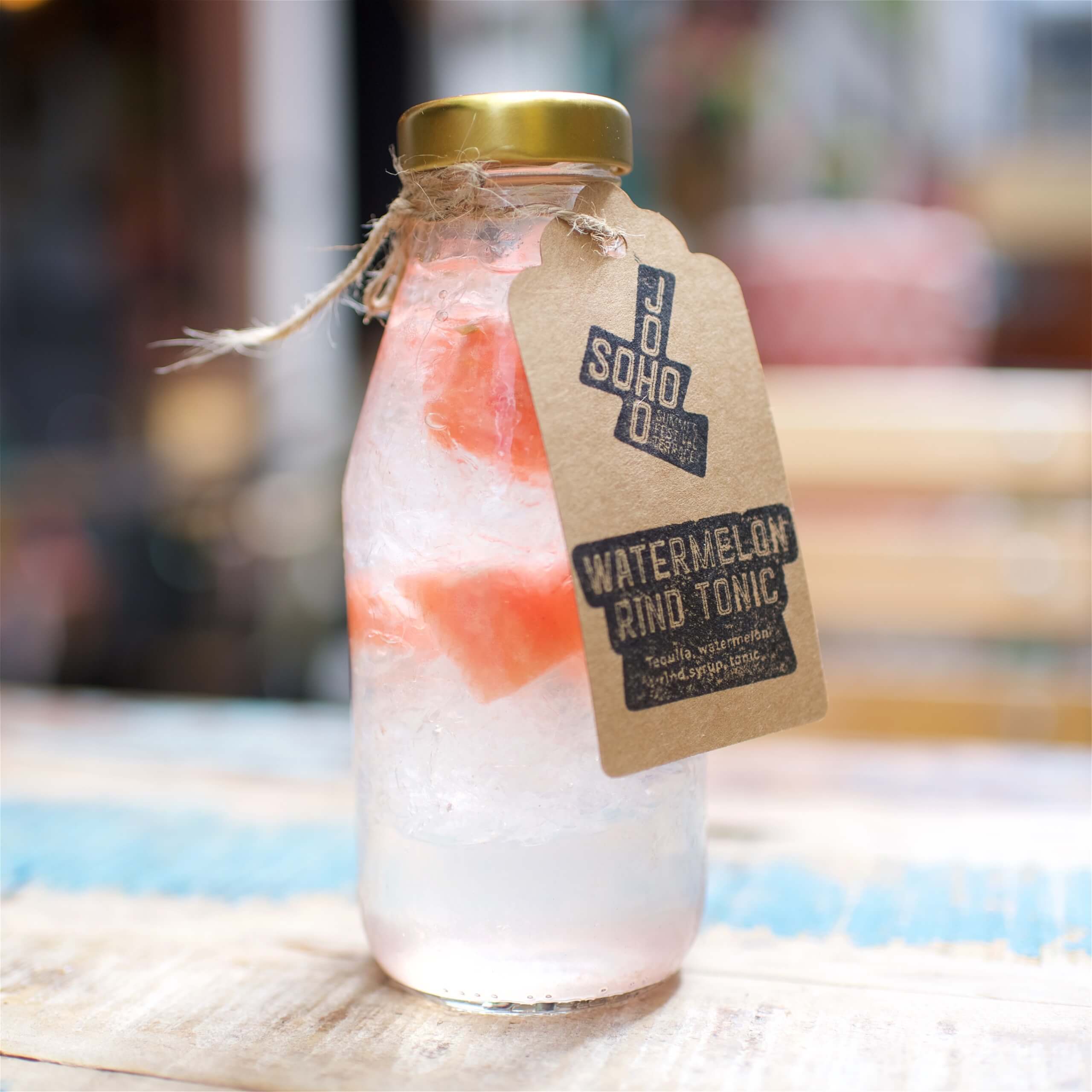 The Drink: Watermelon Rind Tonic (£10)
The Blend: Tequila and watermelon rind tonic syrup
The Story: Vivek Singh's modern-Indian restaurant Cinnamon Soho, has joined forces with Ryan Chetiyawardana, aka Mr Lyan, to launch a new 'green' Summer Festival Terrace. Open now, the sustainable alfresco terrace features a range of Mr Lyan 'Upcycled and Recycled' cocktails alongside a selection of Vivek's signature street food served in recycled dishes, ensuring nothing goes to waste. Featuring upcycled and recycled ingredients like watermelon rinds, pistachio shells and leftover chai to create syrups, cordials and liqueurs, Mr Lyan's range of sustainable drinks are served in repurposed milk bottles. Highlights include a Watermelon Rind Tonic, made with Tequila and watermelon rind tonic syrup, as well as a herbaceous Mint Stem and Curry Leaf Collins, combining Colombo Gin, fresh lemon juice, mint stem cordial and soda water for a flavour-packed punch.
Where: 5 Kingly Street, London W1B 5PF
3. For a Refreshing Cocktail: Temakinho 
The Drink: Sake Sour (£8.50)
The Blend: Sake, lime juice, egg white and Angostura orange bitter
The Story: Temakinho was a venture of love between three founders, who wanted to create a restaurant that brought the fusion of Japanese and Brazilian cuisine to life. Since opening their first restaurant in Italy in 2012, Temakinho have taken their zesty Japanese-Brazilian cuisine to Milan, Rome, Ibiza and most recently, our fair city. Pestiscos (a Japanese-Brazilian snack) and ceviches, rolls and tantalising temakis are paired with crisp Caipirinhas (the 'Queen of Brazilian drinks, prepared using Temakinho's 'Mais Amor' cachaca). Sip on the Fusion Sour, a refreshing blend of sake, cachaca, lime juice, egg white and Angostura orange bitter, and the punchy Sake Sour with sake, lime juice, egg white and Angostura orange bitter.
Where: 10 Old Compton St, Soho, London W1D 4TF
The Drink: Rhubarb and Fennel Collins (£11.70)
The Blend: Silent Pool gin, rhubarb and fennel cordial, yuzu juice and Mediterranean tonic water
The Story: Zuma is a Knightsbridge institution; incredible sushi, amazing cocktails and a secret off menu dessert platter you need to order. The restaurant has just launched a new cocktail menu for summer, combinING authentic flavours from the East with trending tastes and the seasonal scents synonymous with summer. Our picks of the menu are the Rhubarb and Fennel Collins, a fruity blend of Silent Pool gin, rhubarb and fennel cordial, yuzu juice and Mediterranean tonic water and the Tokatzu Margarita made with Mezcal Amores, avocado and shiso puree, apple, yuzu juice, green tea and finished with wasabi salt.
Where: 5 Raphael St, Knightsbridge, London SW7 1DL
5. For Re-imagined Cocktails: Dirty Martini 
The Drink: Rhubarb and Spice (£7.50)
The Blend: Briottet Rhubarb Liqueur and Fee Brothers Rhubarb Bitterspink peppercorns, Fever Tree Aromatic Tonic and star anise
The Story: To celebrate the longer nights and hotter weather the Dirty Martini mixologists have created the ultimate refreshing new range of Pisco and Tonics serves, to rival the gin classic. For Dirty Martini's summer menu, they have decided to elevate everyone's favourite seasonal sipper and create the next big trend; swapping stereotypical gin for the iconic Chilean El Gobernador Pisco. Gently hitting your palate with a spicy but decidedly sweet aftertaste, the Pineapple and Ginger is a perfectly curated serve; the King's Ginger Liqueur, Ciroc Pineapple Vodka, Pisco and Fever-Tree Mediterranean Tonic are mixed into a deliciously refreshing blend. The Rhubarb & Spice blend demonstrates Dirty Martini's skill in marrying a serve with the perfect garnish as this Pisco and Tonic is topped with a rhubarb ribbon and an infused Angostura bark Tonic which already heightens the senses before you taste. Briottet Rhubarb Liqueur and Fee Brothers Rhubarb Bitters are mixed with pink peppercorns, Fever Tree Aromatic Tonic and star anise which adds sweet hints of anise and liquorice.
Where: Locations here