Top 5: Cocktails You Need to Drink in London This WeekendBy Alicia Grimshaw
The sun is shining, it's Friday and post-work drinks are within touching distance. From rum based delights to a new summer spritz menu – here's 5 cocktails you need to drink in London this weekend. Time to paint the town red:
1. For a Summer Spritz: Riding House Cafe
The Drink: Zenzero
The Blend: Skipper rum, Evolution 19 sparkling wine, ginger ale and whisky bitters
The Story: Toasting the end of summer, Riding House Café have recently launched the 'Spritzrovia' cocktail menu, bringing a dose of sunshine to the Fitzrovia neighbourhood. Capitalising on the spritz's versatility in being composed of any number of fizzy, fruity, refreshing combinations; Riding House Café have designed a menu running morning through to nightfall that can be enjoyed with brunch signature favourites or a plate of bar snacks as dusk falls. Those seeking floral notes, order the Rosa with raspberry liqueur, Cocchi Americano, rose water, prosecco and soda. Need a refreshing drink? The Pompelmo with Antica Formula, grapefruit and prosecco, or the Zenzero with Skipper rum, Evolution 19 sparkling wine, ginger ale and whiskey bitters will cure your parched problems.
Where: 43-51 Great Titchfield St, Fitzrovia, London W1W 7PQ
Photo Credit: Paul Winch-Furness
2. For a New Pop-Up: Miami Bordel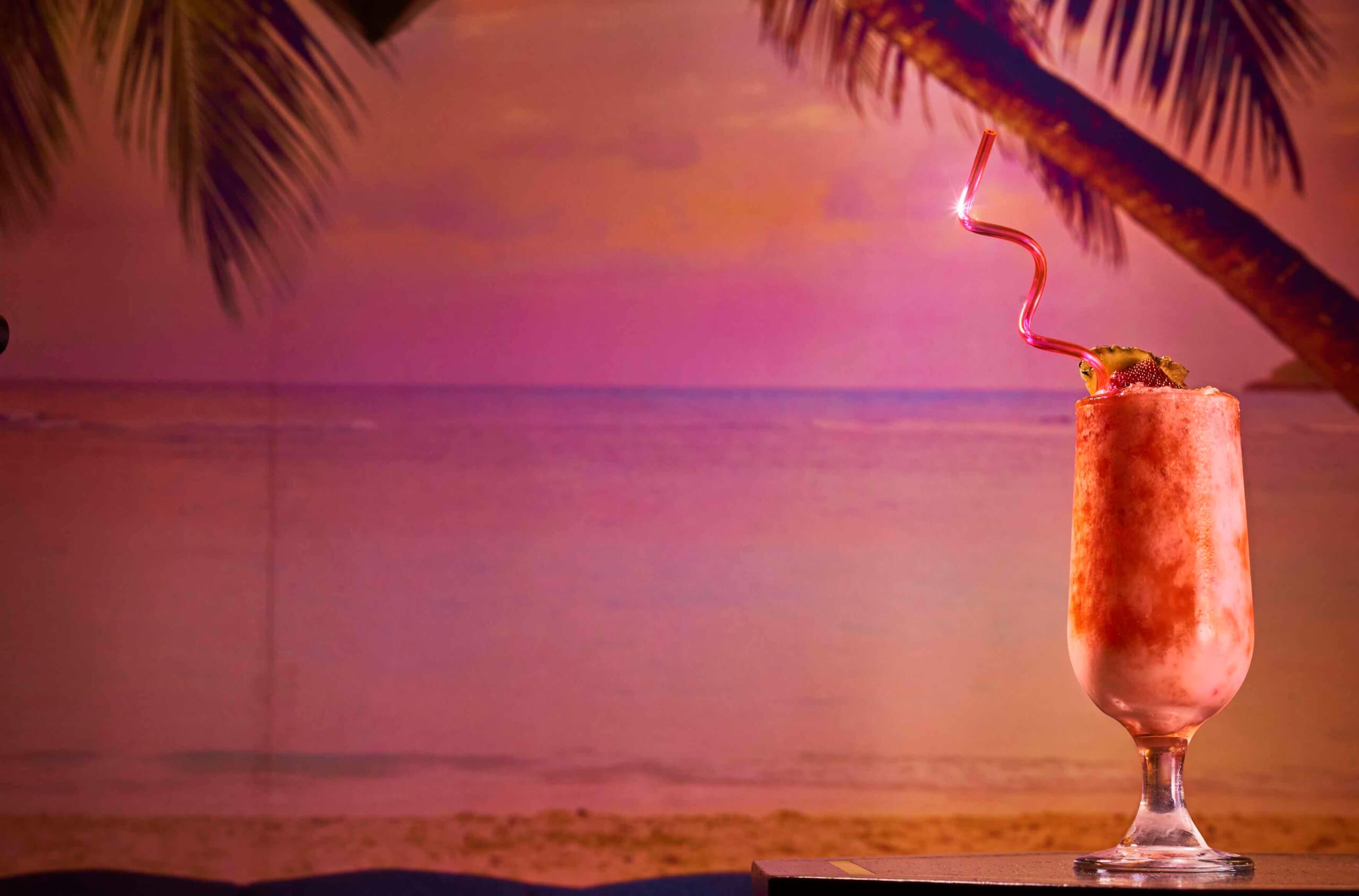 The Drink: Miami Vice
The Blend: Mount Gay Rum, Koko Kanu, coconut, strawberry, pineapple, lime and cane syrup
The Story: From the east coast Stateside to East London; Miami Bordel is now open. The Experimental Cocktail Club has transformed its celebrated Shoreditch basement bar, Joyeux Bordel into Miami Bordel – bringing sunshine vibes to the capital. Following on from winter's Chalet Bordel and Tiki Bordel last summer, the new Miami residence has been transformed into an East Coast beach scene, complete with a frozen drinks machine, a giant margarita, plus other 80s inspired cocktails with an ECC twist. The In the Air Tonight is our kind of drink – Chocolate infused Our/Vodka, Bols Créme de Menthe, Créme de Cacao, double cream and fresh mint – it basically tastes like a boozy Areo mint chocolate bar. And the Miami Vice featuring Mount Gay Rum and Koko Kanu is a frozen Piña Colada meets Strawberry Daiquiri mash up.
Where: 147 Curtain Road EC2A 3QE
Photo Credit: Addie Chinn
3. For New Cocktails: Zetter Townhouse Clerkenwell 
The Drink: How Do Ya Like Them Apples?
The Blend: Cider eau de vie, ice cider, steamed apple, lemon and soda
The Story: Zetter Townhouse Clerkenwell know their cocktails. Their talented mixology wizards have whipped up a new summer menu featuring bubbly numbers and heady concoctions. Take the Sage, a twist on the classic European 'maresque', containing Beefeater gin, an English pastis from Corwall, sage, lemon and soda. If you're a cider fan, but don't fancy sinking a pint – opt for the How Do Ya Like Them Apples? A light, fruity tipple featuring Cider eau de vie muddled with ice cider, steamed apple, lemon and soda. Lastly, the Propolis uses Propolis infused vodka (a by product of honey which bees use in building their hives and that also has medicinal properties), orris honey, and lemon charged with Perrier Jouet Champagne.
Where: 49-50 St John's Square, Clerkenwell, London EC1V 4JJ
Photo Credit: Addie Chinn
4. For a Twist on a Classic: Grey Goose x Sea Containers
The Drink: Le Pomme Fizz
The Blend: Grey Goose Original, St Germain, freshly pressed apple juice, fresh ginger juice and ginger bitters
The Story: Grey Goose has collaborated with some of the capital's most iconic bars to serve their own interpretation on the brand's signature serve, Le Grand Fizz, which is an elevated twist on the classic spritz. James Bennett, Bar Manager at the super cool Sea Containers at The Mondrian London, has concocted the  refreshing Le Pomme Fizz, which marries Grey Goose Original with St Germain, freshly pressed apple juice, fresh ginger juice and ginger bitters. Garnished with a sprig of Rosemary, Le Pomme Fizz is the perfect fruity serve to savour overlooking the Thames on the Sea Containers Summer Terrace. 
Where: 20 Upper Ground, London SE1 9PD
5. For a New Cocktail Menu: 100 Wardour St 
The Drink: Tea Party Extravaganza
The Blend: Hendricks Gin with bergamot, egg white, grapefruit and earl grey
The Story: 100 Wardour St's new menu is bursting with over 45 new cocktails and a debut cocktail tasting series. Created by 100 Wardour St's team of passionate mixologists, the stellar line up is made using luxury ingredients to suit all tastes and palates. Lost Treasures features a rum based selection including The Zombie, an extra strong blend of rums shaken with cherry liquor, Absinth, Falernum, lime and grapefruit juice, passion fruit and cinnamon syrup. And The Rum Cruise features favourites such as Rum DMC with Appleton signature blend rum and amaretto liquor, and the Navy Swizzle with Pusser's gunpowder rum and Pusser's spiced mixed with Triple sec, Velvet Falernum, Absinth and lime all topped up with flaming over proof rum. If you're not into rum, try the Tea Party Extravaganza featuring Hendricks Gin with bergamot, egg white, grapefruit and Earl Grey served on ice in a tea cup.
Where: 100 Wardour St, Soho, London W1F