Pizza lovers, rejoice! National Pizza Day (9th February 2019) is almost upon us, and we're too excited. We say: get your diary out and discover 5 of the best ways to celebrate this holier-than-thou day in the capital. Here's our favourite spots to celebrate National Pizza Day in London. Isn't pizza news, the best kind of news?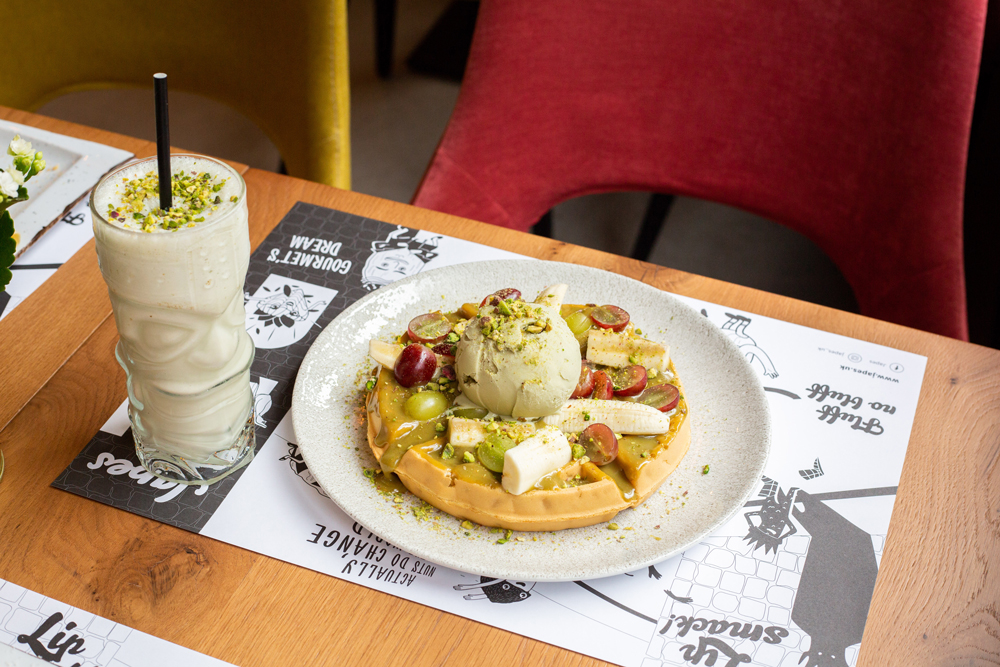 What: What better way to celebrate National Pizza Day in London than with pizza AND waffles? Bringing this dream to life are partners Aleksandar and Jovana, with their new restaurant Japes in Soho.
The Lowdown: Inspired by Chicago's pizza traditions, Japes' savoury menu features two delicious pizza styles. There's the deep-dish, where the pizza is baked in a deep pan giving it its characteristically high edge, leaving ample room for cheese. Also on offer is their pot-pie pizzas, made in a ramekin topped with dough and baked like a pie, before being upturned to reveal the cheesy mozzarella topping. Our favourite is the Bolognese Pizza Pot with bolognese sauce, mozzarella & mushrooms – it's delicious. For pudding, there's some great waffles to devour. Try the Monkey Peanuts Waffle with fresh red berries and homemade peanut chocolate sauce topped with home-made vanilla ice-cream and ground cookies. Too. Good.
Where: 22-25 Dean St, Soho, London W1D 3RY
What: The Pizza pros at Papa John's have gone vegan by adding 'Sheese' to its nationwide menu. The tasty cheese alternative will be available on four of Papa John's menu items with further products in development for the future.
The Lowdown: Perfect for those with plant-based diets, the delicious cheese alternative, 'Sheese', is made by award winning brand, Bute Island. Options include the classic and delicious, Vegan Sheese and Tomato, the fresh and colourful, Garden Party with Sheese and for those looking to turn up the heat, Hot Pepper Passion with Vegan Sheese. The deliciously moreish and extremely popular Marmite and Cheese Scrolls will also be available as a vegan option, ensuring that there is something to satisfy everyone's taste buds.
Where: Vegan pizza will be available nationwide from 28th January 2019. You can order online at www.papajohns.co.uk and directly via your local Papa John's restaurant.
What: The group famed for its delicious, Neopolitan pizza is putting on a new show across its 10 London and Oxford sites – giving fans a menu well worth making the pilgrimage for. One of the best ways to celebrate National Pizza Day in London, we say.
The Lowdown: Taking the lead is the undisputed highlight of the new menu – the Bread Zepplin. No longer just a support-act, Pizza Pilgrims will take the humble garlic bread on a stairway to heaven with puffed-up, double fermented dough and dripping garlic olive oil. The menu also features three new pizza – first up, the double pepperoni & spicy honey with pepperoni, tomato, fior di latte, Parmesan, basil, olive oil and spicy honey. There's also the indulgent basil pesto, yellow datterini tomato & burrata with a pesto base, and don't miss the aubergine parmigiana pizza. Quite literally, aubergine parmigiana on a pizza – with roasted aubergine, baby plum tomatoes, Parmesan shavings, tomato, fior di latte, basil & olive oil. Glorious.
Where: Pizza Pilgrims nationwide
What: Authentic Italian pizzeria Zia Lucia now has three venues across London: in Islington, Brook Green and newly opened, Boxpark Wembley.
The Lowdown: Famed for its pizzas on four signature doughs – including a gluten free dough and a black vegetable charcoal base – Zia Lucia champions uncomplicated Italian flavours and Italian neighbourhood charm. The pizza toppings ranging from classics such as Via del Campo with tomato, fior di latte mozzarella, tomatoes da campo, fresh buffalo mozzarella, basil and the Arianna with mozzarella, fresh Italian sausage, taleggio goat cheese, pecorino cheese, truffle honey, which is their best-selling twist on a traditional pizza bianca.
Where: Locations here
What: Lost Boys Pizza is inspired by the cult classic vampire movie 'The Lost Boy's' and has become renowned for its black charcoal pizza, killer cocktails and a strictly 80s soundtrack. One of the best ways to celebrate National Pizza Day in London, for sure.
The Lowdown: With pun-laden, vampire-tastic names chalked on the walls and fresh, delicious ingredients, the pizza is all about toppings you know but not as you as expect, all served on the Lost Boys signature black charcoal dough. Pizza favourites include Fangs for the Memories with chorizo, peppers, onion, chilis and the Frog Brothers Special with apple-smoked ham, artichokes, pickled mushrooms. Blood-thirsty vegans can enjoy a range of dedicated toppings including the Kale all Vampires with kale, cherry tomatoes, caramelised shallots, lemon zest and oregano, while those with a sweet tooth can sink fangs into vegan and gluten free brownies or cheesecake.
Where: 141 Junction Rd, London N19 5PX
What: To get a pizza fix like no other on National Pizza Day, Heist Bank in Paddington have some delectable options to choose from.
The Lowdown: With mouth-watering choices such as aRadicchio, pears, toasted walnut, gorgonzola or the meaty wild boar sausage, potato, rosemary, chill. Heist Bank is the prefect place to celebrate the universally loved Italian classic. Pair your perfect pizza with a local craft beer and stay for the evening and get competitive over a game of pool or foosball in the Games Room.
Where: 5 N Wharf Rd, Paddington, London W2 1LA
What: Bobby Fitzpatrick's is the ideal place to go for an old-school American-diner style pizza. Not only is Bobby's a retro haunt, but the emphasis also lies on fun and relaxed food.
The Lowdown: On National Pizza Day, Bobby's will be offering classic deep crust American pizzas with both traditional and exotic toppings such as chicken tikka and lamb doner. The characterful and unapologetically retro venue combines 1970s decor with retro cocktails and playful pizzas, reminiscent of the best TV suppers of childhood.
Where: 273 West End Ln, London NW6 1QS
What: Italian restaurant Zizzi was one of the first high-street restaurants to offer customers a vegan cheese pizza, and now they're taking their dairy-free offerings to the next level. This year, the Italian experts have gone one better by launching the UK high street's first ever Four Cheese Vegan Pizza – the Zizzi Quattro No-Maggi. The cheesy delight is available at all Zizzi restaurants and hit menus this January.
The Lowdown: The Quattro No-Maggio is topped with four distinct and complimentary varieties of vegan 'cheese', Mozzarisella – original, smoked, cheddar and blue. Mozzarisella is a rice based dairy-free cheese alternative which is indulgent, rich and creamy, and it even melts. Made from whole rice, using the finest organic ingredients, Mozzarisella is also rich in fibres and a range of amino acids. If it's cheese you're craving on a non-dairy diet – this is the pizza for you.
Where: The Quattro No-Maggi is available in all Zizzi restaurants. You can see the full menu at www.zizzi.co.uk