Sorry it's late, we were eating granola. Here's 5 ways to have brunch this weekend in London:
1. Blow Out Brunch: Quaglino's
What: Quaglino's, one of London's most iconic restaurants in the heart of Mayfair, has just introduced the 'Q Brunch' – the ultimate decadent dining experience with bottomless bubbles and brunch classics with a twist.
Why: Created by renowned Executive Head Chef Mickael Weiss, the 'Q Brunch' allows you to enjoy an endless flow of bubbles alongside an array of delectable dishes. Come for the amazing design of the place; with a sweeping staircase and lavish Art Deco, Quaglino's provides the perfect glamorous setting for a mid-morning treat.
Eat: Everything from classics like Eggs Benedict and French toast, to more decadent offerings such as the 10g caviar omelette, Lobster roll and summer truffle scrambled eggs on sourdough toast. There's also lighter options such as brown crab parfait, crispy cured ham, pea & fennel salad and London-cured smoked salmon with horseradish cream. Don't leave without trying one of their sensational desserts.
Where: 16 Bury St, London SW1Y 6AJ
The 'Q Brunch' will be available every Saturday between 11:30am and 3pm. 
Photos by Paul Winch-Furness
What: Belgravia's new cool kid Salmontini is taking warmer weekends in the city to the next level with their new champagne brunches. The new weekend event will see DJ's spinning and cocktails sipping, hopefully, changing the way that locals and Londoners celebrate the arrival of the weekend. To get into the celebratory spirit, there's DJ sets pumping beats from Ibiza to Bharain all afternoon, confirmed sets from Julz Dime, Simone and Emma Jenson already.
Why: There's live music and black cod, all is right with the world.
Eat: Legendary Salmontini Miso marinated Black Cod with grilled Eryngii Mushroom, signature sushi dishes and delicious cuts of meat. There's also fantastic Japanese-inspired cocktails for you to enjoy, and bottomless champagne between 12 and 4.
Where: 1 Pont St, Belgravia, London SW1X 9EJ
£55 per person. Bookings are recommended to avoid disappointment with brunch being served from 12pm.
3. Middle Eastern Brunch: Berber & Q
What: Inspired by the relaxed breakfasts of the Middle East and North Africa, Berber & Q serves Middle Easter brunch every Saturday and Sunday. Head Chef Josh Katz has created a brunch menu reflecting his travels through Turkey, Morocco and Israel, and it's a real treat.
Why: For its trendy design. Berber & Q, is beautiful – designed by London based Judith Pearson, it sits under a weathered, brick railway arch (previously a disused taxi rank), its exterior clad with rusted and corrugated metal sheets, and finely patterned lattice vinyl.
Eat: All the Middle Eastern fare – hummus, boiled egg, baba ghanoush, tahini and Israeli salad are fantastic. There's also smoked beans, beets and whipped feta, with pickles, pita and harissa. If you like eggs, their Shakshuka is made for two to share: braised eggs in spiced tomato sauce with red pepper jam, coriander, pita and tahini, which are utterly delicious. Also there's Turkish eggs, lightly poached, with yogurt, green chilli with pita, all of which may be accompanied by grilled Merguez sausages. Don't leave without trying a Middle Eastern twist on a brunch classic, Berber's bloody Mary: Harissa Rose Mary concocted with house smoked vodka and rose harissa.
Where: 338 Acton Mews, London E8 4EA
What: Habanera is a neighbourhood restaurant serving authentic and seasonal Mexican tacos and cocktails. Since opening late last year, it has been making waves in both the local area and beyond, having recently been voted the UK's Best Mexican Restaurant in the Air Europa Latin UK Awards.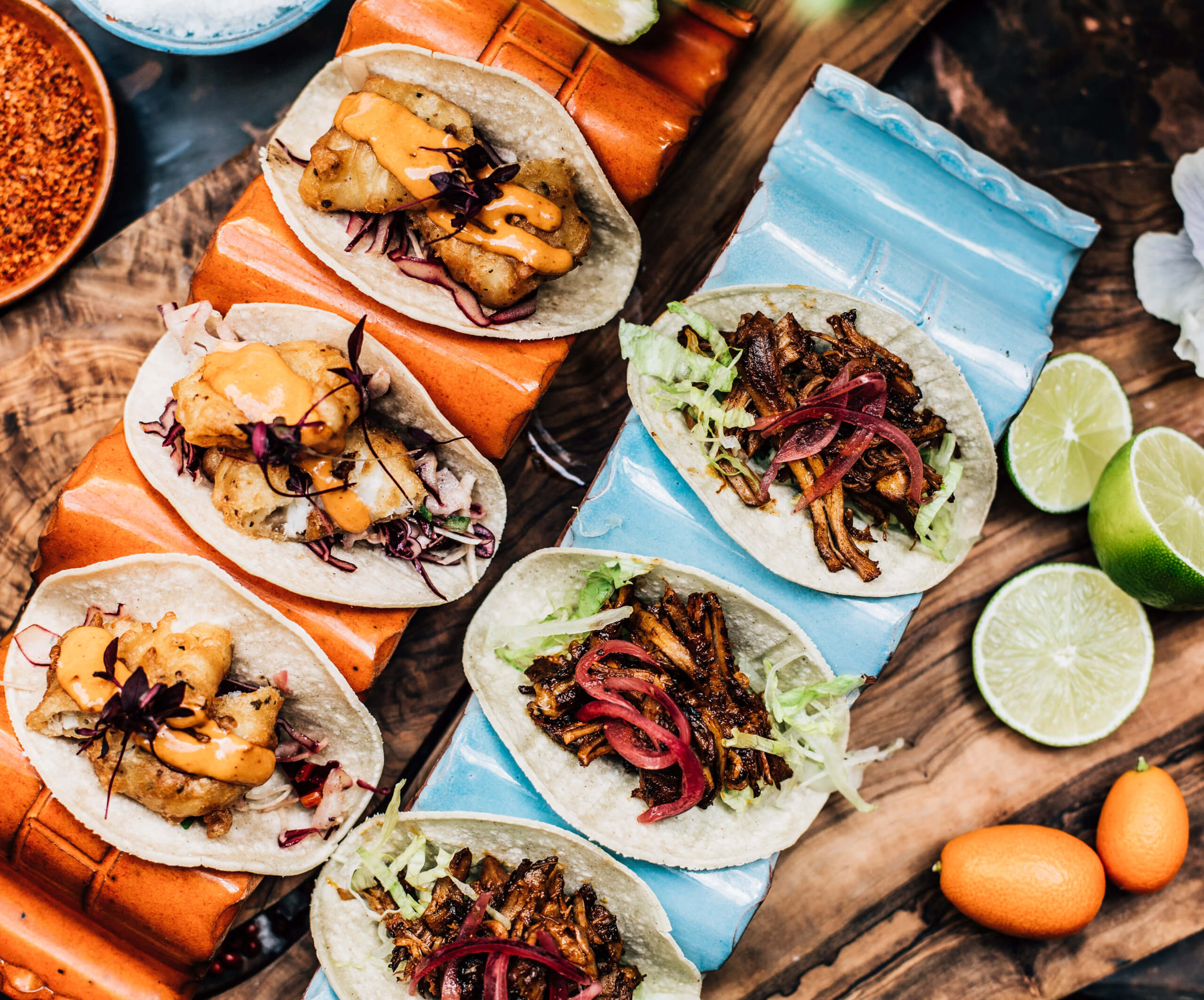 Why: The Mexican kitchen team, headed up by Josue and Ernesto, has created a seasonally changing menu of artisan tacos and burritos, which are full of flavour and authentic Mexican ingredients. Come for their unusual  fillings, such as Honey Combe Tripe (chargrilled salsa verde and roasted nuts) and Goat and Cherry (slow roasted goat and Mezcal soaked cherries). 
Eat: Huevos Ranceros, eggs, spiced tomato salsa and avocado, Chorizo feta scramble, scrambled eggs, chorizo, feta on sourdough and the Breakfast Burrito, scrambled egg, bacon, chorizo, cheese and salsa. A Bloody Maria, made with tequila and a spicy kick, is the perfect accompaniment. At weekends, you can enjoy a boozy brunch with fantastic brunch cocktails like a Cucumber Collins, Roast Red Pepper Martini or bottomless Mimosas.
Where: 280 Uxbridge Rd, London W12 7JA
5. Japanese Brunch: Sticks 'n' Sushi
What: Sticks 'n' Sushi, the uniquely Skandi-influenced Japanese restaurant has just opened a fourth London site in Canary Wharf, and we can tell you it's very good news indeed.
Why: Located in the waters of the north dock, the restaurant is in the new Crossrail building designed by Norman Foster, and is very beautiful with its cool, Scandi design. Uniquely for the group it offers breakfast menus consisting of Danish and Japanese dishes such as quinoa maki with herbs and home-baked rye bread with smoked salmon.
Eat: Everything. But specifically, avocado and Goat's curd on rye bread with pine nuts, smoked salmon on miso-baked rye bread with cream cheese, and fantastic matcha granola with fruit compote. They've also got quirky dishes like rice soup and futomaki quinoa-rice, which will keep you going all day. The cocktails are also a speciality of the Sticks team too with delicacies like shisho shochu, ginger, avocado, soy milk and sake sitting alongside classic gin, rum and Aperol ingredients. Breakfast heaven.
Where: 1 Crossrail Place London E14 5AR