It's almost Christmas and we're feeling *so* festive! Luckily, we've done the hard work for you and found some of the best gifts for the drinks-lover. Here's our top picks for Christmas gifts for the boozer in your family:
1. For Christmas Spirit: Two Birds Spiced Vodka
What: Two Birds' English Vodka has been infused with all the fruits of Christmas; mixed spices, dried fruits, cinnamon and nutmeg. It's a mince pie in a glass – the perfect festive drink. This delicious English-made Christmas vodka is available in the lead up to Christmas as a 70cl bottle or as part of a gift pack alongside Two Birds After Dinner Mint Vodka.
The Lowdown: Created from the passion and experience the British countryside brings, Two Birds spirits is founded in Leicestershire and produced in the quaint market town of Market Harborough. All the Two Birds spirits are produced in small batches of 100 bottles at a time, with care and perfection ensuring each batch is always as good as the first. The range of Two Birds spirits include award winning London Dry Gin, Vodka and Absinthe.
Price: From £15.00 to £35.00 
Where: Online here and from 31DOVER.com
2. For a Sassy Drink: Liquid Gold Prosecco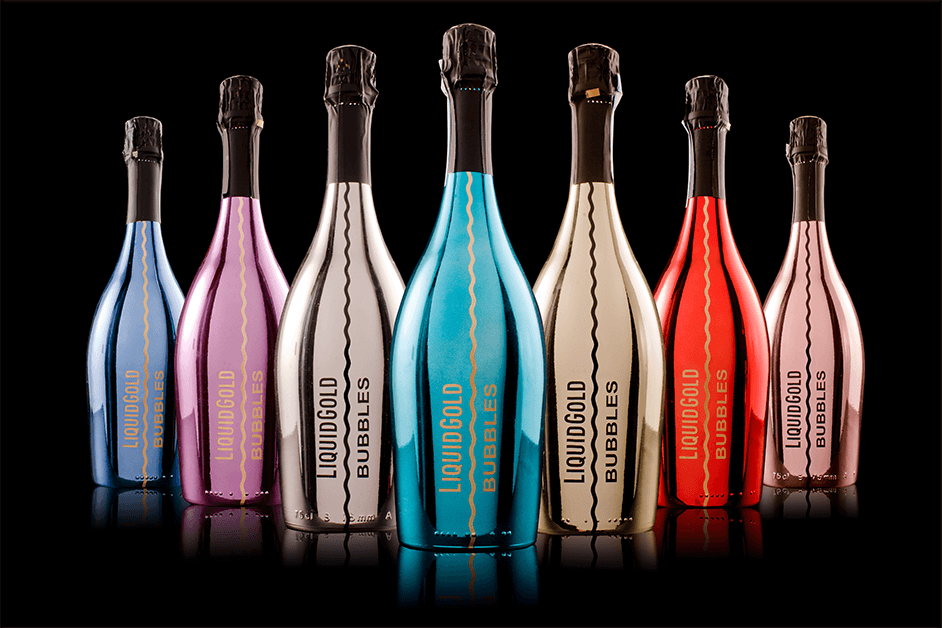 What: Liquid Gold prides itself on creating true Italian products and their bespoke Prosecco is no exception. Made in the North-eastern regions of Italy, Liquid Gold Prosecco is a sparkling white wine that has the complexities and depth of flavour often associated with Champagne.
The Lowdown: The Prosecco can be ordered in its classic dark green bottle form or can be ordered in a range of opulent metallic colours, to enhance any theme or occasion. The flavour of the Liquid Gold Prosecco is distinctive due to the selective ingredients that release an aromatic and fruity bouquet, yet are dry and elegant by taste making it the ideal drink for an aperitif.
Price: £14.95
Where: Online here
3. For Mixing It Up: microbarbox
What:
microbarbox is the fun and elegant cocktail gift box set which offers you an array of drinks and nibbles perfect for when you have that
Friday
Feeling.
The Lowdown: Each box contains the ingredients and recipe for a tasty cocktail, alongside other delectable treats – could be a bottle of wine, a dram of whisky, nibbles and more – each box is different.
Price: Available to purchase as part of the Monthly Tasting Club for£14.00 as a first month offer and £24.00 p/m thereafter, or buy singular boxes to suit your tastebuds.
Where: Online here
4. For Boozy Baking: Make Your Own Beer Cookies Kit
What: Beer and cookies, the ultimate combination. Simply add beer to the included ingredients, bake for 10 minutes and before you know it you'll be scoffing cookies and feeling mighty merry while you're at it.
The Lowdown: Each kit includes dark chocolate cookie mix and a bottle of Five Points Railway Porter, courtesy of borough buddies down at Hackney's Five Points Brewing Company. Not only are these guys a local, independent brewery, they're also a dapper bunch who know how to concoct a rather killer brew. You'll know exactly what we mean after one sip of this sumptuously chocolatey tipple.
Where: Online here
5. For Beautiful Glassware: RIEDEL Crystal
What: RIEDEL Crystal is a 300 year-old family owned company known for its creation and development of varietal-specific stemware. Our favourite is the Riedel Horn Decanter, which launched in November 2015 – this was the first ever musical Decanter.
The Lowdown: RIEDEL Crystal is the first in history to recognize that the taste of a beverage is affected by the shape of the vessel from which it is consumed, and has been recognized for its revolutionary designs complementing alcoholic beverages and other drinks.
Price: From £495
Where: Online here
6. For Wine Gals: Wine Handbags
What: Whether you're gossiping with the girls during a Sex and the City style night-in, or digging your high-heels out of the mud after a delightful day at the races; you'll always be sipping in style.
The Lowdown: With it's distinctly designer-style, the bag looks like it's come straight off the catwalk. But rest assured that the wine inside is sourced from the finest French wineries (likely located on some preposterously picturesque estate) and more than matches this high-end Wine Handbag.
Price: £29.99
Where: Online here
7. For Gin Lovers: Tanqueray No.10 
What: Add a hint of elegance to Christmas this year with Tanqueray No. TEN. A fragrant and sophisticated gin, it provides the ideal base for classic cocktails during festive celebrations. Tanqueray London Dry is also available in a beautiful presentation box when purchased from AlexanderAndJames.com – perfect to save on wrapping!
The Lowdown: Presented in a beautiful Art Deco style bottle and gift box. Ultra-premium Tanqueray No. Ten is an homage to the passion and attention to detail that Charles Tanqueray stood for. And a gin like this demands cocktails made with the same amount of care – the fresh citrus fruits of the No. Ten perfectly complement the fresh lime you'll add as garnish. An ideal gift for the discerning gin aficionado.
Price: £33.62
Where: Available at Selfridges, Alexander and James and Harrods.
8. For Beer Lovers: Brewdog Punk IPA Beer Making Kit
What: This reusable kit blends traditional brewing methodology with a modern twist on the ingredients and the end result is a cool 8 pints of delicious Punk IPA.
The Lowdown: It's hard to believe that craft beer behemoths Brewdog began life as just two guys brewing booze in their kitchen and selling it out of the back of a van. Now you too can embark on this rewarding journey with this reusable kit. Blending traditional brewing methodology with a modern twist on the ingredients, the end result is a cool 8 pints of delicious Punk IPA.
Price: £39.99
Where: Online here
9. For Chic Drinkers: Grand Marnier Le Cafe Parisien 
What: Launching just in time for Christmas celebrations, Le Café Parisien is the latest addition to Grand Marnier's limited edition collection.
The Lowdown: Dressed in a festive red and gold casing, the new Grand Marnier Cordon Rouge bottle is the perfect choice for elegant Christmas cocktails with a Parisian flair. The decoration is inspired by The Art Nouveau and The Art Deco codes, as a nod to the splendour of the famous cafés that gave rise to great cocktails and gourmet recipes using Grand Marnier.
Price: £18
Where: Available nationwide
10. For Cocktail Lovers: Mr Lyan Bottled Cocktails
What: International bartender of the year, and the man behind award-winning bars Dandelyan and White Lyan has released a range of bottled cocktails just in time for Christmas.
The Lowdown: Take the fuss out of creative cocktails at home with his pre-made top bar-quality cocktails including the Spotless Martini – created with Mr Lyan's own gin and crisp vermouth, combined with both olive and lemon peel distillates. Also try the Bonfire Old Fashioned – using Mr Lyan Whisky, cola bitters and rare lapsang souchong tea, adding an inventive smoky core to the cocktail
Price: From £27.95
Where: Selfridges online here
11. For Vermouth: The Regal Rogue Bold Red Christmas Bottle
What: The ideal gift for vermouth-quaffing Rogues and Roguettes alike, Australia's first native vermouth brand Regal Rogue is introducing a special festive bottle to its range this Christmas.
The Lowdown: Merry Rogues can enjoy it in a 'Rogue Cooler', served over ice with warming ginger beer, and garnished with an orange wedge and fresh ginger, or enjoyed at its best, quaffed neat over ice.
Price: £19.99
Where: Available at Selfridges and across Nicolas stores from 1st November.
12. For G&T Fanatics: Fever-Tree Ultimate G&T Tasting Selection
What: The perfect present for every G&T lover, Fever-Tree has created the Ultimate G&T Tasting Selection, allowing gin enthusiasts to discover a new favourite G&T combination with a choice of Fever-Tree's award winning tonics and premium gins.
The Lowdown: If you love Gin and Tonic then this Ultimate G&T Tasting Pack is the perfect treat. The founders of Fever-Tree started Fever-Tree because we were tired of bad quality tonics masking the flavour of fine gins with sickly saccharin sweetener and artificial additives. The result is an award winning range of tonics like no other, that let the flavours of the gin shine through.
Price: £12
Where: Available nationwide, in-store and online, from Sainsbury's.
13. For Bourbon Lovers: Steel Aged Bulleit Manhattan by World of Zing
What: Bulleit and World of Zing have launched a unique bottled cocktail – The Steel Aged Manhattan. The warming notes of Bulleit Rye Whisky are perfectly balanced by the cooling effects of the Anaesthetic Brandy (made using a secret blend of rare peppers, including Szechuan), whilst steel ageing adds a light mineral quality to the famously rich Manhattan.
The Lowdown: Crafted in small batches, a combination of spicy Bulleit Rye with a bespoke brandy, infused with a secret combination of spices including Szechuan peppercorns and finished with a dash of homemade bitters. The drink is steel aged to add a light mineral quality to the famously rich Manhattan.
Price: £26.95
Where: Online here
14. For a Negroni: Aged & Bottled Classico Negroni from Bar Termini
What: The signature bottled Classico Negroni from Bar Termini is now available to buy and enjoy at home. The second venue from internationally renowned drinks pioneer Tony Conigliaro, the signature bottled cocktail is perfect for cocktail lovers or those looking to toast the festive season and create an aperitivo moment.
The Lowdown: Made from a traditional blend of gin, vermouth and Italian bitters, resulting in a superbly smooth classic negroni drink with a hint of fruit, citrus and botanicals.
Price: £36.95
Where: Available from Amathus
15. For a Christmas Special: Jägermeister Spice
What: A delicious re-blend of the classic, marrying the legendary 56 hand-selected herbs, blossoms, roots and fruits found in the original, with enhanced notes of cinnamon, rich vanilla and subtle saffron.
The Lowdown: Spice is a seasonal edition, with cloves, cinnamon, vanilla and saffron for that great Jägermeister flavour with an extra burst of winter spice. Delicious.
Price: £18
Where: Tesco
16. For Wine Drinkers: Dark Horse
What: Californian-based winery, Dark Horse, is on shelves in the UK with its bold Cabernet Sauvignon and rich Chardonnay, giving Brits a taste of premium Californian wine without the high price tag.
The Lowdown: For those looking for something new, Dark Horse is a complex yet versatile wine which is bold in flavour and stylish and contemporary in design. A premium wine under £10 that surprises and delights by exceeding expectations with exceptionally good tasting wines that outperform in price.
Price: £8.99
Where: Available nationwide
What: SWIG is the 'best in class' hip flask brand which is loved by a growing community of SWIG owners who cherish their individually numbered flasks. Cased in hand moulded leather or Harris Tweed, your SWIG can go with you whatever the occasion. Tough enough for the great outdoors but suitably stylish for a red carpet event, SWIGs are the perfect companion for weddings, festivals or on the touchline.
The Lowdown: SWIG owners enjoy membership of the exclusive SWIG Society, their individually numbered flasks acting as a passport to tailored offers, lovely free things and competitions. SWIGs are the gift of choice for walkers, sailing enthusiasts, concert goers, picnic lovers – in fact anyone with a zest for life. You can even choose to have the mighty vessel engraved with the future owner's initials or a personal message.
Price: From £49.99
Where: Online here
18. For Martini Lovers: Rebel by Waterford
What: The Rebel collection embodies a spirit of nonconformist cool. Using the iconic motif of the punk stud as the heart of its design, designer Jo Sampson chose the stark, geometry of this simple shape for its enduring outsider appeal.
The Lowdown: The punk stud injects a tough, streetwise vitality to the pieces, which contrasts with the refined craftsmanship that goes into their creation. Combining golden metal with crystal in shades of plum, amber, blush, pink and purple, the Rebel aesthetic mixes the rough with the smooth.
Price: From £30
Where: Online here
19. For Sweet Lovers: Stoli Salted Karamel Vodka
What: Sweeten up the festive season with Stoli Salted Karamel, the world's first salted caramel vodka. The ideal Christmas gift, Stoli Salted Karamel offers the perfect balance of sweet and savoury.
The Lowdown: Indulge loved ones' taste buds with flavours of caramelised sugar and soft English toffee, complimented by a light saltiness and a smooth elegant finish. Delicious on the rocks by a warm fire on Christmas day and perfect in a festive cocktail to ring in the New Year, Stoli Salted Karamel is a gift everyone will enjoy. Just one from Stoli's range of premium flavoured vodkas, Stoli Salted Karamel is triple distilled, blended with artesian water and four times filtered for an award winning Alpha grade spirit.
Price: £21
Where: Available nationwide
20. For Amazing Whisky: Bowmore 15-Year Old Darkest
What: Having been matured in ex-bourbon casks in the cool cellars of the legendary Bowmore® No.1 Vaults, this precious whisky has spent its final 3 years in Oloroso sherry casks to give its signature darkest colour and warming finish, with a flavour profile of treacle toffee, hazelnuts and figs.
The Lowdown: Breathe in seasonal notes of rich dried fruits, dark chocolate, and a hint of Bowmore whisky's signature smokiness before the palate is enveloped with the merry taste of toffee, raisins and gentle smoke leading the way to a deliciously rich centre. With a robust and complex finish and a hint of sherry, Bowmore 15 Years Old 'Darkest' is evocative of festive fruitcake in a glass.
Price: £54
Where: Available from Harrods, Selfridges, The Whisky Exchange
21. For a Treat: The Scotch Malt Whisky Society Membership

What: This Christmas, treat adventurous spirits enthusiasts and whisky aficionados alike to a gift that keeps on giving – membership to The Scotch Malt Whisky Society. The Scotch Malt Whisky Society is an international whisky club that bottles the world's widest selection of single cask, single malt whisky for its members.
The Lowdown: Each month, the Society releases around 15 whiskies to its members, with each one coming under one of its 12 unique flavour profiles such as 'Juicy, oak and vanilla', 'Old and dignified' and 'Heavily peated'. Membership also provides a perfect present to place under the Christmas tree in the form of a beautifully presented membership gift box, which includes three 10cl sample bottles of Society single cask whiskies, member's handbook, society badge and £10 voucher to spend on first SMWS bottle purchase.
Price: A membership of The Scotch Malt Whisky Society costs from £122 and grants members exclusive access to the Society's monthly releases of single cask, single malt whisky, as well as special grain whiskies, bourbons and even rums.
Where: Purchase online here
22. For the Connoisseur: The Drinks Cabinet from Harvey Nichols
What: The Drinks Cabinet which features everything you need for your Christmas drinks trolley, which is delivered and installed at your home for you, plus as part of the package, the customer is also invited to a private cocktail masterclass in store with 3 guests. If it's a little pricey, there's also boozy gifts starting at £100.
The Lowdown: Harvey Nichols is the place to come for drinks. There's some fab products such as the Edinburgh gin which incorporates frankincense and myrrh for a seasonal twist. They also have Harvey Nichols Christmas chutney which features seasonal fruit and spices and Christmas mustard with specks of green and pink peppercorns and seasonal spices.
Price: £1000
Where: Online here
23. For Tequila Lovers: Casamigos Tequila
What: Let the good times flow this Christmas by treating friends and family to a bottle of award-winning Casamigos Tequila. "Brought To You By Those Who Drink It," Casamigos Tequila is privately owned by George Clooney and longtime friend, bar and restaurant mogul Rande Gerber, and Discovery Land Company CEO & founder Michael Meldman.
The Lowdown: Casamigos is named after Gerber and Clooney's houses in Mexico, and roughly translates to "House of Friends." Tequila-filled nights with friends is how Casamigos was born. Casamigos was originally created out of Clooney and Gerber's desire to enjoy the best-tasting, smoothest tequila and was always intended for personal use, to be shared with family and friends. Before going into the bottle, each batch is tasted and approved by master distiller, Gerber and Clooney, to ensure the highest quality. Each batch is then numbered and signed by Gerber and Clooney. Casamigos' authentic minimalist design reflects the men who created it.
Price: From £52
Where: Online here
24. For More Gin: Star of Bombay
What: Get into the festive spirit this December with Star of Bombay, the small-batchsuper premium gin crafted at the Bombay Sapphire Distillery at Laverstoke Mill, Hampshire.
The Lowdown: Perfect for a decadent Christmas gathering or an extra special festive night in, Star of Bombay elevates the exceptional balance of Bombay Sapphire with two additional exotic botanicals and a slow distillation method. The spirit delivers an extraordinary complexity that takes London Dry Gin to a new dimension.
Price: £34.50
Where: Star of Bombay is available from Waitrose
25. For Vodka Drinkers: Grey Goose Lumiere
What: This year, GREY GOOSE, The World's Best Tasting Vodka®, introduced Lumière, a striking new design that reinterprets the iconic GREY GOOSE bottle. This limited edition bottle design illuminates the spirit within to create an eye-catching display that lights up the home this festive season.
The Lowdown: The elegant GREY GOOSE Lumière bottle draws inspiration from the way light diffuses through windows at the spectacular La Fête des Lumières in Lyon, the city's annual festival of light, to artistically light up the night sky.
Where: The limited edition bottle design is available from Selfridges
Price: £52.99 (70cl) and £160 (1.75l)