Rejoice, London Cocktail Week is here! It's back, and it's better than ever. For those that don't know, London Cocktail Week is an unrivalled celebration of the capital's fantastic cocktail culture – and a chance to taste and try delicious drinks in. If you're looking for a boozy adventure, we've handpicked the best London Cocktail Week events you simply cannot miss. Bottoms up:
1. For a Boozy Brunch: Jagermeister x brünch 
What: Jägermeister has teamed up with the roaming Berlin brünch experience to take cocktail lovers on a culinary journey. On Wednesday 5th October, taste buds will be set alight with a Berlin-inspired five-course tasting menu hosted by Jägermeister UK Brand Ambassador, Florian Beuren, and Noemi Dulischewski, founder of brünch.
Why: The menu will showcase the best of locally-sourced ingredients, with dishes including smoked mackerel pâté, amaranth and chia granola with German quark, and topless eggs with remoulade. All the Berlin inspired eats will be paired alongside a cocktail flight including Jägermeister's signature serve, 'Root-56', a twist on the brunch cocktail of choice, 'Jager Mary', and three other unique cocktails. Sit back, relax with the house DJ and let Jägermeister and friends bring the Berlin experience to you.
Price: Tickets are priced at £35 and can be purchased here.
Where: 11.30am until 2pm, Polpo Ape and Bird, 42 Shaftesbury Ave, WC2H 8HJ, London
2. For an Immersive Experience: Bulleit Barista Booth x World Class House 
What: This October, the World Class House invites you "Into The Unknown," an extraordinary drinking journey at the heart of London Cocktail Week. Throughout the whole week (3rd – 9th October), 4-6 Glasshouse Street at the centre of London's West End will play host to the hub of this year's London Cocktail Week. World Class and London Cocktail Week will join forces to host the ultimate in luxury drinks experiences using the finest spirits and the best cocktails created by the World Class Bartenders.
Why: Visit the Bulleit Barista Booth to experience a sensorial journey of smell with one of the UK's first Bulleit Bourbon Barrel Aged coffees by speciality coffee producers, The Gentlemen Baristas, whilst sipping on a twist of the classic Espresso Martini. Ticketed workshops will be taking place throughout the week and will be available to purchase and book at The World Class House.
Price: London Cocktail Week wristbands cost £10 and are available now, and can be collected from the World Class House from 10am once the week begins.
Where:  4-6 Glasshouse Street, London, W1B 5DQ
3. For All the Bourbon Secrets: Maker's Mark x Meet Me at Maker's
What: Premium hand-crafted bourbon Maker's Mark has partnered with popular London venue group, Grand Union, to encourage festival goers to 'Meet Me at Maker's'. During the week, discover an array of classic Maker's Mark cocktails, take part in exclusive cocktail masterclass, and experience the iconic wax dipping live in action with a real Maker's Mark wax dipping experience.
Why: Bringing true Southern hospitality to London's Cocktail Week, the Maker's Mark masterclass is perfect for both the existing bourbon aficionado and the new adventurous cocktail explorer. Brand Ambassador's, Amanda Humphrey and David Miles, will be on hand at Trade Union, Wapping, on Wednesday (5th October) and Camden on Thursday (6th October), to unveil the secrets of the original hand-crafted bourbon and demonstrate how to make the perfect bourbon cocktail.
Price: Tickets for the Maker's Mark masterclass and dipping experience are available for £10. Wednesday (5th) tickets are available here and Thursday tickets are available here.
Where: Participating Grand Union bars include: Farringdon (55 Charterhouse St, London EC1M 6HA), Camden (102 – 104 Camden Road NW1 9EA), Chancery Lane (Rolls Passage, London EC4A 1HL), Paddington (1, West End Quay, London W2 1JX) and Trade Union, Wapping (3 Thomas More St, St Katharine's & Wapping, London E1W 1YW)
4. For a Do it Yourself: Chivas Regal x Art of Blending 
What: Chivas Regal has been carefully selecting and blending aged Scotch whiskies in the heart of the highlands since 1801. The world's first luxury Scotch whisky has announced that it is launching The Blend, an exclusive whisky bar and 'Art of Blending' experience at the Truman Brewery on 3rd October during London Cocktail Week.
Why: Welcome to The Blend; an opportunity to conjure your own bespoke, blended whisky in an intimate, captivating setting. Take part in your own 'Art of Blending' session, an informative, beguiling one-hour experience hosted by Chivas Regal whisky experts. Learn about the heritage, history and origins of single malt and grain whiskies, tasting examples from Speyside, Islay, the Highlands and Lowlands as well as delicate grain Scotch whisky. Be taught how these are 'blended' to create the distinctive Chivas Regal house style, then create and take home your very own blended whisky to enjoy.
Price: One hour 'Art of Blending' experiences start at £22. Tickets here.
Where: Truman Brewery, 91 Brick Ln, London E1 6QR
5. For a Chance to Become a Cocktail Connoisseur: Drake & Morgan 
What: Embrace la dolce vita with the House of Peroni pop-up at Drake & Morgan, King's Cross this autumn. With mixology masterclasses available throughout October in the private dining room, the sessions will allow you to craft a collection of Italian inspired cocktails.
Why: The Peroni Nastro Azzurro pop-up will feature mixology classes every Tuesday at 6pm and 7.30pm, inviting everyone to create their own Peroni Nastro Azzurro infusions. Lovers of all things Italian can delight in three iconic cocktails with a distinctly Peroni Nastro Azzurro twist: The Limoni, a refreshing drink inspired by the finest Amalfi coast lemons; The Negroni, which brings a Peroni Nastro Azzurro spin to the classic sweet orange aperitif; and a Peroni Spritz, which celebrates the iconic Venetian tipple with plenty of citrus notes. Intrigued visitors can also order the collection of cocktails from the bar, with a stylish menu created by the House of Peroni.
Price: Tickets are priced at £25 per person. To book your place at a House of Peroni masterclass, please email info@drakeandmorgan-kingscross.co.uk.
Where: 4th October 6pm-7pm, 6 Pancras Square, King's Cross, London N1C 4AG
6. For Negroni Nuts: Cocchi Vermouths 
What: If you like Negronis, and are interested in the journey behind the bartenders favourite vermouth, Cocchi, the ultimate Nergroni masterclass is a must for any Mad Men, Don Draper enthusiast. Roberto, the charming Italian owner from award-winning Cocchi vermouths is hitting the capital for a very special masterclass for London Cocktail Week.
Why: The masterclass is a rare opportunity to meet Roberto Bava, who is the owner of Cocchi, but whose hobbies and passions range from being the head of the Italian chocolate federation, to being a keen advocate of futurist cocktails. Needless to say, there is never a dull moment with Roberto! Throughout the evening he will be transporting guests to Turin (through cocktails) on a flavour-filled journey to understand how the Negroni has cemented itself across the world as the classic Italian aperitivo.
Price: Tickets are £5 can be reserved here. London Cocktail Week wristbands will not be required for entry.
Where: Worship St. Whistling Shop, 63 Worship St, London EC2A 2DU
7. For Gin Lovers: Martin Miller's Gin
What: This year Martin Miller's Gin will be jam packed with events during London Cocktail Week; with martini masterclasses, lounges and cocktail competitions there is something for everyone and an opportunity to get involved. Our pick is the Martin Miller's Gin masterclass with Brand Ambassador Dan Tripp and Jimmy Vargas, General Manager at Opium.
Why: This workshop will leave you shaken and stirred in the best possible way. Armed with stop watches and thermometers this is gin geekery taken to another level. During the masterclass you will learn about the history of Martin Miller's Gin, discover the differences between martini styles (wet/dry/50-50/Churchill style) and explore the varying temperatures to drink a martini, whilst of course experimenting along the way – interactive and fun you will leave this masterclass the ultimate gin martini buff.
Price: £40.00 per person for London Cocktail Week wristband holders, and £50.00 per person without a wristband. Email: reservations@opiumchinatown.com and mention which masterclass you would like to attend (day and time).
Where: Thursday 6th October – 6.00pm – 7.30pm and 8.00pm – 9.30pm Friday 7th October – 6.00pm – 7.30pm and 8.00pm – 9.30pm. Opium & Dim Sum Parlour, The Jade Door 15-16 Gerrard Street, Chinatown, W1D 6JE
8. For Polo and Poppin' Bottles: BULLDOG Gin Brompton Bike Polo
What: The inaugural BULLDOG Brompton Bike Polo event invites teams of three, to go head-to-head in an exciting Brompton bike polo match, against seven competitor teams in a knock-out competition like no other. The challenge takes place over the weekend of London Cocktail Week on Saturday (8th October), with two tournaments taking place at The Bike Shed, Shoreditch from 1pm – 4pm and 5pm – 8pm.
Why: This exciting challenge will be a test of courage, personality and stamina. All players will be fed with BULLDOG Gin infused nibbles and watered with cocktails made and provided by BULLDOG Gin, to celebrate all brave participants following the bicycle polo match. For those whose Polo skills and perhaps knowledge is not up to scratch, a spot of expert tuition from professional two wheeled masters of the game will be at hand, to take all teams through a tutorial before the tournament gets under way. Expect fast paced action, swinging mallets, a few goals, the odd mishap and lot s of laughs, as one of the boldest events at London Cocktail Week gets underway.
Price: Tickets can be purchased for £15.00 per person (£45.00 per team of three) here.
Where: 384 Old St, London EC1V 9LT
9. For Caffeine Delights: Tia Maria + Coffee Project 
What: Tia Maria is calling all coffee lovers to join them at the Tia Maria + Coffee Project bar at London Cocktail Week, for cocktails unlike anything you've ever tasted before. Serves will be crafted by renowned mixologists working alongside Square Mile Coffee Roasters' Anette Moldvaer.
Why: By day, the Tia Maria + Coffee Academy offers coffee masterclasses with Square Mile Coffee Roasters' and Tia Maria ambassador, Rod Eslamieh. By night, sample a newly crafted menu of coffee cocktails, passionately created by expert baristas and renowned mixologists, at the Tia Maria + Coffee Project bar. Tia Maria will also be providing freshly ground sounds throughout the week as part of its headline partnership.
Price: Free entry with London Cocktail Week Festival Pass. 
Where: The Cocktail Village, Old Spitalfields Market, London, E1 6EW
10. For All the Booze: The London Cocktail Village 
What: Taking over Old Spitalfields Market for the week is an entire Cocktail Village hosting a heady explosion of 40 bespoke pop-up bars, trucks, vans and even bicycles from the biggest names in drinks, all serving up their specially created cocktails at just £5 each for Festival Pass holders.
Why: From expert Espresso Martinis, contemporary Cosmopolitans and classic cocktails twisted by London's best bars, get ready to party at the biggest cocktail party the capital has ever seen. There's masterclasses, experiences and a whole host of other quirky stuff going on.
Price: Free entry with London Cocktail Week Festival Pass. Buy your pass here. 
Where: The Cocktail Village, Old Spitalfields Market, London, E1 6EW
11. For Trains and (gin) and Tonic: Cahoots x Bombay Sapphire
What: Soho's underground sensation Cahoots have teamed up with Bombay Sapphire gin to create a bespoke Cahoots vintage cocktail train at the Cocktail Village located in Old Spitalfields Market for the duration of London Cocktail Week.
Why: As guests step aboard, and all tickets are checked, the journey from Cahoots in Soho to Laverstoke, the home of the Bombay Sapphire's gin distillery begins. Using flavours and ingredients from the allotments of London to the green fields of the home counties as inspiration, Cahoots at London Cocktail Week will be an immersive experience focused around the artistry of the well-loved gin and tonic. 

Price: £5 with wristbands
Where: The Cocktail Village, Old Spitalfields Market, London, E1 6EW
12. For a Taste of the Big Apple: Woodford Reserve x The Woodford Alliance
What: Imagine a world where you didn't have to travel hundreds of miles to experience the best New York cocktails, or most exciting Amsterdam serves. Woodford Reserve, the small batch craft bourbon, brings you 'The Woodford Alliance', a pop-up experience designed to make this a reality. As part of London Cocktail Week, The Woodford Alliance will take place in Shoreditch in early October, bringing six of the world's best bars together over three epic nights.
Why: Each evening Woodford Reserve will partner with two leading bars, one from London and one international, combining the best-loved elements of each bar in one venue. Compare the pencil portraits and modern cocktails of New York's Suffolk Arms with the wooden panelling and punch style drinks of London's award winning The Punch Room. And that's just Wednesday evening. Each night the dressing, experience, staff and bar menu will change, with the drinks list including two of each bar's most iconic Woodford Reserve drinks. Light bites, based on the bars' menus will be served, whilst specially curated music playlists from the bars run through the evening.
Price: For consumers with London Cocktail Week wristbands it's free entry and £5 cocktails. For consumers with no London Cocktail Week wristbands it's free entry with £7.50 cocktails.
Where: The events will take place at the White Rabbit Studios, 471-473, The Arches, Dereham Place, Shoreditch, London, EC2A 3HJ on Tuesday 4th, Wednesday 5th and Thursday 6th October from 5pm.
13. For Jazz: Drambuie Brass & Crimson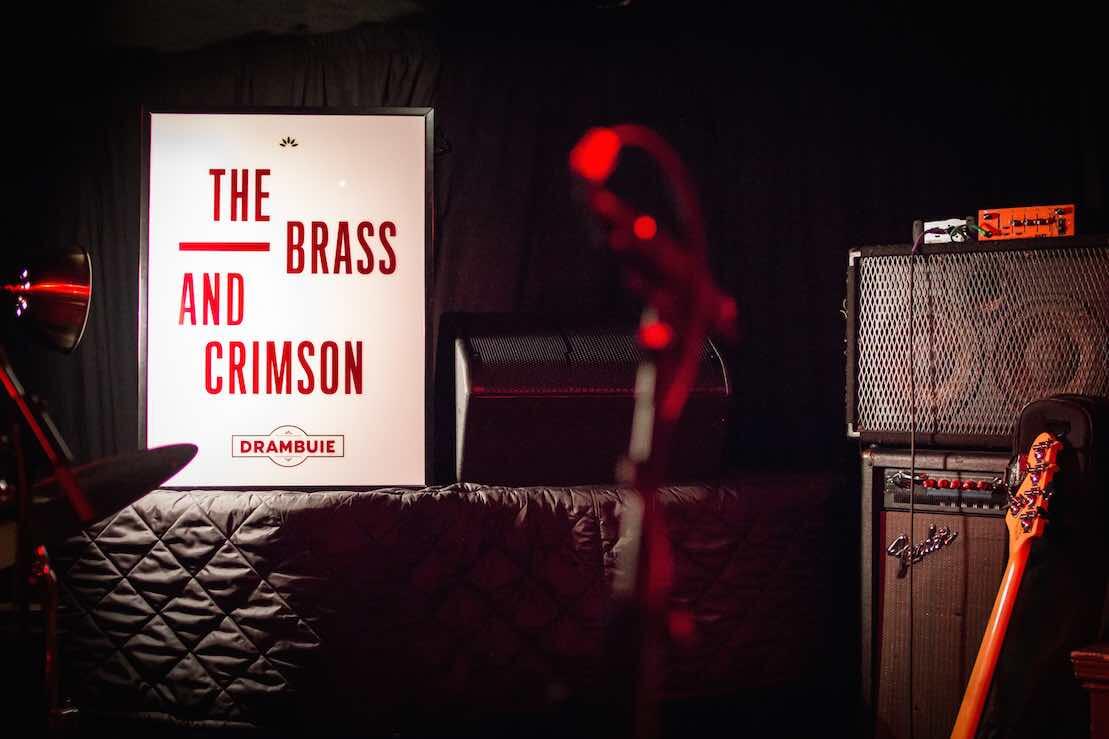 What: Having toured Edinburgh, Leeds and Manchester with an impressive line-up, the Drambuie Brass & Crimson makes its final stop in the capital city to celebrate London Cocktail Week. Following on from Manchester where the Drambuie Brass & Crimson played host to Jon K who welcomed live performances from world-renowned DJ Gilles Peterson, alongside breakthrough duo Rocket Number Nine, the Drambuie Brass & Crimson is set to finish its tour in the heart of London.
Why: Set in The Hoxton Hall on 6th & 7th October, Drambuie Brass & Crimson is a modern celebration of the iconic 1960's New York scene that made Drambuie world-famous. For two days during London Cocktail Week, Drambuie will celebrate with an immersive fusion of live music and classic drinks, including the Rusty Nail – a slow sipping favourite of the legendary Rat Pack. On Friday (6th October), iconic Brazilian jazz-funk trio Azymuth will launch the two-day event alongside Brooklyn based musician Taylor McFerrin. On Friday (7th October), enjoy a special performance from critically acclaimed singer/ songwriter Jamie Woon.
Price: For a complimentary ticket at The Brass & Crimson events and to receive a free cocktail before 11pm, visit here.
Where: 130 Hoxton St, London N1 6SH
14. For Gin and More Gin: The Trading House 
What: The Trading House will become a hub for all cocktail enthusiasts alike when London Cocktail Week gets into full swing. From 3rd to 9th October, The Trading House will be concocting the exclusive and limited edition Forager's Collins cocktail which features gin from the home grown City of London distillery.
Why: On Wednesday (5th October) the brand ambassador from The City of London gin will be hosting a masterclass and historic overview detailing how the spirit has evolved since it arrived on the scene. During the masterclass, you will have the chance to mix and match samples of The City of London gin with a selection of botanicals and tonics to create their own uniquely flavoured drink. There is also a limited amount of exclusive, waxed sealed envelopes for customers to win on the evening which contain 2 tickets for a tour of City of London gin distillery!
Price: To book a place at the masterclass email greshamstbdm@thetradinghouse.uk.com
Where: 89-91 Gresham St, London EC2V 7NQ
15. For a Boozy Education: Ketel One x Harrods 
What: Visitors to Harrods will be able to join Ketel One Vodka for a masterclass unlike any other, in luxurious and world famous surroundings.
Why: Immersive hour sessions with Ketel One Brand Ambassador David Beatty will teach drinkers all about the delicious Dutch Vodka, whilst Ketel One tastings in store between 3pm and 7pm will offer the chance to explore Ketel One's smooth taste.
Price: £15. Email vodka@harrods.com or call the wine shop at Harrods on 020 7893 8777
Where: 5th October, 3pm-7pm, Harrods Tasting Room, The Wine Rooms, Harrods, 87-135 Brompton Road, SW1X 7XL