Is there anything better than a cool, crisp glass of rosé wine on a summer's day? As the temperatures in the UK begin to rise and the day's get longer, enjoy our selection of the very best rosé wine for summer 2019:
What: Railway Hill Rosé 2018 (£19)
The Lowdown: A brand new still English rosé which has been produced following a bumper harvest in 2018 from Simpsons Wine Estate in Kent. Railway Hill is a deliciously pale, Provence-like rosé, produced from Pinot Noir grapes grown in the chalky soils of Simpsons Wine Estate's Kent vineyard with delicate aromas of grapefruit, lime, lychee and nectarine. Fresh and fruity, one of the best rosé wine for summer 2019 in our books.
Where to Buy: Roberson Wine and Simpsons Wine Estate
What: Greyfriars Vineyard Sparkling Rosé Reserve 2014 (£25.99)
The Lowdown: England is becoming known for producing some of the best sparkling wines in the world – and if anything can top English fizz, it's pink English fizz. If you only try one English fizz this summer, make sure it is the winner of the IWC English Sparkling Rose Trophy 2019. Made in Surrey, this Pinot Noir and Pinot Meunier blend boasts a delicate ballet-shoe-pink colour with fragrant red berry aromas and a touch of spice.
Where to Buy: Waitrose
What: Co-op Exclusive Coeur De Cardeline Costieres Rosé (£9)
The Lowdown: This one is for all the pale pink Provence lovers out there. Bright salmon colour, with delicate notes of white floral, strawberry and nectarine – this stunner will transport you to the glorious Cote d'Azur. Co-ops exclusive blend has just been awarded a Silver medal at the International Wine Challenge 2019 (IWC) the world's most influential wine competition, this medal winner is the perfect aperitif for alfresco dining.
Where to Buy: Co-op
What: Digby Fine English 2014 Vintage Rosé Brut ( £44.99)
The Lowdown: With a resounding generosity, this 2014 Vintage Rosé is inspired by Digby's best Pinot Noir fruit since 2009.  Years of ageing accentuates the power of this fizz, making Digby's rosé a highly versatile companion to food, equally ideal with delicately roasted beef or smoked salmon. No doubt one of the best rosé wine for summer 2019.
Where: Digby Fine English – available to buy online. Also stocked in Selfridges, Harvey Nichols, Fortnum & Mason and Waitrose.
What: Love by Léoube (£14.99)
The Lowdown: This is a quintessential, dry Provence rosé style. Pale Pink and with attractive fruit flavours of strawberry and white peach, it has fine overall balance. Drink anytime as an aperitif and with Mediterranean food. Find it in all Daylesford stores.
Where to Buy: Daylesford
What: M de Minuty Rosé (£49)
The Lowdown: Château Minuty is one of the primary producers of Côtes de Provence wine, creating top-of-the-range rosés. Each bottle of Minuty is full of the tastes and aromas of Provence; try the new limited-edition design of the iconic M by Minuty bottle, created by English artist Ruby Taylor and available in the UK exclusively on-trade in select D&D restaurants. Perfect for Instagram, the bright and beautiful artwork is inspired by the vivid colours of sunlit Saint-Tropez.
Where: Drink it at the Rosé Riviera, South Place Hotel, 3 South Place, London, EC2M 2AF
What: i heart Italian Rosé (£8.50)
The Lowdown: With a soft millennial pink hue, the i heart Italian Rosé is bursting with fresh flavours of ripe strawberry and summer fruits and is light and refreshing on the palate. The charming rose-tinted tipple is made using the Charmat method, whereby the wine completes its second fermentation in tank, creating fresh tasting, delicate bubbles.
Where to Buy: Sainsbury's, Budgens and Londis
What: Champagne Laurent-Perrier's Jeroboam of Cuvée Rosé (£399)
The Lowdown: Light and elegant on the palate, Laurent-Perrier Cuvée Rosé is the perfect pairing champagne – with the red berry flavours beautifully complementing everything from fish, to poultry and of course, desserts. The brand new jeroboam, which is the size of two magnums, will make for the ideal accompaniment for rosé lovers to enjoy as part of a special celebration, shared amongst friends and family.
Where to Buy: Available at Jeroboams Wine Shop, The Champagne Company, and Champagne Direct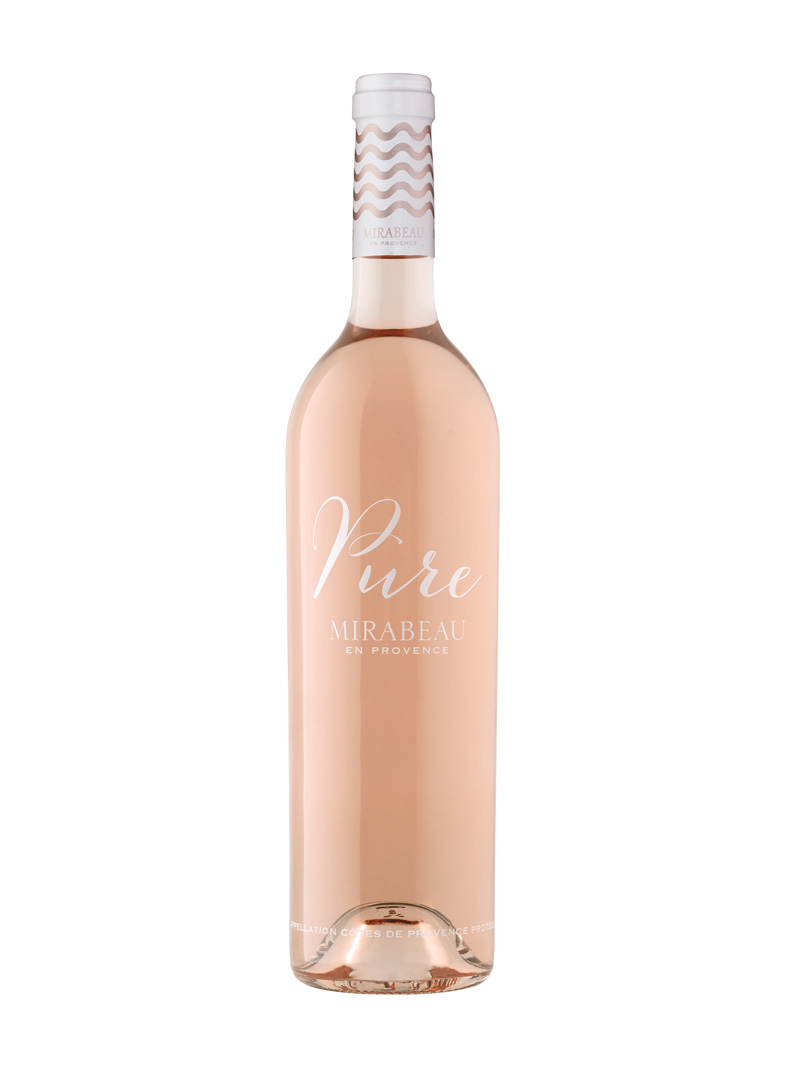 What: Mirabeau Pure 2018 (£14.75)
The Lowdown: A pretty and ethereal higher altitude Provence Rosé, with a good mineral profile and delicate small summer fruit, refreshing pink grapefruit aromas and floral notes. A lovely and elegant bottle for any occasion. Perfect paired with melon, air dried ham and roasted pine kernel salad with fig and olive dressing.
Where to Buy: Booths, Waitrose & Ocado
What: Nice Canned Wine (£3)
The Lowdown: Nice is currently launching their Pale Rosé and Sauvignon Blanc in a can to Sainsbury's. Serving up high quality, still wine, the 250ml slimline cans are 100% recyclable and are perfect to drink on the train, move, beach, picnic or at a festival. Being canned means that Nice chills at lightning speed, is endlessly recyclable, it's light enough to take on any outing and if you're just after one glass, there's no need to pull the cork on an entire bottle. Glasses are now optional.
Nice is led by two South London based entrepreneurs with a background leading some of the most successful and innovative food startups in Britain, Lucy Wright and Jeremy May.
Where to Buy: Sainsbury's and summer festivals around the country
What: The Uncommon, 2018 Pinot Noir Bubbly Rosé (£5.99)
The Lowdown: The Uncommon is the UK's first and only, premium, English sparkling wine in a can. Quashing any rumours around canned wine's inferiority by squashing only high-quality, hand-harvested grapes, The Uncommon is led by its quest to marry premium wine and sustainable production. "Eleanor" –  2018 Pinot Noir Bubbly Rosé – is dry and refreshing, with vibrant red fruits of strawberry and raspberry.
Where: Find it at Waitrose
What: Dark Horse Rosé (£8.00)
The Lowdown: Meticulously crafted by winemaker Beth Liston to guarantee the highest quality, Dark Horse Rosé is a refreshingly dry styled wine that's bursting with flavour. This blushing wine boasts fresh strawberry, raspberry and citrus, balanced by hints of minerality and floral notes, all racing towards a bright, crisp finish. Dark Horse Rosé is the ultimate drink for wine lovers to enjoy this summer and it  provides the perfect accompaniment for fresh seafood dishes. As the trend for drier styled rosé continues to soar in popularity, raise a glass this summer with the new Dark Horse Rosé.
Where to Buy: Available in Tesco's nationwide and online at Ocado
What: 2014 Sparkling Rosé (£36)
The Lowdown: 2014 was the best to date at Hattingley Valley with near perfect growing conditions. Made with Pinor Noir and Pinot Meunier grapes, Hattingley Valley's 2014 Sparkling Rosé is subtle and delicate in colour with an abundance of redcurrant and strawberry aromas, supported by red fruit and fine toasty notes, creating a refreshing, clean and with perfectly balanced acidy.
Where to Buy: On Hattingley's website and Waitrose
What: Maison Bruno Paillard Première Cuvée Rosé  MV XB (£50-55)
The Lowdown: The MV Rosé Première Cuvée is a blend of 25 vintages going back to 1985.  The wine is aged three years sur lies, followed by a minimum of five months post-disgorgement (the date of disgorgement is on the back label; something which Bruno Paillard has pioneered since the mid-1980's). Treat yourself.
Where to Buy: Selfridges, Spirited Wines, The Whisky Exchange
What: Black Chalk Wild Rose 2016 (£40) 
The Lowdown: This is the 2nd vintage of Black Chalk's Wild Rose – a boutique English Sparkling Wine by rising star winemaker, Jacob Leadley. The grapes – Pinot Meunier, Pinot Noir and Chardonnay – are sourced from Hampshire's finest chalkland vineyards.
Where to Buy: Online, Sourced Market (Marylebone, Victoria, St. Pancras), The Naked Grape (Alresford, Four Marks, Hungerford)
What: Lyme Bay Winery Pinot Noir Rosé (£16.50)
The Lowdown: This soft and delicious English wine from a winery nestled near the south coast of Devon is perfect for summer. All grapes come from a single vineyard and are expertly blended to form complex aromas of cherries, rosehip and even strawberries and cream – it's like a quintessential English summer in a bottle!
Where to Buy: Online here
And two for luck…
What: Outfox Rosé (£3.49)
The Lowdown: Whether you're abstaining, the designated driver, or a mum-to-be, research shows that more of us are opting for non-alcoholic drinks. Expertly crafted from a mix of French and Italian grapes, spring water and notes of Sauvignon, Outfox is Vegan, and Gluten Free, with a fabulously dry, crisp and clean taste to compliment food or sip on its own. Outfox contains a quarter of the calories of wine and half the sugar of a tonic so you can keep up with rounds at the bar all night!
Where to Buy: Online here