This weather is not chic. I stepped off a plane from beautiful, sunny Tel Aviv to cold, windy, rainy Luton and the only thing that could bring me comfort was the prospect of a mint hot chocolate at Costa, and wearing my new bobble hat. And thus, this guide is very much necessary for those colder, winter days. Because hot drinks are life. Forget your average English Breakfast tea, here's where to enjoy London's best, quirkiest, winter warming drinks:
Winter Warming Drinks in London: Quirky Ones
1. For Magic: Blossoming Hot Chocolate at Dominique Ansel Bakery London
What: Blossoming Hot Chocolate (£5.50)
The Blend: Dominique Ansel Bakery London have recently brought their blossoming hot chocolate from across the pond this winter with an Instagram-worthy hot cuppa cocoa. A flower made from a light and airy marshmallow blooms before your eyes once placed in a cup of Dominique's rich hot chocolate, revealing a chocolate bon bon surprise inside.
The Venue: Chef Dominique Ansel and his team have brought French flair and New York flavour to the UK since the opening of his eponymous bakery, Dominique Ansel Bakery London.  Located on Elizabeth Street in Belgravia, Dominique's first Europe-based bakery offers a menu featuring signature pastries, including the Cronut®, DKA (Dominique's Kouign Amann), Cookie Shot, Frozen S'mores, and more. Additionally, there's lots of exclusive-to-London creations, from the Banoffee Paella, Eton Mess Lunchbox, and Welsh Rarebit Croissant, among others. Upon entering the Bakery, guests are welcomed with an open kitchen, cozy café seating, and a year-round covered courtyard.
Where: 17-21 Elizabeth Street, London SW1W 9RP
2. For a Festive Pop-Up: Spiced Mulled Apple at The MaE Deli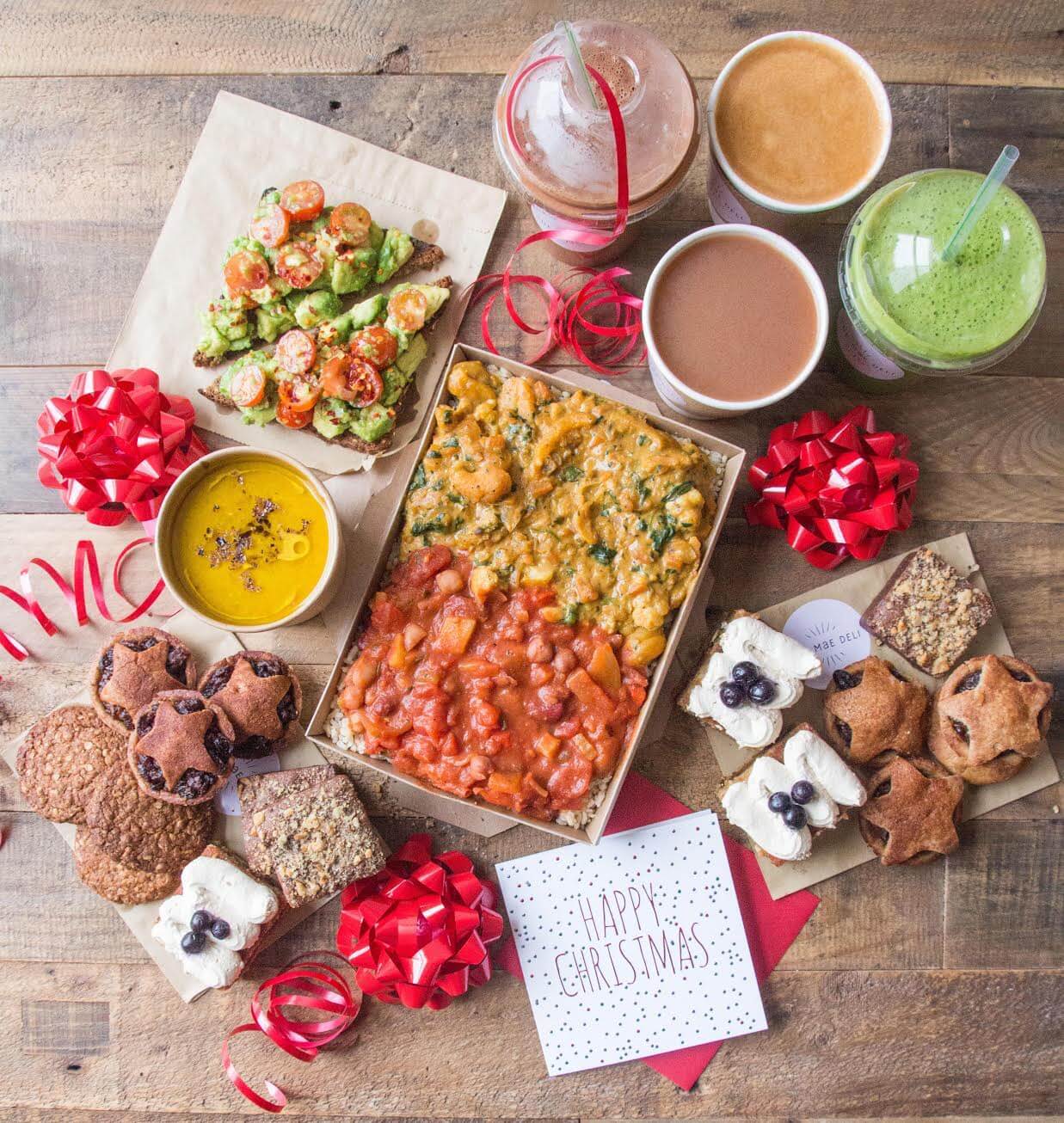 What: Spiced Mulled Apple (£3.50)
The Blend: A delicious, warming mix of warm apple with Christmas spices, including cinnamon, nutmeg and cloves. Grab one with a mince pie = total heaven.
The Venue: This winter season, The MaE Deli, founded by Ella (Deliciously Ella) and her husband, Matthew Mills, is getting into the festive spirit by taking up residency in London's Neal's Yard, with an exciting and limited edition seasonal offering to delight fans of Ella and those who seek natural and delicious food. Opening its doors on Thursday 17th November to coincide with the Seven Dials Christmas lights switch-on event, The MaE Deli Festive Pop Up is serving an exclusive selection of natural, wholesome and festive goodies. From hearty carrot and chestnut soup, to a warming spiced mulled apple and seasonal mince pies, The MaE Deli Festive Pop Up has something delicious to suit every foodie this Christmas.
Where: 16a Neal's Yard, Seven Dials, London, WC2H 9DP
When: 17th November – 22nd December 2016
3. For Fun: Freakshakes at Muriel's Kitchen
What: Freakshakes (£8.50, £12.50 for a hard shake)
The Blend: Ok, they're not warm – but how could I not put these in? Indulgent chocolate freakshakes from the creators of deliciously moreish truffles, Monty Bojangles. The shakes come in Berry Bubbly and Milky Mischief flavours, with Milky Mischief including a shot of rum for good measure!
The Venue: Muriel's Kitchen was founded in 2011 by husband and wife team Sam and Charlotte Miller. Charlotte was inspired by her desire to re-create the food of her late grandmother Muriel and what came out of her 1950's kitchen. The ethos behind the concept was to take inspiration from classically British family plates and give them a modern twist. They devised a menu serving a variety of dishes including healthy, vegetarian, vegan and gluten-free options using only the best British ingredients. There are now three Muriel's Kitchen sites in Soho, South Kensington and Richmond, as well as a recently opened grab-and-go site in Putney.
Where: Available in selected stores only; Richmond, Soho and South Kensington from 28th November.
4. For Spice: Chai Latte at Over Easy
What: Chai Latte (£3.50)
The Blend: Their house-made Chai Latte is brewed with freshly ground spices, ginger and hand-pressed cane sugar. The Chai Latte can be made with regular milk or soya milk, so it's vegan-friendly too. It's pretty as a picture, garnished with freshly ground cinnamon.
The Venue: Over Easy is a daytime eatery taking inspiration from Melbourne's unrivaled cafe culture and the indulgent brunch scene of North America. They focus on finding the best produce available and letting it speak for itself; from their Allpress Espresso coffee brewed by expert baristas to their house smoked streaky bacon from HG Walter butchers, flavour always comes first. Come for a breakfast of champions.
Where: 31 Duke St, Marylebone, London W1U 1LG
Winter Warming Drinks in London: Chocolate Ones
5. For a Treat: Amorino Hot Chocolate Experience
What: Authentic Italian hot chocolate with a choice of 10 flavours including rich dark hot chocolate, creamy white hot chocolate, exotic coconut hot chocolate, velvety milk hot chocolate, smooth hazelnut hot chocolate and fiery chilli-infused Aztec hot chocolate. For something quirky, try the warming orange and cinnamon hot chocolate. 
The Blend: The experience involves a customisation of the chosen hot chocolate by adding whipped cream, sprinkled with cocoa, topped with a gianduja wafer. Then finish off with a sprinkling of nocciolini, dust with freshly grated chocolate and enjoy a delicious macaron.
The Venue: Created by two childhood friends, Cristiano Sereni and Paolo Benassi, Amorino was founded in 2002 and now has over 150 stores in 16 countries. Their gelato and sorbets are churned every day in typical Italian fashion under the watchful eyes of their Chefs de Glace and their recipes take into account the need for the gelato to mature and allow each flavour to develop to its full potential. They use only the freshest free range organic eggs and the highest grade whole milk. Delish.
Where: Available in selected stores only; Soho, Covent Garden, Chelsea, Fulham Broadway, Camden Town, and Islington.
6. For a Childhood Classic: Hot Chocolate at VQ
What: Hot Chocolate with Chantilly Cream (£2.95)
The Blend: Deliciously warming house hot chocolate topped with Chantilly Cream and fluffy marshmallows. What more could you want in life?
The Venue: VQ, the 24-hour café and diner that has been feeding and watering customers round the clock for 20 years in Chelsea, and more recently in Bloomsbury, has opened its first non-24 hour site in Notting Hill. Pop in for brunch with the kids, have a quick burger before bed or tuck into an all-day breakfast in the afternoon, and you will be guaranteed a warm and friendly welcome. VQ prides itself on serving classic comfort food in a relaxed, informal and professional environment. As well as the legendary all-day breakfast menu featuring everything from Bubble 'n' Squeak to Eggs Benedict, diners can choose from an irresistible selection of burgers, salads, pasta, small plates and old favourites such as fish and chips.
Where: Various locations – see here
7. For Customisable Hot Chocolate: R Chocolate London
What: Hot Chocolate (£2.50)
The Blend: Choose from a range of house blends dependent on how you like your chocolate: dark (70%), milk (42%) or white.  There's also a Piedmont hazelnut blend together with the house dark 70% chocolate alongside a spicy version blended with a hint of chilli.
The Venue: R Chocolate London – a beautifully indulgent chocolatier and patisserie – has opened its flagship doors on Belgravia's iconic Ebury Street. Founded by self-confessed chocoholic Sir Evelyn de Rothschild, producer Jessica de Rothschild and Ben Elliot (Co-founder of Quintessentially), R Chocolate takes inspiration from the best chocolatiers around the world.  Sourced exclusively from award-winning chocolate makers and warriors of sustainability, Original Beans, this is chocolate couverture at its finest with creations made only from the highest quality ingredients and never with preservatives or additives.
Where: 198 Ebury St, Belgravia, London SW1W 8UN
Winter Warming Drinks in London: Boozy Ones
8. For Boozy Warmers: Hot Serves at The Trading House
What: Hot Serves (£5.50)
The Blend: Choose between the Hot Sipsmith, which is a combination Sipsmith Gin, Britvic tonic syrup, Fee Brothers grapefruit bitters, boiling water, garnished with pink grapefruit or the Hot Toddy, which mixes Monkey Shoulder, Canton breakfast tea, honey, boiling water, garnished with a lemon wheel and a cinnamon stick.
The Venue: The Trading House on Gresham Street is one of the City's best kept secrets. Their iconic venue is full of peculiar eccentricities with the interior retaining much of the grade II listed building's architectural detail and period fixtures and fittings, including dark woods, high ceilings and a spiral staircase. The Trading House's drinks list is led by their impressive offering of signature cocktails and their bar team are trained in making the world's top 100 cocktails. Freshly cooked pub food is on the menu, featuring a 'home comforts' section to ensure those with hearty appetites are catered for. The Trading House are also proud to host nightly live music, creating a buzzing, yet relaxed atmosphere for everyone to enjoy!
Where: 89-91 Gresham Street, London, EC2V 7NQ
9. For a Winter Hideaway: Hot Chocolate Cocktails at Dalloway Terrace
What: Pierre Marcolini Hot Chocolate (£12.50)
The Blend: So many beauties; choose from a delight of boozy hot chocolates, including Raisin the Bar with Ron De Jeremy Spiced Rum, LBV Port and Pierre Marcolini hot chocolate, and Black Forest with Monkey47, Balthazar Vermouth, cherry liqueur, Pierre Marcolini hot chocolate. There's also Bourbon Brittle with Peanut Butter Maker's Mark, hazelnut liqueur and dark chocolate liqueur and Gingerbread Choc with cinnamon liqueur, ginger and lapsang syrup.
The Venue: Bloomsbury's enchanting Dalloway Terrace has been transformed into a magical winter wonderland, becoming the perfect heated hideaway complete with hot chocolate cocktails, cheese fondue, festive films and a hearty menu of winter delights. Fully heated, this all-day dining destination is located just off Great Russell Street in The Bloomsbury. The terrace has been transformed by master florists Wild at Heart by Nikki Tibbles allowing guests to lose themselves amidst the snow-covered Narnia-like foliage and escape the cold weather beneath sheep skin rugs. Dalloway Terrace also is also providing hot water bottles and complimentary shots of Génépi liqueur on the heated terrace to guarantee the perfect cosy evening.
Where: 16-22 Great Russell St, Fitzrovia, London WC1B 3NN
Winter Warming Drinks in London: Homemade Ones
10. For a Hot Bevvy: Peppermint Twist Hot Chocolate
What: Peppermint Twist Hot Chocolate (£10)
The Blend: As the hygge craze sweeps the UK in the nation's bid to ward off the winter blues, Smirnoff's new limited edition Peppermint Twist Hot Chocolate is the perfect treat to satisfy a hygge-hungry soul.
The Lowdown: As the cold weather draws in and FOGO, an equally popular craze defined as fear of going out, takes over, – at home with this simply delicious recipe that is all too easy to make. A modern take on the once coveted Hot Toddy, this hot voddy is a delicious mix of warm hot chocolate and Smirnoff's limited edition Peppermint Twist which has launched just in time for the festive season. How to make it:
Ingredients: 
50ml Smirnoff Peppermint Twist
200ml hot chocolate
1 dollop whipped cream
1 peppermint stick
Method:
Mix your favourite hot chocolate or cocoa powder with milk and heat
Pour a shot of Smirnoff Peppermint Twist into the drink
Garnish with whipped cream and a peppermint stick
Where: The limited edition Smirnoff Peppermint Twist is only available during the festive season, pick up a bottle for £10 in selected ASDA stores and try the Peppermint Twist Hot Chocolate at selected Greene King pubs across the UK.