The Margarita. Arguably, the world's favourite cocktail (according to us). Whether you're in a swanky bar, a taqueria, or, simply on your sofa, a Marg will always hit the spot. On National Margarita Day (22nd February), we've discovered the best kits, tricks and pre-made cocktails to help you enjoy this tequila-based concoction in delicious style (yes, we know it's a Monday).
The Lowdown: The Black Lines Spicy Tommy's has previously been pouring 'on tap' exclusively at Club Mexicana, the Vegan Mexican-inspired restaurant in London. Now available in a 500ml glass bottle, this simple serve is all about the balance of fresh-pressed lime and Agave Nectar, and the team at Black Lines have added a touch of chilli to give it an added kick. As with all of their creations, the Spicy Tommy's is 'ready to serve' and simply needs chilling, pouring over ice and garnishing with either a lime wedge or chilli.
Price: £24
Where: Buy online
The Lowdown: Made using only the finest ingredients, MOTH stands for cocktails, company and conversation, are ready to go when you are, without any fuss. Made with the deliciously smooth Enemigo Tequlia, Triple Sec, lime and salt, the MOTH Margarita offers a bar-quality cocktail to be enjoyed straight out the fridge from the comfort of your own home. Fresh, sharp and confident, the Margarita is just as delicious shown off in a martini glass with a salted rim as it is over ice with a slap-up takeaway.
Price: £3.99
Where: Waitrose
The Lowdown: The leading mixology guide and PATRÓN have created bespoke bundled kits with the best ingredients to create 15 Margaritas for just over a fiver each. Featuring a bottle of PATRÓN Silver tequila 700ml, a bottle of triple sec, 10 fresh limes, a bottle of agave syrup, a cocktail jigger, a bottle of Difford's Margarita Bitters and two beautiful PATRÓN Margarita coupe glasses, these kits will make sure to keep your Margarita cocktail making skills at home throughout lockdown 3.0.
Price: £74.95
Where: Buy online
The Lowdown: NIO Cocktails offers pre-made single-serve cocktails in the chicest of packaging, delivered straight to your door in handy boxes of three, six or nine. The brand's bestselling Tommy's Margarita is expertly crafted by their Head of Mixology. Bright, citrusy and refreshing, Tommy's Margarita is a modern variation on the classic Margarita cocktail that really allows the tequila to shine.
Price: £19.50 for a box of three
Where: Buy online 
Photo Credit: Studio Lau 
The Lowdown: Bottle Bar and Shop, based in Catford, south east London, produce all of their own cocktails and liqueurs in small batches, from natural ingredients only. Their Margarita is fruity, sharp, deliciously refreshing and possibly containing enough lime to make it one of your five a day. Pour over ice and throw in a wedge of lime for an extra citrus bite.
Price: From £17
Where: Buy online 
The Lowdown: PATRÓN and The Drinks Drop have partnered with over 30 of London and Manchester's best bars to develop 34 delicious and unique takes on the classic Margarita. Available until 22nd March 2021, all the margaritas featured are available for next day home delivery via the Drinks Drop website. Highlights of the menu include the tropical wonder of the Acai + Elderflower Margarita from Cottonopolis, the fiery treat El Patrón from Kwānt, and the fruity delight, Wild Piña from Beaufort Bar at The Savoy Hotel. The Drinks Drop and Patrón will continue to support partnered bars and venues by giving £1.50 of each cocktail sale directly back to the bar that developed the recipe.
Price: £7.50
Where: Buy online
The Lowdown: This National Margarita Day, opt for a twist on the classic and create a beautiful, floral Rose Margarita. Each collaborative kit contains a full-size bottle of limited edition tequila Ocho red bottle tequila and a full-size bottle of Nonsuch Wild Hedgerow and Rose shrub to create a bartender-quality serve sans hassle.
Price: £34
Where: Purchase here
The Lowdown: A classic cocktail – bottled! Tommi's classic margarita is the perfect tipple to accompany an at-home taco feast, with a double shot of Gran Centenario tequila shaken up with agave nectar and lime juice. Wahaca's tasty AF Passion fruit margarita has also been expertly bottled and both are available now via Deliveroo.
Price: £8.75
Where: Deliveroo
The Lowdown: The AquaRiva Margarita is superbly balanced with tequila and delicate lime flavours co-starring in this highly drinkable cocktail. Made by hand, the cocktail is made with 50mls of AquaRiva 100% Agave Reposado Tequila mixed with 100% Organic Agave Syrup and plenty of pressed lime.
Price: £24.96 for a pack of four
Where: Buy online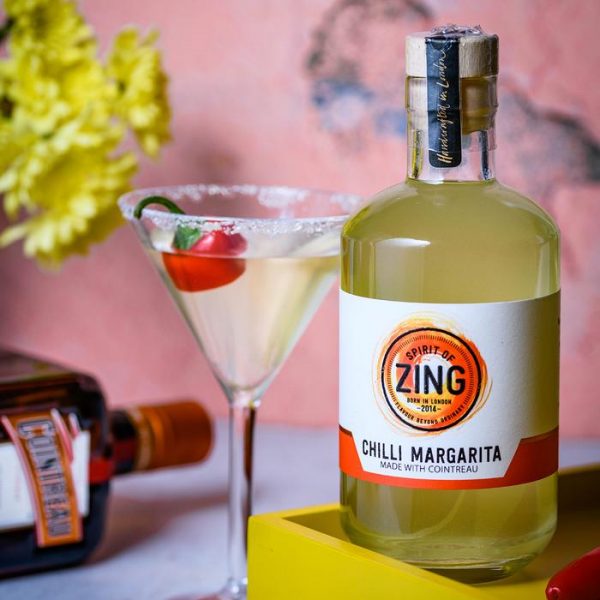 The Lowdown: Pritesh Mody, pioneer of craft bottled cocktails and founder of World Of Zing, brings exciting moments of mixology and cocktail innovation to a wider audience. The Chilli Margarita is a spicy twist on the well-loved libation and uses Lemondrop Chillies (insanely citrussy flavours alongside a fiery heat), along with smooth tequila and rich Cointreau orange liqueur for a bright and lively cocktail.
Price: £13
Where: Buy online