If you haven't already noticed: London is currently basking in a heatwave. What better way to celebrate the sunshine than heading to the nearest outdoor terrace? We've rounded up the best drinking and dining hot spots outside for you to enjoy. Go forth and sun worship, cocktail in hand. Top 10 ways to enjoy the sunshine in London:
1. With Pizza: Rocket Restaurant 
Why: Rocket Restaurant is bringing indoor seating outside with their pizza delivery service. For those sun worshippers in Central London head to Lincoln's Inn Fields for a spot of sunbathing and sweet, sweet carbs. Pop into the Holborn restaurant to place your order then kick back and unwind in a sunny spot, before they deliver their piping hot pizzas to you. For fear of getting your clothes dirty – blankets are also available. The pizza to try is the Caprino with Goat's cheese, manzanilla olives, baby roquito peppers, baby spinach and Buffalo mozzarella. It's one of the nicest you'll taste in London.
Location: 36-38 Kingsway, London WC2B 6EY
2. With All the Food: Broadgate Circle 
Why: Broadgate Circle is the place to go for the indecisive. There's Yauatcha for your dim sum fix, head to Franco Manca for dreamy sourdough pizzas and Comptoir Libanais for the ultimate falafel and hummus. What's more, they all boast super outdoor seating areas. While many decide to shun the hot weather for the comfort of air conditioned resurantants, pull up a deck chair found in the massive centre of Broadgate Circle and soak up the rays. London, you beauty.
Where: Broadgate Circle, London EC2M 2QS
3. With Endless Ice Cream: Anise
Why: Anise – the chic, spice-infused City bar by Cinnamon Kitchen is giving the classic Mr Whippy a modern Indian twist with their Spice Cream Parlour. Head to their al fresco terrace for boozy cocktails, ice cream sandwiches and frozen cocktails. For us, it's all about the good stuff and their ice cream sarnies do not disappoint. Choose between vanilla, coffee or cinnamon or sample one of their daily-changing selection of ice-cream and sorbets. Sip on The Spice Queen, a combination of  lime-infused vodka, black pepper, chilli sugar and mango.
Where: 9 Devonshire Square London EC2M 4YL
4. With Sunshine Dim Sum: Cha Cha Moon
Why: For one of the best courtyards in Central London head to Cha Cha Moon. Providing noodle dishes, salads and all round yummy Chinese cuisine with a modern twist. Ideally placed, it's a great stop off for quick weekday lunch and those wishing to soak up the sun whilst slurping on a bowl of their Taiwan Beef noodle soup. Their menu celebrate authentic Asian street-food and classic dishes. Perch up one of their long wooden benches and order the steamed bun platter – dreamy.
Where: 15-21 Ganton St, London W1F 9BN
5. With Fancy Cocktails: Ham Yard Hotel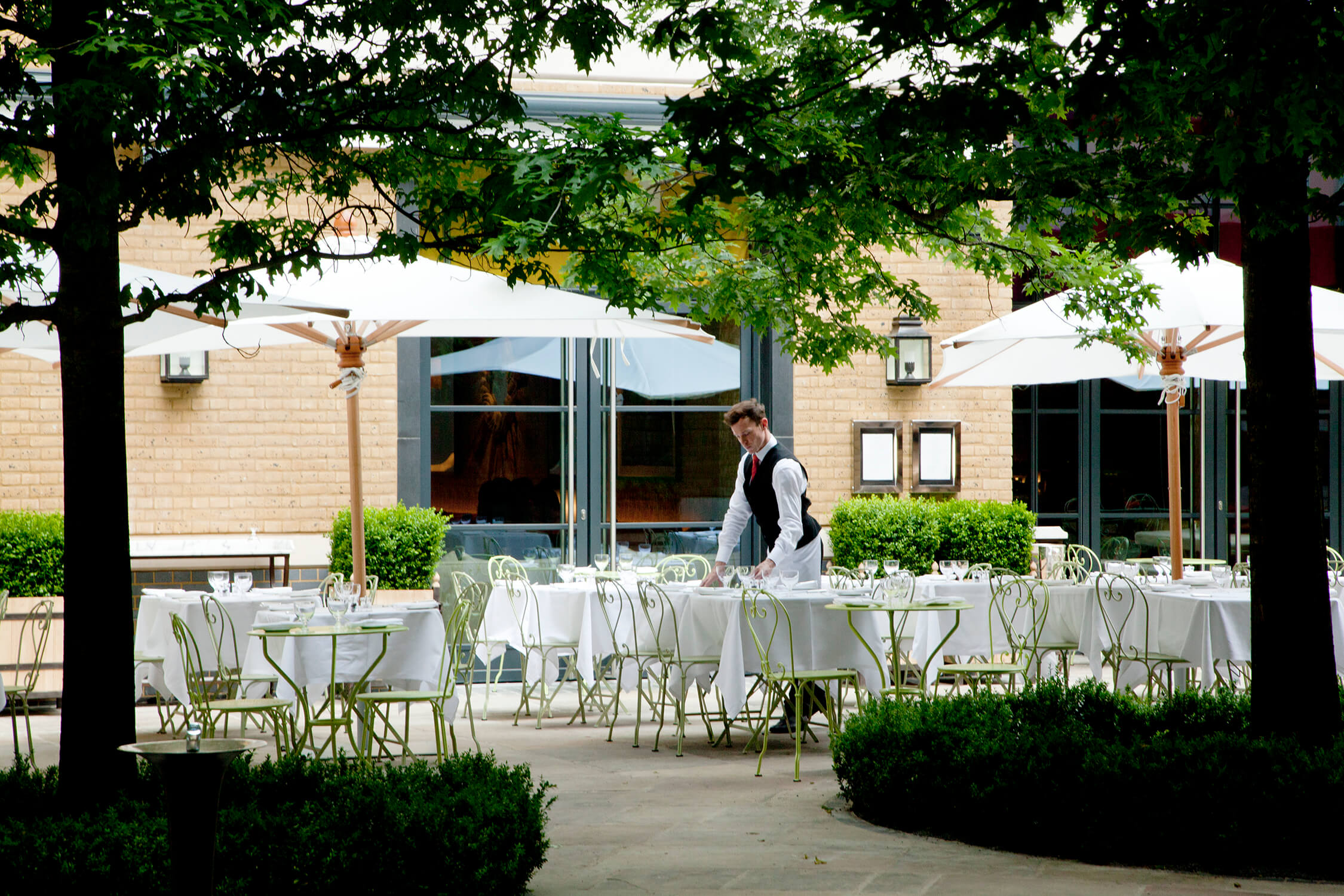 Why: Soho is a mecca of cracking watering holes and a sun trap for all those rays – but not all places offer outdoor seating areas where you can spend an leisurely afternoon. The Ham Yard Hotel offers a snazzy outdoor eating and drinking terrace right in the heart of Soho. This stylish hotel has an urban village feel with some pretty snappy garden decorations and bronzed sculptures. For guests staying at the hotel, head up to the 4th floor for a cool, chic drinking spot decked out in olive trees and seasonal flowers.
Where: 1 Ham Yard, London W1D 7DT
6. With Classic Pub Grub: Paradise By Way  
Why: Paradise By Way, a pub decked out in vintage decor specialises in European food with the contemporary menu created by Head Chef Cat Ashton. The gastropub has a  stunning outdoor courtyard garden – enjoy their popular charcuterie board with pickles and bruschetta and their Sunday lunches in the sunshine. If you're a fan of the shade pull up a chair in their first floor conservatory; covered by a glass ceiling which offers copious natural light whilst being protected from the rain and shine. Best of all, you don't feel like you're sitting in a greenhouse.
Where: 19 Kilburn Lane, London W10 4AE
Photo by Paul Winch-Furness
7. With Delicious Healthy Food: Farm Girl 
Why: Bringing the relaxed, healthy Australian lifestyle to Notting Hill, Farm Girl is about the good stuff, serving up nutritious, substantial food throughout the day. Found at the Southern end of Portobello Road, Farm Girl not only has seating inside, but its main draw is their secluded al fresco courtyard,  offering a  welcome respite from the hustle and bustle of Portobello Market. Tuck into their roast beatroot salad and cool down with one of their juices.
Where: 59A Portobello Rd, London W11 3DB
8. With Lots of Wine: Compagnie des Vins Surnaturels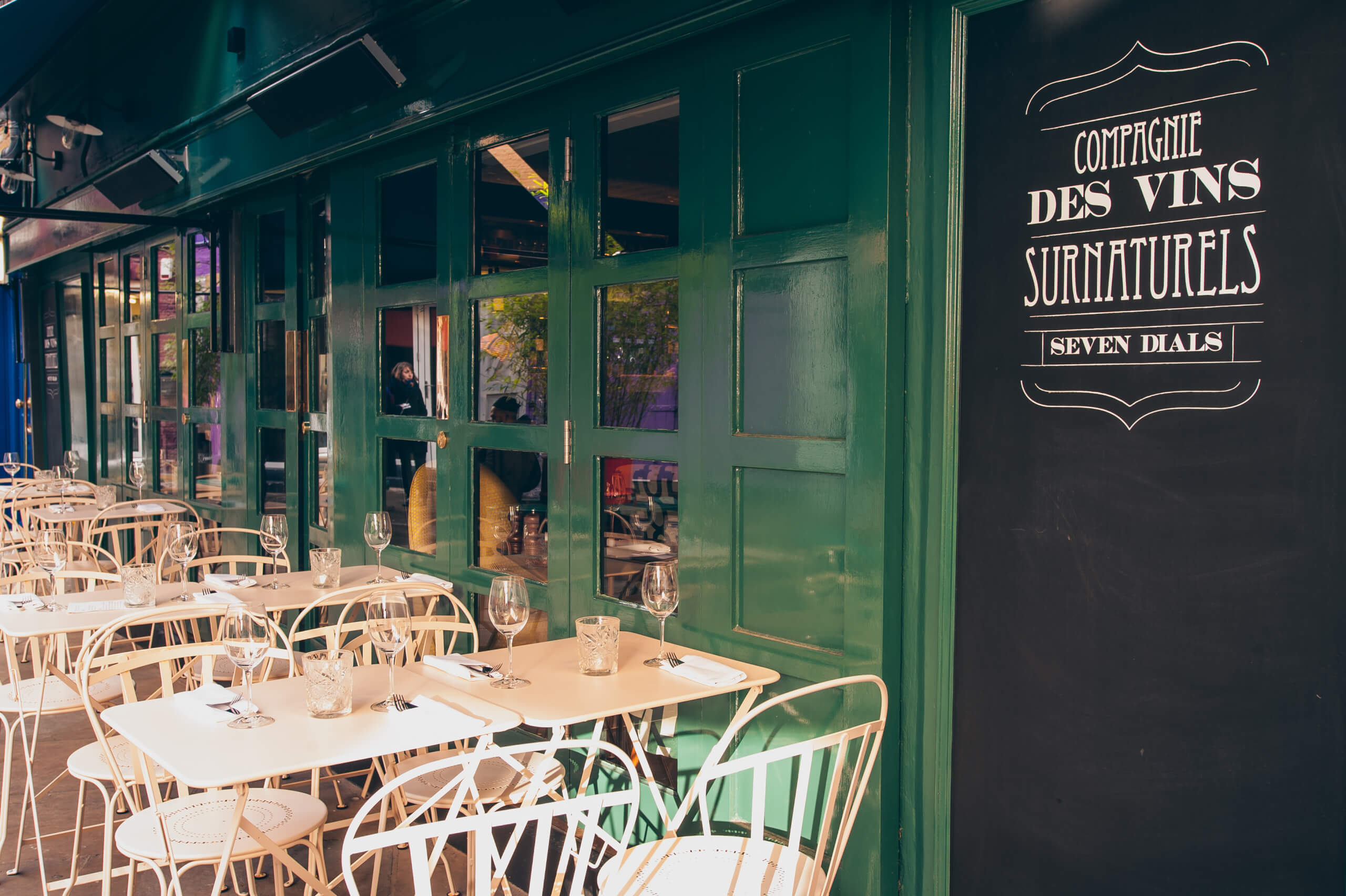 Why: For those preferring a glass of fine vino to a mojito, Compagnie des Vins Surnaturels deserves a visit. Sod the Eurostar and let this French-influenced restaurant and bar transport you to the cobbled streets of Paris. Found away from the hordes of tourists and street entertainers, Compagnie des Vins Surnaturels is tucked away in Neal's Yard. Their winning feature is the outside tables sprawl over their  brightly coloured courtyard. Take time to work your way through their expertly chosen wine list and their new French inspired spring menu.
Where:  
9. With a Cocktail Crate: 5cc Exmouth Arms 
Why: If you're fed up of  waiting at the bar to be served, the nice chaps down at 5cc Exmouth Arms have recently launched a  cocktail crate for outdoor drinking where you don't have to leave your seat. No charging for an empty table and trying to fend off people while you try and keep your mates seat while they order the drinks. Delivered from the top floor window to the outdoor area below via a pulley system, the 5cc Cocktail Crate brings a playful element to drinking al fresco. Hidden on the corner of bustling Exmouth Market, the bar has included their best sellers to the cocktail crate including Kaffir Fizz, Smoked Negroni, Tiki Wreath and their Basil Bloom.
Where: 23 Exmouth Market, London, EC1R 4QL
10. With American Brunch: Sea Containers 
Why: For people wanting brunch in London in the sunshine this weekend, head over to Sea Containers, located in the stunning hotel Mondrian London on the South Bank. The beautiful restaurant features an open kitchen, visible wood-fire oven, central "diner" bar and a restaurant space designed by Tom Dixon with floor-to-ceiling windows to complement its location on the river Thames. There is some outdoor seating for the summer months – overlooking the river – and the restaurant's windows are fully retractable. They've got a delicious 3-course brunch menu, devised by Seamus Mullen, with New York inspired dishes.
Where: 20 Upper Ground, London, SE1 9PD