Thursday 16th August marks National Rum Day; a day to celebrate the holiday must-have Pina Colada, or the always reliable Mojito.
Global Rum Ambassador and founded of RumFest, Ian Burrell, has listed his favourite spots to enjoy a rum cocktail in the capital to celebrate National Rum Day in style:
1. For a Hefty Stock of Rum: Trailer Happiness 
Drink: Domino – Trailer Happiness House Blend Rum, Fernet Blanca, Antica Formula Vermouth, toasted sesame seed syrup and cardamon bitters (£10)
The Run-Down: Internationally acclaimed, this tiki bar is also London's most famous. Set in the heart of Portobello Road, this basement bar stocks over 200 rums and whip up some of the best rum cocktails in the UK. They also serve a mean Zombie cocktail that is too big (and strong), for one person alone.
Where: 77 Portobello Rd, London W11 2DY
2. For Fancy Cocktails: Mahiki
Drink: Honolulu Honey – Pampero Aniversario rum shaken with Jules' honey cream, mango, pineapple and fresh lime £8.50)
The Run-Down: If you're clubbing on National Rum Day then all roads should end up at Mahiki. The club boasts over 200 rums and has an amazing tiki menu with modern classics such as the Honolulu Honey, and the Tonga Twist served in a seashell.
Where: 1 Dover St, London W1S 4LD
3. For Rum Masterclasses: Merchant House
Drink: Admiral Vernon's Grog – Guyanese Ru, house Orgeat, lime and a splash of water (£12.50)
The Run-Down: Although this bar is also known for its gin collection, it's the large rum offering that makes it special. Hidden in the heart of the City, this rum bar offers rum masterclasses as well as an fantastic cocktail menu. Ask for the Tea Time in Boston for a truly amazing rum experience.
Where:  13 Well Court, EC4M 9DN
4. For a Rum Flight: Rum & Sugar
Drink: Dark and Stormy – Gosling's Black Seal Bermuda rum, and fresh lime topped with Old Jamaican ginger beer (£9.50)
The Run-Down: This Canary wharf bar is set in probably the most historical rum site in London. As part of the Museum of London, the building was home to old rum blending companies in the 1900s. Try one of the various rum flights on offer, featuring a selection of global rums to sip and savour.
Where: 1, Warehouse, West India Quay, Canary Wharf, E14 4AL
5. For a New Rum Bar: Laki Kane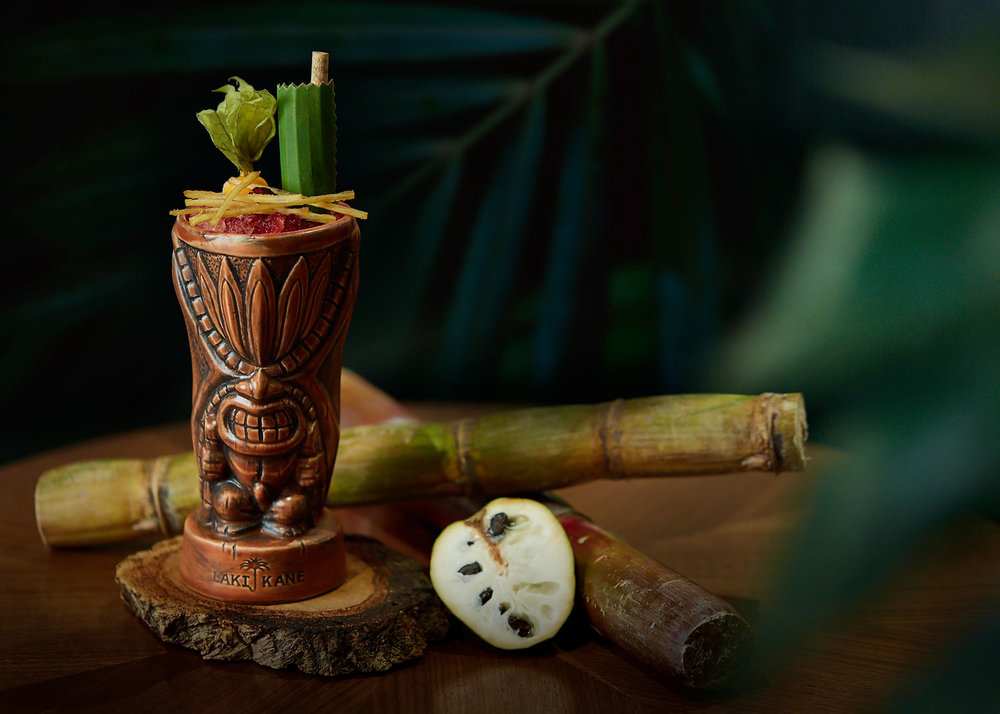 Drink: Laki Kane – Bacardi Cuatro dark rum and Mozart Dry Chocolate vodka, shaken with soursop tea, cupuaçu, guanabana and sugar cane juice (£11)
The Run-Down: London's newest rum bar in the heart of Islington's Upper street, Laki Kane have already caused quite a stir since opening. Still relatively new, it's advisable to book a table before arriving due to fact that the cocktails are amazing. Not only do they have over 200 rums, they are the first bar to host 19 little pot stills in their 1st floor bar, so guests can learn how to make their own spiced rum.
Where: 144-145 Upper St, London N1 1QY
6. For Caribbean Vibes: Rum Kitchen
Drink: Rum Sour – Abuelo 7, lemon, sugar, bitters and egg white (£9.50)
The Run-Down: There are 3 Rum Kitchen in London: Soho, Notting Hill and Brixton. All sites have an amazing rum and cocktail selection. And to help you with that 'Rum Experience', the kitchen also serves a naughty range of Caribbean food.
Where: Locations here 
7. For a Rum Themed Bar: London Cocktail Club 
Drink: Mojito Royale -Bacardi Rum, mint, lime, sugar and prosecco (£10)
The Run-Down: The London Cocktail Club franchise is one of the best nights out in London. All of their bars are lively with great cocktails and a bangin' playlist. And the rum themed bar on Shaftesbury Avenue doesn't let the side down – make sure you ask for their Painkiller or Pina Colada while you're there.
Where: Shaftesbury, 239 Shaftesbury Ave, London WC2H 8ER
8. For a Basement Bar: Burlock London
Drink: Off the Hook – Mount Gay Black Barrel, Lillet Blanc, Mandarine Napoléon and bitters (£12)
The Run-Down: Home to over 150 rums this basement club is one of London's best kept rum secrets. With a great happy hour, DJs and loud music (if that's your thing), it's the perfect night if there are a group of you and want to sip on an copious amount of rum.
Where: 31 Duke St, Marylebone, London W1U 1LG
9. For Mini Golf and Rum: Puttshack
Drink: Jungle Bird -Appleton 12 rum, Campari apéritif, pineapple juice, lime juice and sugar (£9)
The Run-Down: Another new rum focused bar (100 rums if you're counting) in west London. If indoor golf, arcades, fun food and amazing rum cocktails are your idea of a fun night, then head to Puttshack – the world's first super hi-tech indoor mini golf experience.
Where: Ariel Way, White City, London W12 7HB
10. For Timeless Cocktails: The American Bar at The Savoy 
Drink: Like a Fish Out of Water – Bacardi Carta Blanca Rum, Trois Rivieres Rhum, Agricole, Verjus, coconut liquor, pineapple syrup and Champagne (£22)
The Run-Down: If you want to treat that special someone, there is no place in London, more glamourous to sip a rum, than the American Bar at The Savoy. Although not a rum bar, it has been Voted the World's Best Bar, and they specialise in all good spirits. I recommend the Rum Manhattan; sweet, dry or perfect. It's your choice.
Where: Strand, London WC2R 0EZ
For more information on RumFest, grab tickets here.