Are you melting? You're not the only one. In the spirit of summer, cool down with these amazing new summer cocktails in some of our favourite London bars. Time to get the drinks in:
1. For Weird and Wonderful Cocktails: Duck and Waffle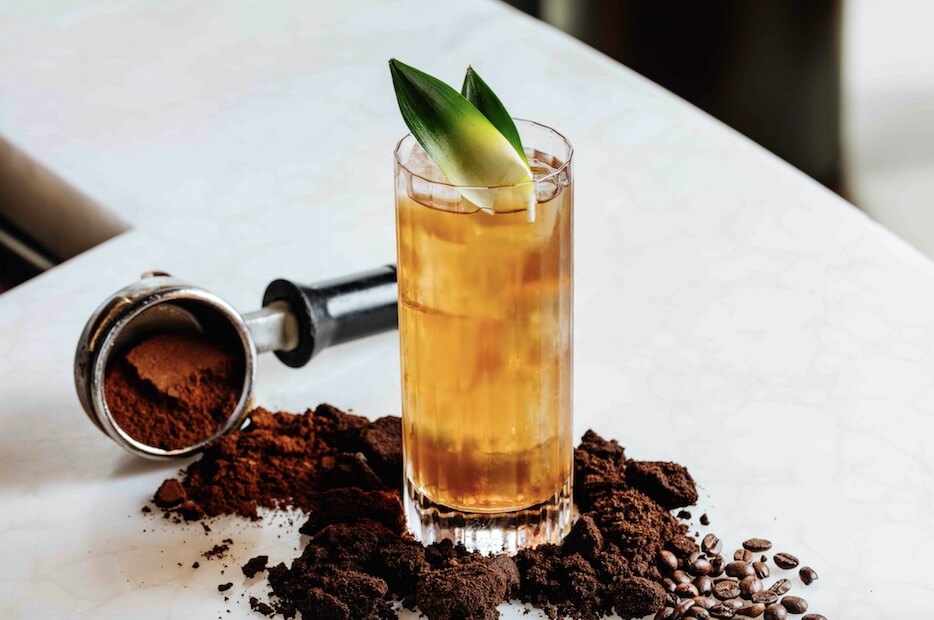 The Run-Down: There's no limits to Head of Spirit and Cocktail Development Rich Woods' ideas. He's basically the Willy Wonka of the cocktail world. His new Origins menu sees one single ingredient being used in its 360° entirety to create delicious, multi-dimensional cocktails. This new menu amplifies the individual flavours of the olive, tomato, avocado and more.
The Cocktails: Standouts from the menu include the Olive, created with Olive Campari, Olive Leaf Martini and Olive Branch Dry Bitters for a long, rich cocktail, packed with flavour while the Lime uses not only the juice of the fruit but the leaf and the husk as  complements to the innate sour flavours of the citrus. Rich maximizes the use of his favourite ingredient in the Red Pepper, using the skin, ends and even a red pepper vinegar to create a light and refreshing wine-style spritz cocktail that's perfect for the summer.
Where: 110 Bishopsgate, London EC2N 4AY
2. For Pick-Me-Up Cocktails: aqua shard
The Run-Down: To celebrate the dazzling London rays, aqua shard's Bar Manager and leading mixologist, Luca Missaglia has launched an innovative cocktail concept that invites everyone to either 'Wind Up' or 'Wind Down' at aqua shard. Aptly timed with the arrival of longer, balmy evenings, the complete menu of four skilfully crafted cocktails is divided in two sections: Wind Up and Wind Down.
The Cocktails: The first Wind Up cocktail in the collection, Kick Start, is a fiery concoction and the perfect choice for those in need of a late night pick-me-up. Combining Tapatio Blanco tequila with smoky chipotle syrup and punchy chilli chutney, Luca showcases a contemporary take on a classic shrub with this peppercorn twist. The second Wind Up is a crisp and refreshing Caribbean Colada, a taste of the carnival; Arak, coconut water, soda and homemade honey and pineapple cordial are mixed and served over crushed ice, and garnished with frozen banana leaf, fresh pineapple and black pepper. In contrast, the Wind Down cocktails expertly handle flavours suiting those who wish to while away an evening in comfort and calm. Luca's Lavender and Lime mixes Cocchi Americano aperitif, pineapple infused Arak and maraschino, with the soothing notes of homemade lavender and lime cordial. To end the collection, the Calming Cognac is smooth and light on the palate.
Where: Level 31 The Shard, 31 St. Thomas Street, London SE1 9RY
3. For Inventive Cocktails: Firedog
The Run-Down: If you haven't made it down to Firedog yet, you really, really need to. The restaurant fuses together Greek and Mediterranean cooking focusing on simple and traditional techniques. The creative cocktail menu show off fun and contemporary twists; from toasted marshmallow and candyfloss toppings to beetroot popcorn.
The Cocktails: Highlights from the new menu includes the Lambs Floss made with Hibiscus gin, grapefruit juice, pomegranate syrup, rosewater and sour cherry compote, and candy floss; Siren on the Rocks a muddle of Beetroot spirit, black carrot juice, Amaro Montenegro grapefruit juice and blackberry jam; and the No Smoke Without Fire made with Havana especial, pineapple syrup, chargrilled pineapple, lime, chilli, cream, smoked yoghurt and marshmallow. Finally, if you're a rum fan, try the The Hal-ucinati Ritual made with Havana 7, plum bitters, maraschino syrup orange peel with a euphoric flame.
Where: 92 Newman St, Fitzrovia, London W1T 3EZ
The Run-Down: Scandi-haven OSLO in Hackney is everything under one roof; a live music venue, restaurant and bar. The cocktail team have just announced their latest summer drinks menu, bursting with martinis and refreshing coolers perfect for the warm weather and summer months to come. The cocktails take much-loved classics and mix them up with fresh and zesty flavourings, including the likes of pink grapefruit, wild peach, violette, camomile and rose.
The Cocktails: If you like martinis, you're in for a good time. For something on the sweeter side, the salted caramel martini is made with Vodka, Kahlúa, Bauhaus Espresso Coffee and salted caramel liqueur. Like a dessert/drink hybrid – it's fast becoming out favourite summertime tipple. The Lychee Martini with Vodka, lychee liqueur, lychee juice, fresh lemon juice and rose syrup is a light and floral concoction, and the Icelandic martini featuring Millers gin, pink grapefruit liqueur and homemade camomile syrup boasting delicate and fruity notes.
Where: 1A Amhurst Rd, London E8 1LL
5. For Scandi Cocktails: The Harcourt 
The Run-Down: The Harcourt in Marylebone reopened its doors last year and has since become synonymous with a charismatic cocktail programme inspired by the restaurant and bar's Nordic heritage. Head Bartender Kenny Pajaziti has created a new menu with a strong focus on refreshing ingredients, edible garnishes and homemade methods of making, with frequent nods to the restaurant's Scandi influence.
The Cocktails: The seasonal cocktails section features modern concoctions with contemporary twists such as the deliciously rich avocado-based cocktail Abacátchy. Made using an avocado puree with honey and orange as its base, the cocktail is mixed with a grape syrup and finished with a hand-cut block of ice.  Elsewhere, Koko Basilika, a flavoursome rum-based cocktail, is made with a frozen ball of natural coconut milk and shaken with two different kinds of rum until it loosens and forms a smooth consistency. The addition of basil syrup and a pineapple puree, served in a copper pineapple, creates an Instagram-worthy drink and refreshing pick me up.
Where: 32 Harcourt St, Marylebone, London W1H 4HX
Photo Credit: Paul Winch-Furness 
6. For a Bloody Mary Menu: Rail House Cafe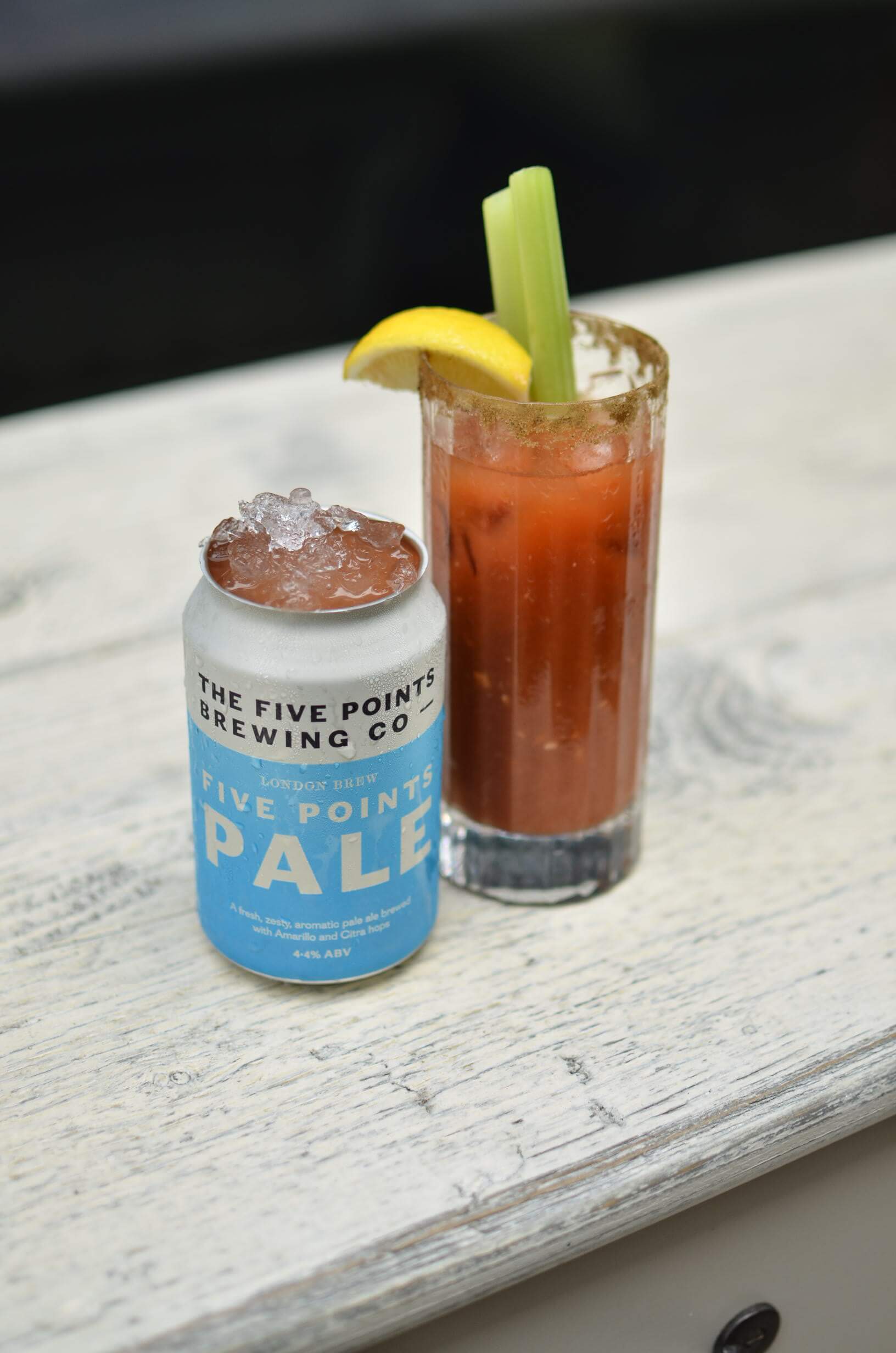 The Run-Down: Avid brunchers, unite. The holy grail of brunch time drinking is elevated this summer at the Rail House Café, with a very special new Bloody Mary menu featuring six variations available over the next few months.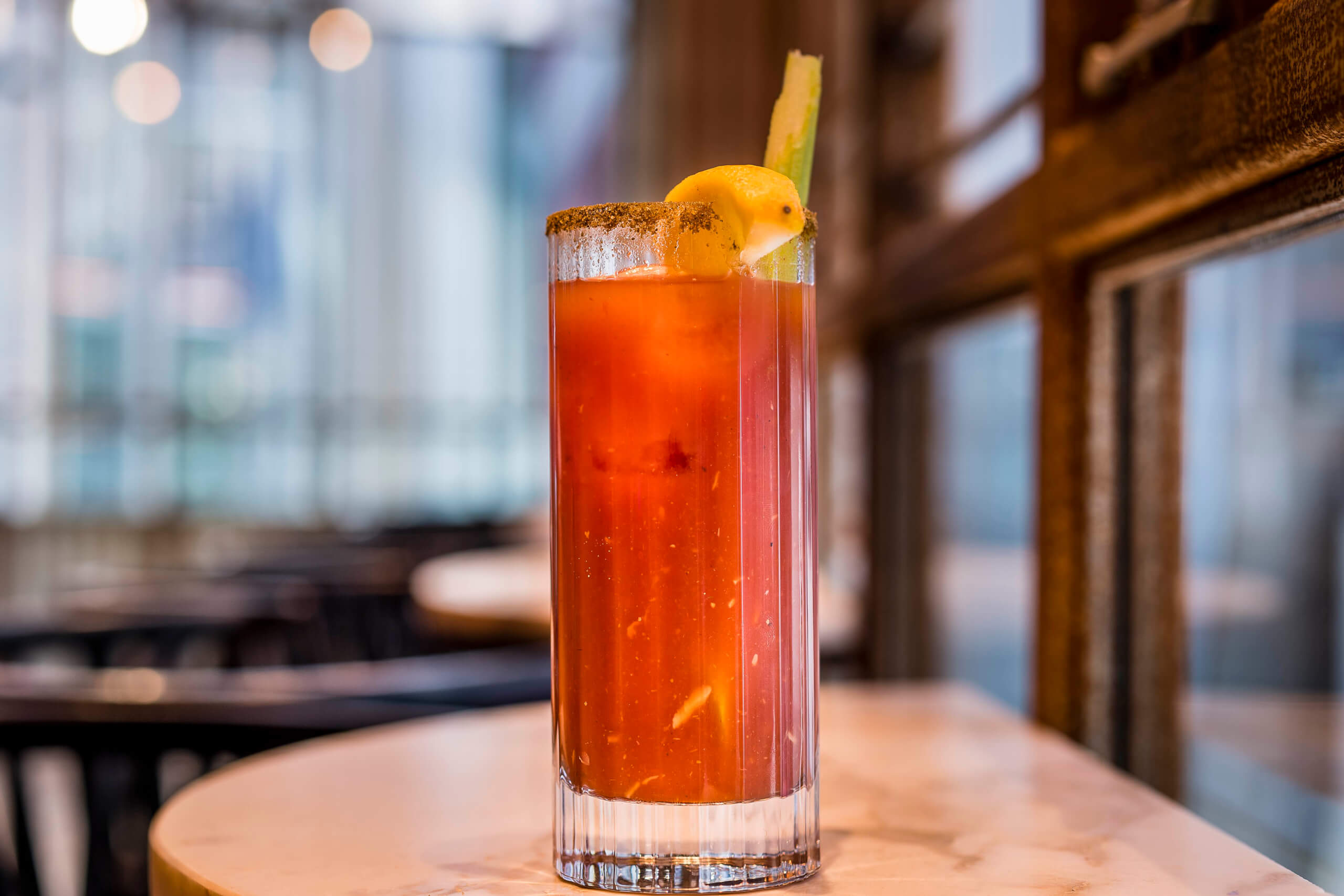 The Cocktails: Stick to the perfectly made classic recipe – or be bold and order one of the five other varieties available. There is something to suit all tastes, challenging the usual brunch time beverage. You may be tempted by the Basil Mary, combining Tanqueray gin, green Tabasco, yellow tomato juice, English mustard and lemon juice; whilst the Beetroot Martini delivers the ultimate kick of beetroot infused Ketel One vodka, tomato juice, Amer Picon, chocolate bitters and horseradish. Feeling adventurous? Order the Pale Mary made with Illegal mezcal, Five Points Pale Ale, Sriracha hot sauce, lime juice, soju, yuzu bitters, salt and soy sauce. 
Where: Sir Simon Milton Square, 8, London SW1E 5DJ
Photo Credit: Paul Winch-Furness 
7. For an Italian Cocktail Menu: Ritorno
The Run-Down: Taking inspiration from some of Italy's major train stations and most picturesque gardens, Ritorno has created a veritable botanical show-stopper of new summer aperitivo cocktails with one of Italy's finest aperitivo wines, Cocchi. Head Barman Paolo Viola has created the ultimate Grand Tour, allowing everyone to sip their way around Italy's regional aperitivos, each laced with delicate floral and botanical essences local to the region, finished with a spritz of atomised scent.
The Cocktails: From the Japanese gardens of Firenze to the wild roses boarding the river Po in Modena, each cocktail symbolises the flavours and flowers of Italy. With every cocktail purchased, a train ticket will be given, enabling guests to take a voyage of their senses through sight, scent and taste. The botanical gardens of Palermo (Orto Botanico), home to one of the Mediterranean's largest tropical plant collections is the inspirtation behind the Stazione Notabartolo Di Palermo, a floral cocktail featuring Cocchi Americano, amara liqueur, fresh mint, fresh lime and white lemon granita.
 Where: 442 King's Rd, Chelsea, London SW10 0LQ
8. For a Weekly Changing Menu: Our/London
The Run-Down: For the first time since they began making the finest vodka in all the land, Our/London Vodka distillery in Hackney Downs has opened its doors to the neighbourhood. Open every Saturday, swing by for expertly crafted drinks and food, games of table tennis, and to listen to some of London's finest independent record labels and Djs.
The Cocktails: The vodka based cocktail menu changes from week to week, but expect drinks such as the Our/On the Med, a refreshing drink of Our/London Vodka, Mediterranean tonic, Angostura bitters, lemon and rosemary; Our/Honey and Ginger made with Our/London Vodka, Orange Blossom Honey Droplets, ginger beer, ginger and lemon; and in our opinon the best cocktail on the menu, Our/About Thyme with Our/London Vodka, thyme syrup, lavender bitters, soda water, thyme and grapefruit.
Where: Arch 435 & 436, Spurstowe Rd, Hackney Downs E8 1LS
9. For a Global Cocktail Menu: The Sun Tavern
The Run-Down: Bethnal Green cocktail bar The Sun Tavern have just launched their summer menu and it's all about one thing: global spirits. The illicit Irish spirit, Poitìn, has been a major player in The Sun Tavern's DNA from the beginning, and this menu has been inspired by a range of wider and lesser known indigenous spirits from all over the world. Think Arrack (South and South-East Asia), Grappa (Italy), Slivovitz (East-Central and South-East Europe), Cachaça (Brazil), and Pisco (Peru and Chile).
The Cocktails: Drink round the world without leaving east London. The Penelopes #2 features Bán Poitín, cider brandy, Maraschino, Escubac, honey, lime, and rosemary and juniper yincture; and the Juan Jan Fizz pays homage to Mexico with Quiquiriqui Mezcal, Akvavit, citrus, honey, and rose and club soda. For a taste of Peru, order the Tamala Bay, a punchy drink of  Pisco, Amaro Nonino, lime, and Bay and Boker's Bitters.
Where: 441 Bethnal Green Rd, London E2 0AN
10. For a Cocktail Collaboration: Drake and Morgan x The London Essence Company
The Run-Down: Drake & Morgan has collaborated with the UK's first all-light mixer collection, The London Essence Company to create a special Taste of Summer cocktail menu.
The Cocktails: Highlights from the menu includes the Lavender Vida Local with Silent Pool Gin, London Essence Bitter Orange and Elderflower Tonic, orange peel and lavender; Milano Spritz, a blend of Campari, London Essence Grapefruit & Rosemary Tonic, and olives; The Guv'nor, a punchy medley of El Gobernador Pisco, London Essence Classic Tonic and grapefruit; and the Caracas Mule with Pampero Rum, London Essence Ginger Ale, lime juice, agave, sprig of mint and star anise.
Where: 6 Pancras Square, 6 King's Blvd, Kings Cross, London N1C 4AG
One for luck…
11. For a Gin and Tonic Menu: The Clifton
The Run-Down: Newly opened The Clifton in St John's Wood is a mecca for pub eats, pints and Sunday afternoon drinks. Aside from the usual pub tipples, The Clifton has created a new G&T menu boasting a variety of gins and flavoured mixers.
The Cocktails: Featuring an array of international and local gins including East London Liquor Company, Portobello alongside the more unusual Menorcan Xoriguer Mahon Gin, these zesty tipples are perfect summers day refreshers.  Examples include the delicate and smooth Brockmans G&T garnished with grapefruit and blueberry, and for the gin traditionalists, the classic G&T.  ball cocktails are served in the Spanish-style and satisfyingly large glasses.
Where: The Clifton, 96 Clifton Hill, London NW8 0JT