Calling all tea lovers! Have we got a treat for you. We partnered with our pals over at We Are Tea, for a special week dedicated to tea. We're always dying for a brew, but there's more to the humble tea leaf than you might think – here's where to find London's best tea cocktails:
The Drink: Boston Tea Party (£8.95)
The Blend: Made using We Are Tea's ethically sourced, award winning teas, the Hard Teas at  The Diner are totally amazing. Our favourite is the Boston Tea Party – a blend of Boston Rum, pineapple and Diner Blend Tea, it's fruity and delicious. If you like desserts, try the Cherry Pie – a blend of amaretto, berry tea and morello puree, it's so sweet and scrummy. For Moijito lovers, try The Diner's Teajito, made with East London Liquor Co. rum, lime, mint and super berry tea – it's refreshing and rather wonderful.
The Restaurant: The Diner is an all-American favourite; come here for cracking burgers, ribs and the best milkshakes in town. Oreo milkshakes people, need we say more? They also do fantastic weekend brunch – if you can catch them, their Red Velvet pancakes are a thing of dreams, and the hot dogs are always a winner.
Where: Locations here
Photo Credit: Paul Winch-Furness
2. For a Classic Reimagined: Mr Buckley's
The Drink: Gunpowder Gimlet (£8.50)
The Blend: This drink is so delicious – a minty, fresh green tea twist on the classic gin and lime cocktail, with just the right amount of tea goodness. The Gunpowder Gimlet is made with We Are Tea gunpowder supreme-infused gin, lime, mint and Miracle Mile redeye bitters, for the perfect post-work drink. What's more, customers will be able to purchase the Gunpowder Gimlet as part of their 2-4-1 cocktail offer, everyday between 5 and 8pm. Win win. 
The Bar: Mr Buckley's is situated on Hackney Road, East London. 277 Hackney Road was once home to the United Radical club, a Victorian drinking mens institute. William Buckley attempted to set fire to the club when refused entry on the evening of the 18th August 1883. Fortunately the flames were extinguished in time and Mr Buckley was arrested. Thankfully it was a happy ending. Forward to 2016 and Mr Buckley's now serves a seasonally changing small plate menu. High quality, local produce is used to serve an interesting menu that incorporates traditional British and European fusion cooking. We love. 
Where: 277 Hackney Rd, London E2 8NA
3. For a Chamomile Cocktail: Forge & Co
The Drink: Chamomile Sour (£9)
The Blend: 
A beautiful cocktail with floral notes, made with cachaca
, chartreuse, sugar syrup, lime, lemon, egg white, cucumber and We Are Tea whole chamomile flowers. 
This cocktail is delicate, girly, with just the right amount of sourness for a delicious mix. 
The Bar: Forge & Co provides social working spaces for an always-on culture. They offer all-day, high-quality casual dining, public lounge areas, and co-work environments welcoming all vocations. In Shoreditch, the all-day dining space takes inspiration from the grills of early 20th Century America, that offered a casual and convivial alternative to the formal establishments of the time. The menu features modern British classics with a contemporary twist, cooked with expertly-sourced ingredients by head chef Timothy Brindley, formerly of Tom's Kitchen and The Ivy. Pop down for a cocktail or ten.
Where: 154-158 Shoreditch High St, London E1 6HU
4. For a Gin Cocktail: Bar Eight
The Drink: Jade Cocktail (£12)
The Blend: Made with green tea-infused Sipsmith gin, this drink is perfect for those wanting a healthier option! The cocktail is made with Japanese green tea infused Sipsmith gin, Sauvignon Blanc syrup, egg white and lime juice – it's an unusual combination of flavours, that just works. For something romantic, try Amore with Sipsmith gin, pink grapefruit, pomegranate syrup, champagne – it's wonderful.
The Bar: Bar Eight can be found at 8 Mount Street – an elegant yet welcoming brasserie and bar, housed in a stunning period building on one of Mayfair's original shopping streets. Sit in the main restaurant, with its crisp white linen, leather banquettes and carved wooden chairs or, if you prefer, at the 30-foot long Italian marble bar dining counter that runs the length of the room. Created by executive chef Adrian Mellor, the food at 8 Mount Street comprises a mixture of signature creations and new takes on much-loved brasserie fare.
Where: 8 Mount St, Mayfair, London W1K 3NF
5. For a Teapot Cocktail: Threadneedle Bar at The Royal Exchange
The Drink: Sauterelle Martini (£11.50)
The Blend: Served in a brass tea pot in order to reach the right temperature, this sharp but delicious cocktail is a blend of Gin Mare, vanilla infused port, homemade cherry liqueur and orange blossom essence. A perfect beverage to enjoy if you've had a long, hard day in the city and you can enjoy it in the relaxed atmosphere of the Threadneedle Bar.
The Bar: Overlooking the Grand Café, the new Threadneedle Bar at the Royal Exchange offers old-time favourite drinks along with a new signature cocktail list which pays homage to Jerry Thomas' 1862 'Bartenders Guide', the first ever mixology book published in the United States.  The Threadneedle Bar also serves a selection of bar food with highlights including rock oyster tempura, truffled goats curd on sourdough and soft shell crab – the perfect accompaniment to an expertly mixed cocktail.
Where: Royal Exchange, London EC3V 3LR
6. For a Tea Martini: Portobello Star, Notting
The Drink: The Earl Grey Marteini (£9.50)
The Blend: Tanqueray gin infused with Earl Grey, shaken with egg white, lemon juice and sugar, as inspired by one of New York's trendiest bars, Pegu Club.
The Bar: Frequented by Royals, scallywags, urchins, beggars, scarlet ladies, drunkards, intellectuals, popular musicians of the day and the occasional association football player, The Portobello Star is perfect for weekend cocktails and late-night drinks. In recent years they have been the proud and humble recipients of the Class Best Bar and The Gregor DeGruyther Good Time Award, for good reason.
Where: 171 Portobello Rd, London W11 2DY
Photo Credit: Portobello Star
7. For a Royal Tea Cocktail: The Bar at The Dorchester
The Drink: Her Majesty's Cup (£16)
The Blend: Her Majesty's Cup is a homage to Her Majesty on her Diamond Jubilee. Earl Grey infused berries, rhubarb, and Hendrick's gin, topped with champagne, for the perfect cocktail.
The Bar: As one of the world's most iconic luxury hotels, The Dorchester is quite simply the place to be in London. The Bar at The Dorchester is renowned as much for its rich, opulent interior as for its menu of new and classic cocktails, devised by world-renowned expert alchemist Giuliano Morandin. The Bar at The Dorchester is run by the best in the industry – bar manager Giuliano Morandin and his award-winning team of alchemists have looked after guests at The Dorchester for a combined 100 years. Both Giuliano Morandin and head of bars Simon Rowe have worked together at The Dorchester for 30 years. Oh yes.
Where: The Dorchester, Park Lane, Mayfair, London, W1K 1QA
8. For a Tea Spritz: Whistling Shop
The Drink: Camelia Spritz (£10)
The Blend: Tanqueray, celery, cold-brew green tea, Kaffir fruit acid, WS Kombu shake. Yeah, we're not sure what most of the ingredients are to – but it taste really good, so we can't admit to caring all that much.
The Bar: The Worship Street Whistling Shop is a Victorian inspired cocktail bar on Worship Street – an ancient London thoroughfare between Shoreditch and the City of London. The bar opened in 2011 to great critical acclaim, winning Time Out London's Best New Bar award in 2011 and featuring on the World's 50 Best Bars list for three consecutive years. Whistling Shop specialises in good service, with delicious cocktails inspired by the past and executed with a proficiency in cutting-edge culinary techniques.
Where: 63 Worship St, London EC2A 2DU
9. For a Tea Punch: Portside Parlour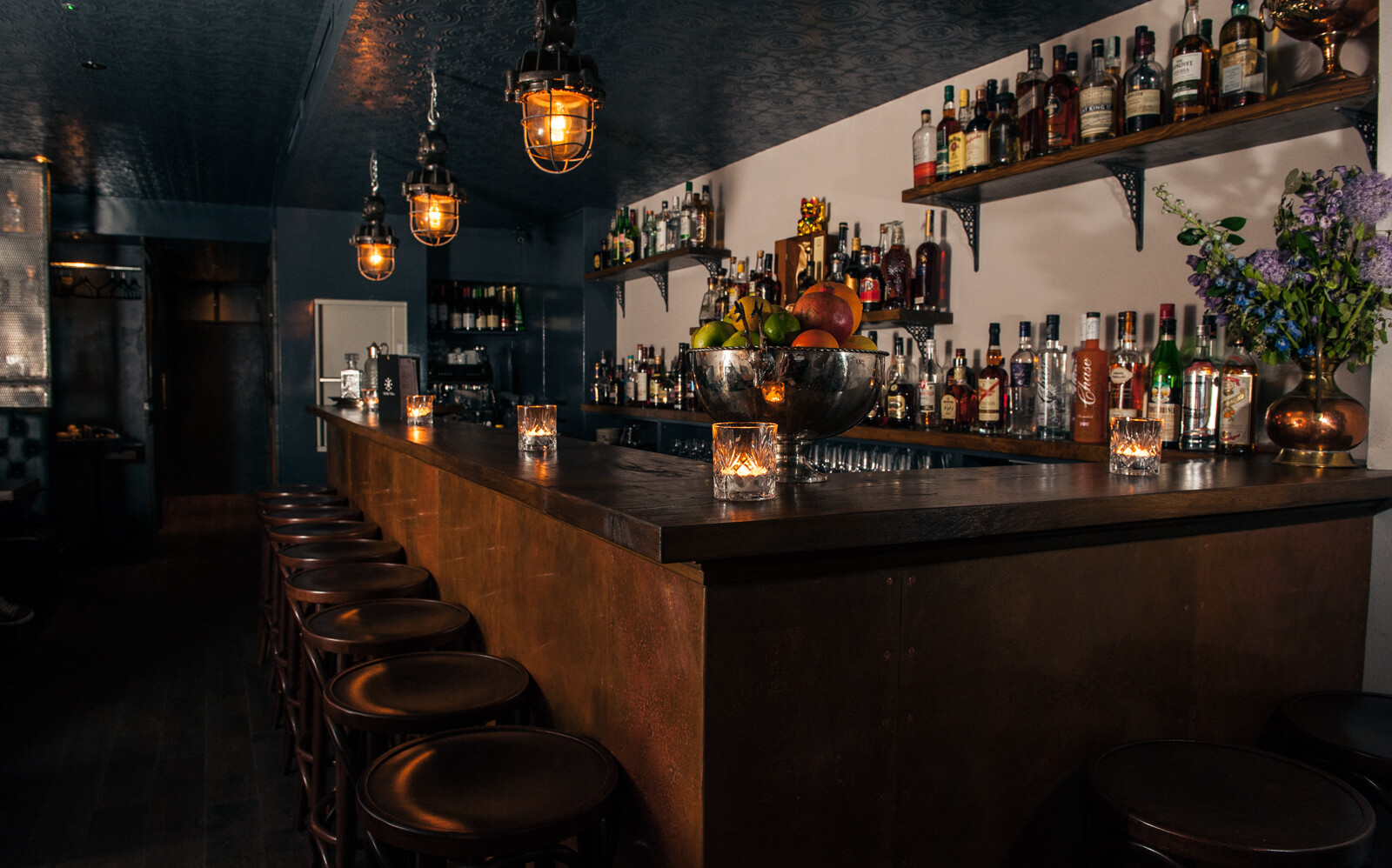 The Drink: PSP Japanese Punch (£9)
The Blend: A mix of Tanqueray 10, Batavia Arrack, matcha tea and PortSide Parlour spice mix. Straight from the far southern shores, this perplexing blend of worldly aromatics which is brewed with pistachio is then given a backbone by Tanqueray 10 with its citrus lead grapefruit botanicals and Matcha tea to make a curiously pleasing draft.
The Bar: Reminiscent of a nautical antiquities shop, the new permanent PortSide Parlour remains one of London's many hidden gems, located in the heart of Shoreditch. Open 6 days a week from Tuesday to Sunday 5:30pm to 12am, you can wonder in and expect to find one of London's most impressive selection of rums with 80+ varieties. With a seasonally rotating cocktail menu with signature drinks such as the 'Smoked Apple Wood Old Fashioned'  and a Southern European Seafood inspired tapas, there's something for everyone here.
Where: 14 Rivington Street, Shoreditch, London, EC2A 3DU
Photo Credit: Addie Chin
10. For a Tea Special: The Bar at The Connaught
The Drink: Chatham Special (£15)
The Blend: The signature digestif of 1930s legendary Chatham Hotel, given a tea-inspired modern remake by their mixologists. The cocktail is a blend of Courvoisier Exclusif cognac, port wine, Amaro Lucano, spiced rice milk, Earl Grey tea infusion and cocoa powder.
The Bar: Ultra-stylish décor and mouth-watering cocktails put the Connaught Bar in Mayfair into a league of its own. Inspired by English Cubist and Irish 1920s art, with textured walls shimmering in platinum silver leaf overlaid with dusty pink, pistachio and lilac, designer David Collins has produced a gem of a London bar.
Where: Connaught, Carlos Pl, London W1K 2AL
And one for luck…
11. For a Tea Dessert: Aqua Kyoto
The Dish: Forest Floor –  a bergamot tea panna cotta with green tea crumble and violet ice-cream, served with the vibrant green matcha tea (£26 per person, including starter, main and dessert).
The Idea: You can find this beautiful dessert as part of head Chef Paul Greening's specially developed a tea-infused menu, which is focused on health and wellbeing. Renowned for its antioxidant, energy-boosting properties, we think you will leave feeling revitalised and refreshed after a tea-focused feast, with dishes such as sencha tea asparagus tempura, salmon and organic genmaicha Nabe with green tea soba and robata Wagyu bavette.
The Bar: Aqua Kyoto is an innovative and contemporary Japanese restaurant with a stunning roof top terrace in the heart of the West End. Come here for wicked cocktails and amazing views of the city – their rooftop bar cannot be beaten in the warmer months.
Where: 5th Floor, 240 Regent Street
Why not make an amazing tea cocktail at home using We Are Tea? Here's how to recreate the fantastic Hard Teas at The diner for yourself:
Kraken Berry Cooler
50ml K

raken Rum

50ml We Are Tea Super Berry Tea

20ml Lime juice

20ml Gomme syrup
Method:
Shake and pour over crushed ice in a rocks glass

Garnish with a wedge of lime
Boston Tea Party
50ml East London Liquor Company Demerara Rum

35ml We Are Tea Diner Blend Tea

25ml Pineapple

20ml Gomme syrup

10ml Lime juice
Method:
Fill a Julep Tin with cubed ice

Shake, pour and top up with crushed ice

Garnish with a slice of pineapple and a sprig of mint
Photo Credit: Paul Winch-Furness