The final days of summer are here, and thankfully, they've been full of sun. As London hits its usual September lull, we suggest taking full advantage by strolling to your nearest-and/or-dearest DripApp partner and ordering some suitably chill coffees.
To help you out on Mission Icepossible, here are some London pit stops where you can chug back on a fine selection of iced lattes. Happy sipping, folks:
The Lowdown: Killer Allpress Coffee is probably not what you'd expect from the boot of a converted Lincoln towncar permanently parked in the heart of Westfield Stratford, and yet these guys nail it. Every single time. If you fancy a change, try their cold-brew Japanese green tea from Lalani & Co. Pitch.coffee is also kiosk-ing in Fulham Broadway station, where they have a stunning list of iced drinks including iced matcha, iced turmeric latte and a smashing iced mocha.
Eat and Drink: Vegans, you're in for a right ruddy treat. They serve their coffee with a range of dairy-free milks including oat, hazelnut, brown rice, cashew and coconut. Try their chocolate chip shortbread. Honestly, it's buttery and delicious.
Where: Locations here 
The Lowdown: This little gem of bakery goodness in Stoke Newington is a great year-round hangout, but their silky iced latte is definitely a summer shout. A slice of lemon and blueberry cake, a creamy iced coffee and one of their pavement picnic tables is a must.
Eat and Drink: Aside from their exceptional drinks, they operate a proper good Indian brunch on the weekends. Chow down on chickpea curry with grilled paneer and a warm roti, and the Bombay omelette wrap filled with shredded veg, chutney, coriander and pickled onion.
Where: 58 Evering Rd, London N16 7SR
The Lowdown: It's never a bad time for Workshop Coffee done right, and Gianluca's does it so right. Work from their lovely Fulham café and power through with their amazing coffee, then switch to their excellent selection of Italian wines and artisan liquors come happy hour.
Eat and Drink: The coffee here is just incredible, and the bonus ball being it's not sold at astronomical prices.  Tuck into a variety of egg based dishes alongside larger plates of aubergine parmigiana and lasagne, and salads. We won't turn down a slice of their apple pie and an iced latte.
Where: 17 Jerdan Place, Fulham Broadway, London SW6 1BE
The Lowdown: Peckham is no slouch when it comes to delightful cafes. But for amazing coffee, we have to bow to Old Spike Roastery. A simple coffee bar, front-of-house of their roastery, offers perfect coffees – iced options heartily approved. Old Spike is also a social enterprise helping the homeless.
Eat and Drink: They rotate their coffee on a regular basis based on what is available every season. Every cup of coffee is made with the upmost care and attention. Need a sweet eat with your coffee? They serve Crosstown Doughnuts – order the banana and sea salted. Dreams.
Where: 4jr, 54 Peckham Rye, London SE15 4JR
The Lowdown: We dare you to say 'no' to this raw/vegan/gluten-free bakery's incredible treats. Don't scoff – they're free from everything but deliciousness. Head to Elephant & Castle, grab a chocolate espresso brownie or an apple cinnamon blueberry crumble cupcake, pair it with an iced Americano by Alchemy Coffee, and thank us later.
Eat and Drink: If you're stopping by their cafe, you must try their vegan breakfast. If you can't venture South of the river, the guys can also be found at Kerb Camden. There's peanut butter slices, carrot cake and one of the best cheesecakes we've ever tasted.
Where: Locations here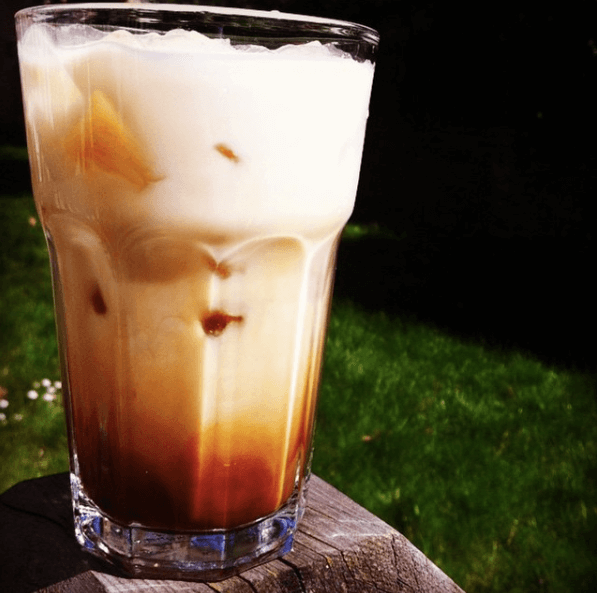 The Lowdown: Cold-press juice and creamy, fruit-laden, icy acai bowls are warm weather no-brainers at this healthy, yummy haven. But you'd be a fool not to enjoy them with an ice almond milk latte – CPRESS roasts their own organic coffee and makes their own fresh almond milk.
Eat and Drink: Did you just read that description? If homemade almond milk and roasted organic coffee doesn't make you want to order their iced almon milk latte creation, we don't know what will. They also sell a chocolate wish smoothie, we're never one to turn down a healthy spin on Nesquik.
Where: 7 Crossrail Walk, London E14 5FU
The Lowdown: Come for a wet shave and leave with an iced latte. This barber shop come coffee bar is a great place to look great and keep hydrated. Their coffee bar use quality coffee beans exclusively from The Barn Berlin, the best equipment possible, and a team of baristas who are passionate about the perfect brew.
Eat and Drink: The whip up a mean iced number, but their Aeropress coffee is not to be missed. There's a great selection of semi-skimmed alternatives, and they're adept in making an insanely good iced tea. No cakes, just really good coffee and a homely vibe.
Where: 9 Windmill St, London W1T 2JF
Photo Credit: @jjsil
The Lowdown: The Barn in Highbury is run by three brothers who set up this quaint cafe to offer a home away from home. A lotta love has put into their coffee, with the boys only souring the best beans. You've got to give credit to these guys, they know their stuff.
Eat and Drink: If it's runny yolks you're after, you're in luck. There's a great brunch menu full of classic dishes, and their lunchtime offering is superb. If you like a slice of cake with your coffee, you're spoilt for choice. We say, keep it classic and go for the Vicki sponge.
Where: 60 Holloway Rd, London N7 8JL
The Lowdown: What happens when you take Alchemy coffee, uber cool decor and sprinkle this all with heavenly baked goods and serious brunch eats –  you end up with Brunswick East Coffee. Stop by for friendly staff, great food, and coffee, obviously. 

Eat and Drink: Oh my goodness me. Their coffee is sublime. Sublime. We're talking about rich, intense espressos and  smooth lattes. In this heat, take advantage of their iced lattes – they're glorious (matcha, chai – you name it, they're icing it). And they make all of their cashew and almond milk daily.
Where: 3D, Stamford Works, Gillett St, London N16 8JH
The Lowdown: Tucked away just off Portobello Road, Pedlars is a general store stocking gifts, retro homeware and eclectic artisan goods. Let's be honest, browsing is thirsty work, so kick back on their cushioned seating and take advantage of their Allpress coffee.
Eat and Drink: They serve a mighty fine iced coffee, and if you're in the area for some dairy goodness, their iced latte is a great shout. Grab one of their tasty bites on offer – they differ from week to week, but expect homemade cakes, croissants and slices.
Where: 128 Talbot Rd, London W11 1JA
Homepage photo credit – Kenny Louie from Vancouver, Canada – Blue Bottle, Kyoto Style Ice Coffee here