It's no surprise that with temperatures soaring in London, juicing is totally hot right now. Excuse the pun. We may be a little late to the game in London (Rosie Huntington-Whitley and the whole of Los Angeles beat us to it) but our green juice offerings are impressive, vast and tasty too.
I've explored high and low – from cool city hotspots to Chelsea hangouts where you can dive into models' favourite 3 ingredient peanut butter cups – to find the best ones for you. I've even got you juicing novices covered with a couple of sweeter options thrown; so whether you're brunching, juicing, or attempting to undo last weekend, let me introduce you to my top 10 places to grab the best green juices in the city: 
Name: Bill's Greens
The Inner Goodness: Green Apple, Cucumber, Silver Beet, Chia Seed and Young Coconut
Price: £4.80 
Vibe: Granger & Co sits firmly in my favourite places to brunch in London. The atmosphere alone is enough to lure any unassuming passer-by through their doors, it's relaxed, cool and service is top notch.
Flavour Wins: In terms of the greenness factor, Bill's Greens sits happily between sweet and 'green'. It's light and by far one of the most refreshing drinks I've tasted this year (I asked for it served over ice, but it usually comes without). The ultimate antidote to a hot day in the city.
Name: The Juicery – Orchard
The Inner Goodness: Pear, Spinach, Parsley, Romaine, Yuzu, Lime, Coconut Water
Price: £6.50
Vibe: When I said I was bringing you the best green juices in London, I meant it. If you can sip juice on the Selfridges rooftop whilst admiring the scenic garden and fine view of the city we live in then I could hardly have left this one out. In fact, the juice gave the view a run for it's money and that's seriously saying something.
Flavour Wins: The coconut water, yuzu and lime combine for the most delicious flavour combination and I couldn't help but want another one (or two). I'll be back.
Name: Planet Organic – Green Glow
The Inner Goodness: Kiwi, Pineapple, Cucumber, Apple
Price: £3.99
Vibe: Made freshly in front of you, Planet Organic can tailor make their juices to suit your own taste preferences. This may be the start of ditching my highlighter and dashing to get a Green Glow every morning.
Flavour Wins: Okay, so this one may sit right at the top of the "sugar heavy" juices on my edit, but do stay with me, this one's worth it. It's sweet, fresh (hello cucumber) and for the green juice novice, it's perfect.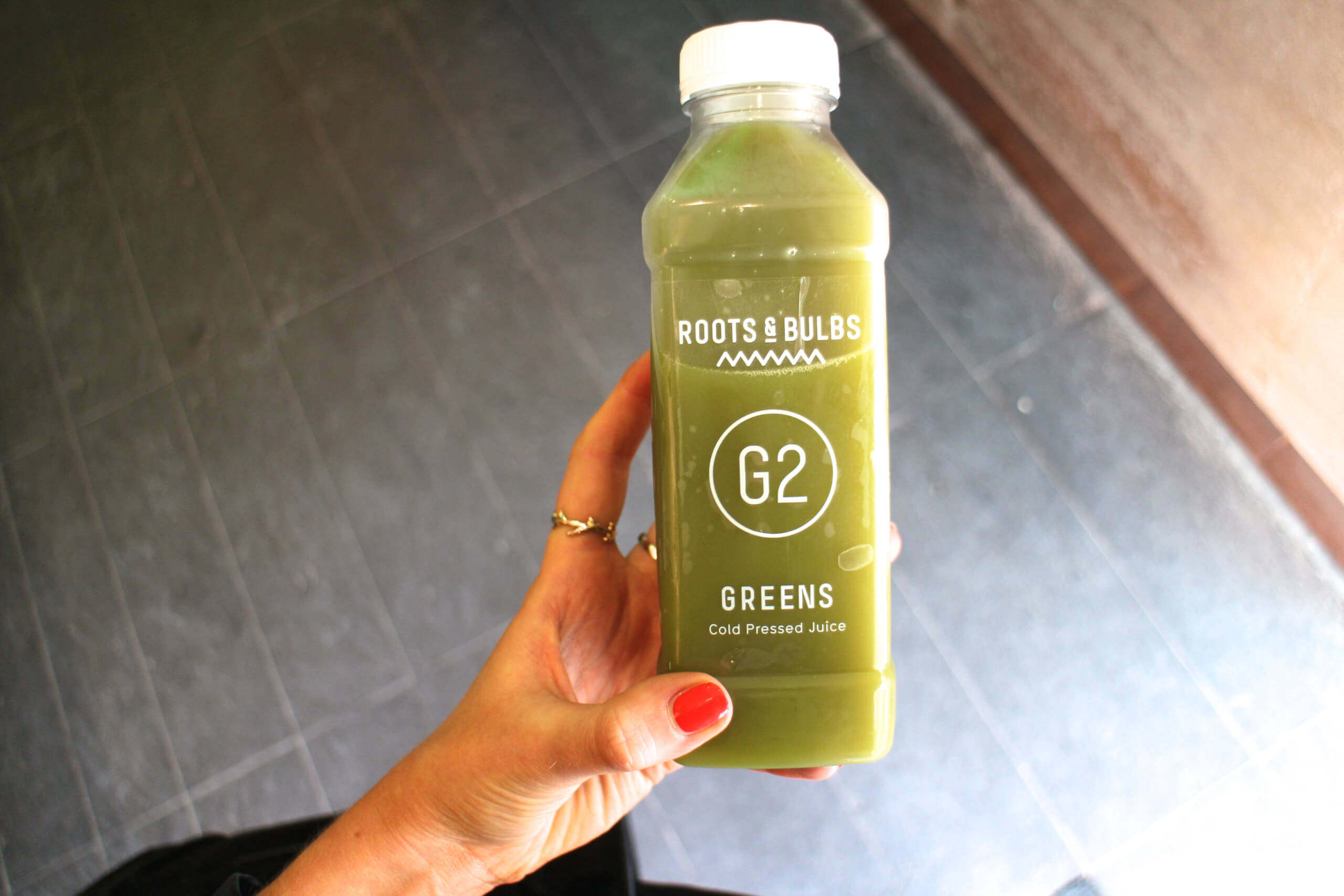 Name: Roots & Bulbs – G2 (Greens)
The Inner Goodness: Cucumber, Spinach, Romaine, Apple & Herb
Price: £4.99 250mls // 6.99 500mls
Vibe: If you're green juice's number one fan, than look no further than Roots & Bulbs. Their juices perch in giant fridges attached to the wall giving it a cool factor that is totally LA.
Flavour Wins: Their juice is on point, chilled to perfection and is ideal for that grab-and-go vitamin boost you so desperately crave. The SBC (Skinny Bitch Collective) like to hang out there post-class too, so let's face it, you need to get down there asap.
Name: The Good Life Eatery – Dr Green Love
The Inner Goodness: Spinach, Kale, Green Apple, Coconut
Price: £6.55
Vibe: Tucked away from the Kings Road is where you can find The Good Life Eatery, a favourite pit stop of mine to lap up a bit of zen.
Flavour Wins: Dr Green Love is one for the green juice connoisseur. If you like your juices super 'green' and tangy, with a good chance of spotting a cute fluffy dog on the side then this is the place for you.
Name: Joe & The Juice, Arth Away
The Inner Goodness: Spinach, Pineapple, Apple
Price: £3.85
Vibe: In a city where temptation is on ever corner it can be hard to make the best decisions for your health. Especially when you're hungry, you have zero time on your hands, and Starbucks are having a Frappucino happy hour. Joe and The Juice's Arth Away is simple, fuss free and delicious.
Flavour Wins: Spinach, pineapple and apple are whizzed up (with some ice thrown in at the end) and in a matter of seconds you're out the door clutching the greenest juice on Regent St. It may not be Californian cold pressed, but it'll give you that 'feel good feeling' you need to get through that horrendous commute home.
Name: Muriel's Kitchen – Go Green
The Inner Goodness: Spinach, Cucumber, Apple, Celery, Coconut Water
Price: £4
Vibe: Muriel's Kitchen make a mean juice. I stumbled upon their selection a few weeks ago over a breakfast meeting and was really rather impressed. Their Go Green has a real celery punch which was just the ticket post yoga class.
Flavour Wins: Cold pressed to order, Muriel's offers a wholesome juice experience in a "home from home" restaurant environment.
Name: Imbibery – Green Lemonade
The Inner Goodness: Lemon, Spinach, H20, Pineapple
Price: £6.50
Flavour Wins: When it comes to juice, Imbibery know what they're talking about. Having tried their entire green juice line I can share with you my ultimate favourite – Green Lemonade. Now, it's not fizzy and yes, it is green, but it's the most goodness inducing lemonade I've tried and I can't help but want an entire vat of it in my fridge as a permanent feature. It's sharp yet sweet and with a minor 'green' hit from the spinach. An all round winner.
Name: S'able D'Or – Spicy Twist
The Inner Goodness: Pear, Apple, Ginger
Price: £2.80
Vibe: If you're in search of greener pastures as well as green juice then how about heading north? With Alexandra Palace, Highgate and Hampstead only a stones throw away from S'able D'Or you can have the best of both worlds. (#GreenEverything)
Flavour Wins: I opted for pear, apple and ginger and oh boy was it good. Spicy and sweet in perfect harmony. Just make sure you brace yourself before going in. Their giant almond croissants and sourdough baguettes in the window are very (very) tempting.
Name: Plenish Cleanse – Sexy Greens
The Inner Goodness: Pear, Cucumber, Romaine, Spinach, Kale, Basil, Broccoli
Price: £5.95
Vibe: So, you're all shopped out and in need of refreshment. If you're in Liberty, you're in luck. Located on the ground floor within the beauty hall sits a cool (Instagram moment alert) revolving fridge containing an array of Plenish Cleanse juices. I delved for their Sexy Greens. That's what a Victoria's Secret angel would have chosen, right? Anyway, back to the juice.
Flavour Wins: This was certainly 'green' but don't let the kale, basil and broccoli put you off. The pear and cucumber balance out the vegetable hit leaving a delicious on the go pick-me-up.