We're getting in the Christmas spirit (literally) by drinking all the spiced, fruity and chocolatey cocktails. Here are ten festive tipples you need to try this weekend. Happy sipping, London:
1. For a Whisky Cocktail: The Ivy 
What: Christmas Old Fashioned – Chivas Regal Whisky and Scottish Heather Honey
The Lowdown: The Ivy's bar manager Darren Ball has revamped his infamous cocktail list for the holiday season. Mirroring Dickens's exploration of Christmas traditions from the past to present, Darren explores Chivas Regal whisky through the ages. The Christmas Old Fashioned features Chivas Regal 12 year old and Scottish heather honey, with a flamed orange twist.
Price: £15
Where: 1-5 West Street, London, WC2H 9NQ
2. For a Ginger Cocktail: Brown's Hotel
What: Dasher's Dram – Glenfiddich, Antica Formula Vermouth and Grand Marnier
The Lowdown: The Dasher's Dram mixes Glenfiddich 15 year old whisky, Antica Formula Vermouth, Grand Marnier infused with fresh ginger and bitters – both Becherovka herbal and Aztec chocolate. Served in a crystal tea mug, the cocktail rests on a glass trinket box housing festive foliage including red berries, mini pine branches and cinnamon sticks.
Price: £16
Where: 33 Albemarle St, Mayfair, London W1S 4BP
3. For a Bitter Cocktail: The Gallery 
What: Bitter Candid Apple – Jack Daniels, Licor 43, Mortimers Cider, Cinnamon and Bitters
The Lowdown: The Gallery bar and restaurant in West Hampstead has a food menu that features whisky infused ingredients and also boasts a whisky collection of up to 100 different brands. Their new Christmas cocktail menu features a combination of festive seasonal ingredients including their new bitter candid apple with Mortimers Cider and cinnamon.
Price: £7.50
Where: 190 Broadhurst Gardens, West Hampstead, London NW6 3AY
4. For a Dessert Cocktail: Ma Petite Jamaica 
What: Christmas Cheesecake – Whisky and Vodka and Mascarpone Cheese
The Lowdown: Ma Petite Jamaica is offering Camden a much needed taste of the tropics this festive season with their Christmassy cocktail specials. For a rich, creamy tipple look no further than their Christmas Cheesecake cocktail made with a Whisky and Vodka base muddled with mascarpone cheese, cinnamon, grenadine and strawberry puree.
Price: £7.50
Where: 4 Inverness St, London NW1 7HJ
5. For a White Chocolate Cocktail: Duck and Waffle 
What: Milky Bar Snowball – Vodka, Distilled Lemon, Milky Bar Advocaat, Egg and Prosecco Spritz
The Lowdown: Rich Woods is the cocktail maverick at Duck and Waffle and Sushisamba. He's always coming up with new off the wall cocktail ideas, distilling a variety of ingredients with his latest creations including Nutella and hay. The Milky Bar Snowball is proving a popular cocktail at Duck and Waffle and we can see why –  Milky Bar Advocaat, Vodka and Prosecco Spritz. Dreamy.
Price: £14
Where: Heron Tower, 110 Bishopsgate, London EC2N 4AY
6. For an Apple Cocktail: The Jam Tree 
What: Apple Crumble – Zubrovka Vodka, Gingerbread and Caramel
The Lowdown: A play upon the best comfort food pudding, the Apple Crumble possesses the mouth-watering flavours of Mum's signature pudding but with a grown-up vodka twist. The cocktail is a heavenly combination of Zubrovka Vodka, gingerbread, caramel and apple juice. Served in a martini glass and garnished with a biscuit crumble.
Price: £9
Where: 13 Old Town, London SW4 0JT
7. For a Chocolatey Cocktail: Cocktail Trading Company
What: Chocolate Flip – Bacardi 8 Year Rum, Cacao-Infused Chartreuse and Tawny Port
The Lowdown: The indulgent 'Chocolate Flip' is made from Bacardi 8 year rum, cacao-infused Chartreuse, tawny port, pistachio ice cream and served with a melt in the mouth chocolate truffle and crisp biscuit wafer. It's a dessert and a drink all rolled into one.
Price: £9
Where: 22 Great Marlborough St, London W1F 7HU
8. For a Sparkly Cocktail: The Savoy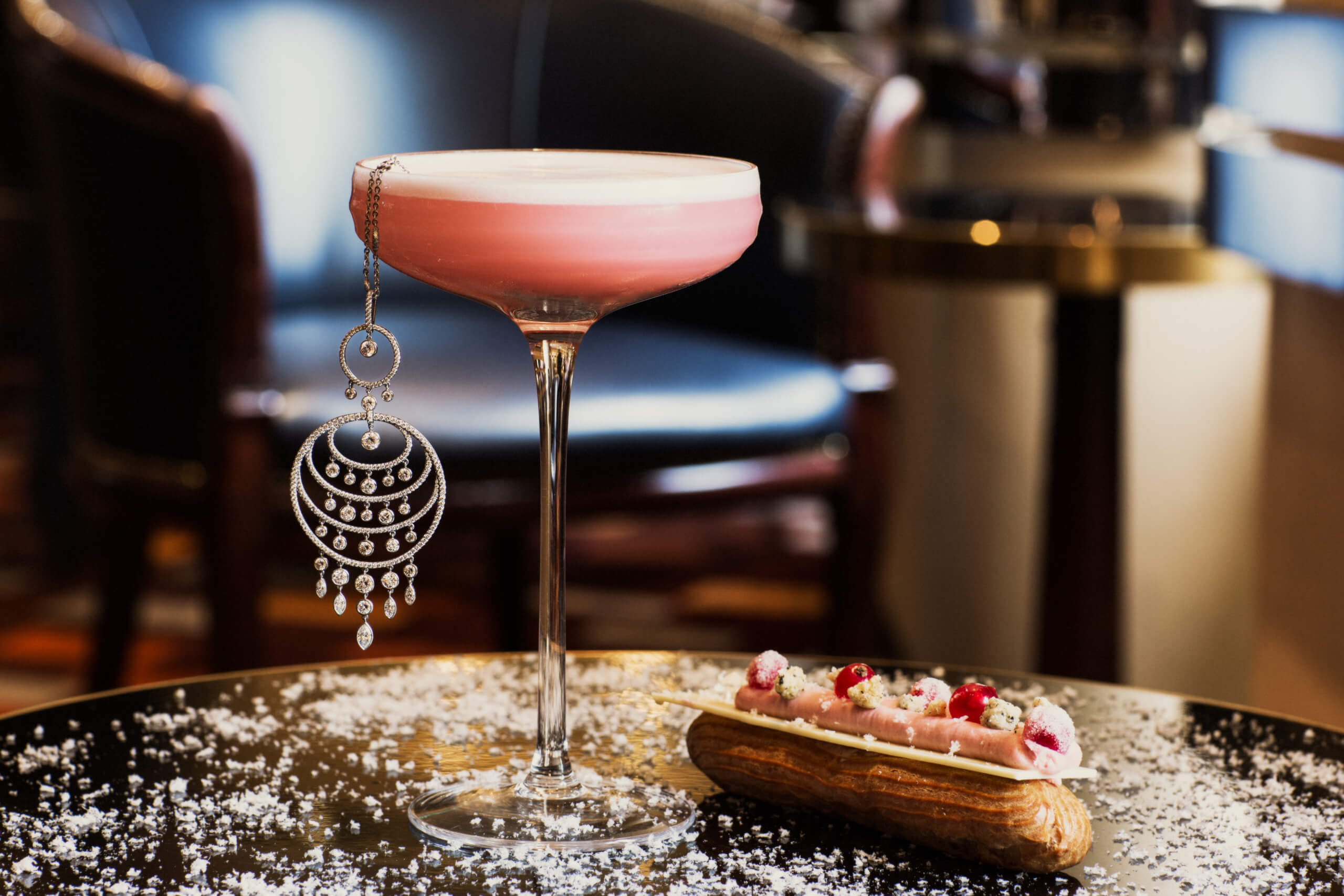 What: Diamonds and Pearls – Grey Goose, Lemon Juice, Sugar Syrup and Poire Eau De Vie
The Lowdown: The bartenders at The American Bar and The Savoy's pastry team have created this Boodles themed cocktail and signature éclair. With flavours carefully selected to match the cocktail, the decadent éclair is meticulously created with cranberries, Earl Grey Cream and white chocolate shard. Cocktail ain't bad either.
Price: £17
Where: Strand, London WC2R 0EU
9. For a Fizzy Cocktail: Joyeux Bordel 
What: Bric-a-Brac – Yellow Chartreuse, Elderflower Cordial, Lillet Blanc and Champagne
The Lowdown: Joyeux Bordel is a cool, undergound cocktail bar set away from the East London crowd. Established by the same chaps as the Experimental Cocktail Company, this bar knows a think or two about rustling up stand out cocktails. The bric-a-brac cocktail is a fruity, light tipple that is so drinkable you'll be knocking a few of these back in no time.
Price: £10
Where: 147 Curtain Rd, London EC2A 3QE
10. For a Gin Cocktail: Merchant House 
What: Gin and Ginger –  Four Pillars Rare Dry Gin, Stout, Ground Ginger and Ground Cinnamon
The Lowdown:  Four Pillars Gin has teamed up with Merchant House, home to more than 200 of the world's best gins, to produce a series of unique, festive cocktails. The perfect drink for a cold wintery night, this Gin and Gingerbread is a hearty mix of gin and stout, with a sprinkling of festive spice.
Price: £12.50
Where: 13 Well Court, Off Bow Lane, London, EC4M 9DN