Looking for the best mulled wine in London? The search ends here. There is, simply, nothing better than mulled wine at Christmas. I love everything about; the smell, the taste, the warmth, the comfort it represents. This time of year, I want nothing more than mulled wine, mince pies and a roaring fire to snuggle up in front of. In the absence of a fire, instead, I've found for you ten of the best mulled wine delights in the capital – from classic mulled to quirky, hot chocolate mulled wine (the actual dream), here's where to discover London's best mulled wines:
1. Best Mulled Wine in London for City Dwellers: The Trading House
What: Mulled Wine (£5.50)
The Venue: The Trading House on Gresham Street is one of the City's best kept secrets. Their iconic venue is full of peculiar eccentricities with the interior retaining much of the grade II listed building's architectural detail and period fixtures and fittings, including high ceilings, spiral staircase and mezzanine. The Trading House are also proud to host nightly live music, creating a buzzing, yet relaxed atmosphere for everyone to enjoy.
The Blend: Their delicious mulled wine is certainly one of the best mulled wine in London – made with mulling syrup, orange juice eager, BIB Wine and then mixed with orange and lemon. It's given a final, spiced twist with a cinnamon stick, star anise and cloves. Glorious.
Where: 89-91 Gresham Street, London, EC2V 7NQ
2. Best Mulled Wine in London for Hygge Vibes: ScandiKitchen Café
What: Glogg (£5)
The Venue: ScandiKitchen is all about food from all over Scandinavia; in their café, they serve open sandwiches and have a large grocery selection with over 600 Scandi goodies. What's more, they serve amazing Glogg – mulled wine Scandinavian style, which is served every weekend. We say: the perfect way to achieve Hygge in London, gathering round with friends in the warm and cosy Scandinavian café. Don't miss their cinnamon buns, they're too good. 
The Blend: Glogg is made with with good quality red wine, sugar, spices such as cinnamon, cardamom, ginger, cloves, and bitter orange. One of the best mulled wine in London if you're looking for something traditional – delicious stuff.
Where: 61 Great Titchfield St, Fitzrovia, London W1W 7PP
Photo Credit: Marie Lou Avery
3. Best Mulled Wine in London for Low Sugar: 28°-50° Maddox Street
What: Mulled Wine (£6.50)
The Venue: 28°-50° Maddox Street is at stylish Maddox Street wine workshop and kitchen. Designed over two floors, this is the perfect place for a sexy, relaxed dining and the food is value for money, too. The idea: choose from over 30 wines, in glass, carafe or bottle, and delve into a regularly changing modern European food menu. If that's not enough, the trendy joint also has a signature low-sugar mulled wine, created by their master sommelier.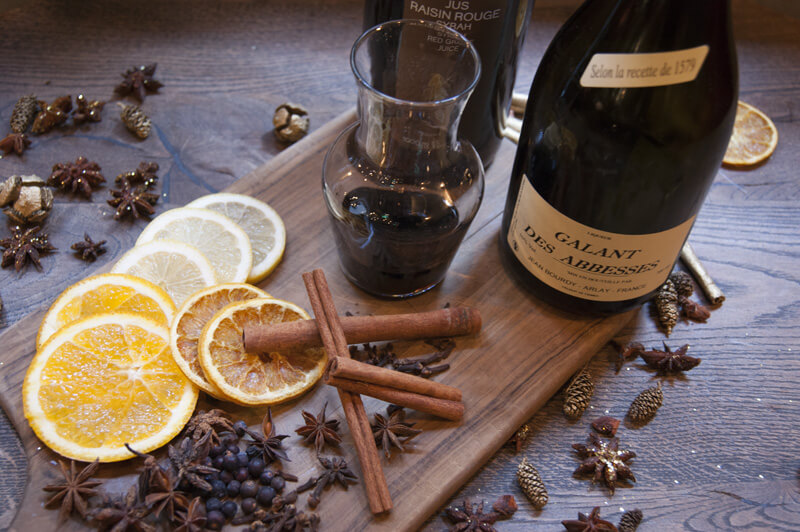 The Blend: One of the best mulled wine London if you're looking for something lighter than usual. Master Sommelier Clement Robert has created a signature mulled wine featuring Crème de Cassis, LBV Port and Galant des Abbesses infused with cinnamon, fresh ginger, nutmeg and star anise. With no added sugar, it's healthier than regular mulled wines. Yes, please.
Where: 50 Maddox St, Mayfair, London W1S 1AY
4. Best Mulled Wine in London for Italian Style: VICO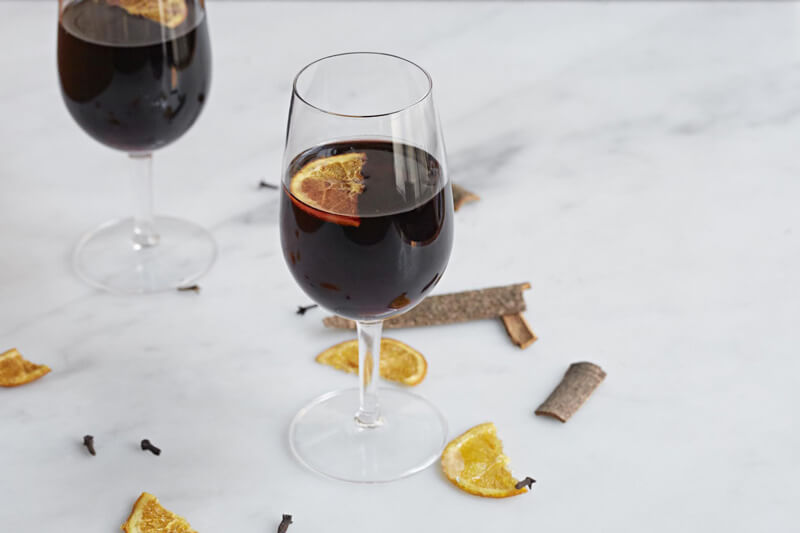 What: Vin Brûlée (£5)
The Venue: VICO is an Italian foodie haven, serving up small plates, pasta and the best ice cream in town – the most recent venue by Jacob Kenedy, of Bocca di Lupo and Gelupo fame. VICO is located in a perfect festive people watching spot, on Cambridge Circus junction, where Covent Garden's Seven Dials meets Soho. Even better, they have a delicious new mulled wine, and there's a special festive panettone to go with it too.
The Blend: Pop in for Vin Brûlée – Italian mulled wine with cinnamon, orange zest and cloves. The wine goes very well with a mini pandoro cake, that has three dipping sauces, for a real festive treat. The special Italian mulled wine, using Southern Italian wine and designed to be enjoyed with Panettone as part of the Panettone, Gelato and Winter Warmer Bar. Top marks.
Where: 1, Cambridge Circus, Seven Dials, London WC2H 8PA
5. Best Mulled Wine in London for Winter Feels: Forest at Selfridges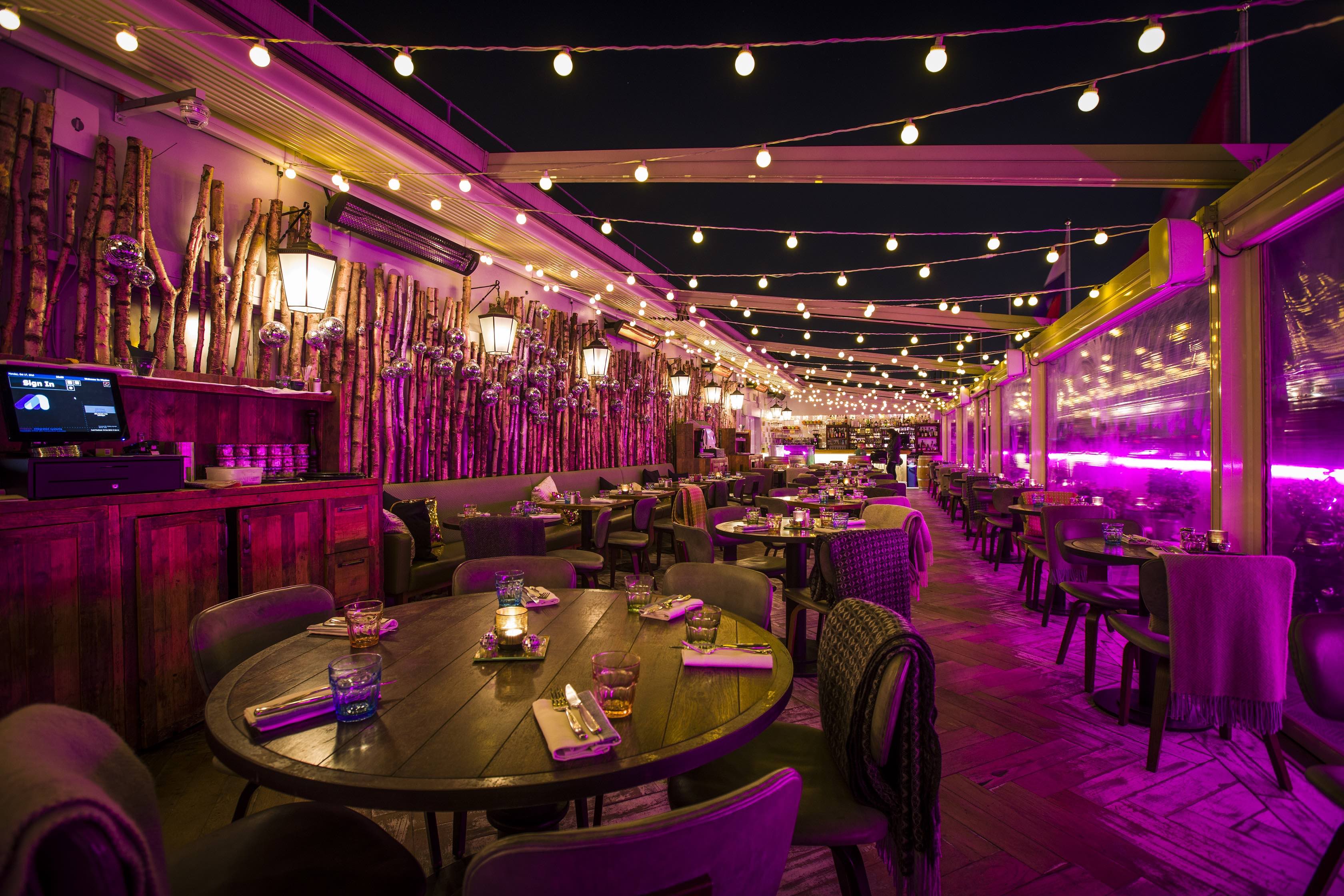 What: Mulled Wine (£6.50)
The Venue: Forest restaurant and bar on the rooftop of Selfridges is inspired by the turning British seasons and abundance of locally grown and foraged ingredients. Come here for all-day dining; breakfast delights include avocado on toast with spiced pumpkin seeds and cress and cinnamon french toast, and for lunch, dine on tuna crudo, ox cheek with polenta and Cornish lemon sole. There's also killer dessert – you must try the chocolate and hazelnut delice for a taste of heaven.
The Blend: Their mulled wine is the perfect sip to enjoy after a busy day of shopping. Made with traditional ingredients, including orange, cinnamon, clove and star anise, it's a sweet, perfect sip.
Where: 400 Oxford St, Marylebone, London W1A 1AB
6. Best Mulled Wine in London for Food Lovers: The Frog E1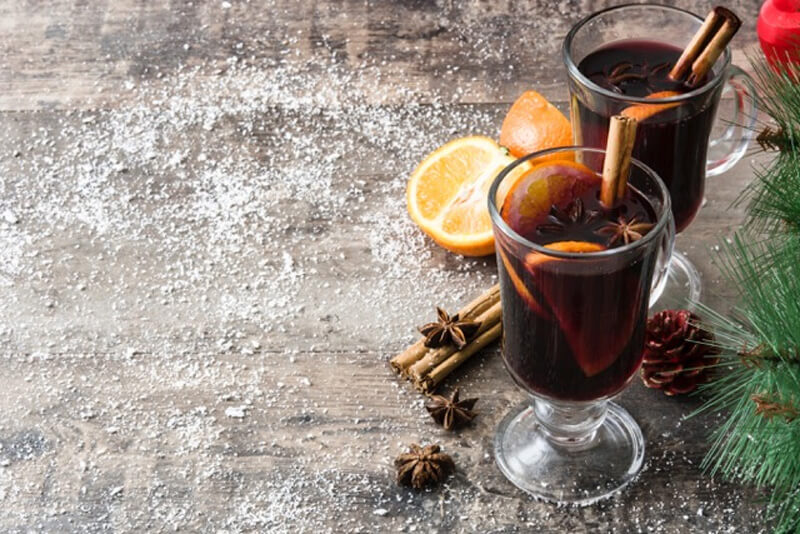 What: Mulled Wine (£5)
The Venue: Looking for somewhere special? Well, Adam Handling's Frog is just that – offering a relaxed environment showcasing Adam's distinctive cooking style. Combining technical savvy with great produce, and a theatrical touch, this is one restaurant you don't want to miss. Think burnt tenderstem broccoli with verbena and salt-fried egg, roast cod with white beans and pancetta and nitro chocolate, coffee, caramel. As well as stunning food, there's great drinks – sip on craft beers from selected micro-breweries, new age wines from young winemakers, curated cocktails and even in-house made kombucha.
The Blend: Nothing says Christmas quite like a hot mug of mulled wine.  This aromatic home blend by Chef Adam Handling is both spicy and sweet, with warm flavours of cloves, star anise and cardamom together with the mellow sweetness of cinnamon and vanilla. Ah, Christmas.
Where: Ely's Yard, Old Truman Brewery, 2 Hanbury St, London E1 6QR
7. Best Mulled Wine in London for Chocoholics: Les 110 de Taillevent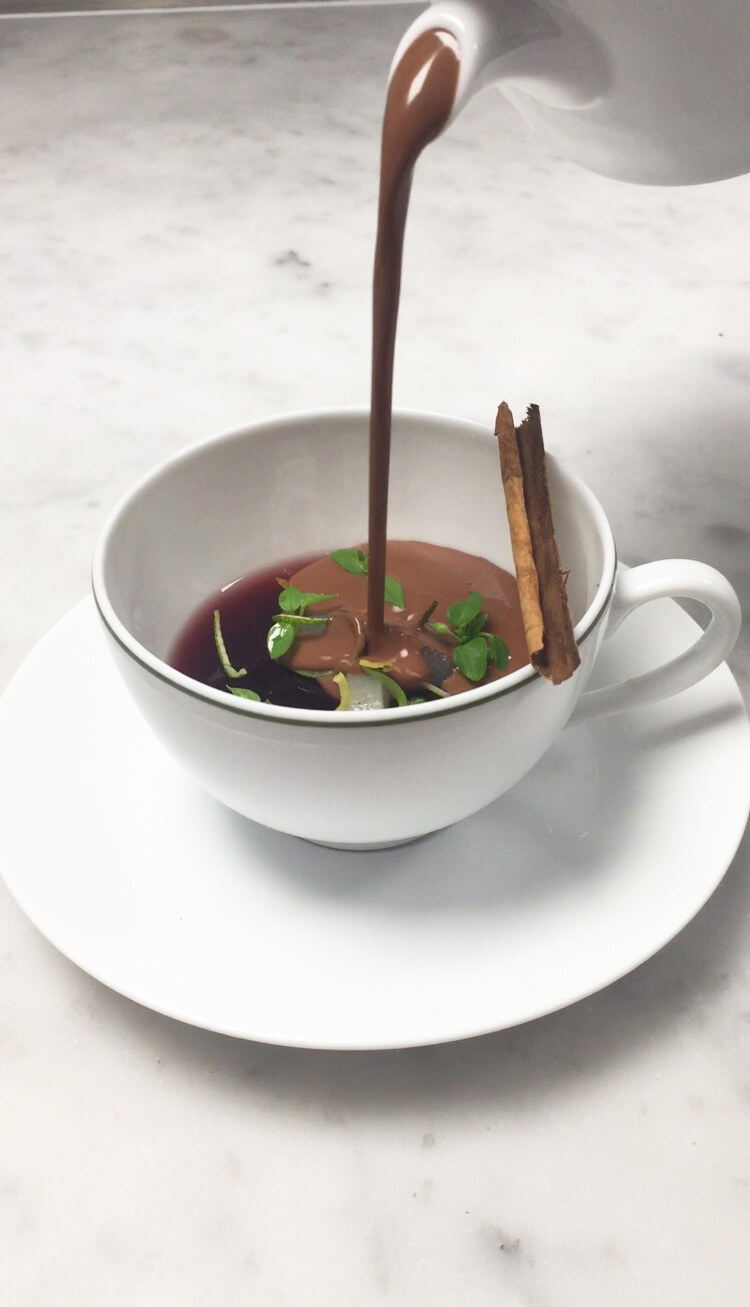 What: Mulled Wine Hot Chocolate (£9)
The Venue: Le 110 de Taillevent is an amazing French restaurant on Cavendish Square, owned by the Gardinier family, who are behind the iconic two-Michelin starred Le Taillevent in Paris. The restaurant is a unique wine and food matching brasserie, featuring a hundred and ten wines by the glass, paired with contemporary and seasonal French dishes. 
The Blend: This holiday season, Les 110 de Taillevent are offering a delicious mulled wine hot chocolate as part of their festive offerings. The incredible, sweet drink is made with Sangria jelly, orange zest, cinnamon and Christmas spices is served with Valrhona Guanaja Chocolate (70% cocoa). Probably the best combination ever, no?
Where: Les 110 de Taillevent London, 16 Cavendish Square W1G 9DD
8. Best Mulled Wine in for Weekend Adventurers: Southbank Winter Festival
What: Mulled Wine (from £5)
The Venue: There's nothing finer than the Southbank Winter Festival at Christmas, which runs until January 2017. Expect pop-up restaurants, gift stands, delicious foodie delights and mulled wine on tap. You can't miss the dutch pancakes (hello, Nutella), hot mulled cider and freshly made mince pies. Come on the weekend for the Real Food Festival and get stuck into Frenchie's duck confit burger at the festive chalet – crispy duck in a brioche bun with mustard, warm goats cheese, truffle honey and a rocket. Glorious.
The Blend: There's loads of mulled wine on offer, but while you're there, check out the Rekorderlig Cider Lodge, where you can sip winter drinks and eat Scandinavian street food in a cosy pop-up bar. Their winter cider is truly a thing of beauty.
When: Until 7th January 2016
Where: Belvedere Rd, Lambeth, London SE1 8XX
9. Best Mulled Wine in London for Brunchers: Caravan Bankside
What: Pear & Spiced Mulled Wine (£7.50)
The Venue: Located a stone's throw from the new Tate Modern extension, Caravan Bankside is housed on the ground floor of the old Metal Box Factory on Great Guildford Street. Along with innovative new dishes, the Bankside menu includes much-loved Caravan classics as well as a selection of pizzas, daily bakes and of course, specialty coffee courtesy of Caravan Coffee Roasters. Enjoy a wholesome Christmas this winter at the all-new Caravan in Bankside; delve into globally inspired delights with sharing plates such as smoked mackerel, aubergine relish, paprika oil and coriander and Caravan's famous jalapeño cornbread, chipotle butter.
The Blend: Made with white wine instead of red, this version is crispy, clean and fragrant. The delicious drink is made using star anise, cardamom, cinnamon, raw honey and Asian pear – it's just beautiful. Perfect with a mince pie or ten.
Where: 30 Great Guildford Street, London SE1, UK, London SE1 0HS
10. Best Mulled Wine in London for Wanderers: The Waterway
What: The Waterway Mulled Wine (£6.50)
The Venue: The Waterway is a lovely, bistro-style gastropub with Modern European menu in Maida Vale, and one of my favourite places to relax at Christmas. The pub is the perfect spot for winter vibes – with a beautiful, fire-lit terrace and views overlooking the canal, it has such a cosy feel. Come in winter and snuggle under one of the heaters with a glass of mulled wine, and delight in foodie delights such as roast cauliflower soup, smoked haddock and chocolate fondant.
The Blend: This delicious mulled wine is made with Heritage red wine, orange juice, apple, cinnamon, star anise and cloves – all heated together for something truly magical. If you like sweet cocktails, try their Hansel and Gretel with spiced rum, whole milk and gingerbread syrup for a real winter treat.
Where: 54 Formosa St, London W9 2JU