You can never say London is boring when it comes to drinking. Forget your standard run of the mill boozer, this article features some slamming summer pop-ups. From London's first sparkling wine bar to the UK's first rosé festival – here's the best July pop-ups you all need to visit:
1. For Garden Games: Chambord x Le Crown and Cactus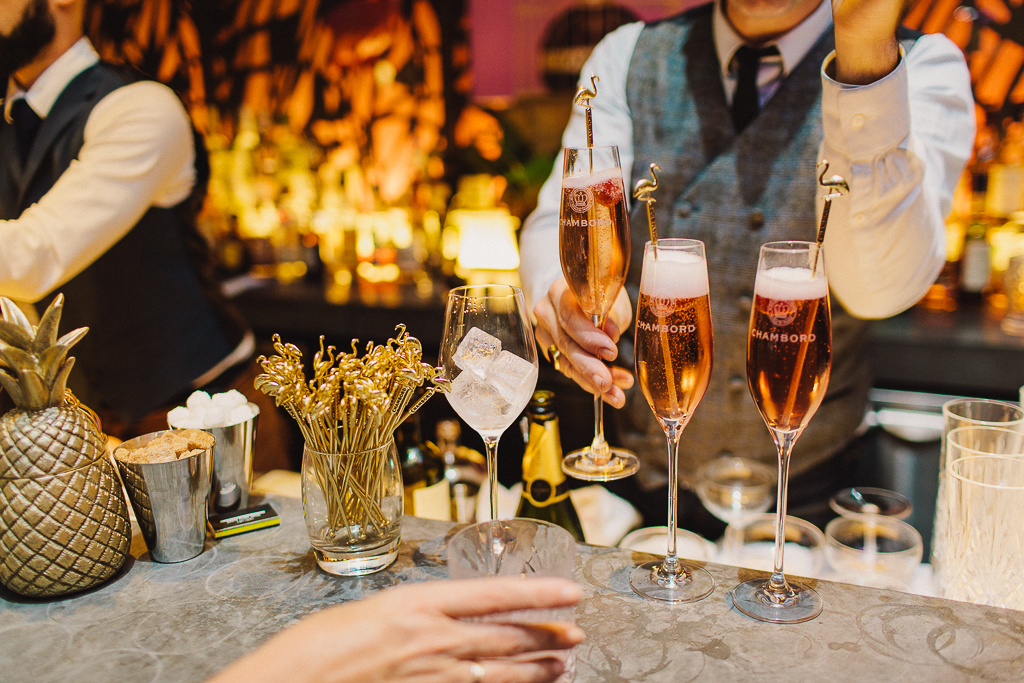 The Lowdown: Open your ears chums, we have an announcement to share. Chambord Black Raspberry Liqueur invites everyone to Le Crown and Cactus, a magnifique pop-up pub in London's Soho this summer (13th-15th July). Le pub is a British tradition, non? Well this pub is the same, but with extra sparkle. You can explore four fantastique rooms that will be dressed with style to please the peepers.
Eat and Drink: To make the tonsils dance, personalise your Chambord Royale at the Bubble Bar. The landlady will guide you as you embellish your bubbles with Chambord, as well as other treats for the eyeballs. Of course, if you prefer your Chambord Royale au naturel, then that is also an excellent choice. Visit the outside-inside pub garden where you and your flock can challenge each other to a garden game. If curiosity is calling, discover Chambord's Champagne Cellar to find more surprises that are sure to ruffle the feathers. You can purchase pub snacks ala Chambord to keep the tummy smiling and some more delights to be revealed very soon.
Price: Tickets are £5 per person and are available online.
Where: Le Crown and Cactus, 15 Bateman Street, Soho, London W1D 3AQ
2. For Champagne and Nibbles: Moët & Chandon 
The Lowdown: Edwardian Hotels London has opened a snazzy new pop-up space in the heart of London's West End – At The Hampshire Lounge Bar located in Leicester Square. The bar has welcomed its first collaboration with the iconic champagne house, Moët & Chandon, offering a unique selection of food and drink experiences. One to take your mum, we say. 
Eat and Drink: At The Hampshire Lounge Bar is open from 12pm -11pm daily, offering à la carte dining from 12pm-10.00pm featuring multiple Moët & Chandon Ice Impérial inspired dishes, such as steak tartare, served with rye crisp, and desserts such as La Spécialité, a black cardamom ice cream, star anise crème Anglaise, and walnut crumble with a warm sauce au chocolat. And more Champers than you can shake a stick at. 
Price: Free entry. Prices from £10.
Where: 21 Irving St, London WC2H 7RR
3. For Bubbles: Fiz x Lights of Soho 
The Lowdown: Hot news alert: London''s first sparkling wine bar has opened in the heart of Soho. Running a ten-week residency at eclectic neon art gallery Lights of Soho on Brewer Street, Fiz is the brainchild of three friends; Barnaby Lewis, Max Bigland and Jordan Nadian who are inspired by the vibrant and sociable food and drink scene found in the backstreet cava bars of Barcelona. Experience a taste of Spain without leaving the capital. 

Eat and Drink: The team behind Fiz is on a mission to change the way we drink bubbles; say goodbye to pretentious, pricey champagne bars and the formality of traditional wine bar-restaurants. Fiz is focused on fun and inclusivity, and over the course of the pop-up will be promoting affordable, quality wines as well as a range of summer spritzers, ciders and craft beers. If you find yourself in central London on a weekend, swing by for their bottomless sparkling brunch with unlimited bubbles. Ooo-er.
Price: Glasses begin at £4.50 and bottles start from £22.
Where: 35 Brewer Street, Soho, London W1F 0RX
4. For a Japanese Terrace: ROKA Canary Wharf x Suntory Japanese Whisky
The Lowdown: Japanese vibes and plenty of whisky is what you'll find at ROKA Canary Wharf's new pop-up (and no doubt, a lot of suits). ROKA Canary Wharf has collaborated with Suntory Japanese Whisky to create a stunning Japanese roof terrace. Emulating a sense of calm and tranquillity similar to that of the Chita Peninsula, the terrace at ROKA Canary Wharf is the perfect location to showcase Chita, a whisky which embodies the serenity of Japanese Whisky.
Eat and Drink: The terrace features a menu of three bespoke Chita cocktails, perfectly refreshing for the summer months. The three cocktails are: Tokai Highball with Suntory Chita Single Grain Whisky, coconut, cherry leaf tincture, sweet corn shoot and soda; Chita Cooler with Suntory Chita Single Grain Whisky, mango, yuzu, basil and lime foam; and Red Gold Hook, made with Suntory Chita Single Grain Whisky, plum sake, red vermouth, saffron distillate and umeboshi.
Price: Cocktails start at £12.90.
Where: 4 Park Pavilion, 40 Canada Square, Canary Wharf, London E14 5FW
Photo Credit: Tom Nicholson
5. For Cocktails by the Canal: Wood's Navy Rum x Ladies & Gentlemen Bar x London Shell Co
The Lowdown: For all you lovely lot who enjoy sippin' rum in the sunshine – we think you'll like the sound of this. Wood's Navy Rum has teamed with Kentish Town cocktail bar, Ladies & Gentlemen for the ultimate summer pop-up – think two pop-up sheds, and a full functioning barge. Drinking a cocktail on the London waterways is the something we can get on board with (we also love a pun).
Eat and Drink: Ladies & Gentlemen's rum menu showcases twists on traditional cocktail classics including the Mai Tai, Pina Colada Slushy and Zombie in the Woods. There's also more innovative serves such as the Jungle Bird Twist, a mix of Wood's Navy Rum, Jamaican rum, pineapple, orgeat, lemon and house aperitif blend, and the perfect concoction of sweet and sour from the Out of the Wood's cocktail – combining Wood's Navy Rum, absinthe, lime, sugar, dry curacao and amaro di angostura. Wood's and Ladies & Gentlemen has also partnered with seafood restaurant London Shell Co to host the second pop-up shed. London Shell Co serves fresh and simple fish sourced from British supplier Kernowsashimi. There's everything from pickled Cornish shellfish salad, to crispy cuttle fish with aioli.
Price: Free entry. Those looking to explore London's weaving canal network can book tickets to enjoy an hour-long tour on the Wood's barge. Tickets are available to purchase here and are priced at £15 per person (including a rum cocktail).
Where: Goods Way, King's Cross, London N1C 4BH (Directly opposite The Lighterman Restaurant)
The Lowdown: We've got the exclusive scoop on this one. Running for two days only (20-21st July), Gin Mare will host the ultimate rooftop experience this summer for gin lovers and those in the know (that's you guys). The exclusive pop-up will be situated overlooking the river Thames, with one of the most panoramic views of the city of London.
Eat and Drink: Attendees will be served a range of refreshing Mediterranean cocktails, including the classic Mare G&T with a slice of fresh mango, a cooling Frozemary cocktail, the Perfect Martini paired with a strawberry garnish, and a revitalising Basil Smash. Each of the cocktails will hero the flavours and ingredients of the four Mediterranean countries where the gin's botanics are grown; including thyme from Turkey, basil from Italy, rosemary from Greece and arbequina olives from Spain. Chefs will serve a summer menu of fresh Mediterranean tapas, and oysters dressed with Gin Mare. The rooftop will be decked out in Mediterranean chic, with pagodas and white washed furniture, for guests to relax in and be transported back to the tranquil Mediterranean.
Price: Limited places available. To book your ticket see here.
Where: Rooftop and fifth floor, IET, 2 Savoy Place, London WC2R 0BL
8. For a Vermouth Menu: Craft London x Belsazar 
The Lowdown: Live south of the river? Hold on onto your hats, people. On Tuesday (11th July), Craft London will kick off an eleven-week pop-up summer terrace in collaboration with Berlin-based vermouth brand Belsazar. With panoramic views of the Greenwich Peninsula, Canary Wharf, the Thames and beyond; Craft London's rooftop bar is the ideal spot to enjoy a refreshing aperitif or five with friends this summer.
Eat and Drink:Bar Manager Dave Brosnan and the team at Craft London have collaborated with Belsazar to create a range of bespoke low-ABV spritzes, served over ice and designed for relaxing and unwinding. The spritzes will marry Belsazar's signature Vermouth variants – Red, Dry, Rosé and White – with fresh ingredients and garnishes foraged from Craft London's on-site kitchen garden. The new menu will feature: R&R with Belsazar Rosé, grapefruit, and Verbena Kombucha, and the Mezcal Forager with Belsazar White, Elderflower cordial, and Urban Orchard Cider.
Price: Drinks from £10.
Where: Peninsula Square, London SE10 0SQ
9. For Gin Terraces: Tanqueray No. TEN x Rosewood London x St Martin's Lane Hotel
The Lowdown: Tanqueray No. TEN have been busy bees. The gin brand have launched a series of beautiful gin terraces in London, so that everyone can enjoy the nations favourite spirit in style. Relax at the pop-up GQ Bar at Rosewood London, amongst the floral displays of the quintessentially British summer inspired garden, or hop foot it over to Covent Garden's St Martin's Lane Hotel for Cuban inspired greatness.
Eat and Drink: Highlights from the GQ Bar menu includes: The Duke, a muddle of Tanqueray No. TEN with China China Liquor, Perigue, Dry Vermouth and chocolate bitters, and Blushing Lady with Tanqueray No. TEN with Pamplemousse Liquor, fresh grapefruit juice, sugar syrup and topped with Champagne. The Tanqueray No. TEN terrace at Covent Garden's St Martin's Lane has been split into two areas, one side serves an English G&T afternoon tea and the other a tropical Cuban food pairing menu.
Prices: Drinks from £12.
Where: 252 High Holborn, London WC1V 7EN and 45 St Martin's Ln, London WC2N 4HX
10. For a Wine Weekender: The Rosé Festival 
The Lowdown: Stop what you're doing. This news is going to make your day, if not week. This summer will see the launch of the inaugural Rosé Festival: the UK's first and only festival dedicated to rosé wine. If you appreciate a decent/drinkable glass of rosé, get your tickets, stat. The festival will take place from Friday 21st – Sunday 23rd July against the picturesque backdrop of The Geffrye Museum's front lawn.
Eat and Drink: The Rosé Festival was founded by two friends Chris Crosby and Myles Donneky who have shared many an afternoon wiling away summer hours sipping pink. The festival will offer visitors the chance to sample 30 different varieties of the wine from expert producers who will be on hand to share their knowledge around the techniques used to produce the unique characteristics of rosé. The festival will focus on both rosé champagne and wine, however producers will also display a range of their other products including ciders, vermouths, prosecco and other sparkling wines. To accompany the wide array of drinks on offer, Bob's Lobster, Bubbledogs and others will be cooking up a storm.
Prices: Tickets cost £15 for the day. £1 of all ticket sales to The Rosé Festival will be donated to The Geffrye Museum as a contribution towards the planned refurbishment in 2018.
Where: 136 Kingsland Road, London, E2 8EA