About Time: You Ate Fusion Tapas in BarcelonaBy Emma Higgins
It is a truth universally acknowledged that a Barcelona traveller in possession of a good appetite must be in want of tapas.
Not quite the opening line of Pride and Prejudice that Jane Austen was going for, but I think we can all agree that it still would have been a pretty great story had it started with tapas. Having visited Barcelona on many occasions and even lived there for a while, my stomach has seen its fair share of patatas bravas, croquetas, jamón serrano, pimientos de Padrón, tortilla de patatas, chorizo… I could go on. But after a while, there came a time when I craved something more from my usual tapas endeavours, and that's when I sought out the world of fusion tapas.
These two words put together basically mean any kind of tapas that's out of the ordinary. Whether it's small plates of a different kind of cuisine or a new take on preparation of traditional recipes, fusion tapas is making a splash in Barcelona and here are a few places you can try it. Be brave; I know the original is good, but these are worth biting into – trust me.
Mosquito
You like dumplings. You like tapas. You'll love Mosquito. This Asian tapas joint has been a hit with locals and expats for years (which is why it's always so busy – come hungry and patient) and while they specialise in dumplings there are many more miniature plates of awesome for you to try. Flavours from Vietnam, China, and Korea are big players on their menu, in all kinds of soup, crispy meat, and noodle combinations. Sip on a craft beer from their wide selection for the ultimate Mosquito experience.
Ziryab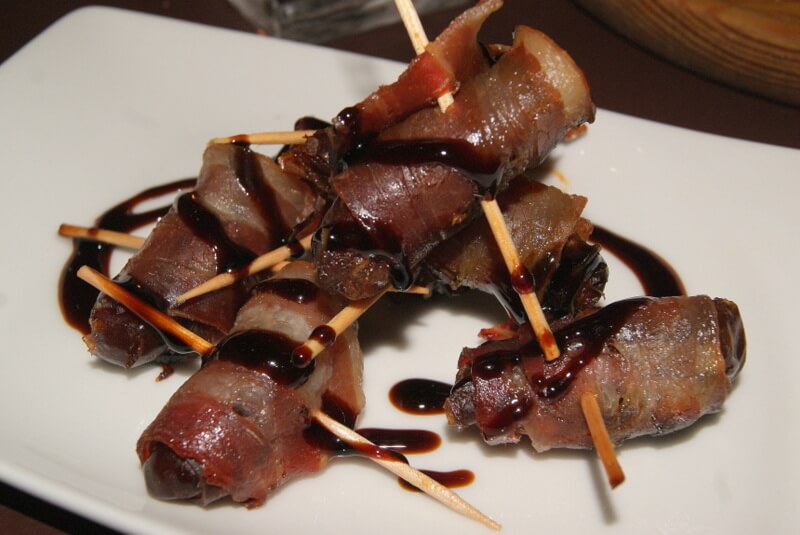 Dim lights, delicious wines, and eastern vibes create the unbeatably cosy atmosphere at Ziryab. Tucked away down a little alleyway in Barcelona's El Born district, this miniscule restaurant cooks up a usual array of tapas in an unusual manner – think rosemary and thyme-infused patatas bravas, Arabian-spiced pan con tomate, and serrano with grilled halloumi. Ziryab is by far one of the most impressive fusions in the city, a true melting pot of two distinct flavours and styles of cooking. If that doesn't convince you, I have two words that will: bacon-wrapped dates.
Picnic
You know that really difficult brunch moment when you can't decide what to have because it all looks so good? Wave goodbye to that – brunch tapas is here. Picnic is ideal for those moments when only brunch will do after a heavy night before; order up a selection of plates with a friend and pick away at meats and cheeses, fried green tomatoes and with feta and corn, salmon with crème fraiche on toast, little stacks of pancakes with strawberries, and French toast with banana and peanut butter sauce. I don't think I really need to say anything else about this one…
Dos Padillos
If you've got a little more money to burn in Barcelona, Dos Padillos is a high-rated Asian tapas place with the kind of dishes you won't find anywhere else in the city. Their tasting menu includes plates like whitebait in tempura, oysters and sake, Iberian pork cooked with Cantonese spices, and plenty of steamed dumplings and fried wontons. Dos Padillos leans more towards Asian cooking served up on small plates, which is the tapas element, and it's the place to go if you want something a contemporary and upmarket. Heads up, there's Dos Padillos in Berlin, too.
Samsara
Located up in the beautiful district of Gràcia, Samsara tags itself as a 'creative tapas' restaurant, which means they take traditional ideas and go crazy with the flavours. You won't find these dishes anywhere else in Spain – Samsara is a truly unique experience for those looking to try something new, and the low sofa and stools, communal eating atmosphere emphasises that mission. Must-tries include tender beef wrapped in bacon drizzled with oils and topped with crispy noodles, meaty mushrooms on beansprouts, and everyone's favourite – sweet potato bravas with pesto sauce. Oh and wine. Plenty of delicious wine.
Words by Emma Higgins