The New Daily Grind: 5 Coffee Delivery Services You Need TryBy Elliot Mitchell
Coffee. A cup of hot Joe. Rocket fuel. Whatever you call your mug of caffeinated joy, we've been experimenting with a variety of beans and blends in lockdown from independent coffee companies across the UK.
From daily grinds to unique blends and coffee curveballs, here's 5 coffee delivery services you don't want to miss:
What: Brazil – Fazenda da Lagoa (£7.95)
The 411: Cafe Direct's slogan is 'ridiculously good coffee', and to be honest anyone would be hard pressed to question that on their first sip of the Brazil Dos Reis blend we tried this week. Not going to lie, we were sceptical when we saw flavour notes of candied fruit, chocolate and panettone on the bag, but my god have they nailed it. Without a doubt one of the fruitiest coffees we've ever had, the taste was unbelievable, and tasted equally good through our filter coffee machine and a straight-up cafetiere.
Perfect For: If you like buying your beans in bulk, their 1kg bags are a gamechanger.
What: Get To The Hopper Blend (£7.95)
The 411: They say travel broadens the mind, and when it comes to Kent's Lost Sheep, it provides the foundation for their glorious small batch coffee. Started in 2011 by duo Stuart and Sarah who were enamoured by Melbourne's caffeine scene on their travels, they set up the roasters in their home county and lead the charge on a now-bustling Kent coffee scene, with two shops and a truck to their name nowadays. With a few different roasts available (they also sell fully compostable Nespresso pods), we opted for the signature brew 'Get To The Hopper' – a remarkably silky roast with hints of caramel that was unbelievably smooth, with just enough of a kick to get us through the afternoon at work.
Perfect For: Supporting local businesses with world-beating flavours.
What:
Tano Ndogo, Kenya Blend (£11)
The 411: A Walthamstow staple (almost as iconic in the area at East 17 themselves), Wood St have upped their ordering game in the wake of lockdown, making all their coffees available to order online, as a one-off or a reasonably priced subscription (bi-monthly filter deliveries start at just £10). Catering for all types of coffee maker, their roast is delightfully versatile, good for any time of the day but equally kicks like a mule when you want it to: it's truly perfect coffee.
Perfect For: Keeping local businesses alive whilst also keeping your cupboards stocked.
What: Whole Bean and Ground Coffee Tin (£9)
The 411: With branches all over the capital, many Londoners are missing Grind at the moment, whether it's for their morning cup of coffee or a top notch Espresso Martini on a Friday night. Luckily, the coffee connoisseurs have made ground tins available to buy online, and boy do they look fit. Arguably the best-looking thing on your worktop, Grind's iconic pink tins are filled with their famous blend, which tasted phenomenal for our leisurely weekend coffee (and maybe for a homemade cocktail the night before).
Perfect For: Recreating Espresso Martinis at home.
What: Nambala Co-op, Nicaragua (£9)
The 411: Another regional banger, Hundred House are leading the charge when it comes to the Shropshire coffee scene at the moment. It's difficult to define how their coffees taste, as each batch is from a single origin, with many coming from unique estates, creating a glorious sense of unpredictability when you order from their website. With roasts from the likes of Kenya, Colombia, Nicaragua and more, their blends are specifically developed for the perfectly balanced cup, and needless to say, it took our senses on a journey like no other.
Perfect For: Trying new blends from single origin batches.
One for luck… 
What: SW18 Daily Grind (£4.50)
The 411: Taking South London by storm, these local legends have been boshing out craft coffee since 2011, and we're not joking when we say it will totally change your morning routine. We had their SW18 Daily Grind first thing every morning, and honestly, it was the most productive we've been all lockdown, it felt like we were firing out emails quicker than we could write them. In all seriousness though, Cafepod's selection is remarkable, and if you order online you can also add essentials from other small brands and try even more new stuff. If you're south of the river, miss this coffee at your peril.
Perfect For: An effortless, delicious daily brew with character.
Coffee Deliveries: The Kit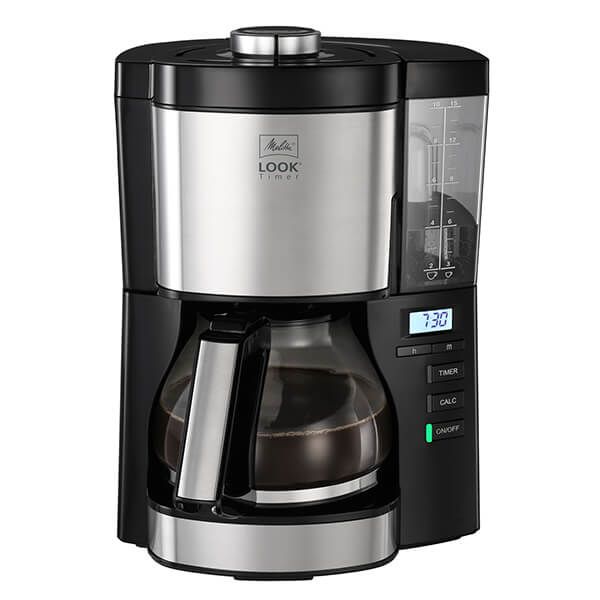 What: Melitta Look V Timer Filter Coffee Maker (£70)
The 411: Obviously, it wouldn't be possible to try all this amazing ground coffee without something to make it, and the Melitta Look Filter coffee maker surpassed all of our expectations. Effortless to use and with a pleasantly swanky aesthetic, what we loved most about this machine was the timer function, which allows you to pick a time for the coffee to start brewing, meaning you can literally wake up to the smell of fresh coffee (yes, dreams do come true). With a large capacity and the capability to keep the pot warm for up to 60 mins, it also saved us loads of time by not having to make multiple cups. If you're looking for a simplistic but effective machine, this is it.
Perfect For: Bringing a diner-like feel to your home, whilst also showing your posh coffee the love it deserves.
What: Coffee Grinder plus a 3 cup Glass Cafetiere (£29.99)
The 411: There's nothing worse than getting ready to make a coffee and realising you've bought beans instead of ground. Look, we take no shame in saying we've tried lots of inventive ways to break down beans without a grinder – from Nutribullet to whisk, but thankfully Judge provided us with a proper grinder to make this article a bit less…studenty. With its industrial steel design, the Judge grinder looks incredible on a work surface, and is most importantly easy to use.  Simply decide how fine or coarse you want the beans, then give your arms a workout grinding it all up – lovely jubbly! You'll never look at beans with such disdain again.
Perfect For: Changing up your style from ground to bean (and making your surfaces look great in the process)