Tasty Tuesdays: Our Favourite No to Low Alcohol Drinks of Dry JanuaryBy Francesca Brooking
We're coming to the end of January and whether you took part in Dry January or not, the alcohol-free drinks market has reached a new level of quality, proving that great beers, wines and spirits don't need to have ABV to be enjoyable drinks in their own right. So, for this week's Tasty Tuesdays, we're bringing you a roundup of our favourite no to low alcohol drinks in celebration of this exciting achievement:
What: Alcohol-free spirit brand Sipling has concocted a sophisticated collection of non-alcoholic cocktails for anyone to enjoy. 
Why: A perfect dinner party drink, Sipling's carefully crafted cocktails are inspired by the world's most popular tipples – Bellini, Gin & Tonic, Mojito, Old Cuban and Spiced Rum & Cola. Presented in beautiful bottles, this cocktail range is made from natural flavourings and extracts, and is free from any listed allergens and artificial sweeteners. Sipling founder Avnish Babla recommends that you take your time with these cocktails. Sip them slowly and savour the intricate flavours that these drinks bring to life. 
Price: £14.99 for a case of 6
Stockists: Sipling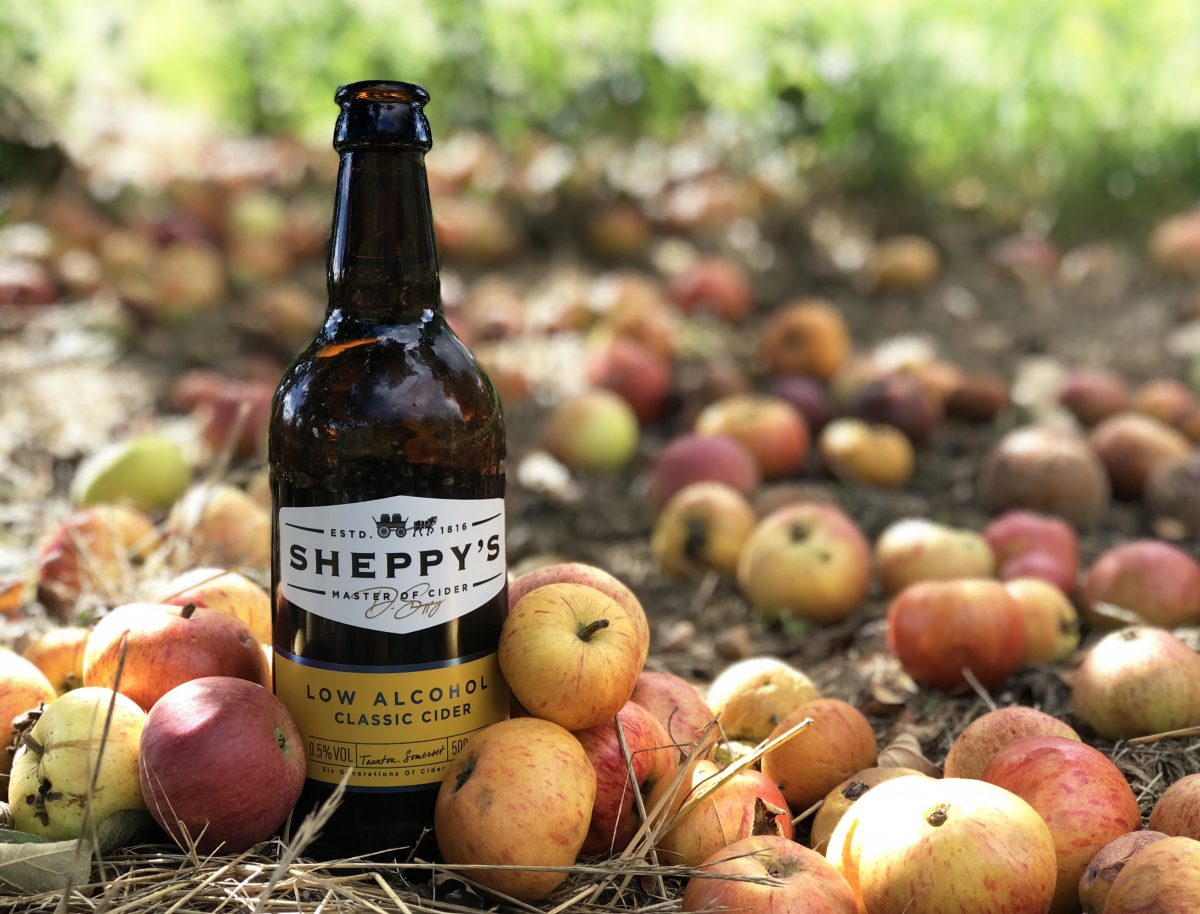 What: Sheppy's is one of the oldest independent cidermakers in the world with a history that goes back 200 years. Now, in support of the movement of mindful drinking, the brand has launched a range of low alcohol classic ciders at only 0.5% ABV. 
Why: A perfect low-boozy tipple, Sheppy's low alcohol cider is an ideal treat for those wanting to cut down on their alcohol intake without compromising on taste. The cider is made from a carefully selected blend of Somerset's finest traditional and dessert apples to give it the same flavour profile as the traditional cider without the booze. Light, crisp and deliciously fruity, this low alcohol cider hits the spot for cider lovers who are keen to cut down on their alcohol intake and one of our top recommended no to low alcohol drinks of the month. 
Price: £1.30
Stockists: Tesco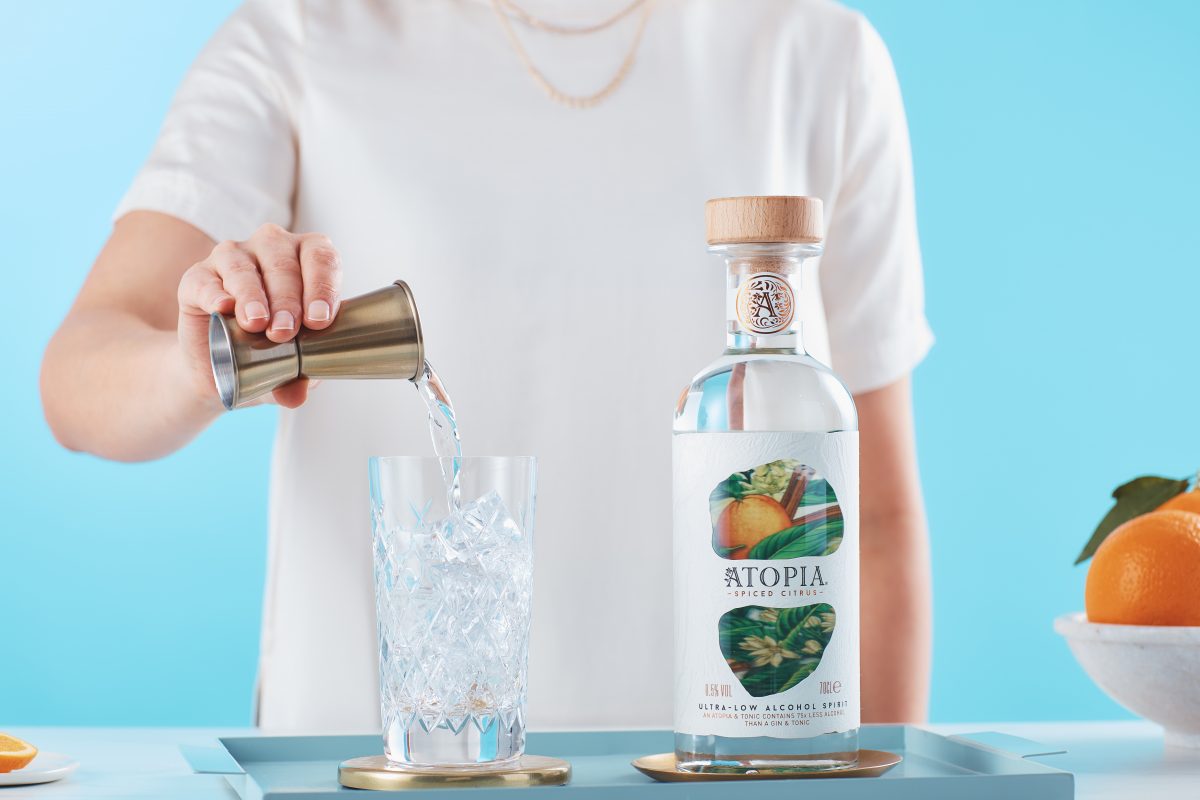 What: Atopia is the one to watch ultra-low ABV spirit this year. Containing the same amount of alcohol content as an overripe pineapple or kombucha, it's made using only natural distillates, flavours and extracts. 
Why: Atopia is the perfect low-alcohol tonic for the winter blues with its tantalising balance of bitter notes and sweetness. There are two variants to choose from; Spiced Citrus and Wild Blossom, and each one contains just 0.5% ABV. Enjoy the drink accompanied by a tonic or as the base for a non-boozy cocktail at home. Boasting complex flavours and elegance in a bottle, it makes for a great mindful drink for any occasion. 
Price: £24.00
Stockists: Sainsbury's, Ocado and Harrods
What: St Peter's Brewery has launched a range of three alcohol-free beers to help customers cut down on their alcohol consumption should they wish. 
Why: Named 'St Peter's Without', the new range is delicious, full-bodied and just like the real deal. Customers can choose from three different flavours, including Without Original, a hoppy and malty, full-bodied pint and Without Gold, a hoppy golden ale with a slightly sweet flavour combined with a citrus bitterness. The last one in the range is a fruity Without Elderberry & Raspberry, a delicious and refreshing beer with a pleasant sweetness from the elderberries and a lingering taste of raspberries. 
Price: £1.49
Stockists: Morrisons, Tesco, The Co-Op and Dry Drinker
What: Launched in 2018, the hot new low-alcohol beer on the market, Lucky Saint, has become a firm favourite for its high-quality lagers at just 0.5% ABV. 
Why: Lucky Saint uses precision brewing to create a top of the range 0.5% unfiltered lager. Packed with only the finest quality ingredients, each lager is vegan and free from additives, adjuncts and flavourings. The key to Lucky Saint's success is that the lager isn't brewed like a typical alcohol-free beer. Instead, the brand developed its own unique brewing method so that no flavour is lost on the process. 
Price: £1.80 
Stockists: Sainsbury's
What: Caleno is a new non-alcoholic spirit containing flavours inspired by South America.  
Why: Caleno is an ideal drink for those wanting to try something different. This beautifully smooth non-boozy spirit has a tropical infusion of juniper, citrus and spice botanicals. The concoction is distilled in stainless steel drums and its signature garnish is the South American Inca Berry. Together with the pineapple, mango and citrus flavours, it has a sweet yet tangy note. Better still, Caleno is vegan, low in calories and sugar-free. 
Price: £18.00
Stockists: Sainsbury's
What: Infinite Session brews award-winning beers that taste like your favourites without the alcohol and we think they're one of the most authentic-tasting no to low alcohol drinks on the market in 2020. 
Why: If you're after a crisp lager, a smooth Pale Ale or a hoppy IPA then Infinite Session is the one for you. Proving that there's a lot more to beer than alcohol, these beers are carefully crafted to give you a drink that's full of flavour and body. Just like the real thing the American Pale Ale combines a smooth body with tropical US hops to give it a refreshing and bitter flavour. If you opt for the IPA then you can expect suitably hoppy notes with a tang of bold citrus flavour. 
Price: £4.50 for 4x 330ml American Pale Ale, £1.50 1 x 330ml IPA
Stockists: Sainsbury's and Majestic (IPA), Tesco (Pale Ale)
What: The 0.0% ABV wine brand Freixenet have a range of two alcohol-free sparkling wines for those who enjoy a glass but want to cut down on booze. 
Why: Enjoy a glass of bubbly without the booze with Freixenet's 0.0% white and rosé sparkling wines. Just like its boozy cousin, the no-alcohol sparkling white is made with Moscato grapes to give it a deliciously refreshing fizz with a hint of lively tropical notes and tantalising citrus flavours. The rosé is made with Moscato and Tempranillo grapes for more aromatic floral notes and tropical fruity hints. 
Price: £6.00
Stockists: Tesco and Morrisons
What: Pollen's signature drink Pollenade is not your average no-alcohol botanical tipple. Containing 15mg of water-soluble CBD from broad-spectrum hemp oil, a can of this bubbly drink is perfect for a mid-afternoon boost. 
Why: Pollenade is an ideal pick-me-up for those in need of a quick recharge. Made with natural raspberry, grapefruit, lemon and CBD, this drink is full of flavour and makes for a satisfying alternative to coffee or alcohol. The CBD is just the right amount to allow a high absorption without the aftertaste. Vegan, low in sugar and only 50 calories per drink, we think this can is one of the most exciting new no to low alcohol drinks on the market. 
Price: £3 per 330ml can or £18 for a box of 6 (6 x 330ml)
Stockists: TheDrug.Store, London and Pollen
What: Feragaia is Scotland's first alcohol-free spirit, and in a growing alcohol-free market it's certainly one to watch. 
Why: Bold, complex and contemporary, Feragaia is a distilled alcohol-free spirit made from 14 land and sea botanicals. Its taste has been described as being somewhere between Scotch, Mezcal and Kombucha, giving it a rich, complex and quality flavour to it. This drink is made using traditional distillation methods to create a contemporary concoction that guarantees an exciting drinking experience. Feragaia – pronounced fer-a-guy-a – can be enjoyed on its own with ice and a twist of orange peel, topped with tonic or served with ginger ale and a twist of lime. 
Price: £28.00
Stockists: Feragaia