Pitt Cue holds a special place in our hearts. It was here, on our first visit many years ago, in a teeny weeny corner of Soho that we came to realise that we really liked eating nice food and drinking nice drinks. And then talking to each other about it. And then boring other people about it. We even started a club.
So to thank them for opening the door to a new world of boring our friends to death we thought we'd give them a shout out – which also provided a nice excuse to pay them a visit in their new Devonshire Square home.
The restaurant moved out of Soho a couple of years ago to a large, moodily lit ex-warehouse at the fringes of the city, an area where the sharp suits start to fade into full sleeves. The food has also changed, drifting slightly away from the American BBQ staples of the original joint to a menu sharply focused on the quality of the meat reared by the restaurant themselves. You should still expect plenty of low and slow cooking but don't go looking for pulled pork buns, this is  – dare we say – a little more grown up?
But why are you telling me this? This is meant to be about beer isn't it? You're right and this is – because there also happens to be a brewery inside.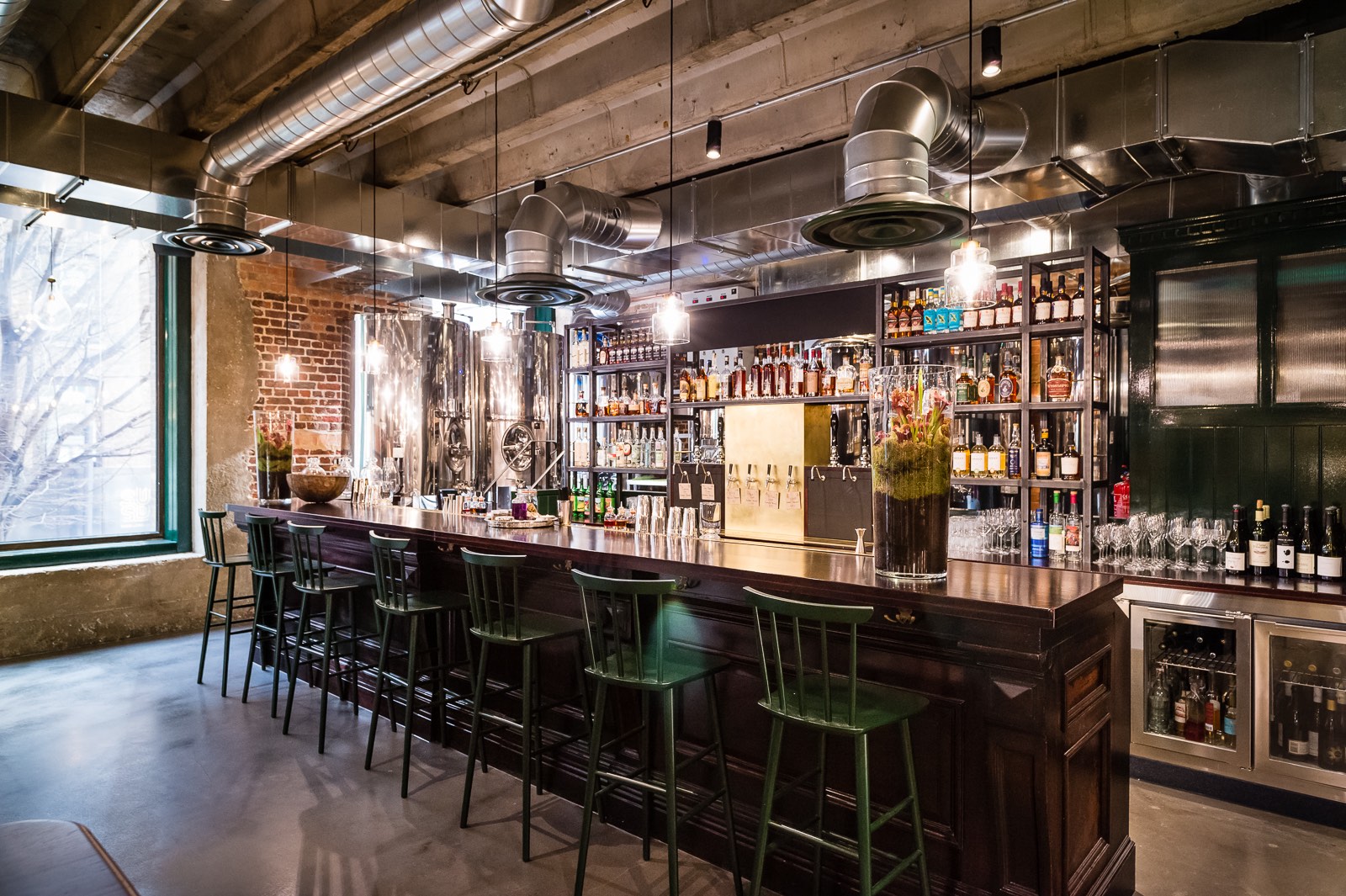 AlphaBeta Brewery sits underneath and within the restaurant itself and is watched over by head brewer Michaela Charles. Here she brews beer to compliment the food and to be drunk on its own at their smashing little bar. Like the food, the vibe is a little away from the US (in our opinion anyway) with some more traditional British styles on offer. You are not going to find a hazy juice bomb here but you will find brilliantly made, tank-fresh bangers with special brews dotted throughout the year.
There are 5 or so core beers that are produced in rotation and a special mention has to be made for their pilsner – something that any lager drinker should try for a lesson in how it should be done. We've picked out our two favourites below but all are worth the trip and – although not beer – you should ask if they have any pickle backs on offer – trust us, there is no better way to start a meal….
The Taming of the Brew: Staple Beer
Staple Beer: Cardinal IPA, Alphabeta Brewery, 4.5%
What is it: A traditional English IPA with bitterness, malt flavour and hop freshness all rolled into one. Very different to most of the IPAs that we have spoken about, but a fantastic example of how it all started.
We Say:
Charlie – "Put aside thoughts of a warm, flat old ale – this comes well chilled, is extremely refreshing and goes fantastically with food"
Callum – "This is not big and juicy and in your face. It's more understated, balanced and refined. I'm not normally a cask ale man but this is great"
The Taming of the Brew: Blindside Beer
Blindside Beer: Nitro Stout 4.5%, Alphabeta Brewery, ABV 4.5%
What is it: A stout by name but miles away from the Black Stuff. A much lighter and more thirst quenching drink than traditional dark beers.
Charlie – "This is amazing – reminds me of a root beer but with more body. Dark but refreshing – really zips in the mouth. I totally get the name – stout on steroids"
Callum – "Fizzy, light and so so drinkable"
Photo Credit: Pitt Cue