Sponsored Video: London's Best Tea Cocktails with PG TipsBy Angelica Malin
Fancy a taste of something different? How about you swap your normal G&T for one of these amazing tea cocktails. Well, Jamie Oliver and the Food Tube team PG Tips to show you how you can expand your mug's horizons with their new range of delicious teas. They've been getting creative with tea and cocktails, watch the video here:

The new PG Tips teas are a fun taste twists on the classic PG Tips – there's a full bodied Assam, the flavourful and fragrant favourite Earl Grey and a classic English Breakfast tea to try. Inspired by the new flavours, we found London's best tea cocktails, and think we might get creative and make these at home, too:
1. The Bar at The Connaught, Mayfair
The Drink: Chatham Special (£15)
The Blend: The signature digestif of 1930s legendary Chatham Hotel, given a tea-inspired modern remake by their mixologists. The cocktail is a blend of Courvoisier Exclusif cognac, port wine, Amaro Lucano, spiced rice milk, Earl Grey tea infusion and cocoa powder.
The Bar: Ultra-stylish décor and mouth-watering cocktails put the Connaught Bar in Mayfair into a league of its own. Inspired by English Cubist and Irish 1920s art, with textured walls shimmering in platinum silver leaf overlaid with dusty pink, pistachio and lilac, designer David Collins has produced a gem of a London bar.
Where: Connaught, Carlos Pl, London W1K 2AL
The Drink: The Earl Grey Marteini (£9.50)
The Blend: Tanqueray gin infused with Earl Grey, shaken with egg white, lemon juice and sugar, as inspired by one of New York's trendiest bars, Pegu Club.
The Bar: Frequented by Royals, scallywags, urchins, beggars, scarlet ladies, drunkards, intellectuals, popular musicians of the day and the occasional association football player, The Portobello Star is perfect for weekend cocktails and late-night drinks. In recent years they have been the proud and humble recipients of the Class Best Bar and The Gregor DeGruyther Good Time Award, for good reason.
Where: 171 Portobello Rd, London W11 2DY
3. Portside Parlour, London Fields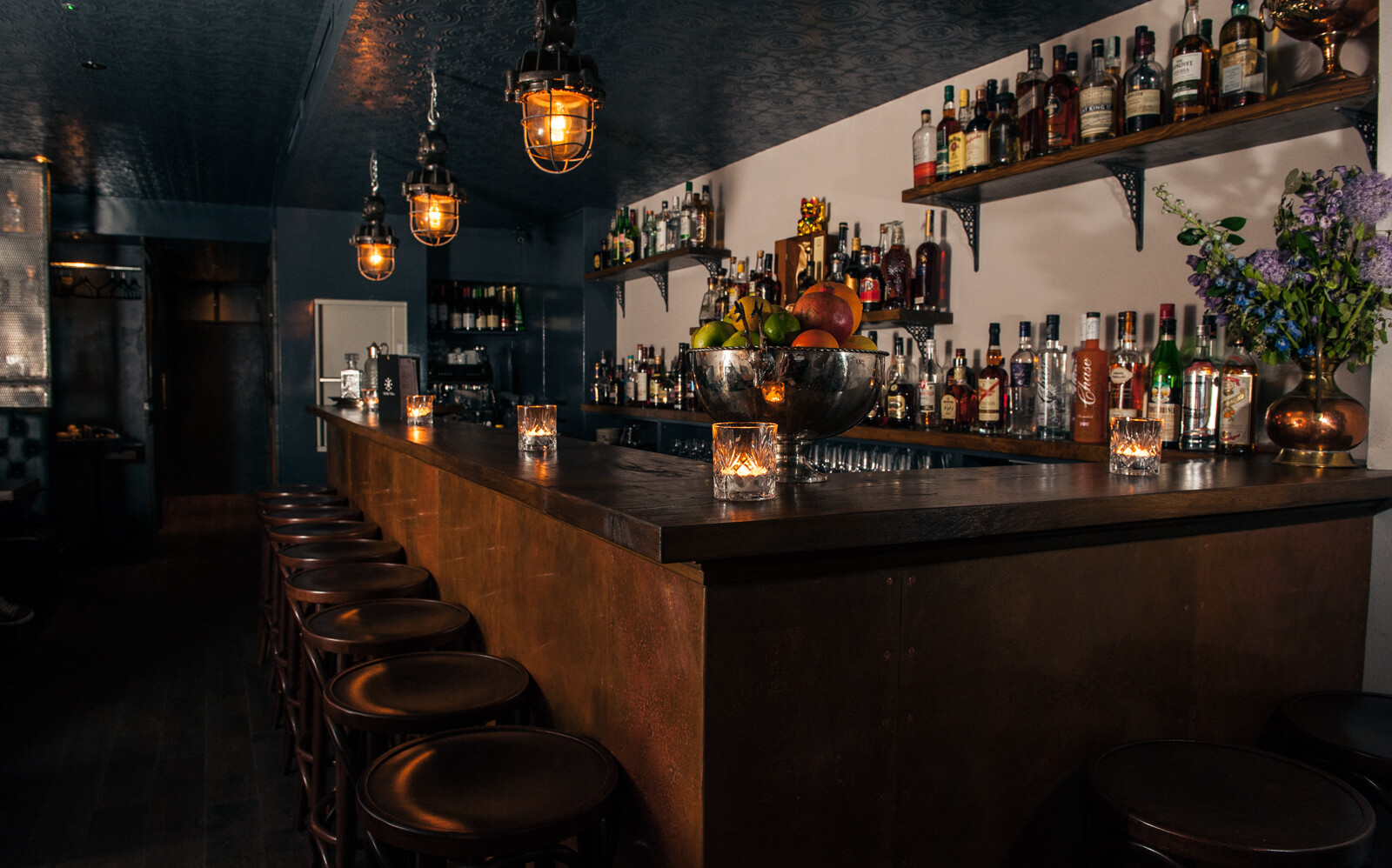 The Drink: PSP Japanese Punch (£9)
The Blend: A mix of Tanqueray 10, Batavia Arrack, matcha tea and PortSide Parlour spice mix. Straight from the far southern shores, this perplexing blend of worldly aromatics which is brewed with pistachio is then given a backbone by Tanqueray 10 with its citrus lead grapefruit botanicals and Matcha tea to make a curiously pleasing draft.
The Bar: Reminiscent of a nautical antiquities shop, the new permanent PortSide Parlour remains one of London's many hidden gems, located in the heart of Shoreditch. Open 6 days a week from Tuesday to Sunday 5:30pm to 12am, you can wonder in and expect to find one of London's most impressive selection of rums with 80+ varieties. With a seasonally rotating cocktail menu with signature drinks such as the 'Smoked Apple Wood Old Fashioned'  and a Southern European Seafood inspired tapas, there's something for everyone here.
Where: 14 Rivington Street, Shoreditch, London, EC2A 3DU
Photo Credit: Addie Chin
4. The Bar at The Dorchester, Mayfair
The Drink: Her Majesty's Cup (£16)
The Blend: Her Majesty's Cup is a homage to Her Majesty on her Diamond Jubilee. Earl Grey infused berries, rhubarb, and Hendrick's gin, topped with champagne, for the perfect cocktail.
The Bar: As one of the world's most iconic luxury hotels, The Dorchester is quite simply the place to be in London. The Bar at The Dorchester is renowned as much for its rich, opulent interior as for its menu of new and classic cocktails, devised by world-renowned expert alchemist Giuliano Morandin. The Bar at The Dorchester is run by the best in the industry – bar manager Giuliano Morandin and his award-winning team of alchemists have looked after guests at The Dorchester for a combined 100 years. Both Giuliano Morandin and head of bars Simon Rowe have worked together at The Dorchester for 30 years. Oh yes.
Where: The Dorchester, Park Lane, Mayfair, London, W1K 1QA
The Drink: Camelia Spritz (£10)
The Blend: Tanqueray, celery, cold-brew green tea, Kaffir fruit acid, WS Kombu shake. Yeah, we're not sure what most of the ingredients are to – but it taste really good, so we can't admit to caring all that much.
The Bar: The Worship Street Whistling Shop is a Victorian inspired cocktail bar on Worship Street – an ancient London thoroughfare between Shoreditch and the City of London. The bar opened in 2011 to great critical acclaim, winning Time Out London's Best New Bar award in 2011 and featuring on the World's 50 Best Bars list for three consecutive years. Whistling Shop specialises in good service, with delicious cocktails inspired by the past and executed with a proficiency in cutting-edge culinary techniques.
Where: 63 Worship St, London EC2A 2DU
Sponsored post with PG Tips. For more information, follow PG Tips on Twitter here, check out their website here and like them on Facebook here.