It's that time of year again: National Rum Day. Think of rum, and you'll probably conjure up images of sugar-laden mojitos and tiki-style drinks. While we love a mojito (preferably on a beach, surrounded by palm trees), rum is a versatile spirit proving a delicious base to many inventive serves. We drank ourselves under the table to discover 10 of the best rum cocktails you need to try in order to celebrate National Rum Day in boozy fashion:
1. For a Mega Rum Selection: Laki Kane 
Order: Jewel of the Sea – Pusser's Blue Label and Angostura 1919 rums, shaken with honey cream, fresh mandarin juice and Hawaii Golden Ale (£12)
The Run-Down: Laki Kane is a new exotic tropical escape bar located on Islington's famed Upper Street. This unique cocktail den specialise in rum (stocking over 200 different types from the UK to Carribbean shores). The menu of classic serves and quirky tipples, has been created using the finest rums, sugar cane syrups and a hand-picked selection of rare and exotic ingredients.
Where: 144-145 Upper St, London N1 1QY
2. For Imaginative Cocktails: Dandelyan 
Drink: King Pig Sour – BACARDÍ Carta Blanca, egg white, spinach cordial, lemon and cedar tincture (£12.50)
The Run-Down: Bringing a neighbourhood vibe to the glamour of Mondrian London, head to the award winning Dandelyan bar for cocktails created by award-winning bartender Ryan Chetiyawardana – aka Mr. Lyan, aka thee cocktail wizard. The new menu, titled The Modern Life of Plants, takes a modern approach in the pursuit of new flavours through an understanding of the make-up of plants to create innovative, memorable cocktails and new experiences. Appearing on the new menu is the King Pig Sour, a rich yet sour cocktails providing the ultimate post work pick me up.
Where: 20 Upper Ground, South Bank, London SE1 9PD
3. For Peruvian Cocktails: Chotto Matte 
Drink: Lima Old Fashioned – Banana infused Diplomatico Mantuano rum, honey, orange blossom, poured over chocolate ice block (£12)
The Run-Down: Chotto Matte is a Japanese-meets-Peruvian restaurant with grill and sushi bar in Soho, which fuses traditional clean lines with a grungy Tokyo-style. You can come here for the cocktails alone and make a night of it. The delicious cocktails are on the fruity side, with a Japanese twist – there's lots of sake, Asian spirits and exotic fruit involved.
Where: 11 – 13 Frith St, Soho, London W1D 4RB
4. For a Rum Pop-Up: Diplomático Palm Terrace at The Bloomsbury Club Bar 
Drink: Ron y Cola – Diplomático Planas, Prosecco, reduction of Coke and vanilla syrup, and lime juice (£12)
The Run-Down: Venture through a palm-leafed canopy to discover a fern-lined cocktail terrace complete with its own Diplomático bar and vintage travel artefacts, before sussing out the cocktail menu. Lock your lips around the Frozen Dauqiri – a cooling blend of Diplomático Planas, fresh lime and cane sugar, or the Ron Y Cola – a recreation of one of the simplest drinks (we've been calling it a posh rum and coke), Diplomático Planas brings new depth and character to this all-time favourite.
Where: The Bloomsbury Club Bar, 16-22 Great Russell Street, London WC1B 3NN
5. For Weird and Wonderful Cocktails: The Cocktail Trading Company 
Drink: Uppercut – CUT Overproof Rum, Fernet, maple syrup and garnished with an orange twist (£9.50)
The Run-Down: This serious cocktail bar offers a range of classics and new creations, all created by some of the friendliest mixologists in London. The cocktails are weird and wacky, but in the best possible way – and the soundtrack is mega too. Bathe your ears in classic rock, RnB, 80s and pop hits. Book ahead to guarantee a table, and make a beeline for the Uppercut, a sweet/smokey mix of rum and maple syrup.
Where: 68 Bethnal Green Rd, London E1 6GQ
6. For a Hidden Gem: Every Cloud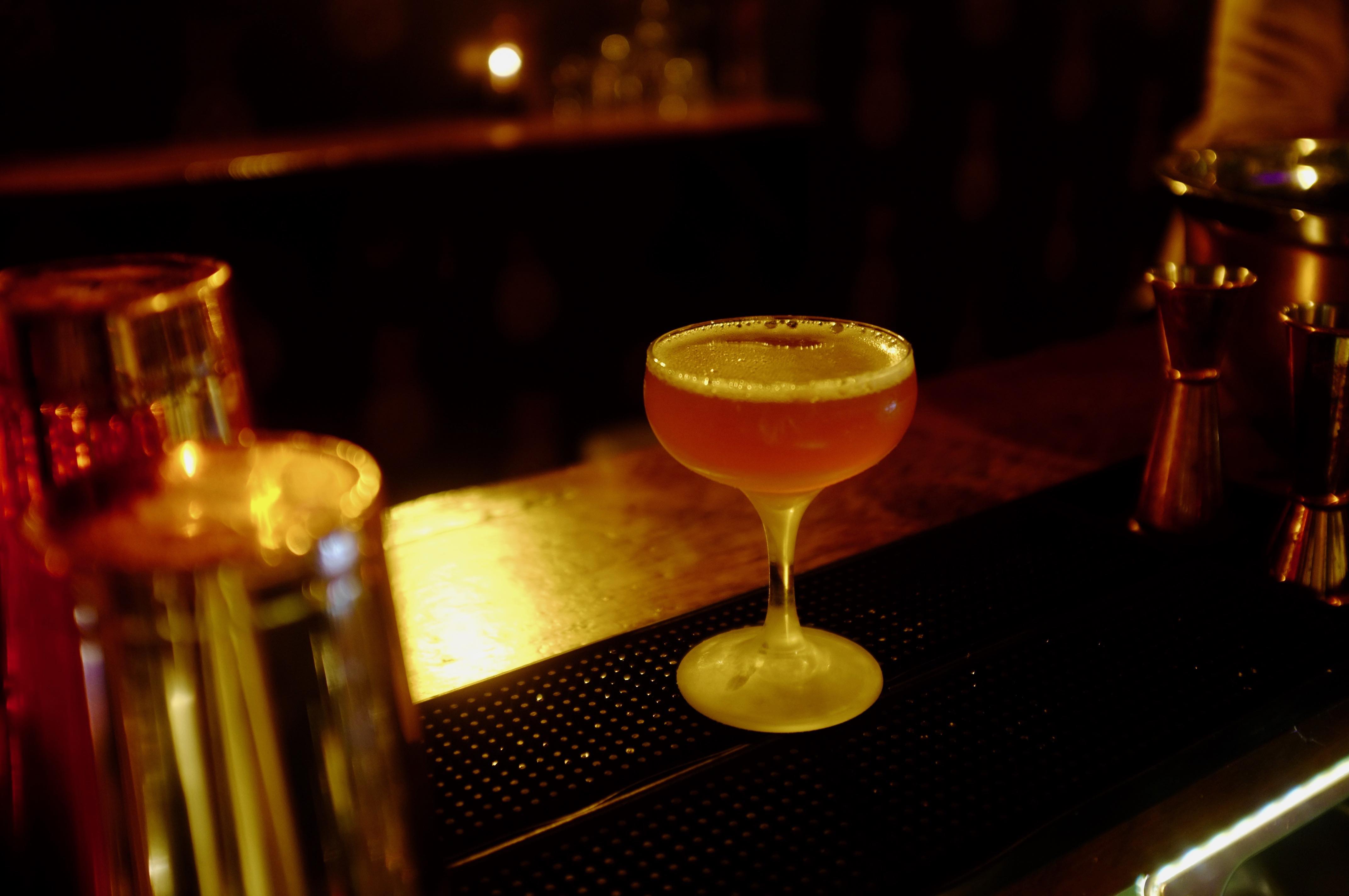 Drink: Champagne Daquiri – White rum, fresh lime juice and Champagne (£9)

The Run-Down: Sister bar to the Silver Lining restaurant next door, Every Cloud is a stripped back, come-as-you-are bar, a stone's throw from Hackney Central overground. A tiny bar with a few smattering of seats and places to stand, the cocktail lists features off-the-wall and wonderful serves like their insanely tasty Five Go to Mexico (fanning yourself with a Panama hat by the side of a pool amidst the heat of the South American sun, type cocktail). Nothing beats their Champagne Daiquiri though – two words colliding to create one beautiful drink.
Where: 11A Morning Ln, London E9 6ND
7. For Sustainable Cocktails: Scout 
Drink: Up The Anti – Hay Distilled Bacardi, Wood Ant and Cheddar Glenfiddich IPA Cherry Bark (£12)
The Run-Down: One of the most interesting cocktail menus in London by a country mile, Scout's ethos of sustainability runs right through the menu. With a focus on minimal waste, Scout ensures all of their cocktails showcases how incredible the produce from the British isles really is. Taking cocktails to the next level, expect foraged ingredients to house ferments, and a zero waste food offering
Where: 93 Great Eastern St, London EC2A 3JD
8. For Amazing Cocktails: Night Jar 
Drink: Elixir – Bank's Rum 5yo, Marcenegra Mezcal Espadin, Clarified Root Milk (Turmeric, Zedoray, Astragalus & Burdock (£14)
The Run-Down: If you don't know about Night Jar, get 2 know. Located on the fringes of east London, Night Jar is a feast for the senses; the decor is beautiful, the cocktails are incredible, and they have live jazz and blues on certain nights. The menu is split into different eras around prohibition, and whatever you choose, the cocktails are always beautifully presented. Visit, but make sure you book ahead as they have a no standing policy.
Where: 129 City Rd, London EC1V 1JB
9. For Vintage Cocktails: Bobby Fitzpatrick
Drink: Blake Swizzle – Chilli-spiced rum, triple sec, lime, sugar and sweet vanilla (£8)
The Run-Down: The characterful and unapologetically retro bar Bobby Fitzpatrick's in West Hampstead has rum and cocktails at its core alongside playful pizza offerings and small pates. The drinks list features an extensive selection of white, golden and dark rums inspired by Bobby's travels in The Caribbean. The Blake Swizzle will whisk you back to the summer of love as it delicately balances chilli-spiced rum with triple sec, lime, sugar and sweet vanilla.
Where: 273 West End Ln, London NW6 1QS
10. For Sky High Views: Social 24 
Drink: Shard – Bacardi Heritage, lime, watermelon, passion fruit, Skeforde rum mixer and Mojito grani (£12)
The Run-Down: You can't beat cocktails with a side of some of the best views in London. Social 24 is the bar in Jason Atherton's Michelin-starred City Social – think art deco style interiors, a stunning backdrop of the London skyline and inventive cocktails. Having recently relaunched with a new drink and food offering, try the Shard, inspired by the panoramic views from the bar – the cocktail is long, light and fruity.
Where: 25 Old Broad St, London EC2N 1HQ