"What you see before you, my friend, is the result of a lifetime of chocolate." 
– Katharine Hepburn
It's the week you've all been waiting for: loosen those belt buckles, switch off your mobile phone and grab your best friends, because this week is all about enjoying the sweet life. There's lots of fantastic chocolate events in the capital, but we know time is precious – so here's our pick of the best:
1. Chocolate and Wine Masterclass at Vinopolis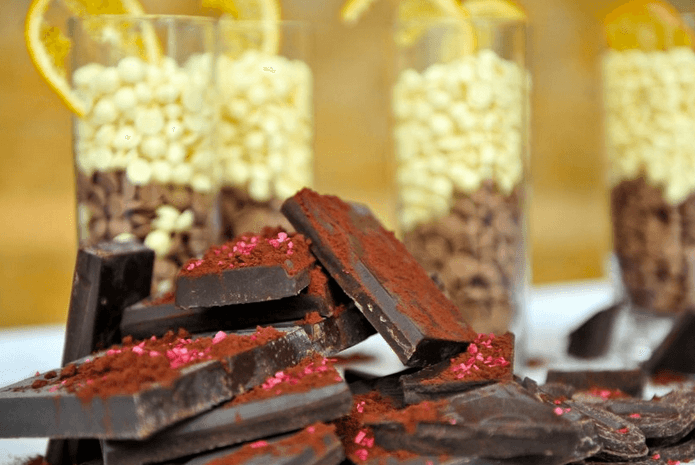 What: As the saying goes, chocolate and wine is always fine. In this hour and a half evening session, you will get to explore six incredible chocolates, matched with 6 hand-picked wines and champagne by Vinopolis' expert buffs. The chocolates sampled are simply to die for – and the experts will help you identify the flavours and subtle differences in both the wines and the chocolates, demonstrating why some matches work and why some don't. Heaven.
Price: £40 – book here
2. Pop-Up Chocolate Cafe at Hotel Cafe Royal
What: To celebrate Chocolate Week, the cafe at Hotel Cafe Royal on Regent Street has devised a special cocoa-centric menu and it's damn beautiful. Think window displays with chocolate sculptures, three new flavours of macaroons, and chocolate cocktails. There's also special Circle Lait chocolate torte, Mint and Chocolate Chip shortbread, Choctoria Sponge and Terracotta Union Cake available throughout the week. We'll be having a Milky Bar macaron, made using Valrhona's intense sweet chocolate, if you're wondering.
Price: From £8
3. Chocolate Ecstasy Tours of London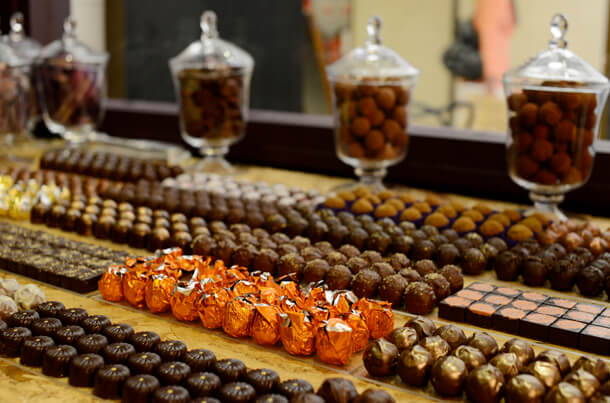 What: If you're looking for a quirky experience, try one of these fantastic tours of London. Choose between the Mayfair, Chelsea or Notting Hill tour, and enjoy the intimate guided group setting. The Chocolate Ecstasy Tours were set up to experience London in a different way and spoil you with chocolate box chocolates – truffles, pralines, caramels and creams. Each tour is personal and intimate; for example, the Chelsea Chocolate Tour finishes with a sit-down mini chocolate tasting that includes samples of chocolate bars of different percentages and different origins to kick off your chocolate education. The best kind of education, we say.
Price: £40 per person, including all tastings – book here
4. Akesson's Chocolate Talk in Notting Hill
What: If you're interested in the process behind the product, come hear Bertil Akesson, founder of Akesson's, speak about his experiences as a bean-to-bar chocolate producer and to taste some of his highly-awarded chocolate bar range. Akesson is one of the leading bean to bar producers in the artisanal industry – with ethical products carefully sourced from some of the best farms around the world. Guests will participate in a tasting trying 5 of Akesson's bars, too. We're sold. 
Price: Free – reserve a place by emailing natalia@alexeevajones.com
5. The Chocolate Show at Olympia
What: Of course, this is the ultimate ending to a week of chocolate indulgence. Taking place 17-19th October, The Chocolate Show brings the world's best chocolatiers under one roof, with tastings, workshops and shopping. There will be cookery demonstrations by Paul A. Young and Ed Kimbers, chocolate-making sessions for kids and talks by some of the best chocolate brands around. Don't miss the whisky and chocolate sessions on Friday and Sunday held by Rococo Chocolate's Sam Smallman.
Price: £15 on the door and £12.50 in advance – book here