Need some gin-spiration for Mother's Day? We've got it sorted. Our ultimate gin gift guide features 20 of the finest gins – from flavoured to award-winning gins, and not forgetting the classic variety – there's a drink here for every mum. Happy sipping:
The Lowdown: For the sophisticated mum, look to Salcombe Gin's Rosé Sainte Marie for the ideal present. Inspired by the flavours, aromas and lifestyle of the Mediterranean coast, Rosé Sainte Marie pays homage to the 'Sainte Marie' lighthouse, in the Old Port of Marseille.  The award-winning delicate, fresh flavours of the gin emulate qualities of a dry rosé wine, and is purposefully dry – ideal enjoyed with a wedge of lemon and a splash of tonic.
Perfect For: Mums wanting a touch of class.
Where: Buy online, £39.95
The Lowdown: In a packed gin market, Pink Marmalade Gin stands out from the crowd thanks to their 100% natural, colour-changing premium gin. When a tonic is added, the gin undergoes a magical colour change from a cool blue to a rose pink in a theatrical flourish that is followed by a unique and complex flavour. For a gift set with all the bells and whistles, the G&T package features a 50cl bottle of Pink Marmalade Gin, and 5 cans of Fever Tree Refreshingly Light Tonic.
Perfect For: Mums that love surprises.
Where: Buy online, £32 (for G&T Package)
The Lowdown: Seven Hills Gin is a piece of Italy in a bottle. Distilled in Moncalieri, near Turin in the historic distillery of Torino Distillati, years of culture and heritage are distilled into each bottle of the multi-award winning Seven Hills Gin. With ideas handed down from one generation to the next, the unique taste of Seven Hills is created using the seven high-quality, key ingredients of Pomegranate, Rose Hip, Juniper, Roman Camomile, Blood Orange, Artichoke and Celery hand-chosen by a Master Herbalist. Now this is what you call a versatile gin. 
Perfect For: A mum that lives La Dolce Vita.
Where: Buy online, £25.95
The Lowdown: G'Vine's gin is completely different from anything your mum would have tasted. Why? Instead of using grain such as wheat and barley, this gin is made with grapes which results in a more fresh, smooth and rounded taste. The G'Vine June comes in a Wild Peach flavour – delicious as a liqueur, with tonic or can be made into a cocktail.
Perfect For: Mums who like flavoured gins.
Where: Buy online, £27.95
The Lowdown: Four Pillars Bloody Shiraz Gin has become something of a global phenomenon since it was first created in Australia's Yarra Valley in 2015. The result of an experiment-gone-right, this gin is what happens when you mix Four Pillars Rare Dry Gin with the finest Victorian cool climate shiraz grapes. No additional sugar, colourings or flavours are added, just bloody good gin and bloody delicious shiraz grapes.
Perfect For: Mums who can't resist a vino.
Where: Buy online, £35
The Lowdown: Silent Pool's signature gin features 24 botanicals carefully chosen for their uniqueness. Highly drinkable, boasting subtle flavours and a delicate finish, this gin is smooth (achieved with the help of local honey) with just the right amount of sweetness. Serve with a generous handful of ice, a dash of tonic, and a twist of orange peel to garnish.
Perfect For: Mums who perfect floral tasting gins.
Where: Buy online, £37
The Lowdown: Longtooth's four new gins have a legacy that stretches back to the swinging sixties, the decade of cool – distilled from and epitomised in their heritage brand, Bengal Gin. With 12 ethically sourced botanicals on a classic juniper base, the result is supremely smooth and dry, perfect for knockout G&Ts and Martinis. Longtooth Gin maintains a commitment to tiger conservation and the preservation of their habitats. 10% of profits go to WWF's crucial work.
Perfect For: Mums wanting to try something new.
Where: Buy online, £36
The Lowdown: Merging the best of classic and contemporary botanical distilling, Porter's is just the ticket for G&T loving mums. The new expression, Orchard, pays homage to the flavour profile of great-tasting French wines, in particular, Blanc De Blanc champagne. An excellent gin to have for a fancy French 75 cocktail or a more elegantly advanced G&T.
Perfect For: Mums who enjoy the finer things in life.
Where: Buy online, £34.25
The Lowdown: For the classic gin lover, Burleighs Signature London Dry Gin is the distillery's signature bottle, with 11 carefully selected botanicals including silver birch, dandelion, burdock and elderberries. A smooth and balanced gin, there's earthy, spicy and floral notes – a great gin for a classic G&T and best served with a twist of orange zest or a wedge of fresh grapefruit.
Perfect For: The purist gin drinkers.
Where: Buy online, £32.50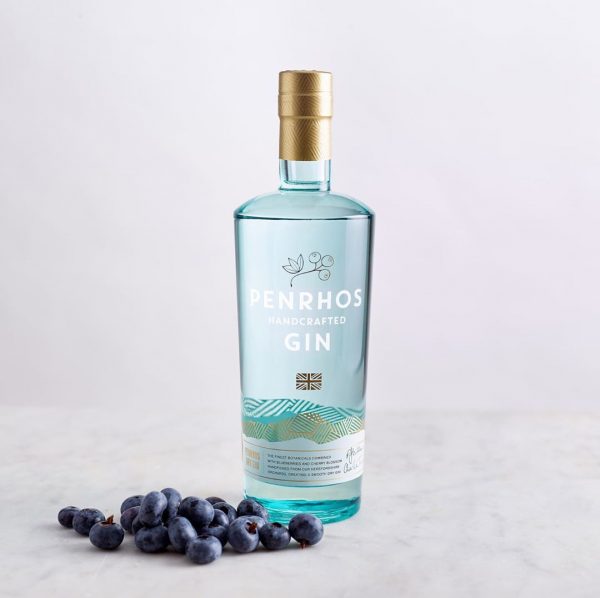 The Lowdown: Penrhos Spirits are crafted using fresh, wibbly wobbly fruit from the Penrhos farm, which would otherwise be discarded, and are then mixed with specially selected botanicals. Penrhos' London Dry is a true classic; their own blueberries, cherry blossom and honey are combined with subtle flavours of pink pepper, cardamom and rose petals from the garden to create an extremely smooth fresh and pure gin.
Perfect For: Mums who want their five-a-day (kinda)
Where: Buy online, £34
The Lowdown: Treat mum to a personal gift, with an engraved bottle of Bombay Sapphire with a message of your choice. This Bombay Bramble is a bold new creative expression of gin, bursting with natural flavours of blackberries and raspberries. A highly drinkable, light gin perfect for the spring months.
Perfect For: Mums who like a fresh take on a classic.
Where: Buy online, £32.99
The Lowdown: Hayman's London Dry Gin is produced to a family recipe (over 150 years, if you're wondering). These days, this gin is produced in London, only four miles from where the company was founded all those years ago. The London Dry, Old Tom, and Sloe Gin come readily available in beautifully gift-wrapped bottles – an elegant gift for gin aficionados.
Perfect For: Mums who like their gin smooth and understated.
Where: Buy online, £28
The Lowdown: Known for premium and industry-changing flavours, Zymurgorium is most notable for being the first registered gin distillery in Manchester. Daring to boldly go where no distillery has before, after months of secret development, Zymurgorium's Yard of Gin stands proud at 3 feet tall, a towering assorted gift creation of 12 gins and gin liqueurs. There's everything here – Manchester Marmalade, Choc-o-Bloc, Sloe Gin, Sweet Violet, Turkish delight and Fruit Salad Gin liqueurs.
Perfect For: Mums who have a sweet tooth.
Where: Buy online, £50
The Lowdown: Elephant Gin is an award-winning, incredibly delicious gin of such high quality that it's excellent sipped on its own. Inspired by the traditional sundowner experience after a day out in the African bush, Elephant Gin is produced for wildlife adventurers and urban explorers alike. Founders Tessa and Robin Gerlach created the brand as a means of raising money for a cause close to their hearts, African elephant conservation, giving 15% of their proceeds to elephant protection to help ensure that these beautiful creatures survive and thrive for many generations to come.
Perfect For: Mums who like their gin on the rocks.
Where: Buy online, £36
The Lowdown: Cotton Gin is an homage to the beautiful surroundings and countryside of the Yorkshire Dales. Lovingly crafted using the finest botanicals: Yorkshire Watercress, English Coriander, hand-foraged local spruce, rowan berries, nettle leaves and mint make for a fragrant and herbaceous gin. Cotton Gin will instantly transport you to a sunny English garden and rolling green meadows.
Perfect For: Mums who prefer their gin on the lighter side.
Where: Buy online, £59.95
The Lowdown: TW Kempton's latest addition to their range of gin liqueurs, Strawberries and Cream, adds a fun new flavour twist just in time for Mother's Day. The limited-edition flavour nods to quintessentially British flavours and sitting watching Wimbledon on the box. If your mum is more adventurous with her gin choices, the Palma Violets flavour is a lovely liqueur with a heavy nostalgic hit.
Perfect For: Mums who prefer their desserts in liquid form.
Where: Tesco, £9.99
The Lowdown: If your mum's favourite tipple is a G&T, try it with O'ndina Gin. This is a  premium Italian gin full of Mediterranean flavours, including the sweet Grande Verde de Genova basil from Liguria, Sicilian lemons and notes of notes of juniper, marjoram, fennel, sage, orris, and liquorice. Bringing the Italian Riviera to your mum's doorstep this Mother's Day. 
Perfect For: Mums who prefer their G&T with a slice of sunshine.
Where: Buy online, £29
The Lowdown: No.3 and luxury London florist Wildabout have partnered to offer a one-of-a-kind bouquet featuring a beautiful arrangement of rosemary, mint, lavender, sage and thyme, alongside mimosa and narcissus bridal crown flowers. can hand-pick their favourite herbs to garnish their own No.3 Gin cocktails. From a classic G&T to the zesty, stylish South Side, the No.3 x Wildabout bouquet also includes a recipe card to inspire mums' inner bartender and help create the perfect gin drinking experience.
Perfect For: Mums who enjoy both blooms and botanicals.
Where: Buy online, £85
The Lowdown: If you're searching for something beyond the realms of normality, delve into Hendricks' Cabinet of Curiosities this Mother's Day and take her to new heights – heights as high as the moon – with a delectable bottle of Hendrick's Lunar Gin. Conceived under the celestial light of the moon by Master Distiller Ms. Lesley Gracie, Hendrick's Lunar Gin has a mellow spice flavour with a subtle citrus finish. An intriguing balance of Hendrick's floral notes with richly aromatic scents and just a hint of citrus.
Perfect For: Mums prefer a unique and interesting gin.
Where: Sainsbury's, £35
The Lowdown: Wonderfully novel and super cute, Gin in a Tin's miniature 35ml tins are full of deliciously crafted gin and are letterbox friendly (an ideal gift to send if you're away from your mum this Mother's Day). Blends feature the likes of Pomegranate, Rasberry and Cardamon; Fennel, Lemon and Thyme; and Pumpkin, Orange Peel and Nutmeg.
Perfect For: Mums who like a G&T on the go.
Where: Buy online, £20