Everyone's got 'their place'. You know the one; your little secret restaurant, reserved for only best friends, special occasions or highly eligible suitors. You'd only take someone there if you really liked them, or really wanted to impress them, because it holds a special place in your heart.
Mele e Pere is our 'place'. My best friend and I talk about it with almost religious fervour – we actually have to get each other's permission to take a date there. We keep the place safe, scared, reserving the Brewer Street restaurant only for very special days.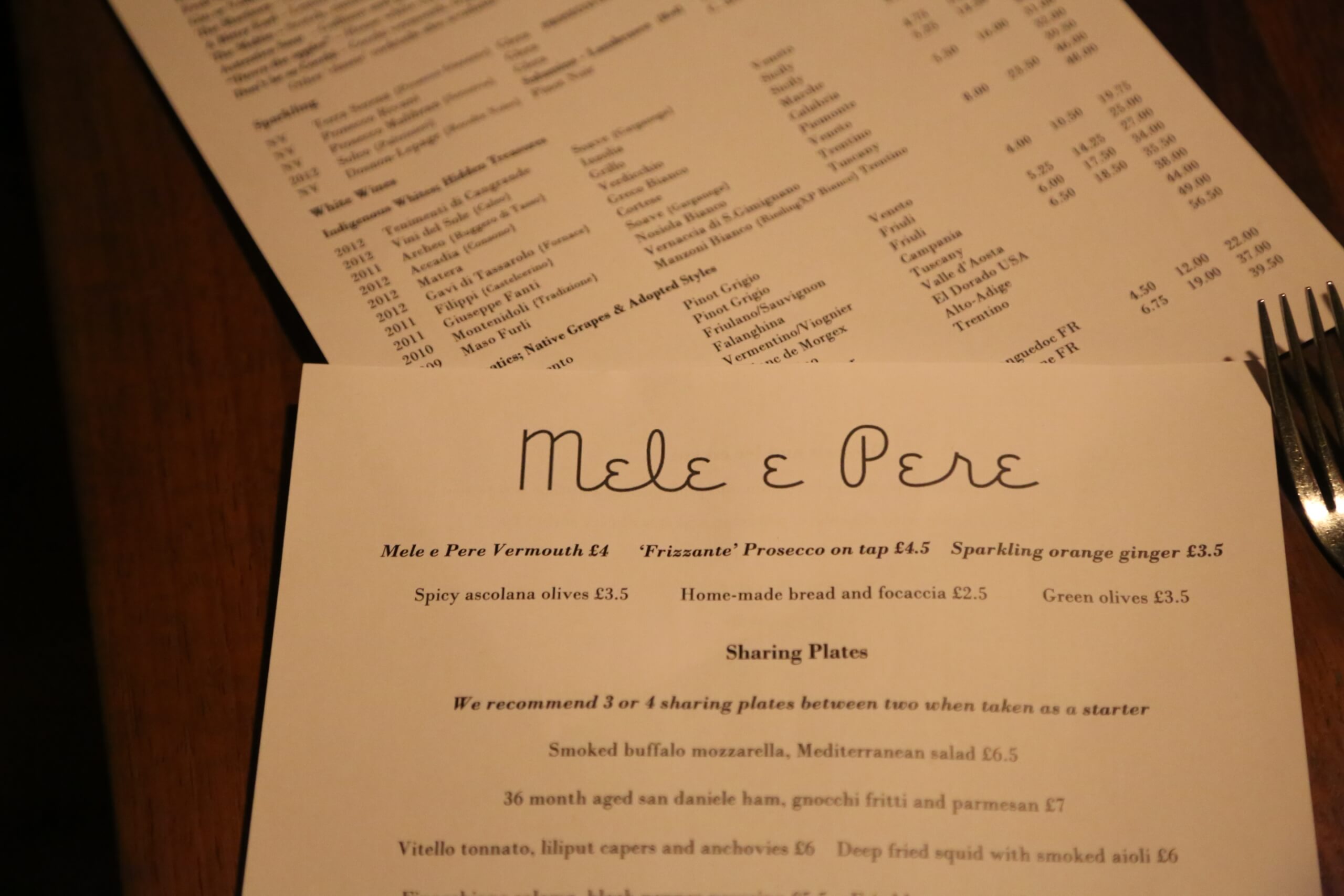 Perhaps it's because the owner, Peter, knows us by name, or because the low-lit basement restaurant with its traditional Italian trattoria-feel and exquisite homemade vermouth is always just the right amount of busy (a quiet din, I'd say, always full of intimate groups and warmth, but never too loud or buzzy), but it's one place we will always come back to. If you haven't been, we think it's about time you did. Here's what you need to know:
Mele e Pere: The Food
You start, as all good love stories begin, with a glass of New Zealand white and some deep-fried olives. Warm, breadcrumbed green olives, stuffed with red pimento, they are light, salty and to die for.
The menu is designed to be shared; you can choose from 3-4 sharing plates for a starter, small plates of pasta, or larger mains. In true Italian style, go for all three. We begin with a selection of small plates; smoked Buffalo mozzarella, Vinatello tonnato, grilled King Prawns and chicken livers, all priced around the £7 mark. The liver is a beautiful plateful; adorned with edible flowers, micro herbs and a sticky, sweet pear jus, the accompaniments cut through the iron rich pate perfectly.
Vinatello is a traditional Italian dish; wafer-thin slivers of veal meat, peppered with salty capers, sundried tomatoes, cress and, tuna. Yes, tuna. But it works – salty, fishy, light, it's lovely.
The king prawns are served with a paella-like yellow rice, peppered with fresh squid, which is pimped up with the unusual addition of juicy sultanas – it's a quiet, confident touch of a well-versed chef that we just love. The mozzarella is a little dissapointing; a tad tough, we were hoping for a more Burrata-like consitency, but it's still photogenic and we forget our thoughts as we pop more deep-fried olives into our gobs.
We opt for a pasta feast for mains; our trio includes our favourite truffle gnocchi, adorned with generous shavings of black truffle and a sprinkling of parmesan, a tomato spaghetti with spicy sausage meat, edamame beans and cherry tomatoes, and a deliciously different fish ravioli, filled with a fish puree, topped with seaweed.
As usual, the cloud-like gnocchi leaves us licking our spoons with joy, the rich, buttery sauce oozing off the light potato pillows. The ravioli is too odd for Claude to handle, but I love it; it's got an ocean-fresh fishy taste, complimented with the salty seaweed, fresh squid and octopus, and fresh chilli. It's weird and I want it again and again.
Mele e Pere: The Sweet Stuff 
We end how the best nights in London end; with pistachio ice cream (nutty, almost savoury, never overly sweet) straight from their kitchen. Of course, in the name of investigative journalism, we order a further two desserts – the lemon pudding, which is the size of our faces, and a refashioned ricotta cheesecake, piped inside a pastry case, with fresh strawberries. We forget about the cheesecake quite quickly as Mele's lemon pudding – a sensual, erotic affair of warm, melting marshmallow, just piped, sitting atop a layer of zingy lemon curd and, wait for it, lychee ice cream – is one of the finest things you'll eat in London. Forget everything else if you need (although I wouldn't) and go for the lemon pudding alone.
If you've found that special someone and you want to let them into your world, take them to Mele. Ask for Peter, say Jelly said to order the lemon pudding, and get lost in a bowl full of heaven. Then order some olives and start the whole thing all over again.
Mele is at 46 Brewer St, Soho, London W1F 9TF
Call: 0207 096 2096
Email: info@meleepere.co.uk