What a delicious week in London, here's 5 things you need to eat in the capital…
1. For the Gourmand: A Portugese Feast at Texture
What: Taste Portugal and Texture Restaurant have joined forces for a unique evening of Portuguese culinary delights on Monday, 23 February 2015. The six course menu will be created by Texture's very own Agnar Sverrisson together with Ricardo Costa, one of Portugal's most highly acclaimed chefs.
Why:: Each dish from the menu will be alternately prepared by the two chefs, each priding themselves on the freshness of their exquisite ingredients – freshness and quality of produce being key in traditional Portuguese cuisine. Think: Norwegian King Crab with coconut, ginger, lime leaf, lemongrass and roasted cod with corn bread crumble, plus Portuguese Cottage Cheese with pumpkin jam and cinnamon. There's also wine from Wines of Portugal – chosen by Antonio Lopes, wine master at Conrad Algarve.
Price: £160 per head – email reservations@tasteportugal-london.com to book
What: The team behind Shoreditch Grind and Soho Grind have just opened their new flagship – London Grind. Their largest opening to date, London Grind sits riverside at the iconic address of 2 London Bridge – it's an all day and late night Espresso Bar, Kitchen and Cocktail Bar on the iconic London Bridge, next door to Borough Market. An awesome atmosphere and a really great menu; pop down for a soya latte, we say.
Why: London Grind marks the group's first foray into proper food – the all-day menu features healthy treats like Poached Eggs with Quinoa and Datterini Tomatoes, and One-pan Eggs with Baby Spinach and Pistachio, whilst at breakfast time you can find treats like banana bread with creme fraiche and porridge with coconut milk and agave. Healthy, like. London Grind makes its tribute to the city with its focus on gin – offering a carefully curated gin tasting list – served Pink, Collins or with Tonic, and each paired with a bespoke garnish.
Where: 2 London Bridge, SE1 9RA
What: The Trouble Club, the iconic women's members club founded by Joy Lo Dico, Londoners Diary Editor for the Evening Standard, will be opening its doors this week in Kingly Court, London's newest three storey food hub, just off Carnaby Street. The Trouble Club's mission is to flip the usual gender balances and be a noisy, opinionated, troublesome bunch. The Trouble Club will be open during the day as a workspace for its members from 10am – 6pm Monday to Friday.
Why: With a bar, free wifi and a great view of the courtyard, The Trouble Club is the ideal quiet and productive workspace for members. Entry level membership for The Trouble Club runs on a rolling cost of £10 per month, which is redeemable against an event or workspace. Make a night of it and try one of the fantastic restaurants in Kingly Court – read about them here.
Where: here
4. For the Culture Vulture: Snaps + Rye
What: Contemporary Danish eatery Snaps + Rye has just announced the launch of Kultur/Mad – a new series of cultural and culinary events starting on Thursday 12 March 2015. From celebrating Nordic culinary tradition with Valentine Warner to delving into the psyche of the 'World's Happiest Nation', the series is based on unique, individual concepts, inspired by aspects of Scandinavian life. And there's great food, too.
Why: The Kultur/Mad series will kick off with 'Valentine Warner Cooks Scandinavia', a pan-Nordic supper club hosted by Valentine Warner on 23 April 2015. There's also 'The Evening of Living Danishly' on 9 April 2015, a literary salon with author and journalist Helen Russell, and 'Eat, Drink and Be Hyggelig', a wine-pairing evening led by Swedish sommelier Christina Larsson on 12 March 2015.
Where: 93 Golborne Road, London, W10 5NL
Price: Tickets cost from £20 per person and are available to buy via email at eat@snapsandrye.com or by telephone on 020 8964 3004.
5. For the Healthista: Dinner at Hally's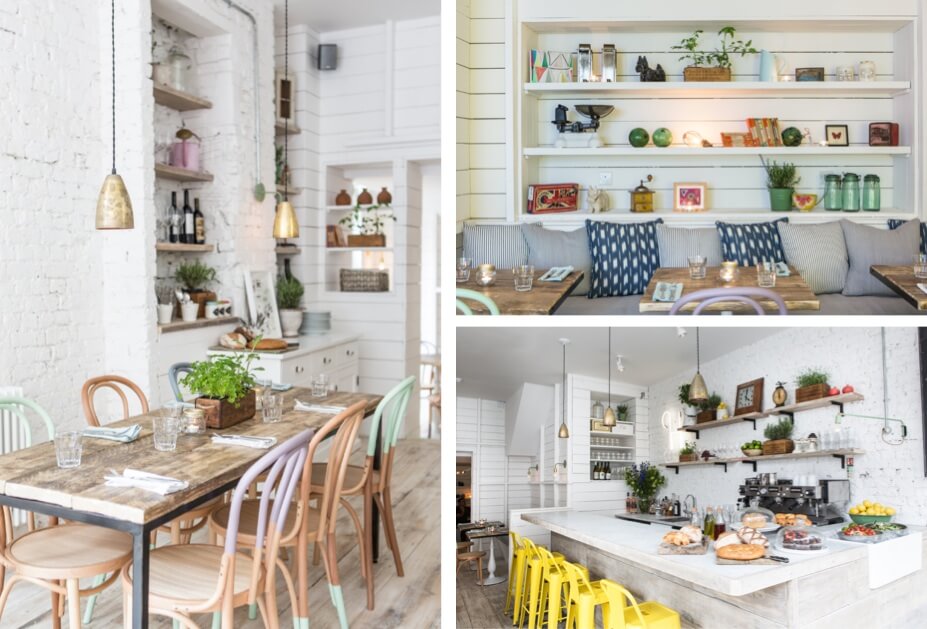 What: Hally's, the Californian-inspired hangout and popular brunch spot in Parson's Green, has just launched Dinner at Hally's. Every Thursday and Friday the charming local restaurant will dim its lights, bring out a boutique wine and cocktail list and encourage Londoners to indulge with food and friends over a weekly-changing menu of fresh, seasonal eat.
Why: The menu by the brand new Head Chef includes Homebaked treacle soda bread, Seabass ceviche, Truffled Cauliflower soup, Beetroot & orange salad with candied walnuts and goats curd, and mains of Homemade parmesan gnocchi, Rib eye steak and Pan fried cod with a Portuguese sauce of Cannellini and broad beans. For dessert there's some of the most refreshing homemade sorbets you will ever taste, Tarte tartin to share and a Chocolate torte with honeycomb and creme fraiche.
Don't Miss: Anna Halliday, co-founder of Hally's, also recently launched sister site spin-off Little H, across the road, to great receiption. A treasure trove for healthy food lovers, Little H serves vegan bircher breakfast pots, superfood lunch salads, healthy snacks and juices, to bring a dose of happy and healthy in equal measure.
Where: 60 New King's Road, London, SW6 4LS