For many of us London fashion week will be broken down into Daily Mail sized chunks, to be digested al-desco. We will be checking out Harry Style's new tattoos, as he flirts his way through the front row, seething with jealousy that Kate Moss looks better than ever at 40. Furious scrolling will ensue as we hunt down this season's prints on ASOS, and battle to stay away from the office biscuit tin.
Come Six O'clock 'Gin & Slims' will be the order of the day, prepping your size 10 self for squeezing into the size 8 dress on order. Time will fly and post-work sharpeners will quickly turn into a liquid dinner, followed by waking up naked, with only a chip packet for company.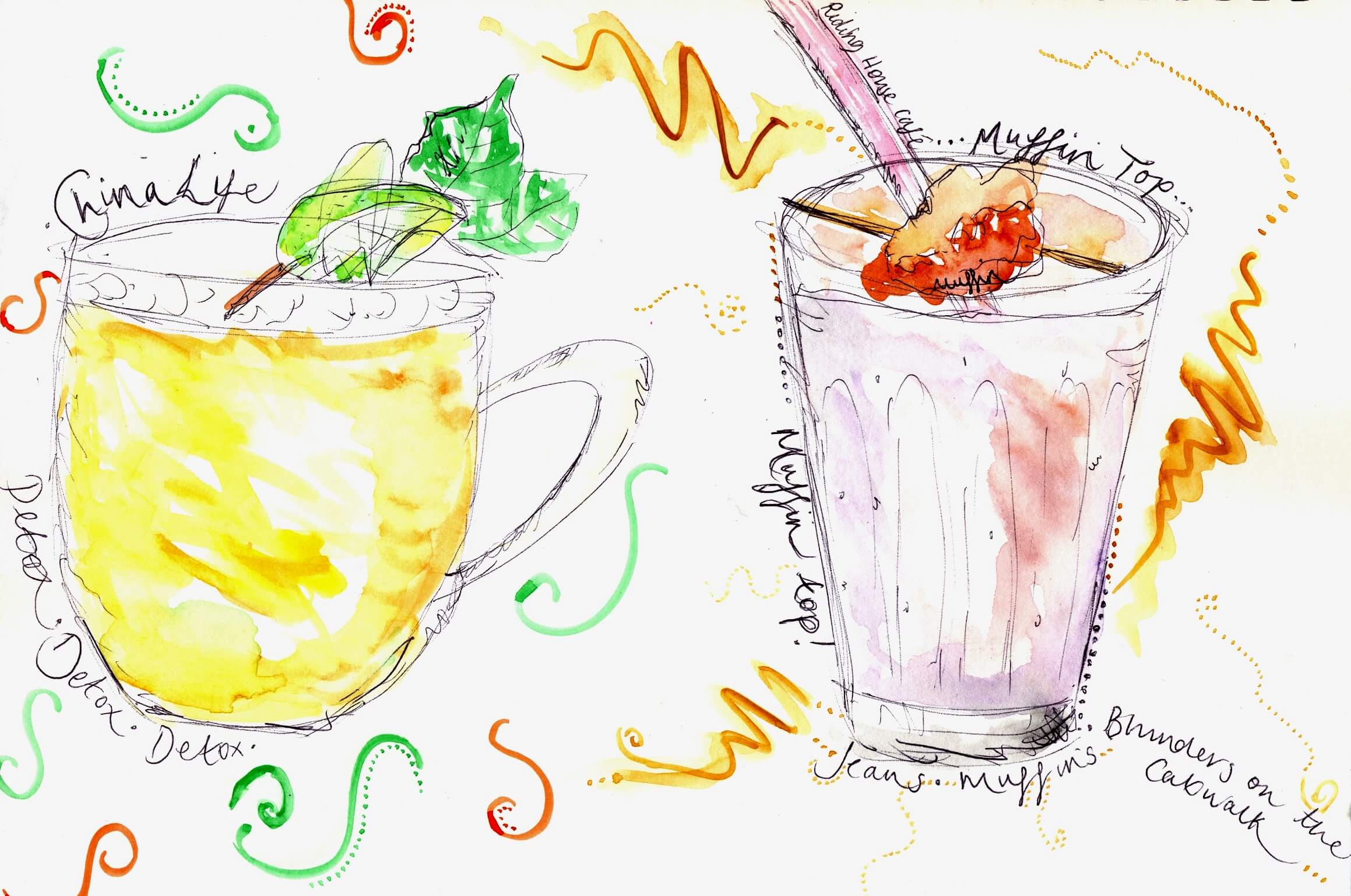 For others LFW will be all about seven inch Manolo's, tote handbags and air kisses. These are the sugar-free, gluten free and dairy intolerant set, who will get through the week assisted by black coffee, chewing gum and celery juice. This year, it is time for the skinnies and high-street chicks to unite. LFW is a gift to all those craving sipping spots, for savoring some spare time away from the computer screen or the catwalk.
Whether you are heading off early to the FW shows, or need a pick-me-up as Autumn creeps up, head to Brew Cafe. Start sipping early with a 'Dolce & Banana' smoothie, packed full of banana, coconut and honey. For a more refreshing antioxidant zap, grab the 'Pear Cardin' made with pear, ginger and pineapple juice. *If you need something a little more solid in your stomach Brew's homemade granola, roasted plums, hung yoghurt and honey is mouth watering power for your body.
Brew is @ Wandsworth, Battersea and Wimbledon.
Mid-show boozing @ The Rib Room
Steal a few minutes between Alice Temperley and Anya Hindmarch for a mid-afternoon libation at the Rib Room, Knightsbridge. From 11am, escape the paps and kick off your Jimmy Choos. We are totally smitten with 'She's got it' (Bombay Sapphire, Deviation Sweet Wine, Jasmine Tea, Elderflower & Peach bitters). Or be diva and challenge the bartender to concoct your own bespoke cocktail- it might just be next season's must have!
Be sure to check out an evening with designer Donna Ida Thornton (6:30pm-8:30pm, 30th September) to discover the secret behind a pair of perfectly fitting jeans. Tickets @ £45, which includes drinks and canapes available here.
The Rib Room, Jumeirah Carlton Tower, Cadogan Place, London, SW1X 9PY
Pit-Stop Lunch & Cocktail Boxes @ NOBU
If you're feeling a little light headed and the cigarette/packet of chewing gum combination will no longer suffice, head to Nobu- the restaurant in control of all things glam. Just in time for LFW, the Mayfair restaurant has launched exclusive picnic boxes, which come with the liquid refreshment of various cocktails and juices to-go.
Each two man tarted-up takeaway contains four bento boxes, stuffed full of Nobu's finest grub. This season's way to aggravate a few fashion show frenemies, and clear a little space on the front row. A box for two costs £100 + £17/ cocktail.
Nobu is @ Berkeley Street, London, W1J 8DY.
Artesian is the Kate Moss of Bars- seamless, forever loved by the camera and pushing boundaries year-on-year. Recently crowned the best bar in the world, Artesian launches its new cocktail collection just in time for LFW. The new concoctions are set to tantalise, mixing everything from parsnip to leather. Do not be perturbed by the wacky ingredients, this sensory safari is guaranteed to be something of delectable wizardry. During LFW it seems only fitting to sip the 'Digidiva' (admittedly more Naomi Campbell than Kate), in it's hand-blown cuboid glass.
Artesian is @ The Langham Hotel, 1c Portland Place, W1B 1JA- a stones through away from the bustle of Oxford circus.
24 hr 'Healthy' Drinking @ Duck and Waffle
After a long night on the dance floor a wise woman once said; 'my head's saying yes, but my feet say no'. Whether you have been tottering around the shows, or tearing up the after parties, you may never want the night to ever end. Take a weight off at the Duck & Waffle, London's infamous 24 hour restaurant.
Situated 40 floors up, this establishment caters for all gazeboed party-goers. If you are feeling a little flush, or the alcohol flush has sapped your inhibitions grab a 'Mind your P's and Q's' cocktail… minted green pea & Bombay Sapphire, with chicory tonic- virtuously model like and basically one of your five a day. You will probably sneak into the chippy on the way home, so make your boyfriend order 'The Duck and Waffle', ask for a fork, and then eat it all- waffles, with a slab of duck confit, fried duck egg and maple syrup.
The Duck and Waffle is @ Heron Tower, Bishopgate, EC2N 4AY
Caffienation @ Shoreditch Grind
After a heavy night, a caffeine boost and sporting your sunglasses on the tube will be a must. Coffee by day and coffee cocktails by night, Shoreditch Grind has got it sussed. Try their exquisite seasonal coffee blends, which are expertly filtered and frothed. For a little hair of the dog, their espresso martini's are not to be missed.
Keep your eyes peeled, we are patiently waiting to see which LFW motto will be stamped across Grind's old-school cinema sign.
Shoreditch Grind is @ 213 Old Street, London, EC1V 9NR (also in Soho and Piccadilly)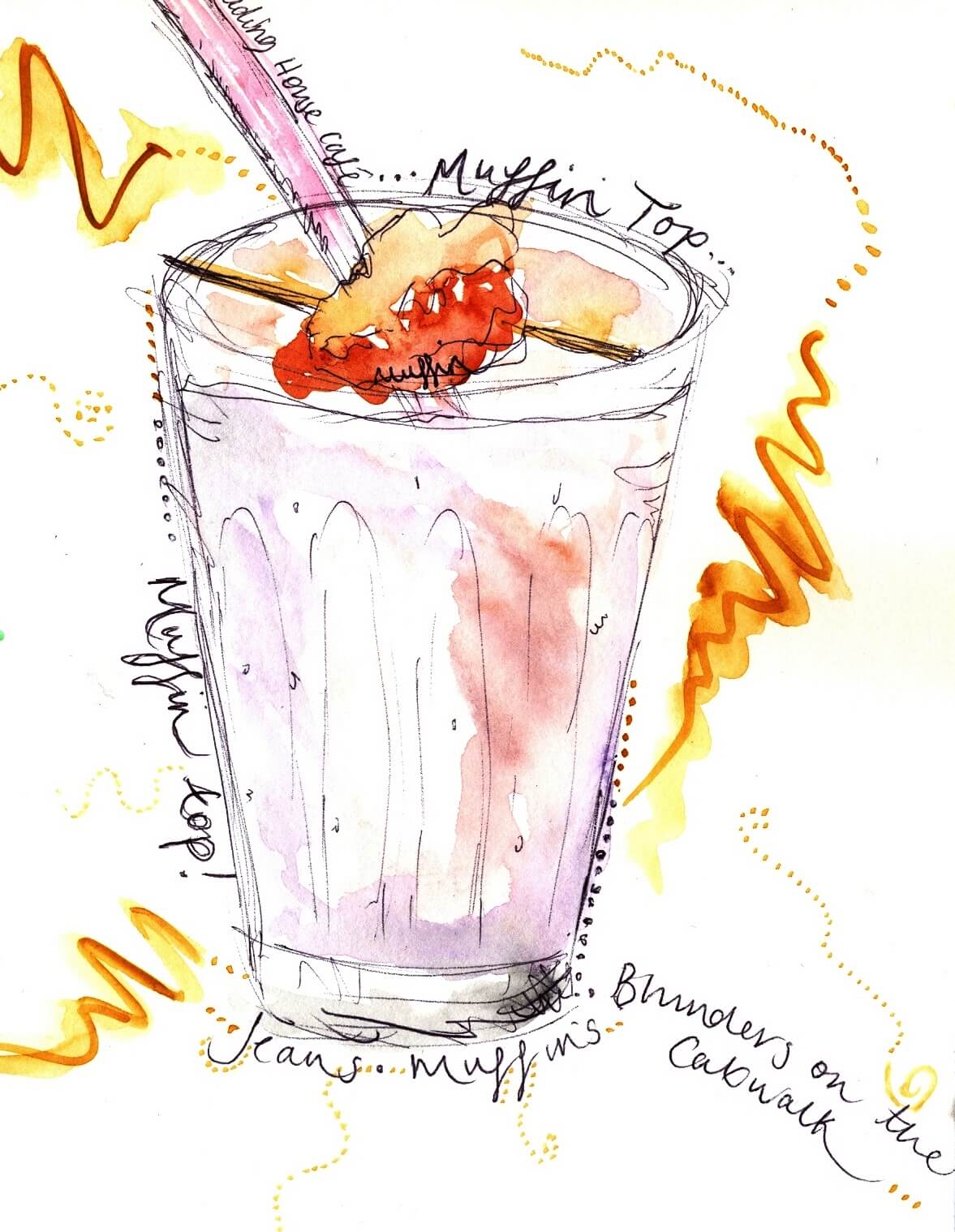 Fashion Faux Par @ The Riding House Cafe
If you happen to be passing by the tailors of Saville Rowe and want to celebrate fashion's little slip-ups, rather than it's emerging trends head to RHC. The cafe has a range of facetious LFW beverages. Our favourite has got to be 'The Muffin Top' (blueberries, banana, oats & milk with a blueberry muffin garnish)- self explanatory.
RHC is @ 43-51 Great Titchfield Street, W1W 7PQ
Post fashion week, colds will be looming and chests wheezing. If you are sick to death of Cara Delivingne and her gurning, down a Berocca dissolved in Red Bull and head to chinalife. Here you can flush out the toxins and calm your body in style with tea mixology- try the 'Dew Drop Junkie' a throat cooling cocktail with a hint of Jasmine and elderflower.
China Life is @ 101-105 Camden Highstreet, NW1 7JN
Alternatively take a well deserved tea break and tuck into the infamous Great British Prêt-à-Portea Afternoon Tea. The tea serves the finest cakes and pastries crafted into the shape of the latest catwalk designs- almost too good to eat.
*Ditch the detox and make the tea AbFab, by sipping a couture glass of Bolly Rose.
Fashionista's Afternoon Tea is @ The Berkeley Hotel, Knightbridge, SW1X 7RL (For post LFW fashion top-up book now for the 13th-19th October. For one week only Prêt-à-Portea will be serving up the iconic shoes and accessories from the Jimmy Choo Collection).
HEADS UP: Get ready for COCKTAILS IN THE CITY (18th-19th September)- A two-day cocktail festival, including many of London's best bars in pop-up form all under one roof. From grimy basement tequila joints, to 5* Mayfair hotels, this will be the place to imbibe!
From 6pm-11pm @ The Grand Hall, Euston Rd, WC1H 9HE

10th-13th September: 'Nothing Compares to Havana' @ Kettner's– In the lavish surroundings of Kettner's immerse yourself in a journey, which will take you through the production of Havana Club Rum, Cuban Cocktails and Cuban music. This is just the ticket for all those who want to perfect their mojito mixing skills!
6pm-11:30pm @ Kettner's, Romilly Street, London (tickets £18, are available here).