Easter is a fantastic excuse to eat ALL the chocolate. Whether it's in a cocktail, an Easter egg or alongside an awesome cocktail, I'm pretty sure this is one week where you are allowed to totally forget the diet. Throw away that Dairy Milk, here's how to eat all the chocolate in style:
1. In a Cocktail: Bunny Boiler in Regent Street
Photo: Heddon Street Bunny Boiler Cocktail
What: Regent Street's bars and restaurants are offering their own take on a grown up Easter Egg Hunt with a selection of unusual Easter themed cocktails this year for the first time. The mixologists have imaginatively taken unusual ingredients and typical Easter treats such as Cream Eggs and Mini Eggs in order to create some of these delicious cocktails.
Where: Bars throughout Regent Street – see here
Why: The Bunny Boiler at Heddon Street Kitchen looks almost too good to drink. And the Cream Egg Martini at Hotel Café Royal is all sorts of deliciousness.
2. On the 40th Floor: The Golden Egg at Duck and Waffle
What: This Easter, Duck & Waffle are serving a golden egg filled with Nutella mousse, hazelnut and milk soup. It's £8 and available this Sunday 5th April only.
Where: Heron Tower, 110 Bishopsgate, London EC2N 4AY
Why: Located on the 40th floor of the tallest skyscraper in the City of London, Duck & Waffle is the highest restaurant in the UK, featuring unparalleled views and menus to match. Award-winning Executive Chef Daniel Doherty takes dining to new heights with his British and European inspired sensational menus. Go for the egg, stay for the sunrise.
Photo Credit: Dan Doherty
3. In a Chippy: Deep-Fried Creme Egg at Simpsons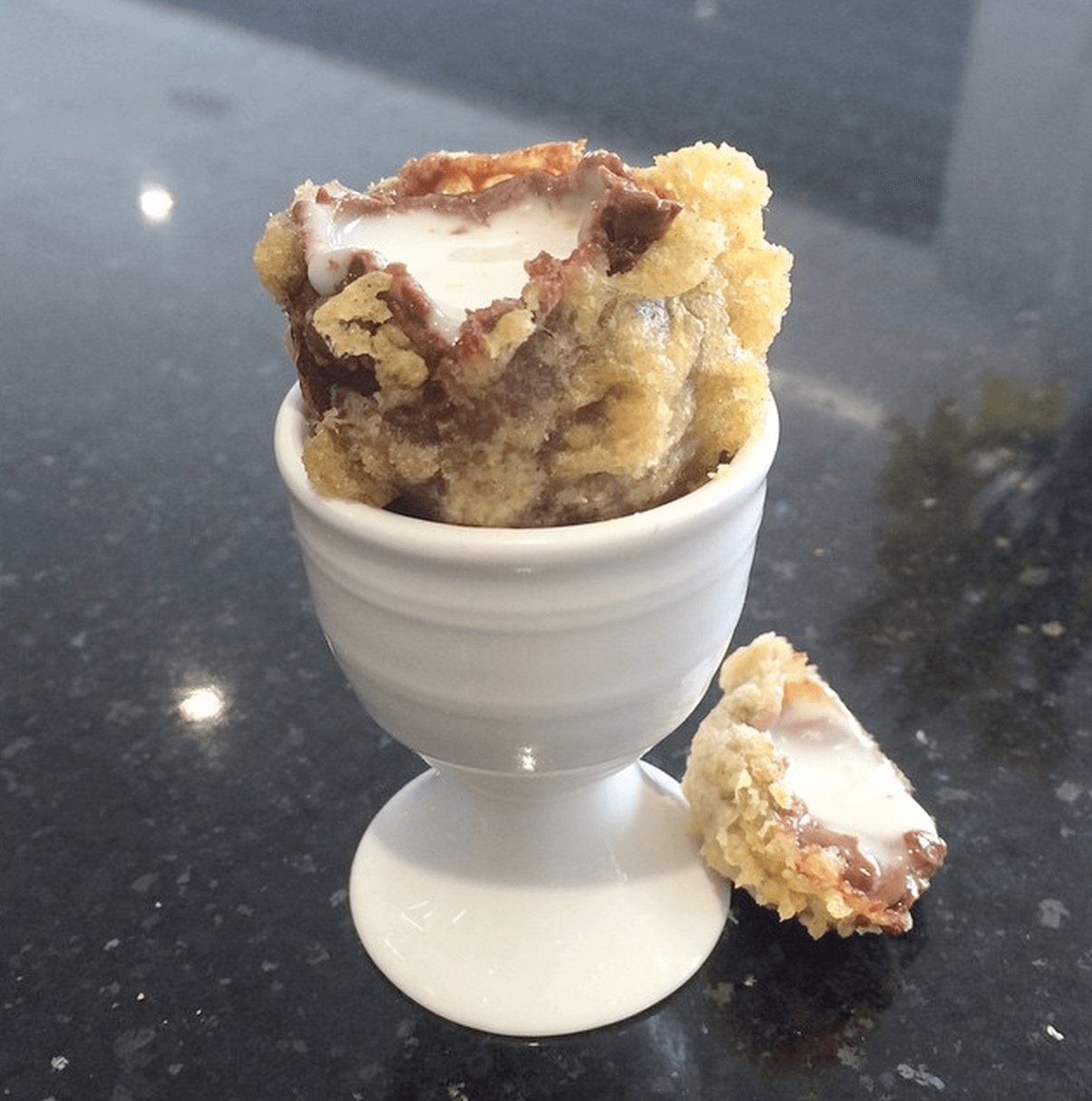 What: This Easter, grab a deep fried Creme Egg at Simpsons Fish & Chips in Cheltenham. The £1 confectionery treat comprises of an authentic Cadbury's Creme Egg – a thick milk chocolate shell housing a white and yellow fondant filling made from egg, thick white cream and sugar – which is lightly battered in the Simpsons signature batter and deep fried until warm and gooey. And, of course, the Creme Egg will be served in an egg cup!
Where: 75 Priors Rd, Cheltenham, Gloucestershire GL52 5
Why: Simpsons Fish and Chips, in Priors Road, is a renowned pioneer in the fish and chip shop industry. In January 2015, they were named the Best Independent Takeaway Fish & Chip Shop in England at the National Fish & Chip Awards. Fair enough.
4. At a Secret Cocktail Bar: Basement Sate
What: Soho's coolest cocktail and dessert bar, Basement Sate, have recently launched a new Spring menu, offering a series of new delicious and expertly mixed cocktails and indulgent, mouth watering desserts. The menu combines delicate spring flavours such as vanilla, elderflower and cucumber with sharper tasting ingredients, such as blueberry vinegar and absinthe, resulting in mouth-watering cocktails with subtle undertones.
Where: 8 Broadwick Street, London W1F 8HN
Drink: Jessica Rabbit – gin, golden syrup, elderflower, carrot juice and Kinder Surprise – brownie, milk chocolate & tonka whipped cream, caramelized hazelnuts, praline foam, caramelia pearls
Why: There's also lots of new foodie options. The new desserts are more indulgent than ever, with plenty of chocolate just in time for Easter.
5. In a Health Hangout: Raw Chocolate Easter Eggs at Nama 
What: Nama is London's only artisanal raw food restaurant, offering flavoursome and highly nutritious dishes from breakfast right through to lunch and dinner. Nama aspires to educate its customers in health and wellbeing through nutrition. As such, the restaurant also offers cleanse programmes, raw food courses, workshops and catering.
Where: 110 Talbot Road, London, W11 1JR
Why: Nama will be introducing  handcrafted Raw Chocolate Easter Eggs this Easter, for guests to enjoy in or take away. As with all items on the menu at Nama, the eggs are 100% sugar, dairy & gluten free as well as being vegan, organic and unprocessed.
6. In an Ice Cream: Dark Chocolate Gelato at Gelupo
What: Traditional Italian gelateria, delicatessen and espresso bar Gelupo from Chef Jacob Kenedy and Victor Hugo, will be serving up a Luxurious Dark Chocolate Gelato for Easter, a deliciously indulgent treat.
Where: 7 Archer Street, London W1D 7AU
Why: Best ice cream in London, that's why.
7. In a Burger: Creme Egg Burger at K West
What: The burger lab in Studio Kitchen has come up with a fabulously egg-centric creation just in time for Easter. The restaurant, within K West Hotel & Spa in Shepherds Bush, will be serving up sweet crème egg burgers on the dessert menu.  The mini slider burgers are made from a sweet brioche bun dipped in white chocolate and sprinkled with hundreds and thousands. This is topped with the 'burger' – a gooey melted crème egg, mascarpone cream, and a good helping of strawberry jelly.
Where: Richmond Way, London W14 0AX
Price: The sliders are priced at £5.50 for a portion of two, and the Spring Rocks Afternoon Tea starts from £22.50 per person.
Why: I'm still trying to figure it out. Will get back to you.
8. In a Glass: Choccy Rum Rum Cocktail at The Folly, The Parlour and The Refinery 
What: Choccy Rum Rum (£7.50) will be served this Easter Bank Holiday Weekend at The Parlour, The Folly and The Refinery on Bankside. It's like Easter in a glass. We think.
Where: 41 Gracechurch Street, London EC3V 0BT
Why: Made from Mozart White Chocolate Liqueur, Duppy Share Rum, Frangelico Liqueur, Aztec Chocolate Bitters, double cream and chocolate, it is a chocolate dream!