Christmas may be over, but who says the indulgence can't continue well into the New Year? Well, apart from your waist line, that is. London's had the hots for lobster for a while, what with trendy Burger and Lobster making it easy and accessible for all to get our claws on the good stuff, and with a string of new lobster joints recently opened in 2014, now the time to get stuck in. Here are the newbies to look out for: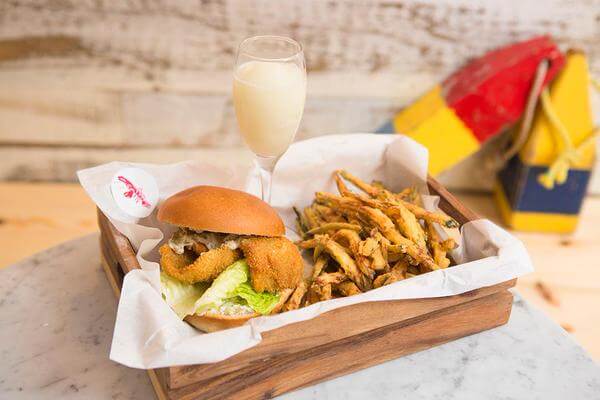 What: Fraq's Lobster Shack is an eat in and take away East Coast-inspired seafood joint on Goodge Street specialising in Maine lobster and seafood rolls with all the trimmings. Simple and warm, Fraq's has been designed taking all of the best aspects from Maine lobster shacks fused with a good dose of Brooklyn cool. This is a fun, fast jumping joint – but remember no bookings.
Eat: Calamari Club Sandwich (£9) and fries
Why: A really, really nice vibe.
Where: 55 Goodge Street, Fitzrovia, London, W1T 1TQ
What: Lobster Kitchen is a New England-inspired lobster shack, serving up the king of crustaceans in a variety of different dishes, both innovative and traditional. With a menu including lobster rolls, steamed whole lobster and lobster mac'n'cheese, and a shack-inspired interior bustling with buoys and lobster cages, they've created a little corner of coastline in the heart of Fitzrovia.
Eat: King roll (£12), a toasted frankfurter brioche bun stuffed with lobster claws and knuckles, finished off with a choice of sauces.
Why: All options also available in a no-carb option – wrapped in lettuce and Vietnamese rice paper. Winner.
Where: Lobster Kitchen, 111 Great Russell Street, WC1B 3NQ
What: Little sister of Burger and Lobster, Smack Lobster serves up incredible lobster rolls and whole lobster – great for a filling and tasty lunch. For rolls, there's a choice of four fillings, all served in a rich, toasted brioche bun (£7.50 take away). They also serve amazing lobster chowder with chunks of lobster in; the perfect winter warmer. Don't leave without trying the courgette fries.
Eat: Seven Samurai (£7.50) Japanese mayo, Japanese cabbage, cucumber, pickled ginger, spring onions, togarashi spice.
Why: Downstairs is also a trendy bar with music, craft beer and glasses of wine decanted from steel tanks for only £4. Try it on your next shopping trip to Selfridges.
Where:  26-28 Binney Street London, W1K 5BN