International Beer Day: Best Independent Boozers in LondonBy Katrina Mirpuri
Out of all the international days of the year, International Beer Day is definitely the most important one. Beer is one of the world's most consumed drinks after water and tea, so it's only right that we give the wonderful hoppy goodness of beer some special attention. We've compiled a list of London's best independent breweries, pubs and establishments where you can grab a cold one and celebrate the many flavours of this much beloved drink on this auspicious occasion.
1. For a Brewery Day Out: Fourpure Brewery Co 
The Lowdown: Located on their Bermondsey site, there's no better place to drink beer then in the very taproom where the beer is made. The beers are as fresh as they can be, and punters can sample a selection of over 20 beers with the help of the on-site staff who made the very stuff themselves. After the success of their initial core flavours, Fourpure are now becoming a household name with beer lovers enjoying their new adventure series releases as well as their staple tipples.
Drink: The Easy Peeler session IPA is a must have in the summer as its citrus-y subtlet-y and lingering hoppy finish is a great alternative to their flagship IPA. With a session percentage of 4%, The Easy Peeler makes for an incredibly drinkable pint in the sun without the heaviness of many other high percentage IPAs on the market.
Where: Bermondsey Trading Estate, 22 Rotherhithe New Road, London SE16 3LL
2. For Local and International Beers: The Salisbury
The Lowdown: Surrounded by fantastic shops, cafes and restaurants, The Salisbury stands like a Taj Mahal in the middle of Haringey's Green Lanes. Its interior boasts extravagant art nouveau decor, with plenty of seating and cozy booths for groups.  Serving up local and international beers on tap and in bottles, The Salisbury never fail to have a fridge full of canned wonders and a variety of treats on tap. Punters can drink in the company of the pub's many taxidermy animals hanging on the walls in addition to the pub's changing kitchen residencies.
Drink: It's great to see more beers from the Welsh brewery Tiny Rebel popping up in London pubs, and the Clwb Tropicana IPA on tap is a must have. It's basically a beer-y adult fruit juice with tropical flavours of peach, pineapple, passionfruit and mango taking your tastebuds for a good ol' ride. There's quite a lot going on with this IPA, but it's a good laugh in this sunny weather and hits the spot at 5.5%.
Where: 1, Grand Parade, Green Lanes, Harringay, London N4 1JX
3. For Post Work Beers: Small Beers
The Lowdown: Located in the heart of North London's culture capital Crouch End, Small Beers is a cozy spot offering a selection of keg and cask beers. With wine, cocktails and wood oven pizzas also on the menu, Small Beers is a great place to kick back after work with a group of pals. The decor is minimalist and straightforward like the menu, and you're always guaranteed a lively atmosphere on the weekends. The staff are friendly and knowledgeable about the drinks making it a great little hangout to celebrate International Beer Day.
Drink: The Zoltar American pale ale by Electric Bear Brewing Co is a fantastic unfiltered beer, meaning the taste of yeast is bolder on the tongue compared to many other beers. And it's also vegan which is a plus. Another memorable beer on tap is the Wolf Hope Sour from the Welsh micro-brewery West by Three Brewing Co. It comes from their pilot series and delivers a tangy alternative for those who want to switch to something a little more acidic.
Where: 22 Topsfield Rd, London N8 8PT
4. For Belgian Beers: De Hems Dutch Bar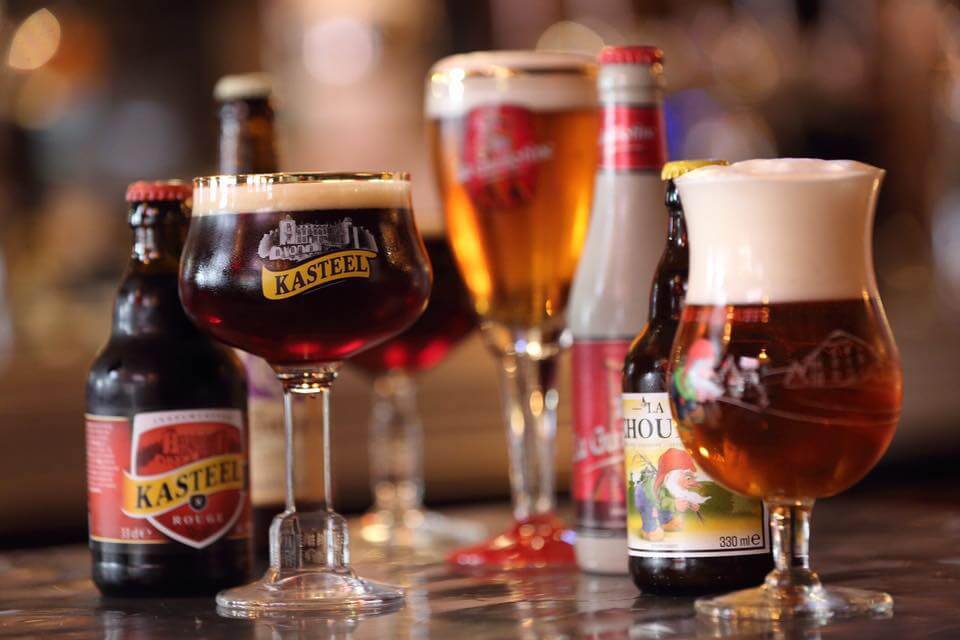 The Lowdown: This Dutch themed pub is hidden in the depth of Soho's Chinatown, but also doubles up as a cafe and restaurant that serves traditional Dutch food. They have an impressive collection of Belgian beers – poured properly with a great big head on top – as well as craft beers from Holland. To celebrate their love for beer, De Hems often host craft beer residencies where various breweries can showcase their brews for the public to taste for a limited period.
Drink: It's not every day you get to drink beer made by monks, and that's exactly why De Hems is such a unique beer tasting experience. Their range of La Trappe beers give guests the choice of Trappist ales of white, blonde and tripel beers. Brewed in a monastery and produced by monks, this beer gains no profits and all money is donated to charity.
Where: 11 Macclesfield St, London W1D 5BW
5. For Sour Beers: Redchurch Brewery
The Lowdown: There's really nothing better than drinking in the Redchurch taproom. It's situated down a side street under railway arches in Bethnal Green and feels like a beer speakeasy. Although Redchurch have gained commercial success in the past few years, they still have an honest approach to beer with an amazing dedicated variety of sour beer which has recently caught on and become a huge trend. The smell of yeast and hops fill the air as the smells from the tanks below rise up into the taproom as it's so close to the action. With regular events hosting live music and DJs, Redchurch is a fantastic hidden gem.
Drink: With a major focus on sour beer, you'd be crazy not to try their Urban Farmhouse Dry Hop Sour. It's sharp, zingy and not for the faint hearted. Redchurch sours are best enjoyed in thirds, and that way you can try more of them. If sour beer isn't your thing, there's plenty from the core range to try. The Brick Lane lager is a great alternative along with the Shoreditch Blonde. For something stronger, drink the Great Eastern IPA. It really packs a punch.
Where: 275-276 Poyser St, London E2 9RF
6. For Canal-Side Beers: Howling Hops Tank Bar
The Lowdown: As the name suggests, this brewery serve their beer straight out of the giant tanks in the bar for all to see. These guys are hop wizards and their reasonable beer prices and large outdoor seating makes this East London boozer a great celebratory spot for International Beer Day. The huge tanks save space, leaving more space for beer drinker to roam around. Hopefully they won't roam too far though, as the canal is about 10 meters away!
Drink: With 10 tanks to choose from there's a plenty of tipple for each and every palette. The Smoked Porter is one for chocolate lovers as it boasts hints of cocoa and caramel, whereas the Pale Ale is more approachable for most who are used to something more hoppy.
Where: Unit 9A Queen's Yard, White Post Ln, London E9 5EN
7. For Classic Beers with a Twist: Wild Card Brewery
The Lowdown: Situated in London's new cool hangout Walthamstow, Wild Card have a taproom that welcomes all. There's street food, tap takeovers, live music and DJs on site for entertainment, and it's family and pet friendly before 8pm. Vegans will be excited to know that there's a new monthly vegan market which means both vegan food and beer. Win win.
Drink: Head brewer Jaega Wise has certainly pulled out a few wild cards herself as most of the beers have a special twist. One of the perks of drinking at a taproom is you can try their limited edition small batch brews that aren't always sold outside of the brewery. The Sorrel Saison for example is a fruity hibiscus gem standing at 5.1%, and The Queen of Diamonds from their core range is a show stopping IPA with subtle bitter notes of grapefruit brought out by sweeter hints of lychee.
Where: Wild Card Brewery, Unit 7, Ravenswood Industrial Estate, Shernhall Street, Walthamstow, E17 9HQ