From Aperitif to Digestif: The Easiest and Best Party CocktailsBy Alicia Grimshaw
Viva la dinner parties, that's what we say. If you're gathering friends round for a homemade (shop bought) feast, or are hosting your own knees up, The Cocktail Society has got all the drink bases covered. The good folks at The Cocktail Society – home to sensational bottled cocktails – have compiled a list of the easiest and tastiest party cocktails that'll see you through pre-dinner and post-dessert in delicious style.
Dark and Stormy
Unforgettable dinner parties take you on a culinary journey, sampling flavours and cuisines from around the world. What better way to kick off the evening than by transporting your guests to Bermuda with a winning taste combination of rum and ginger beer?
Created by British naval officers stationed on the island after World War I, the name derives from its resemblance to storm clouds. Thankfully we've found no link between enjoying this drink and actual storm clouds showing up. The Dark and Stormy is a cinch to make and the spice from the rum is an ideal livener for your tastebuds before dinner.
For some bartenders adding lime is a faux pas, but we think it injects the drink with an extra kick and balances the sugary flavour of the ginger beer.
Dark and Stormy Ingredients: 
– 50ml Goslings Black Seal Rum
– ½ Lime cut into wedges
– 2 Dashes Angostura Bitters
– 150ml Ginger Beer
Method:

1. Cut the lime into 4 wedges, putting one aside for later.
2. Squeeze the juice of the remaining limes into a Collins glass, and drop the limes into the glass.
3. Add cubed ice and ginger beer to fill just over two-thirds of the glass. Pour 50ml of Goslings Black Seal Rum slowly over the top of the ginger beer.
4. Add a few dashes of bitters and garnish with a lime wedge.
The Cocktail Society's Expert Tip: When pouring in the rum, pour slowly and aim for an ice cube to produce a sophisticated layering effect.
Elderflower Collins
Nothing captures the essence of an English summer like the taste of elderflower. Like the English Garden cocktail, this twist on the classic Tom Collins recipe also uses elderflower. Adding mint to the mix gives this drink a crisp, refreshing taste which balances the sweetness of the other ingredients. This sweet yet refreshing serve is perfect for the early summer evening.
Elderflower Collins Ingredients: 
– 25ml Gin
– 25ml Elderflower Liqueur
– 40ml Cloudy Apple Juice
– 4 Mint Leaves
– 3 Lime Wedges
– 60ml Soda water
Method: 

1. Squeeze the limes in a Highball glass.
2. Clap the mint to extract the mint essence and then add to the glass.
3. Add the gin, elderflower liqueur and apple juice. Add cubed ice to the top of the glass.
4. Top with a dash of soda and mix with a bar spoon or any long spoon.
5. Garnish with a mint sprig.
Sloe Negroni
The history of cocktails is one of invention. Over the years trailblazing bartenders have combined new ingredients in different ways, creating extraordinary drinking experiences for their customers.
The Negroni is a prime example. The accepted origin story is that in 1919, Count Camillo Negroni asked the bartender to strengthen his Americano cocktail by replacing the soda water with gin, thereby creating a classic. The Sloe Negroni updates the drink further by switching the main spirit for Sloe Gin. The bitterness provided by the Campari means it's an impeccable pairing for salty, cheese dishes. A cheese board or charcuterie platter would be a great match.
Sloe Negroni Ingredients: 

– 25ml Sloe Gin
– 25ml Sweet Vermouth
– 25ml Campari
Method: 
1. Add all ingredients along with ice to a rocks or old fashioned cocktail glass. Stir 3 to 4 times and garnish with orange zest.
Coconut Daiquiri
The Daiquiri is a cocktail every home bartender should know how to make. It's infinitely adaptable, providing an easy way to create a range of possibilities for your guests. This variation on the original recipe adds coconut flavours, making this a first-rate beverage to sample before dessert.
Coconut Daiquiri Ingredients: 

– 40ml White Rum
– 20ml Coconut Water
– 15ml Lime Juice
– 7.5ml Kaffir Lime Leaf Syrup
– 10ml Coconut Syrup
Method: 

1. Add all ingredients to a cocktail shaker. Add ice and shake, then fine strain into a martini glass.
The Cocktail Society's Expert Tip: Add ice to your martini glass before you mix the ingredients. Chilling the glass means your cocktail stays ice cold when served. Just remember to remove the ice before you pour in the drink!
Salted Caramel Espresso Martini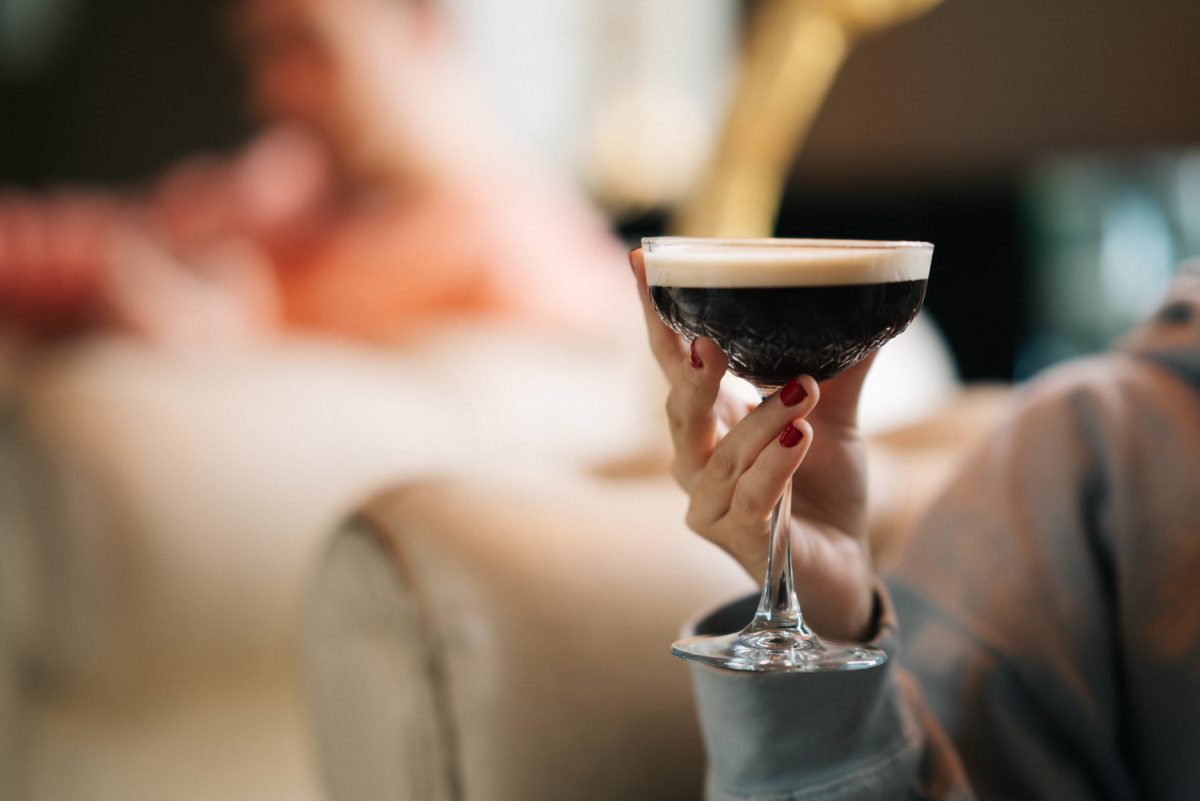 Coffee and dessert go together as strawberries go with cream. It just makes sense. Add in a dash of salted caramel and you're onto a winner.
Created by British bartender Dick Bradsel at The Soho Brasserie in the 1980s, the rich flavours of this drink speak for themselves. Serve with dessert, or maybe even as a liquid substitute, and your guests will love you forever.
Salted Caramel Espresso Martini Ingredients: 

– 25ml Vodka
– 25ml Coffee Liqueur
– 60ml Coffee (chilled)
– 10ml Salted Caramel Syrup
Method: 

1. Add all ingredients and ice into a shaker. Shake all ingredients very hard; you'll need to do this to create the drink's signature foamy head. Fine strain into a martini glass and garnish with three coffee beans.
Old Fashioned
Call us old fashioned but we believe that classic drinks served well stay popular for a reason. Dating back to the 1800s, this cocktail includes smoky whisky flavours paired with rich orange notes. The perfect nightcap to finish off an evening.
Old Fashioned Ingredients: 

– 50ml Bourbon Whisky
– 1 Brown Sugar Cube
– 4 Dashes Angostura Bitters
– Orange Zest
Method: 
1. Add a few discs of orange zest to a rocks glass.
2. Pour 4 dashes of bitters onto the sugar cube and add to the glass. Break the sugar cube with the flat end of your bar spoon or with a rolling pin.
3. Add 2 cubes of ice and 15ml of Bourbon. Stir for around 1 minute or until you see the ice melting.
4. Add another 2 cubes of ice and 15ml of Bourbon and stir for another 30 seconds.
5. Add 20ml more of Bourbon and 2 more cubes of ice and stir for another 30 seconds.
6. Squeeze a further orange zest over the cocktail and garnish with a thin slice of orange peel.
For information on The Cocktail Society, see here.