It's very rare I wake up in the morning and think "I could eat that all over again" (it's also very rare I actually can, but thanks to a case of serious over-ordering, that pipe-dream became a duvet-reality).
My job allows no time for repeat visits. I'm forever trying to tick off as many restaurants on 'The List' every week as my bank balance and metabolism will let me. Eating off someone else's Instagram constantly, the quest for a new London gem, brunch spot or cocktail haunt, is unrelenting. That restaurant from last night becomes a thing of the past, and very rarely do I return.
And, yet, Sticks n' Sushi is different. There's something mildly addictive about the place – the concept of the sharing menu, the almost theatrical platters of sashimi, the easy after-work crowd – that makes it a failsafe for dates, groups and breakfast meetings alike. The Covent Garden branch is a fall-back when anyone asks "where's good for dinner these days" and there new branch in Canary Wharf has, somehow, excelled above the rest. I woke up hungry to eat it all over again – and here's why:
In the new site, they've gone with Scandi chic in a big way. The 60-cover restaurant has an industrial feel, with exposed brick walls, metal drain pipes and large bay windows. With the addition of an outside terrace area, guests can enjoy al fresco sushi dining (the dream) all summer long – although, granted, the view from the new Crossrail Place isn't exactly like looking over the Seine.
The vibe is as City as you'd expect – large groups of suit-clad men enjoying their Friday night beer and sashimi, and groups of well-heeled women, fresh out of Deloitte, who look like extras from Lipstick Jungle in their attempt at power dressing, as well as the odd smattering of people on dates (third, probably. Surely it's too nice for a first date?). There's an energy and buzz to the place – only disturbed by the sporadic shouts of "namaste" from the staff across the restaurant – which, admittedly, gets a little jarring. All in all, the place is damn sexy.
The drinks menu focuses on Japanese spirits, and seasonal flavours. Think: shoshu and sake cocktails, fruity infusions and lots of botanicals. These things combine elegantly in their Rhuby Fizz – this drink comes alive by mixing English rhubarb liquor, gin, bitters and citrus, lengthened with soda, a great long refreshing drink.
Another highlight is the take on a classic gin cocktail, Keroppi – fresh cucumber, pineapple and calpico are the perfect companions for the rare gin botanicals with cucumber, pineapple and Hendricks – served long and fresh, it's very summery. If you like fizz, try their Elderflower Bellini – it's simple, elegant and totally divine. For more traditional Japanese drinking, make sure you end the meal on their Plum Sake or special Yuzu Sake.
Let's talk food. For one, it's seriously good. The menu is, to put it lightly, overwhelming, so I'd advise either studying it like it's your A-Levels for hours before hand, or failing that, opting for a set menu, which give you a taste of the best bits. The food is designed to be staggered and shared – order as much or as little as you like, the service is super quick and will be on your table in no time.
There's a handful of menu items that can't be missed. The tuna sashimi is incredible; with a ginger, chilli and soya reduction, slivers of salty seaweed and toasted pine nuts, it's rich and unctuous, the perfect balance of fresh fish and ocean flavours. Like nothing I've tasted before, incredibly creative, and totally delicious.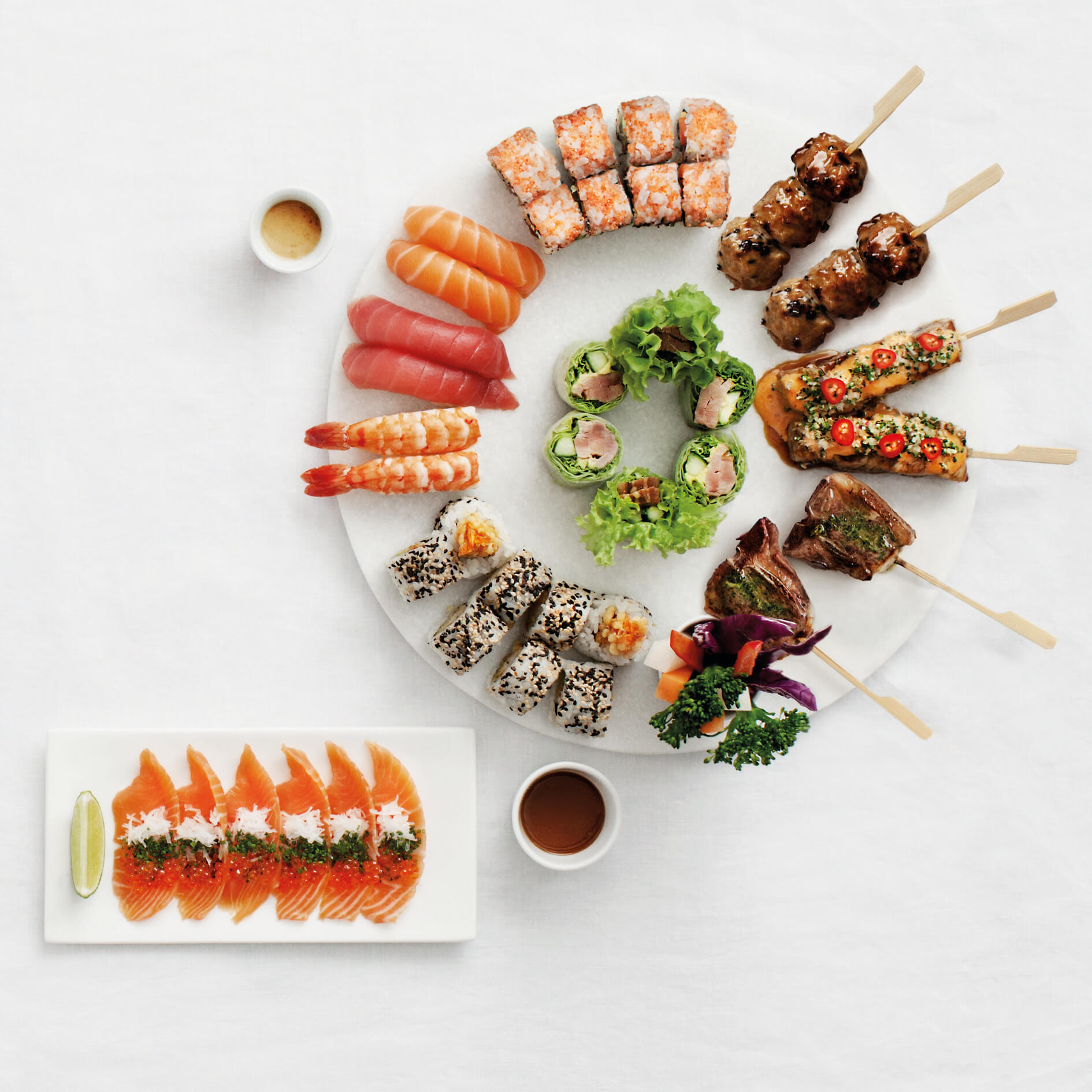 You have to try the seaweed salad, the addition of pumpkin seeds give this a real depth and crunch, and the Ebi Bites are some of the nicest morsels of food you'll ever taste – a version of prawn tempura, if you will, with an rice crispy-like coating covering fresh, juicy prawns, the combination of crunch and softness is spot on. Another hot highlight for starting your meal are their special Hotate Kataifi Bites with scallop – satisfying, creamy and completely indulgent at the same time, probably my favourite dish on the menu. The scallops come in a thin filo pastry wrap – perfectly cooked in the middle, crunchy on the outside, on a bed of zingy Yuzu mayonnaise, my guest declares them "too rich" and I declare them all mine, and it's a happy marriage.
There are more menu highlights. We discover the yellowtail here is sensational and proceed to order it in any way we can – firstly in the sashimi mix, which is served on ice, and is as fresh as can be – and then a seared version on nigri, which is easily the best thing we try all night. If you like salmon, you can't miss the seared salmon nigri which has a smoky barbecue flavour, and the chirase (get it without rice if you're too full by now) – laters of incredibly smooth, silky raw salmon, muddled with string beans, fresh avocado and bursting trout roe, it's fresh and heavenly.
Now's time for some sushi. Try their famous maki rolls, which come with heaps of toppings and luxury fillings. The best are the Dragon Roll, a mixture of prawn and avocado, with a selection of tuna, salmon and prawn on top, the Spicy Tuna Roll, because it's a classic, and the Ebi Roll, with a prawn tempura filling. We're not too sure about the Black Cod Roll (does cheese belong in sushi, I'm not sure) as the taste of the fish gets slightly lost amongst a creamy backdrop.
Dessert is just what we need: small. The idea is to share two or three miniature puddings, which gives you a taste of the best things they have to offer. Our favourites are the chocolate fondant with a peppermint heart, which tastes oddly like candy cane at Christmas, and as a Jew I enjoy this from a distance, and the Yuzu pudding, which is a Japanese take on the classic Lemon Meringue Pie with Yuzu curd and fresh marshmallow. Finish on a matcha latte (one of the best in London) or some plum wine, and consider yourself a very happy bunny.
Perfect for an indulgent weekend treat, or a trendy new date spot, this Sticks n' Sushi is well, well worth a visit. Sit up at the bar and make sure you order everything with yellowtail in, the creative rolls and don't skimp on trying the incredible selection of starter dishes. Here, you'll be wowed by the food and seduced by the atmosphere. Take our word for it: just, go.
For more information and to book, visit their website here.