Lockdown aside, it's never been a better time to try Dry January. With more option than ever before, the no and low alcohol beer scene is booming. To keep those hoppy cravings at bay, and to make sure you choose the right beer for you, we've rounded the best offerings for Dry January and beyond:
What They Say: Days Brewing is a newly launched 0.0% alcohol-free, vegan beer brand, focused on wellbeing. Days creates its authentically 0.0% ABV beers by combining locally sourced Scottish water and malt barley with a unique alcohol-free brewing process. Unlike traditional low and no beers which are often produced at full strength before being "De-Alcoholised", Days' innovative method protects the integrity of its premium ingredients and ensures that each and every drop of unadulterated flavour makes its way into the bottle.
What We Say: One of the most innovative vegan beers we've tasted, Days' message of wellbeing is much-needed in the beer scene. Their non-alcoholic options are ideal for all moods; whether you're wanting a refreshing lager hit, or an easy-drinking pale ale.
Where: Online 
What They Say: Lucky Saint is the UK's leading 0.5% Superior Unfiltered Lager. It is independently and progressively brewed in Bavaria, using just four natural ingredients – Pilsner Malt, Hallertau Hops, Bavarian spring water and Lucky Saint's own single-use yeast. Unfiltered, it remains full of flavour, body and character.
What We Say: One of the nation's favourite non-alcoholic beer for good reason, Lucky Saint's reputation really does precede them. A complex and refreshing mix of flavours, their lager is unlike anything else currently on the non-alcohol market, and is one of our top beers regardless of its alcohol content.
Where: Online 
What They Say: Freestar was founded in 2019 with a mission to provide the first truly non-alcohol, great-tasting, sustainable beer. As opposed to the typical fermentation process which removes alcohol from full-strength beer to create a non-alcoholic product, Freestar blends 100% natural ingredients without yeast, which guarantees its 0.0% ABV. Freestar is better for the planet; the brand's unique production process emits 90% less Co2, uses 80% less water, 80% less energy and creates 70% less waste than other production methods.
What We Say: The perfect beer to make you feel good about doing your bit for the planet, Freestar is ideal as a total replacement for booze, or to just drop in between alcoholic drinks to lighten your load. With a fantastic, full-bodied taste, make sure to add to your basket on your next shop.
Where: Sainsbury's and online 
What They Say: Northern Monk has spent a year behind the scenes trialling yeast options, brewing techniques, and experimenting with grist make ups that will deliver the desired body and flavours, and Holy Faith is the result. Pushing traditional brewing techniques to extremes allowed the team to build up a surprisingly robust base, with oats for that silky mouthfeel associated with New England styles and maltodextrin to further bulk out the body, while a touch of caramel malt brings some colour and sweetness.
We Say: Taking their time to perfect this recipe pays off in spades, this luxurious IPA is virtually indistinguishable from their boozy counterpart. For satisfying that pale ale craving, this is absolutely spot on.
Where: Online
What They Say: Craftily brewed, then all the alcohol is swept away to leave only pure satisfaction, Smashed Citrus Beer is pure refreshment. With a perfect balance of citrus, malt and hints of hops and barley, this pale gold, sparkling liquid boasts a fresh, clean aroma. Don't miss the Smashed Pale – a pale copper colour with hints of caramel and toffee, and finished with an American-style hop for a passionfruit taste.

We Say: In the past we've found it rare for non-alcoholic beers to have enough *flavour*, but Smashed packs a gorgeous citrus hit that seamlessly hits the spot. Save this one for when it's sunny, and swap out the Corona for a Smashed Citrus, you won't regret it.
Where: Online 
What They Say: Big Drop Brewing Co. is dedicated exclusively to making the finest 0.5% ABV beer. The Kinzig Gateau Stout pours like black silk. The soft and smooth aroma of vanilla seductively combines with a decadent chocolate flavour — all perfectly balanced with dark cherry undertones, reminiscent of Black Forest Gateau. This is a beer to take your time over.
What We Say: Arguably the finest non-alcoholic stout on the market, this fills the Guinness-shaped hole in our life perfectly, with a remarkable silky finish and delicious undertones. Open one of these and slowly sip it all night.
Where: Morrison's, Waitrose and online
The Lowdown: Set up in Copenhagen in 2006 by maths and physics teacher Mikkel Borg Bjergsø, the award-winning, nomadic beer brand has released over 800 beers since its inception with the brews now available in 40 countries worldwide. Mikkeller Drink'in the Sun launched in Sainsbury's in Nov 2020. Drink'in the Sun is a bright, fresh and hop-bursting American style Wheat Ale with an ABV of 0.3%.
We Say: An ideal addition to the Mikkeller roster, this will delight any craft beer head with the Drink'in the Sun possessing complex flavour notes without being too overbearing. A refreshing hoppy cut, it's a worthy addition to the non-alcoholic landscape.
Where: Sainsbury's and online 
The Lowdown: BrewDog has launched a brand new alcohol-free beer for 2021, a twist on the fan favourite, Elvis Juice. With all the flavours of its stronger sibling, but none of the alcohol, Elvis AF features a chorus of orange and pine, loud citrus flavours, and a solid malt base foundation. For fans of lager, Lost AF is the beer for you. With the refreshing crisp notes of a fully-loaded lager, this has all of the flavour but none of the alcohol.
What They Say: With non-alcoholic beers for any palette, BrewDog have perfected replicating the taste of their classics without any of the booze. Perhaps the easiest change up to make, it will feel like you're still gulping down all your old favourites.
Where: Online
What They Say: Refreshing beer developed through an interrupted fermentation process, Estrella Galicia 0.0% boasts the golden colour of a typical Pilsner-style beer. Above all, it has a subtle aroma with floral hoppy notes and a pleasantly sweet flavour that is slightly bitter. Estrella Galicia has made non-alcoholic beer since 1988 and now sells millions of litres – a Spanish secret worth shouting about.
What We Say: A glorious take on one of our favourite continental lagers, this is one of the classics for a reason, a seamless take on an old favourite that holds its own. And each bottle is only 21 calories to boot.
Where: Waitrose and online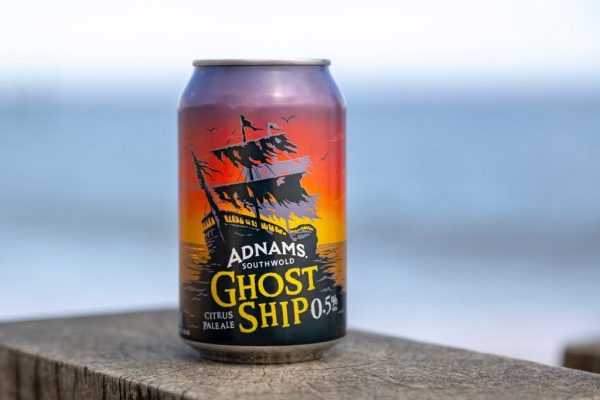 What They Say: Ghost Ship 0.5% has the taste and aroma of Ghost Ship 4.5%, but with almost all the alcohol removed.  Adnams invested in a de-alcoholiser; a reverse osmosis plant which allows the team to brew Ghost Ship 4.5% and then take out the alcohol. It is all very high tech, but what it does is allow Ghost Ship to sail away almost free from alcohol but remain full of its original flavours and aromas.
We Say: Ghost Ship is, without doubt, one of our favourite drops, so you can imagine our delight when we found Adnams were making a non-alcoholic version. Packing all the punch without the hangover, it literally tastes exactly the same as the original, and is perfect proof of the low alcohol movement making huge waves.
Where: Online 
What They Say: St Peter's brews delicious alcohol-free beers: Without Original, Without Gold and WithoutElderberry and Raspberry. Without Original is deliciously malty, full-bodied and bursting with flavour – just what you'd expect from a finely-brewed ale, whilst Without Gold is a hoppy golden ale with a full-bodied, slightly sweet malt flavour combined with a citrus bitterness, perfect for ale and lager drinkers alike.
We Say: For those who like their beers with some fruity undertones, look no further than St Peter's. These guys really know their way around a light ale, providing the perfect citrusy taste without any of the booze – a solid choice for your next drink in the park/bbq.
Where: Online 
What They Say: West Berkshire Brewery has a brilliant selection of alcohol-free beers, including the Solo Pale Ale. Light gold in appearance with a caramel aroma, the taste has a balanced bitterness, pineapple, passion fruit and citrus. With grassy pine notes and a crisp bitterness, this is no ordinary alcohol- free beer.
We Say: With a bold mix of flavours, we were expecting big things from this drink, and boy did it deliver. Giving each nuance enough room to breathe whilst still packing a punch, this is perfect for all the citrus lovers out there.
Where: Online