As we hit the last week of Dry January, we've come to realise that:
A) Yes, you can get bored of Diet Coke.
B) There's a limit to our elderflower cordial consumption.
C) There are some real hits and misses in the alcohol-free world.
To see out what has felt like the longest month ever, we've discovered 10 must-try alcohol-free spirits that are all bangers, and no clangers. Happy sipping:
The Lowdown: Lockdown Liquor & Co. have teamed up with Seedlip to launch the world's debut bottled Non-Alcoholic picante. A distinctive take on the picante, the Grove Picante features Seedlip Grove 42, lime, chilli, agave nectar, orange blossom water and coriander. The new blend marks Seedlip's first collaboration with an external cocktail company and Lockdown Liquor & Co's first foray into the world of non-alcoholic serves.
Where: Lockdown-liquor.com for £25
The Lowdown: Maria & Craig's is a relatively new to the market non-alcoholic botanical CBD spirit, from the husband and wife duo behind the launch of CEDER'S distilled Non-Alcoholic Alt-Gin. The namesake brand from the experts in the alcohol-free market, Maria &Craig's blends premium broad-spectrum CBD from the USA with distilled juniper, sage, camomile and orange blossom with additional classic gin botanicals.
Where: Online 
The Lowdown: Pentire is Cornwall's first non-alcoholic spirit and is made by distilling a unique range of plants native to the Cornish coastline, and is free from added sugar, artificial colours and artificial flavourings. Its flavours evoke feelings that you get when you are standing on a headland looking out to sea, experiencing green, citrusy, and naturally salty notes.
Where: Online, Harrods, The Pig Hotels, Paul Ainsworth restaurants, and Daylesford
The Lowdown: Presented in a tall, elegant, beautifully designed bottle, multi-award-winning NINE ELMS No.18 exudes luxury and sophistication. Intricately crafted with the juice of 4 types of dark berry and 20 different botanicals, NINE ELMS No.18 provides a unique but tasty non-alcoholic drinking experience straight out of the bottle, and specially designed to be enjoyed with food.
Where: Master of Malt, Wine Buyers, The Wine Reserve, The Artisan General Store and The Alcohol Free Co
The Lowdown: Setting out to reinvent the classic spritz, Wilfred's is a brand new non-alcoholic British aperitif that uses naturally bittersweet ingredients to conjure all the crisp, citrusy and refreshing flavours of a spritz, without any alcohol. Designed to be served simply with tonic water, this alcohol–free aperitif is made from a blend of zesty bitter orange, herbal notes of rosemary, rhubarb, and just a hint of clove.
Where: Online 
The Lowdown: Crafted from 11 plant-based ingredients from around the world, including lion's mane, cacao, damiana, and yerba mate, this drink is characterised by prominent savoury and bitter notes making it a brilliant aperitif. Extra tasty when served with ginger ale and a slice of orange. All of Three Spirit's drinks are non-alcoholic, vegan, gluten-free and sustainably packaged.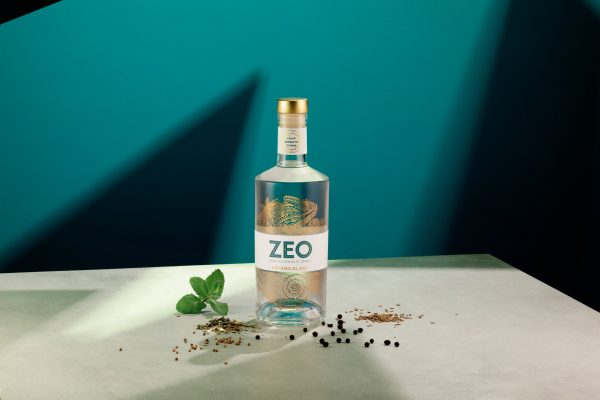 The Lowdown: ZEO has been created in collaboration with world-renowned bartender Simone Caporale to realistically mimic the feeling of drinking alcohol for those who enjoy everything about having a drink but don't want the next day hangover. There are two expressions: ZEO Botanical Dry, a clear and bright spirit which mixes well with tonic and a lemon slice as well as in cocktails such as a Classic Martini, and ZEO Spiced Oak, an amber-coloured and richer spirit which can be enjoyed on the rocks, in cocktails such as an Old Fashioned, or simply served with a splash of cola.
Where: Buy online 
Photo Credit: Jason Bailey
The Lowdown: Embodying the spirit of the Mockingbird, humbly mimicking the traditional taste of tequila, the first non–alcoholic tequila allows for plenty of margaritas with none of the migraines. Mockingbird Spirit is made using authentic Blue Weber Agave, the ingredient that gives Tequila/ Mezcal its unique taste, straight from the origin in Mexico. Other ingredients include vanilla pods for sweetening; lemon to bring out the citrus notes when mixed; a dash of habanero to imitate the spicy, smokiness; and a sprinkling of cinnamon to complete the taste palate.
Where: Online
The Lowdown: A delicate infusion of botanicals, designed to be mixed with tonic water to create a refreshing spritz, Everleaf was first introduced in January 2019 by bartender and conservation biologist Paul Mathew. Looking to craft a wonderfully intricate and layered flavour while recreating alcohol's unique silky texture, Paul turned to nature. The result is a vibrant non-alcoholic aperitif that delivers on the rich sensory experience of a spirit.
Where: Online 
The Lowdown: Bold by nature, Feragaia is an alcohol-free spirit made from land and sea botanicals. True to its name, meaning 'Wild Earth', it is a product of windswept coastlines, open country and creative minds. Feragaia is progressively distilled, blended and bottled in the far reaches of the Scottish Lowlands, an area governed by centuries of spirit innovation.
Where: Online