Top 10: Undiscovered Coffee Shops You Need to Visit This MonthBy Alicia Grimshaw
Our friends over at DripApp know a thing or two about good coffee. If you don't know, DripApp is basically an Oyster Card for flat whites, allowing you to discover amazing new coffee shops in the capital, and pre-pay for your caffeine fix. To celebrate London Coffee Festival, they guide us through incredible hidden coffee shops in London you need to visit this month:
1. For a Gluten-Free Cafe: Pearl & Groove
What: Starting their humble beginnings at markets, events and festivals, Pearl & Groove recently opened their first bricks and mortar site in Notting Hill. This flourless bakery is a coeliacs' dream, as everything is gluten-free, with some sweet treats also sugar and dairy-free, too. Pop into their cake shop on Portobello Road, or order their cakes from the comfort of your sofa.
Eat and Drink: There's good reason why the dulce de leche and Maldon sea salt is their best seller, it's a sweet and salty combination and it's not to be missed. Their mini loaves come in a range of different flavours – Earl Grey tea cake, banana and peanut butter, and mint choc chip. And for those wishing to stay virtuous, opt for the pomegranate and banana. Sod it, eat the damn cake.
Where: 341 Portobello Rd, London W10 5SA
2. For a Vegan Cafe: The Canary
What: A vegan cafe come salon in Bethnal Green, The Canary is little sister to the award-winning King's Canary salon in Fitzrovia. A creative hub for like minded people, The Canary is more than just a place to pick up a quick coffee. They've built a team of expert baristas, cutting edge chefs and highly-trained stylists who all enhance the overall experience at this East London hangout.
Eat and Drink: The cafe caters for both veggies and vegans with tons of options. Early rises can enjoy fresh out of the oven pastries, cakes and amazing Allpress coffee. At lunch, there's a cracking array of fresh salads, sarnies and raw delights. The chefs regularly play around with different ingredients and spices – with the menu changing on a weekly, and sometimes daily basis. Order a coffee and one of their blueberry muffins. Sorted.
Where: London, 61-63 Old Bethnal Green Road, E2 6QA
3. For Coffee: China Plate Espresso
What: Opened last year, China Plate Espresso is another great addition to Stoke Newington's growing coffee scene. Already considered some of the best coffee in London, this industrial chic cafe features coffee from local roasters – Square Mile, Assembly Roast and Workshop to name but a few. Their latte art puts other coffee shops to shame.
Eat and Drink: For obvious reasons, order the coffee – each cup is made with the upmost care and attention. They also offer a range of rare teas and hearty slabs of vegan cakes. Their brunch menu is short and concise, but is fantastic value. Their avocado on toast with poached eggs with either tomatoes or mushrooms is a solid Sunday choice.
Where: 155 Stoke Newington High St, London N16
4. For Music and Coffee: Lion Coffee + Records Pop-Up at Gap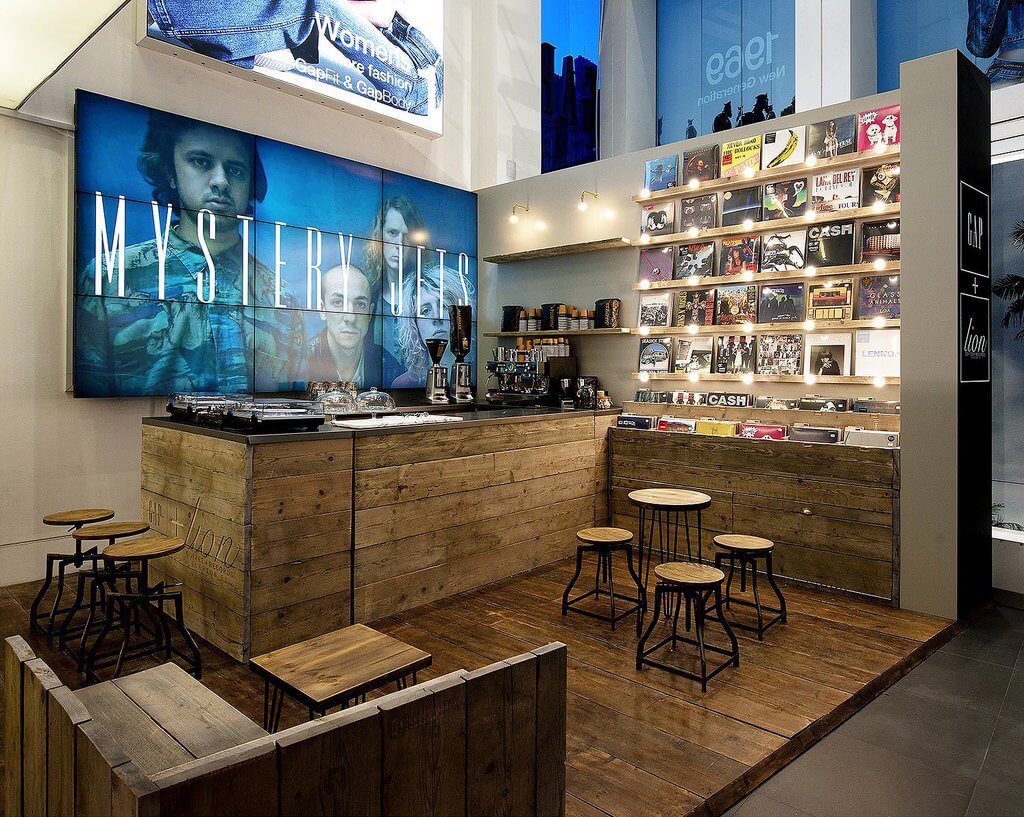 What: Lion Coffee + Records is a trendy record shop and coffee bar in Clapton that is co-owned by Stonemason, Lee Riggs and the drummer of Florence + the Machine, Chris Hayden. Gap's head poncho lives in Clapton, tasted the sweet caffeine at  Lion Coffee + Records, and loved it so much he asked the chaps if they'd be up for a pop-up coffee bar at their London flagship location near Bond Street Station – they said yes.
Eat and Drink: The Lion Coffee + Records pop-up sells vinyls, has DJs spinning on weekends and live music performances – all from within Gap. The menu is a stripped back as some as the acoustics performers, with cakes and coffee available. All of their coffee is by Allpress, we say order their espresso or a flat white, they're both magical. Next time you're in need of some solace away from the Oxford Street shoppers, drop into Gap.
Where: Open until 16th April 376-384 Oxford street , London W1c 1JY
5. For Chocolate: Jaz & Jul's Chocolate House
What: Award-winning independent producer Jaz & Jul's opened their first permanent Chocolate House in Islington's Chapel Market, last year. The cafe and shop showcases the popular street food duo's impressive collection of indulgent proper hot chocolates, which are all made by hand on site using ethically-sourced organic dark chocolate.
Eat and Drink: All chocolate everything. From Raspberry Dream to Mintchievous and spicy Chilli con Choccy, there's a hot chocolate for everyone. And, if you're after some more coco goodness, a menu of cocoa-themed light bites is also available and includes, sweet chewy rocky road slices, gooey brownies, chunky cookies, and savoury Mexican-inspired chocolate black bean chilli. Let's not forget, they also have Monmouth Coffee on the bill.
Where: 1 Chapel Market, London, N1 9EZ
Photo Credit: Kirsty Owen
6. For Fitness and Coffee: ETHOS
What: Hidden away on the top floor of Spitalfields Market, this nuwave fitness studio has an indoor vine-covered terrace with a coffee/ juice /botanical cocktail bar. They see themselves as alchemists; divisors of new methods, mixing up unique mind/body workout combinations to achieve deep transformation at all levels.
Eat and Drink: Fuel up for a HIIT or Bikram yoga class with their excellent Nude Espresso coffee, then replenish after with an Ayurvedic hot drink – matcha and turmeric lattes are fantastic options. Not dying for a sweat? Overlook the famous market while sipping on bespoke drinks infused with medicinal superfoods or try other specialities such as their organic goji berry spiced mulled wine.
Where: No 8 Horner Square, Old Spitalfields Market, London, E1 6EW
7. For the All-Round Cafe: Gianluca's Coffee Cult
What: Artisan coffee is perhaps not expected on the same block as an M&S and HSBC bank, but incredible coffee is indeed what you'll get at Gianluca's Coffee Cult in Fulham Broadway. The cafe is new but has already developed the eponymous cult following, thanks to enthusiastic owner Gianluca's amazing Workshop coffee brews.
Eat and Drink: The coffee here is just incredible, and the bonus ball being it's not sold at astronomical prices.  Tuck into a variety of egg based dishes alongside larger plates of aubergine parmigiana and lasagne, and salads. We won't turn down a slice of their apple pie and a double macchiato.
Where: 17 Jerdan Place, Fulham Broadway, London SW6 1BE
What: Jackdaw is Clapton's very own jazz cafe, which also doubles up as a live music venue. This joint comes alive in the evening with their five-star casual cuisine. The perfect place for East Londoners to work in peace until happy hour hits, at which point they can pub it up with mates at Jackdaw's bar.
Eat and Drink: A warm and friendly cafe who dish up brekkie items from 9am, and we're talking about proper porridge cooked the Scottish way, granola, avocado on toast and bacon sarnies. Fill your boots on  pastries supplied by the Dusty Knuckle Bakery and coffee from Clapton roasters, Mission Coffee.
Where: 201 Lower Clapton Rd, London E5 8EG
9. For Milkshakes: Molly Bakes
What: From day one, Molly Bakes has always drawn in the crowds – thanks to her freakshakes, which people line up for at 8:45 AM. You can't miss this place on Kingsland Road, look out for the bright red frontage. Grab a seat at the window and see what all the fuss is about.
Eat and Drink: Freakshakes is the Australian food trend that has made its way to British shores. These outlandish Frankenshakes are made using fresh ice cream from their friends at Ice Cream Union and topped with sauces along with brownies, cookies and tartlets. Basically, anything that's sweet and tasty. One of these shakes is enough to feed a small army – or a person with a very big sweet tooth. There's also a ton of savoury options and all their coffee is by Climpson & Son's.
Where: 450 Kingsland Rd, London E8 4AE
10. For Proper Coffee: KOA coffee to go 
What: A self-proclaimed  'no nonsense' coffee bar owned by Kiwi siblings Jonathan and Carole. A serious contender for best coffee in Clerkenwell, where the competition is stiff. The coffee may be 'no muss, no fuss', but it is also served by incredibly welcoming staff in a gorgeous botanical shop on Rosebery Avenue. Most importantly, their Square Mile coffee is amazing.
Eat and Drink: Sticking to their roots, the chaps create Kiwi style, espresso based drinks with layered silk milk. This is the perfect place to grab a your caffeine fix come morning, noon and night. There's no seating, so order a coffee and a slice of the good stuff and enjoy in the nearby Spa Fields Park. Bliss.
Where: 41 Rosebery Ave, London EC1R