Since opening in Autumn 2018, Teatulia has become Covent Garden's hottest new tea bar on the radar. Whether you're in need of a good quality brew, booze or a new social scene, Teatulia has got it all from its inviting colourful sofas to its eclectic collection of carefully chosen books. Here's why: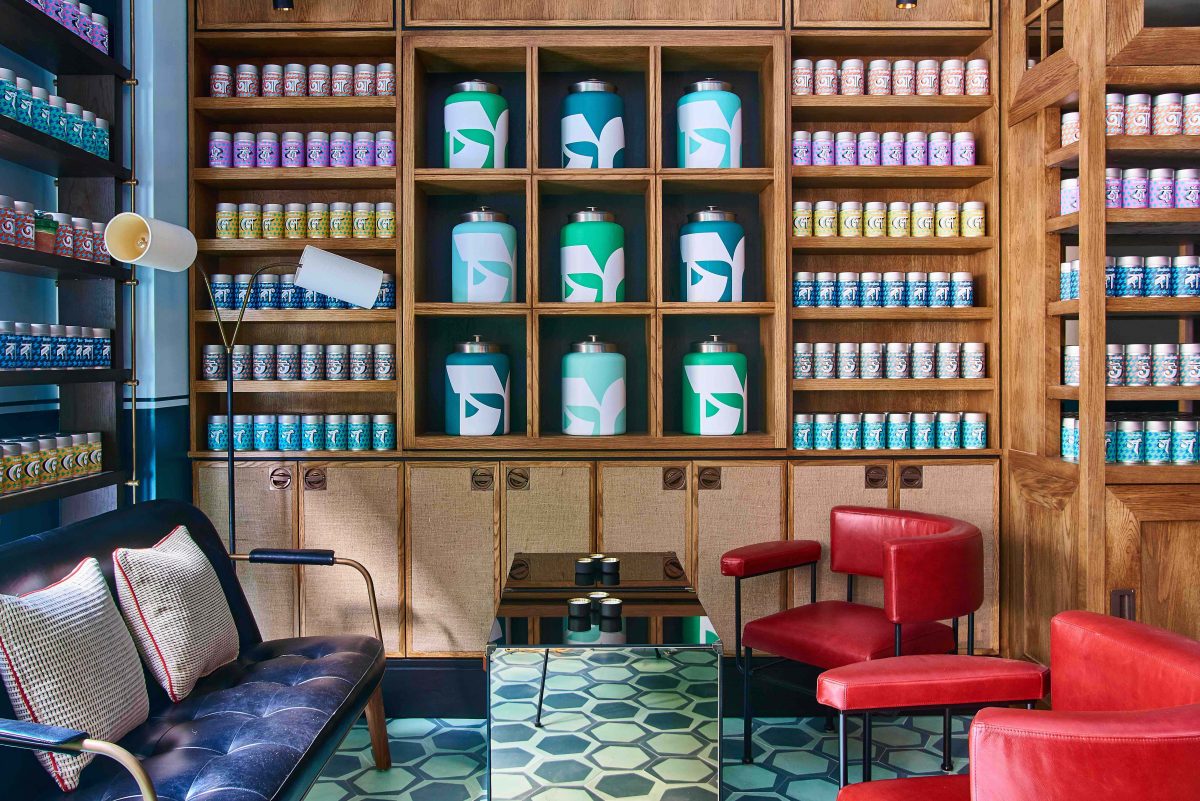 Teatulia is tucked away in Neal Street, just off Covent Garden Station. The tea bar is a cosy retro-looking establishment with bookcases lining the walls, comfy sofas and colourful pots of loose-leaf tea on display. It feels warm, inviting, and the kind of place you could while away the hours in on a lazy weekend afternoon. 
There's something very special about supporting brands with a strong conscience. Teatulia no doubt offers great quality teas but its crowning glory lies in how the tea is produced. Not scrimping on ethics over quality, every single leaf of Teatulia's teas come from 100% organic Teatulia gardens in Tetulia, Bangladesh, where it is grown without pesticides. It employs 3,500 workers, almost all of whom are female and get paid above average wage as well as have access to education and healthcare. 
All organic and grown in Teatulia's own garden in Bangladesh, the teas were of the highest quality and wonderfully fragrant. I tried the Masala Cha, Teatulia's take on the traditional spiced tea recipes from Bangladesh with hand ground spices and carefully brewed organic black tea. Bursting with a cinnamon flavour and garnished with star anise, the tea had a warm and spicy body with a slightly piquant aftertaste. As we all know, British summertime weather can be temperamental at best, and this Masala Cha offers the perfect antidote to those cold, rainy and overcast days as it warms you up from the inside out. 
Masala Cha's iced version is very different from its hot and spicy cousin. Mild and fragrant, it's a light and peppery drink served in a crystal whiskey tumbler. For those looking for something more refreshing than full-bodied, the iced Masala Cha is an elegant and invigorating tea to indulge in this summer. It can also be served with milk or just on its own. A dairy-free milk alternative is also available. 
My cocktail of the evening was a zesty lemongrass mojito; a refreshing ode to the summer. Served in an elegant glass with fresh mint to garnish, it was a perfect balance of booze and delicate lemon notes that reminded me of long hot dreamy days on the beach with a drink in one hand and a book in the other. In short, it was delicious; not too bitter and with a punchy dark rum aftertaste to remind you of its alcoholic undertones. If you need an escape from the city this summer but don't have the time to go on holiday, try this lemongrass cocktail and just for a few moments you will be transported to the sun-drenched Mediterranean coast utterly relaxed. 
If something more robust is more your scene then other tea-inspired cocktails include the Japanese Snap, a spicy boozy beverage with a daring hint of wasabi syrup to give your tastebuds a little kick. For a more sweet and aromatic flavour, the Ginger Snap (a twist on the classic Lemon Drop) has delicate notes of green tea, ginger tea and honey with fresh herby undertones of basil, coriander and cucumber to create a clean savoury balance in each sip. Of course, if alcohol is not your thing then Teatulia also do a fabulous range of refreshing mocktails that pack plenty of flavour without the booze. 
A cup of tea isn't complete without a slice of something sweet and Teatulia pulled out all the stops with their selection of delightful-looking cakes. I was lucky enough to try two cakes served on pastel-coloured pale pink and yellow plates. They looked like pieces of artwork rather than food as each square sponge was adorned with a bright slab of white chocolate with cheerfully painted white and blue or orange splodges depending on the flavour. I started off with the classic lemon and ginger cake. It had a sweet warm flavour packed into a delicate fluffy sponge. Its kitsch topping was a crisp and decadent to balance the cake's soft texture. 
My next cake was a little more daring. I opted for mango and turmeric which had more of a kick than the lemon and ginger. Just as colourful if not slightly more yellow from the turmeric, this cake was well-spiced with hints of fruity sweetness from the mango. Beautifully presented, these cakes looked almost too cheerful to eat but once you took the plunge and dug your fork in they were truly melt-in-the-mouth delicious. 
With reasonably priced refreshments and scrumptious cakes, Teatulia was an absolute delight. Perfect for a weekend retreat or after work pick-me-up, it has all the atmosphere and ethics to make it an establishment worth visiting. Try a cup of high-quality tea or go a bit festive with a tea-infused cocktail. For those who want to make an occasion of it then I recommend the Afternoon Tea for Two for £20 or go boozy for £40. Visitors can also browse the tea bar's 'living bookshelf', created by Tilda Swinton, featuring books for sale chosen by herself and selected authors. It couldn't get better than that.