Drink Here: Bassoon Bar at Corinthia Hotel LondonBy Charlie Roper
Nowadays we're all busy. Terribly busy. No time for anything. Nothing at all. So any chance I get to kill off two birds with one stone is a chance I leap at. Run to work, exercise and commute, great. Call mum whilst doing the dishes, cleaning crockery and my conscience, brill. Bar review and date night – too far?
Would critically judging every element of our evening remove some of the romance, some of the spark? Not a bit of it. It was a roaring success. Not just because Bassoon Bar is a fantastical place to go for a drink and we loved every moment but also because my wife decided she would like to write the review. Jackpot. So, in what may prove to be the downfall of my fledgling writing career, I present Bassoon Bar from Flora's perspective…
Bassoon Bar: The Lowdown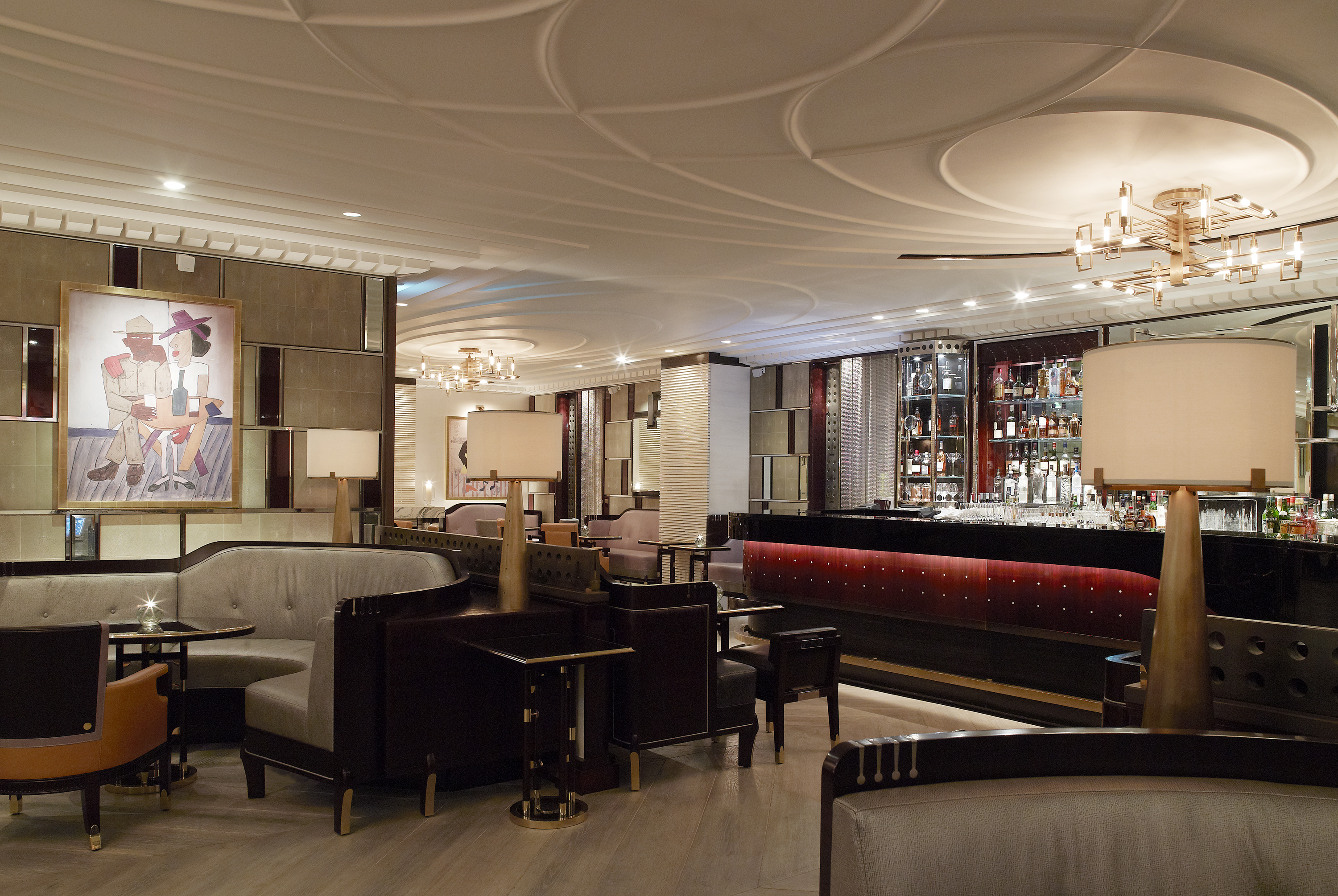 Bassoon Bar sits on the ground floor of the opulently refurbished Corinthia Hotel London, nestled just off Trafalgar Sq. The room is low ceilinged, dimly lit and skirted by dark wood panels. It feels warm and inviting, the type of place you could hunker down for the night.
Bassoon Bar: Drink
My first drink at the Corinthia, a Strawberry Ramos – is essentially a boozy milkshake, reminding me of my childhood and teenage years all rolled into one glorious millennial pink-tinted mouthful. The cocktail tastes creamy and sweet, but it's light, bubbly and refreshing, not cloying. It's utterly delicious; bringing back memories of strawberry lip gloss and trips to McDonalds to get milkshakes and chips. I'm transported back to being fifteen, wearing braces, really fancying Orland Bloom and having zero responsibilities. In short, this drink is heaven.
Charlie tries the Champagne on Toast which is apparently legendary. It's terribly sophisticated and smart, and to be honest I feel like a bit of a tit sitting next to him with my milkshake. Presented in a beautiful cut crystal glass, the colour is honeyed and warm; brioche liqueur gives a nice length and richness to it, and it certainly feels festive. Didn't really taste of toast, though.
By the time we reach the next round of drinks we have eaten four bowls of honey-roasted almonds, and four bowls of big green olives. It is embarrassing. We are in a mania, shovelling in fistful after fistful. But the staff are charming and non-judgmental, which I think tells you all you need to know about the truly excellent service.
Round two is an Ambrette Sazerac for Charlie, with cognac, whisky and absinthe forming an orderly queue on the palette. The waiter describes it as 'challenging and complex' and, whilst it pains me to say it, he is actually right on this occasion. It's juicy and full, but also understated. One to savour by a warm fire with a crossword or a good book.
Rounding off the evening for me was a Toasted Coconut Old Fashioned, a jolly drink with a huge square ice cube that looked a bit like the new American Embassy. In another throwback to my distant youth, the taste is pure Bounty bar, and although no one ever used to want those, I imagine this drink is not short of takers. It is comfortingly rich, with fat-washed bourbon lending a creamy fullness that coats the inside of the mouth.
Just as I thought we were done two more drinks arrived that Charlie had managed to order without my knowing, a 'nightcap' he told me with a Cheshire Cat grin. Meadowsweet Martinis came in beautiful little coupe glasses and were heavily perfumed with the eponymous ingredient. 'Martini' had me expecting something crisp and dry, so I was a touch taken back by the sweetness that hit me but with preconceptions erased, it's a lovely little drink.
Bassoon Bar: The Verdict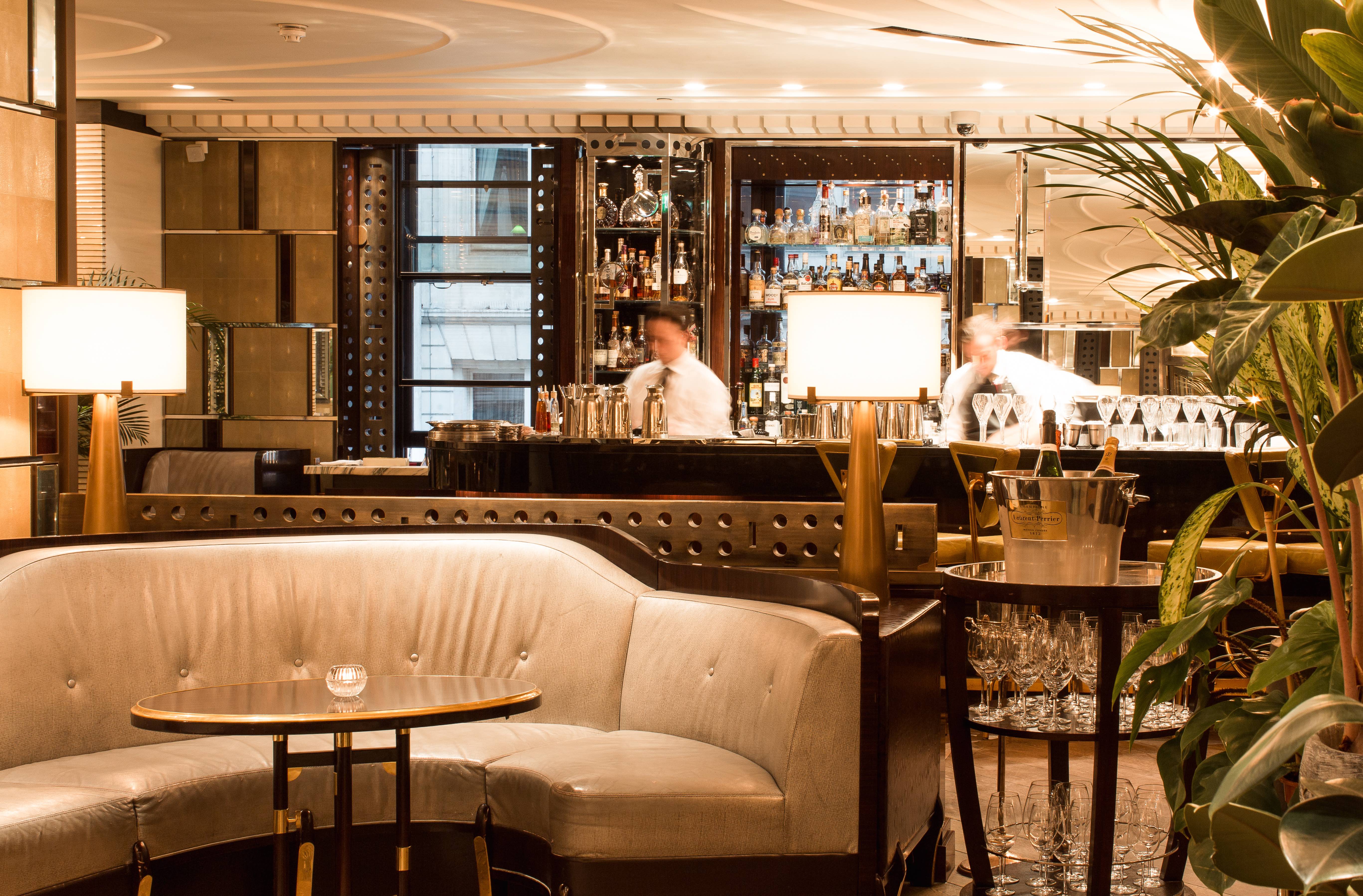 The cocktails at Bassoon Bar are not altogether that cheap, but I'm a firm believer that you get what you pay for and with excellent cocktails (that Strawberry Ramos!), delightful staff and a wonderful setting, Bassoon Bar is certainly worth it. Ooh and did I mention those nuts?
Whitehall Pl, Westminster, London SW1A 2BD
Photo Credit: Charlie McKay