Craft Beer Guide: Big Al, Tour Operator at Meantime Brewing CompanyBy Alicia Grimshaw
London's love of craft beer continues to grow, and with it, a new found love of specialist craft beer watering holes. We called up our guy in the know, Big Al from Meantime Brewing Company to compile a list of his favourite craft beer spots in the capital. Get drinking, folks:
1. For Burgers and Beer: The Craft Beer Co.
The Lowdown: The thing I love most about Craft Beer Co. in Islington is that it genuinely feels like your local boozer, but one that happens to serve the best beers in the world. It's not stuffy or pretentious, if you know what I mean, it just serves good food and great beer.
What to Drink: This gaff has an excellent range of beers. If you want to learn about the different types, go along to one of their tasting sessions. I can think of worse ways to spend a couple of hours…
Feeling Peckish: Burgers are the name of the game round here. They use the best meat around and have some cracking fillings; my top tip is the classic cheese and bacon number. Terrific.
Address: 55 White Lion St, London N1 9PP
2. For a Beer Garden: Crown and Shuttle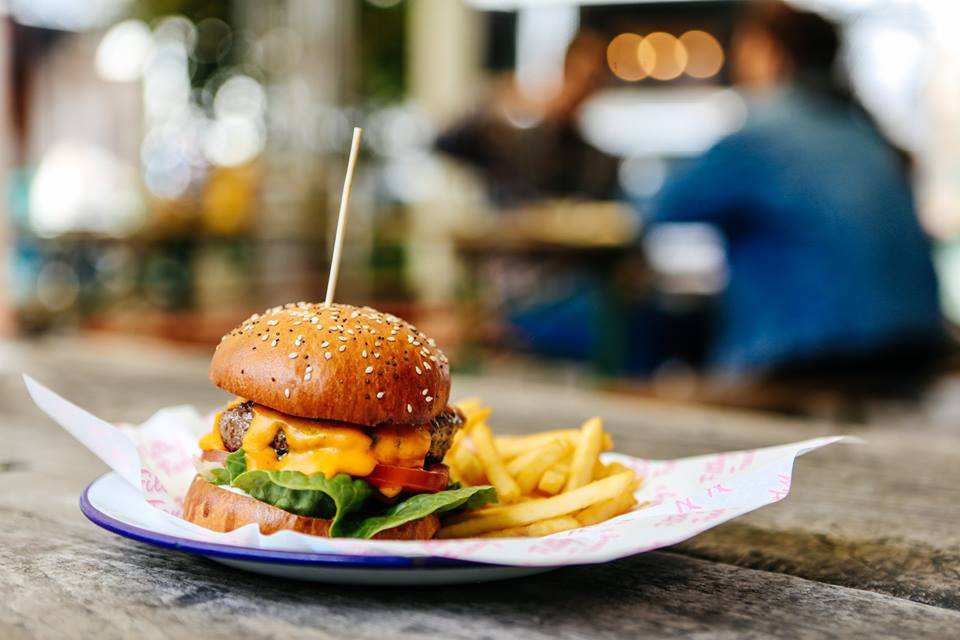 The Lowdown: There are few things in life I enjoy more than a proper cold beer in some hot summer sunshine. If you're like me and want to chase those rays, then get yourself down to the Crown & Shuttle and enjoy a few pints in the sun out the back.
What to Drink: This lot have won awards for their range of craft beers, so it'd be rude not to try one. If you go there you have to try Meantime's Brewery Fresh Lager. The beer continues to mature in the tanks at the bar until it is served straight to your glass… meaning it's as fresh as the day it was brewed. And when I say fresh, I mean FRESH.
Feeling Peckish: Let's be honest, boys and girls, you can't go wrong with proper pub classics like pork scratchings, sausage rolls and pickles. After all, they were made to go with a good beer!
Address: 226 Shoreditch High St, London E1 6PJ
3. For All the Craft Beer: The Draft House
The Lowdown: The Draft House has a few joints across South West London now, but their biggest boozer is in Tower Bridge. If you're out with mates and don't know where to go, head here.
What to Drink: This firm really takes craft beer seriously, so it'd be criminal not to have a pint or two. The selection is bloody fantastic, stocking a range of weird and wonderful brews both bottled and on tap. It's the perfect place for trying something you've never had before. Make your pub trip into an educational enterprise!
Feeling Peckish: I usually go for their pub classics – but I hear their salads are good too, if you're into that kind of thing.
Address: 14-15 Tower Hill, London EC3N 4AX
4. For a Classic Pub: St James of Bermondsey  
The Lowdown: St James of Bermondsey is a real traditional boozer. Just a couple of minutes from the underground, it's a great place to go if you want to take a breather from the Big Smoke and enjoy a proper south London pub.
What to Drink: We've just launched Brewery Fresh Pale Ale there, so get yourself a pint of that – you won't regret it. Now, beer is the only drink for me in a pub, but my mates have told me they stock a range of London's other famous export, gin.
Feeling Peckish: To put it simply, their pies are bloody fantastic.
Address: St James Tavern, 72 St James's Rd, Bermondsey, London SE16 4QZ
5. For Unusual Craft Beers: The Tasting Rooms
The Lowdown: The Tasting Rooms is our home turf. Right in the heart of our brewery you'll find craft beer lovers drinking alongside the boys and girls who brew the stuff. It's pure magic. The staff behind the bar really know their Helles from their Porter and they're always happy to pass on their knowledge. As am I, if you see me propping up the bar (which you probably will)! We do brewery tours too and we're pretty proud to say we're ranked the second best in the world. Not bad, ay? I'm joking, it's ruddy brilliant and we're over the moon.
What to Drink: You can get yourself some of our classics like London Pale Ale, London Lager and Yakima Red, but we also offer some more unusual drinks like Chocolate Porter and seasonal specials. It's always fun to try something a little different.
Feeling Peckish: Our kitchen serves everything from burgers and meat platters to calamari and spicy whitebait. But the best bit is pairing it with a new beer. Ask at the bar for some top tips – or grab a tasting paddle and find out for yourself.
Address: 35 Blackwall Lane, London SE10 0RD
6. For a City Watering Hole: Tank and Paddle
The Lowdown: If you're ever in the City, this is THE place to go. Trust me. I love it here.
What to Drink: Like a couple of other boozers on Big Al's magic London list, Tank and Paddle serves our Brewery Fresh Lager. But, if we can't tempt you with that, then they'll do you a cocktail instead, which aren't half bad according to my pals in the know.
Feeling Peckish: The pizzas here are out of this world. As is the mac 'n' cheese. And the salads. And the bar snacks. I'm salivating here just thinking about it!
Address: Minster Court, 3 Mincing Ln, London EC3R 7AA
7. For a West London Hangout: The Duke on the Green
The Lowdown: For those that live west, we haven't forgotten about you. The Duke on the Green is a must. It's a couple of minutes from Parsons Green station and is located on the green itself. Grab yourself a pint and spill out if you like. It's a cracking area even if it isn't your usual neck of the woods.
What to Drink: There really is something for everyone here; fine wine, champagne, craft beers. You name it, they've got it.
Feeling Peckish: The food in this gaff really is something else. Head chef Paul and his kitchen really know their onions and it shows – if you're after a delicious twist on classic pub grub, this is the place for you.
Address: 235 New King's Rd, Fulham, London SW6 4XG
For more information on Meantime, see their website here.